Customer Service Resume Example, Template & Writing Tips 2023
When you think about it, having top-notch customer service is essential for every business, regardless of industry. If a company can't support and assist its customers, it will be hard to keep retention levels high. That's why you need a suite of unique skills to be an outstanding customer service representative.
When you craft your customer service resume, it should show exactly what you can handle. Whether you have experience in a call center, working with customers in person, or have done something different that keeps customers satisfied with a brand, that's the information you want to share.
That means focusing on skills that matter, such as problem-solving, active listening, and conflict resolution. However, it also means scouring the job application for keywords that you should use in your resume. Show that you understand what the company wants and that you can provide every bit of that on day one.
If you aren't sure where to start, don't worry. This guide will provide everything you need to stand out and get the position you want. Then, by the time a hiring manager or recruiter has the chance to read over your resume, you'll stand a great chance of moving forward.
Sample Customer Service Resume
One of the most valuable methods of learning what you're going for is looking at customer service resume examples. These will give you a visual representation of what your resume format should be. You can see what most people include and what they don't. It gives you the ability to craft your resume without feeling overwhelmed or concerned you'll do something the wrong way.
This guide will share several resume examples for customer service to read and see what you're striving for. In addition, you can download a full PDF of a complete resume to compare and contrast with your own. With all the tools you need, you're sure to create an excellent customer service resume.
Below is an example of what a fantastic resume might look like in this industry. It contains all the most common sections and provides details about the format, colors, and fonts that might work best to show that you're a true professional. So take a look, download a copy, and then read on to learn more about how you should move forward with your customer service resume.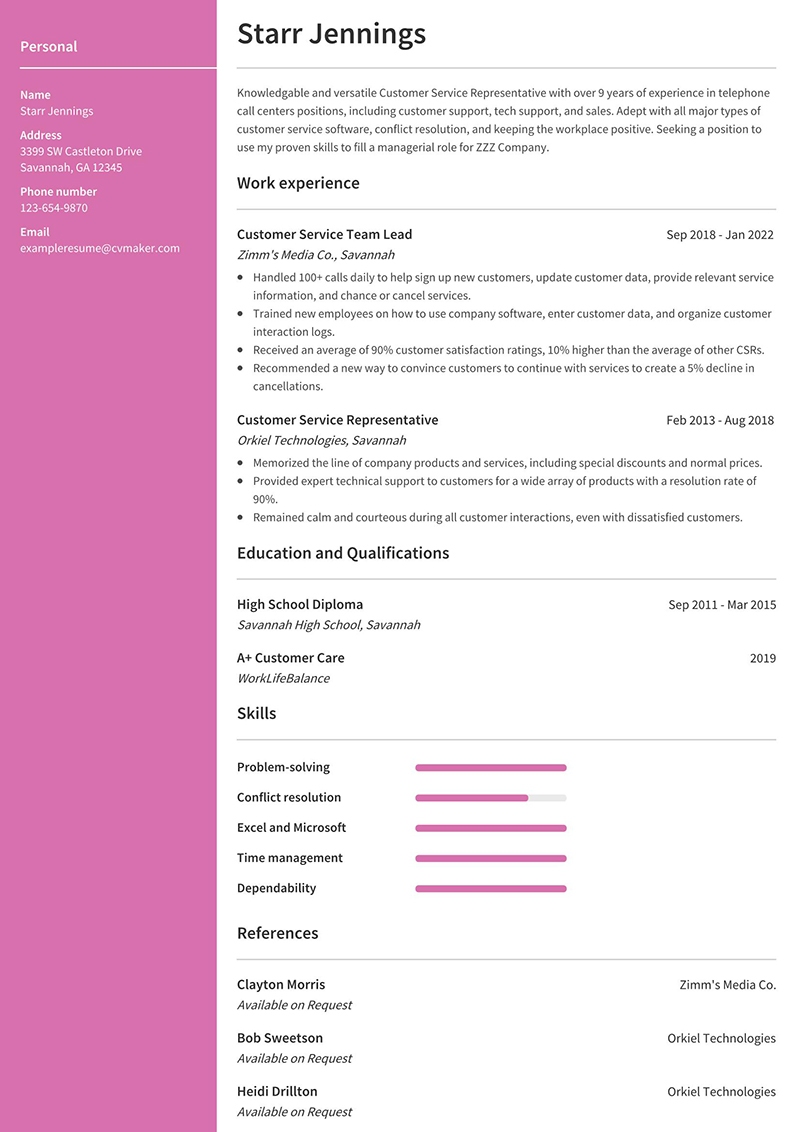 How to Write a Professional Resume for Customer Service in 2023: Full Guide to Professional Customer Service Resumes
When creating a retail customer service resume, there are several things to consider. One of them is precisely what kind of information you should include. The best thing you can do is thoroughly read the job description. Pay attention to the customer service description for the resume. You want to have all the info that seems vital to recruiters or hiring managers on your resume.
Keywords are an essential part of that process. The truth is that most modern businesses use applicant tracking systems. This is a computer that "reads" the resume and determines how close you are to the perfect applicant. Since computers don't think the same way humans do, this is done by looking for specific keywords.
Your customer support resume should use words that seem essential to the company. But make sure you do it in a way that makes the resume easy to read and understand. After all, you want to make it past the computer system, but the next step is for a human to read through the document. Don't risk making that a challenge.
Several sections are typically incorporated into a customer service resume. These include:
Your contact information
A resume objective or summary
Information about your past job experience
Details about your educational background
A list of your customer service skills
And a set of three to five references
While you delve into the rest of this guide, we'll share how to set up each section to have the best success. Once you create an excellent customer service resume, you can tweak it to apply to other jobs. That's why it's essential to do the job well the first time.
Section #1: Contact Information
You might have tons of customer satisfaction survey results to share and all sorts of relevant skills to put on display. Those are important to a hiring manager, but the first step is to introduce yourself. The contact information section is where you share who you are, while the rest of the resume focuses more on skills, education, and experience. You need to provide a professional introduction and make sure an employer can quickly contact you.
Contact Information Example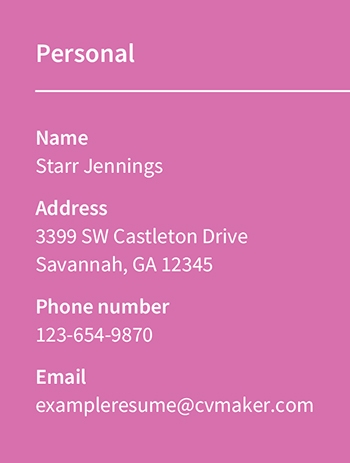 You can see in the image above that only relevant information is provided. The applicant's name, where they live, and how to contact them are included. After looking over your resume, it gives all the information a hiring manager needs to get in touch with you. If you qualify for an interview, the contact information should be accurate, so read over it a time or two for errors.
Start with your name in a legible font and add at least two ways to reach you. The most common methods are via email and phone. However, be sure that you use a professional email address. If you made a joke email in middle school and still use it – it might be time to create a new one. Something that includes your name is a good choice.
How to Format This Section
Whether you are applying for work at a call center or a sales company, the format of this section remains the same. It's simple to read and understand all the information. No extra details are needed since that can detract from what you want to share with a hiring manager. In most cases, the contact information section goes at the top of the resume or along one of the sides.
Creative fonts and bold clashing colors should be avoided. These make it harder to get the information to reach out to you. As far as social media goes, it's not needed for a customer service resume in most cases. However, you can link to LinkedIn or other sites if the employer asks for it. Otherwise, it's better to stay simple.
Section #2: Resume Objective
Now that you've gotten things started, you can move on to the most critical part of the resume: the objective. For a customer service position, this is where you sell all the skills you have and talk about your past accomplishments. You're going to be doing two things here. The first is sharing your abilities, and the second is being concise while you do the first.
After a manager looks at your resume objective, they will either keep reading because you sound interesting or put down your resume and likely never pick it back up. So you want to have a resume that compels them to choose the first action. It would be intelligent to spend time crafting a short spiel here that shows you in the best light.
Below are two customer service resume objective examples based on how experienced you are with this kind of work. One is designed for those interested in an entry-level position, while the other is for someone who has many years of experience. Those who fall somewhere in between can take cues from both resume objectives.
Resume Objective Example for an Entry-Level Customer Service Resume

The customer service resume summary for someone without experience will be different from that for someone skilled with customer inquiries and support software. In addition, many resume summary examples for customer service online are tailored toward those with years in the business – which may not be appropriate for you.
When you are new to a job position or industry, you need to take the experience you have (from other jobs, education, or personal situations) to tailor your resume objective. It can be helpful if you can twist a former job role and show how it's similar to one in a job description. Think about your skills and show how useful you could be.
Resume Objective Example for a Senior Customer Service Resume

Whether you have experience as a customer service manager or a customer service specialist, you have valuable skills for a resume summary for customer service. However, rather than scouring your past for skills and achievements, you may need to choose between several to cut down on how long the objective is.
Consider adding things you've accomplished to this portion of the resume. For example, if you have an excellent satisfaction rating, include that here. The same can be said of any initiatives you headed for the customer support department of past companies. Focus on the things you do best that the job description mentions are part of the new position you want.
How to Format This Section
You can look at the above customer service resume summary examples to get an idea of the proper formatting for this section. The most important takeaway is that the customer service resume summary should be pretty short. Two to four sentences are the typical recommendation. Sentences should be to the point but filled with all the details you can muster.
Whenever possible, create sentences with action words. Create your resume objective with numbers that show your accomplishments. For instance, "increased number of satisfied customers" isn't going to make as big of an impact as "increased customer satisfaction by 13% over three months."
Section #3: Professional Work Experience
The professional work experience section is all about your work history and is an essential part of any customer service experience resume. For those with experience, this is where you share all of it so you come across as the competitive applicant that you are. Anything at a job that pertains to customer service should go here.
Of course, not everyone has customer service experience. In that case, you can draw from other occasions to show you can handle the position. A hiring manager will look over this after the objective to get more detailed information about what you have done in the past.
Work Experience Example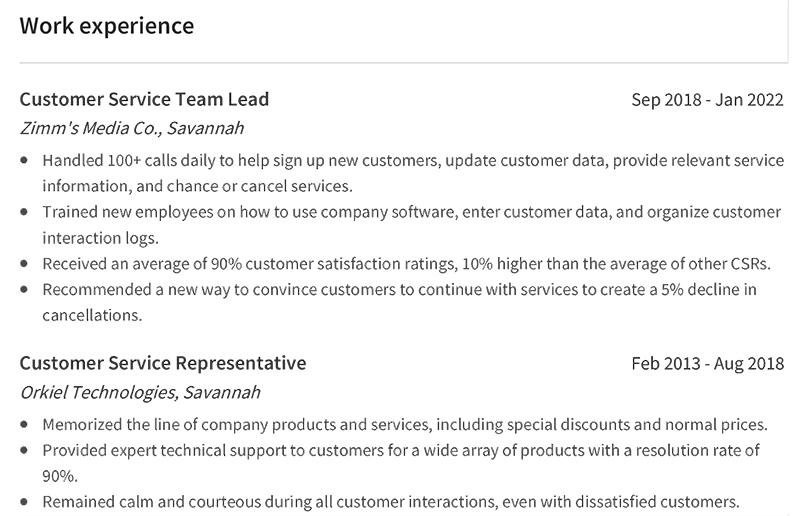 The experience section should focus on each customer service job you have had, as you see in the example above. If you have a lot of experience, you can choose which jobs to showcase and what tasks to highlight based on the job description. The more experienced and competent you come across, the more likely you'll see an interview in the future.
Share that you can handle customer needs easily and quickly. Add in abilities that you weren't able to showcase in the objective. Pull tasks from other jobs unrelated to customer support that testify to your abilities. Sometimes, creativity is needed, but almost every job will give you some skill related to working with customers.
How to Format This Section
A customer service professional will typically use a reverse-chronological resume. This means you list each job started with the last one you had and move back toward the first. A functional resume is another choice that may work for those new to working or inexperienced dealing with customers.
The headings on the positions should explain your job role, whom you worked for, and when you worked there. Then, underneath, use the blessings of bullet points to describe all the tasks you took on. This lets you share your knowledge but makes it easy to scan and read for a hiring manager.
Section #4: Educational Background
Education should always be included on a resume, even if you have many years of experience. While some customer service positions require a high school diploma, not all do. However, if you have one, list it. Those who have degrees from a college or university can take off the high school information and only list their degrees and any relevant certifications.
Educational Background Example

In this example customer service representative resume, both degrees and certifications are listed in the same section. Unless you have several certificates, this saves you both time and effort. In addition, most of the same information is included for both types of education, so they fit together well. You can see the specific details in the image above.
How to Format This Section
Whether you have professional experience or not, your educational background section will be formatted the same. Separate the degrees from the certificates and put them in an order that makes sense. Reverse-chronological is an option that many choose to use for this section.
If you have less experience than other applicants may, feel free to include extra details here. The institution's name where you got the degree, the subject of the degree, and when you received it are all critical. However, you can also add things like GPA, remarkable achievements, and more, especially if you need a bit of an edge.
Section #5: Skills
Communication skills, interpersonal skills, and other soft skills are valuable for a customer service resume. Think about conflict resolution, problem-solving, time management, and dependability. You can also weave in technical skills like troubleshooting or working with Excel or Microsoft since those things are often helpful as a customer service representative.
However, when it comes to customer service resume skills, remember to share only what you are best at doing. Having an endless list of skills often means the entire section won't be read. It may also make a hiring manager wary of how well you can do dozens of things if they are all listed.
Skills Example

The resume sample above gives you an idea of how customer service skills can be included on a resume. Show you know how to take care of a new customer and work with other reps. Make sure that you assess how good you are at each ability you list. Be honest about what you can do so the employer can gauge whether you're right for the workplace. If you're unsure of what to list, look at the job description.
How to Format This Section
There are different methods for formatting the skills section. You can see one in the image above. It has a quick list of skills followed by a visual indicator of how well the applicant can do each of the things they include. Other graphics can be used, but the list format tends to be best to avoid taking up too much space or creating a section that is hard to read for the hiring manager.
Section #6: References
Recruiters want to know that you will be a valued part of the customer service team, so any resume should include references. This gives more credibility to your abilities and skills rather than leaving someone to wonder whether you're just excellent at resume writing. When choosing contacts, make sure they know your skills well and will say positive things about you if asked.
References Examples

This gives you an idea of what the references section might look like for your customer service resume. Of course, this is the last section of your resume, but that doesn't mean you should stop working toward perfection.
As you see above, you can choose to include solely work-based references, but that isn't the only option. References from professors, teachers, and people in the neighborhood can also work well.
Having less than three references isn't recommended, but you can leave up to five unless the job application instructions ask for something different. Try to include people from different companies to show that you do a great job no matter where you are working.
How to Format This Section
The format for references should be clean and straightforward. You want it formatted to convey the information quickly to whoever reads the customer service resume. For example, include the reference's name, their place of employment, and a note that their contact information is available on request. This keeps their private information away from others until it's needed.
Leaving an email and phone number is another option, but it introduces privacy issues. You can also default to not including any information about the references and just stating that references are available.
However, the middle ground is what we recommend with names and companies but a need to reach out to you for additional information.
Other Related Resume Templates
Once you have all your information compiled and ready to place in a customer service resume, you have a couple of choices.
The first is to put it all into a resume that you create yourself in Word, Google Docs, or another platform or software. This gives you complete control over the resume and everything included. However, creating an aesthetically pleasing resume that contains all your information can take time and effort.
The second option is to make use of a customer service resume template. Use the one included in this article or check out some of our other resume templates until you find something you like. Even if it's not specifically for a customer support position, you can make easy changes to create the perfect resume.
A few options that might work for your situation include:
Select a template you like and add in your specific information. From there, all you need to do is look for grammar issues and typos before you apply for the job you want. Grammarly can help you ensure that every sentence in your customer service resume is easy to read while sharing important information with hiring managers.
Final Points
Now that you have an excellent customer service resume, you're almost finished. The only thing you have left to do is create a cover letter. This should be personalized and tailored for each job you apply to. Send both the resume and letter over when you apply for the position you are interested in. These professional documents are sure to give you an edge over the competition.
Using resume templates makes the job search process more manageable and less stressful. You can quickly change things and move them around to design a resume perfectly tailored for a position. So check out your options and see how easy it can be to send out resumes for all the jobs you think you'd excel in!