How to make the best retail CV? Check out our tips & examples!
The retail sector is rapidly growing, which means it attracts a large pool of job seekers. This industry has low barriers to entry and can employ people with minimal formal education as long as they can prove their skills. If you want to get your foot in the door, your application should leave a good impression. That means getting your CV wrong is not an option. Lucky for you, this guide can help you to format your resume to stand out and get an interview in the retail sector.
How Do You Write a CV for a Retail Job?
Retail jobs are labour-intensive and high-pressure jobs with broad responsibilities. You have to be on your feet the whole day assisting customers, and you still need to be efficient in stocking and balancing your drawers. Employers are always on the lookout for candidates who are adaptable, organised, and have diverse skills. Therefore, if you want to stand out from your peers, your CV should be impressive. Highlighting your skills that are relevant to the job you are applying for gives you an advantage. Even without prior experience, your abilities can get you an interview because they show your suitability for the role. You should think about the skills you have that can add value to the company and include them in your resume.
CV example Retail - Auckland template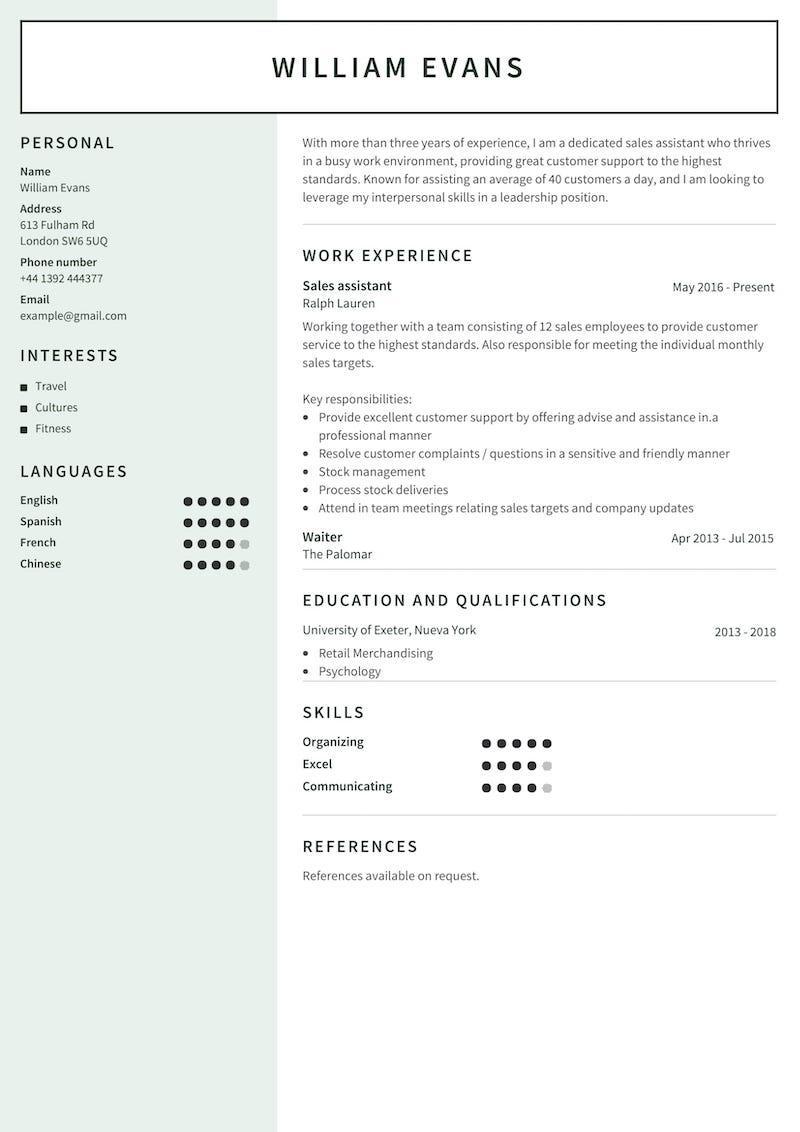 Download this cv example - Retail

Common Jobs in the Retail Industry
Just like other rapidly growing sectors, retail has numerous job opportunities, from seasonal hires to permanent employees. Applying for any of the following jobs can be your entry point or another milestone in your career in the retail industry:
Retail Sales Associate
Brick and mortar retail stores need hands-on-deck staff that will boost their sales. Retail sales associates deal with customers directly by helping them to make purchases. They are also responsible for maintaining cleanliness in the store, stocking goods, and checking out customers. When there are incoming shipments, the sales associates manage the inventory. They ensure the business is running smoothly, and they have a role in boosting store sales.
Customer Service Representative
As the number of customers increases, there will be more customers' needs to address. A customer service representative manages phone calls, manages internet chat programs, answers emails, and gives responses to customers' queries on social media platforms. They also deal with complaints and follow up on returned goods and refunds. Customers with issues are often impatient, and they can be impolite. Therefore, the job requires someone with patience and exceptional problem-solving skills.
Cashier
When there is an influx of customers, stores require additional cashiers to speed up the purchase process. However, cashiers do more than accept payments. They assist customers in returns and the exchange of products. They also inform customers of the availability of promotions and reward systems. They tally cash received and balance out the cash inflow and outflow.
Store Manager
Large retail stores require a manager to monitor the activities and ensure everything is running smoothly. The manager can also be in charge of employees, budgeting, and compliance with safety regulations and operational policies. They represent the owner's interests in the business. Being a store manager requires strong leadership and interpersonal skills to organise business resources and ensure profitability.
What Should You Include in the CV?
Before you start drafting your resume, you need to choose a format. Before settling on a format, determine if you have enough work experience for the job. If you are new to the industry with little work experience, a skills-based CV will help you get an interview. However, if you are looking for a promotion and have adequate work experience go for the reverse-chronological format. The flesh of your resume should include the following:
1. Personal Details
It is vital to provide contact information, including your current address, in case the hiring manager wants to contact you. Make sure personal details are at the top for easy retrieval.
2. Personal Statement
It is a summary of your best skills, achievements, and selling points. The summary can also include your aspirations for applying for the job. The personal statement is the most crucial part of your resume because it highlights your personality.
3. Work Experience
List your employment history in reverse order, which means your recent job will be the first. Apart from stating your responsibilities, include your significant achievements. For example, maybe you spearheaded a makeover that increased sales by 20%. However, if you mention accomplishments, ensure you explain your role in achieving them.
4. Education
You should list your educational background and achievements worth mentioning. If you have a minimum employment history, you should mention your qualifications before the work experience. Any other professional course should also be mentioned; they show that you are keen on personal development.
5. Skills and Competencies
Your skills are worth mentioning if they are relevant to the job you are seeking. Even if you do not have work experience, well-explained skills can get you an interview.
6. Personal Interests
Hobbies are meant to break the ice during interviews, but they are optional. If you do not have any exciting hobbies worth including in your resume, skip that part.
How Do You Write a Perfect Personal Statement?
A personal statement is a sales pitch, and since employers are keen on your attitude, you need to portray your personality. It is not about your experiences, but the impact you can make if you are hired. Use concrete examples and tailor your ambition to the company's vision and goals. The aim is to nail a few skills on the job advert and to get the recruiter's attention. Writing that you are good without quantifying your achievements will make your resume bland.
Here are some examples:
Example 1: With more than three years of experience, I am a dedicated customer service representative energised by the fast-paced work environment. Known for assisting an average of 40 customers a day, and I am looking to leverage my interpersonal skills in a leadership position.
Example 2: Experienced sales associate with a passion for assisting customers. I am target oriented and dedicated to providing an excellent shopping experience.
Example 3: Proactive and customer-focused sales assistant with more than two years' experience. Known for excellent customer service, teamwork, and proven track record of increasing revenue through upselling.
What Are the Important Skills or Competencies to Mention in Retail Jobs?
Hiring managers appreciate relevance, so how do you identify relevant skills for your CV? Make a list of the skills on the job offer and cross-check with the competencies you have. Some of the skills required for retail jobs include:
• Inventory skills: Working in retails requires stocking shelves and ensuring the products are in the right places. You should also monitor inventory levels from window displays to products on the shelves.
• IT skills: You need to be familiar will computers, electronic registers, and sales systems. Knowledge in management information systems can also come in handy in managing purchasing trends. You should also be efficient in analysing data from online orders to increase sales.
• Marketing skills: You must know how to persuade and convince customers to purchase a product. You should be able to tailor your message to your audience and persuade them to take action.
• Organisation skills: As a retail worker, you have tons of activities to do, including stoking the shelves, directing customers, product illustration, and organising window displays. Therefore, you need to be good at multitasking and be organised to ensure everything goes according to plan.
How Do You Make Yourself Stand out Among Other Candidates?
Use a Clear and Concise CV Layout
Your resume should be clear and easy to read on the screen and in print. Therefore, avoid those fancy fonts and colours; black and white will deliver the message better. You should also be brief and keep the document at two pages since the recruiter has a few seconds to skim through the CV.
Avoid Gaps in the Resume
Make sure all your dates tie-up for your employment history. You should explain the gaps to avoid the wrong conclusion. If you were out of work, highlight the skills and professional development courses you took during that time.
Tailor the CV to the Job
Match the skills to the responsibilities in the job advertised. It is easy to customise your resume nowadays since most recruiters provide detailed job requirements.
Quantify Your Skills
While using action words describes your accomplishments powerfully, you need tangible evidence to prove your skills. Use figures and relevant statistics to highlight your accomplishments.
What Personal Characteristics Are Employers Looking For?
Excellent communication: Being a retailer involves talking to customers throughout the day. Therefore, you need to be an excellent communicator across multiple channels.
Attention to details: You need to be keen on the product displays, keeping the shelves stocked, and ensuring smooth operation of the store.
Problem-solving: Issues often arise with customers, and you should be an expert in dealing with conflicts and coming up with solutions fast.
What Other Information Is Important to Mention in Retail Jobs?
When you are job hunting, always ensure that your CV contains keywords related to the job you are applying for. For instance, if you want a customer service position, include words and skills relevant to the customer service job. Recruiters, who use recruiting software, usually filter candidates based on keyword selection. Therefore, if you do not include keywords, your resume may not get to the hiring manager.
The secret to getting an interview is providing the recruiter with adequate information that shows your capabilities in getting the job done. However, you should concisely present your achievements.