Network Engineer Resume Example & How to Write Tips 2023
The position of network engineer was rated by Forbes as one of the 10 happiest jobs. As network engineers, professionals focus on designing, implementing, and maintaining the IT infrastructure of an organization. With more people working digitally every year, companies across industries need help upgrading and using new technologies.
Having a fantastic network engineer resume is a good step toward gaining a lucrative job in this type of work. While more network engineers are needed in the world, that doesn't mean anyone with experience will get a job with a subpar resume. With a few skills and an excellent network engineer resume, you can show you're the perfect person for this job.
Hiring managers want to know that you can do everything needed with IT infrastructure. Network engineers are extremely skilled experts who maintain, deploy, and design full IT infrastructures, such as communication and data networks. They work to plan and operate these systems based on an employer's needs.
If you're ready to apply to a new position, use this guide to create the perfect network engineer resume. We'll walk through the entire process and make sure you have a professional document you feel good about turning in. Our templates, examples, and samples will set you out to create a resume that no hiring manager or recruiter can resist.
Networking Engineer Resume Sample
Before we dig into the writing of your resume and how to make it impressive, we want to talk about the usefulness of network engineer resume examples. Having all the concepts down can help with a great resume but seeing a professional one lets you really visualize what yours should look like. Looking at several is even better for deciding how to craft your own.
As you follow this guide, you'll see several networking resumes samples. We'll share one that encompasses the entire resume to give an overall view of what yours might look like when completed. As you move further through the article, we'll also give you network resume samples for all the sections in the resume itself.
However, we also know that photos aren't always enough. That's why we provide plenty of tricks and tips in addition to each network engineer resume sample. You'll learn how to layout different sections, what information is desired by the employer and how to make it all look good.
You might have experience creating software engineer resumes or it might be your first attempt. No matter where you fall on the scale, a little help is always useful to make things perfect. We'll make sure you have everything you need to build an exquisite resume in addition to making the process quick and simple.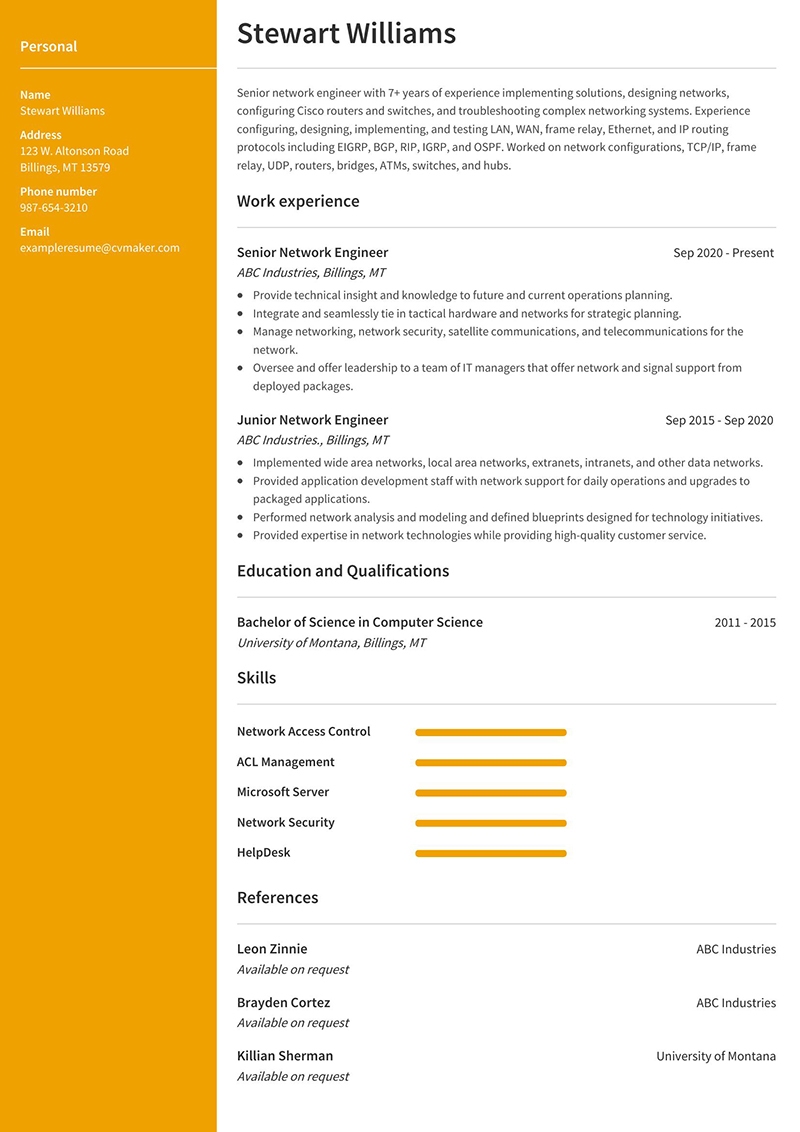 Download This Resume Example - Network Engineer
How to Write a Good IT Networking Resume in 2023: Full Guide to Network Engineer Resumes
Whether you want to build a docker resume or an AWS DevOps resume, you need to be sure you meet all the typical requirements for the industry. This is a resume that makes the manager take a second look. It's a document that pushes someone to finish the page. One of the best ways to do this is by keeping the job description nearby.
You might be wondering why that matters. There are several reasons. One of them is the fact that employers tend to use an applicant tracking system for resumes. This means that a computer looks over your resume first. It's looking for relevant keywords before sending your network engineer resume to a human.
Plus, once your DevOps resume for freshers does make it to management, you've shown your skills, experience, and education in things that matter for the position. Assuming you use the keywords to describe things you can and have done in the past, it's a great way to get the full document read by someone in management.
An entry-level resume might be different from an experienced CI CD resume, but the same tips and format are often still ideal for use. Putting in all the information listed as needed in the job description will definitely give you an edge over those with a more cookie-cutter network engineer resume.
While creating the resume, there are six major sections that you should include. These include the following:
·       Contact information
·       Resume objective
·       Professional work experience
·       Educational background
·       Skills
·       References
Of course, you need to personalize your resume based on the job you want. You can start by researching the business that posted the ad to learn more about it. This can give you extra information to consider as you work through the creation of the resume. This is key for creating documents that relate specifically to a certain company.
You'll learn what skills and attributes look great on a network engineer resume. When you start to create the resume, be consistent in terms of messaging, tone, and style. Write about the employer to show you want to work there, not just in the sector as a whole. Be unique and creative when possible.
As you move into the rest of this guide, we'll be sharing how to create each section of the network engineer resume. We'll give you insight into what to expect and how to make your resume stand out, whether you're talking about your references or getting into your work history. When you finish, you'll have a great resume that you can't wait to send in.
Section #1: Contact Information
Network resumes are a great way to show your education, experience, and skills. However, before you delve into that too deeply, you should start with a few of the simpler details. The contact information section is all about introducing yourself to an employer.
So, get prepared for a section that you can complete without much trouble. You'll be putting down simple details about yourself and making sure an employer can easily contact you. This is a great way to start and get some momentum to finish the network engineer resume.
Contact Information Example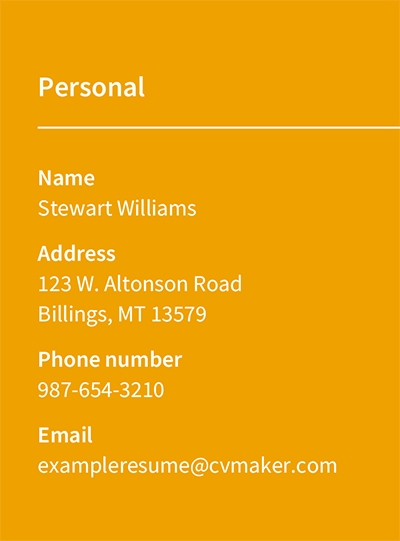 The recruiter in a data center needs to know about you before deciding to interview you. You can see the sort of information to add to your resume in the image above. The applicant's name is on top as an introduction. Next, it goes into how the company can contact the person about the job.
How to Format This Section
As with writing the contact information, formatting it is just as easy. You can use some bold to make things pop, but otherwise, it's a list of information. Start with your full name and follow that up with your address. Then select two ways you prefer to be contacted and include those as well. That's all there is to it.
Section #2: Resume Objective
Now we come to the network engineer objective. This is the place where you show off your stuff without holding back. This is a small section of text that sits at the top of the resume and acts as a virtual elevator pitch. Rather than verbally explaining who you are and what you do, you write it instead.
For an entry-level computer networking resume, you may have to be creative. However, we'll give you insight into how to tailor it and include a network engineer resume for a fresher just coming into the industry.
Resume Objective Example for an Entry-Level Network Engineer Resume
First up is the entry-level networking resume. You can see a sample of how you might craft this. If you have no experience in the field, use other things you've done to show why you would fit this position well.
Resume Objective Example for Mid-Career Network Engineer Resumes

For the Cisco certified network associate or others in mid-level positions, you'll have more to include in your resume objective. Focus on your biggest accomplishments and skills as you build yours.
Resume Objective Example for a Senior Network Engineer Resume

Those who are in senior positions are likely problem-solving load balancers who can handle all sorts of situations. This means you might have a lot of information to include. Pare that down to only a few sentences. Use the highlights from your career.
How to Format This Section
Formatting this section is very simple. The words are more important than the style for this one. However, make sure it is easy to read and the font is professional. This is the only section where you should have a block of text. Whatever you do, avoid having more than four sentences in this section.
Section #3: Professional Work Experience
Now that we get to the professional work experience section, you can start to delve into your years of experience with network devices. For those with lots of experience, include all your network engineering jobs on the resume. If that makes the resume too long, cut it down to the most recent or impressive. On the other hand, those with little experience should consider things like internships, volunteer experiences, and more.
Almost everyone has worked with network components, even those who haven't done it as a career. There's nothing wrong with including the experience you have but focusing on the things that match the job you want. However, those with no experience may want a different format for their resume, which we'll talk about soon.
Professional Work Experience Example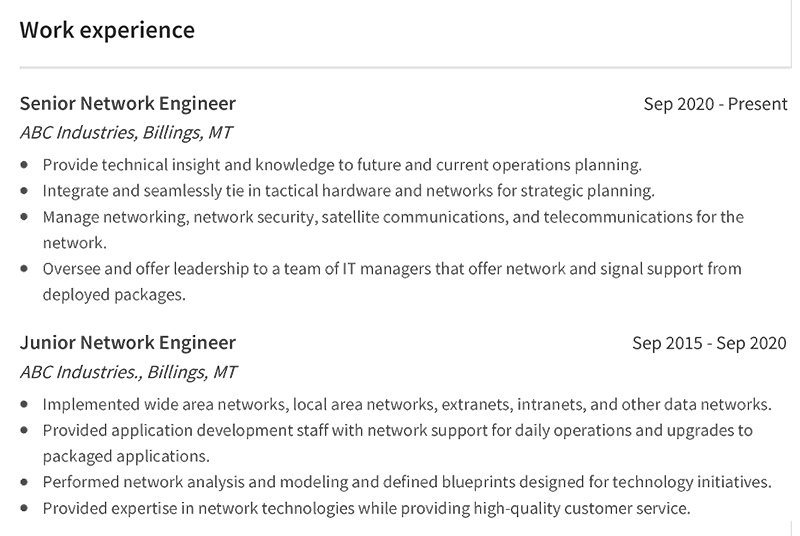 Now you can see how professional work experience looks. In this case, the person has two jobs listed and all the information related to them. They provide the name of the company, where it's located, and how long they worked there. This is really where you show what you've done in the past and how it makes you a good candidate for employment.
Your own list is going to be different, of course. However, you can use the same resume template and change out the experience to match your own. Remember that you should focus most of your description here on the things you've excelled at that are also relevant to the job description that you have at the side to look over.
How to Format This Section
The first two sections of the network engineer resume didn't have much formatting to worry about. That changes with the work experience section. You'll start out by listing the basic information about the job, such as when you worked there, what your job title was, and what the company name was.
Then underneath you start to add more details. Use bullet points to list different job responsibilities you had and how you accomplished them. This is better than a paragraph of information about the job. It can be skimmed quite easily for keywords the hiring manager is looking for.
Section #4: Educational Background
After you fill in all your experience, we move to your educational background. This is where you list your high school diploma, associate degree, bachelor's degree, or even master's or doctoral degree. However, it's not just about a computer science degree. You should also add in certifications.
Whether you have CompTIA or Cisco CCNA certifications, now is the time to share them with a potential employer. All of these items should be listed but there is one exception to be aware of. If you have a degree beyond high school, there's no reason to list your high school diploma. Instead, go straight into the next degree you received.
Educational Background Example

While the educational background isn't the same as a network engineer job, it still matters. Education can give you the knowledge you need to move into a position, be promoted, or move into more challenging roles. In this case, the applicant has a bachelor's degree in computer science and no other education. If there were certifications or more advanced degrees, those would also be listed.
The educational background section has some similarities to the work experience section you just wrote. For instance, reverse-chronological is the best way to write both. This means you list your most recent degree and then move back from there to add the other degrees and certs you might have.
How to Format This Section
A professional resume should have a neat and clean appearance. You can take cues from the last section but things aren't 100% the same. For example, most of the time, this will be a single entry for each educational experience. It will list the school, degree, and time the degree was attained.
However, more information can be added if you have more education than experience. For instance, you could add special projects, your GPA, and other things that show your expertise in education. Those with more experience can work with just the basics instead of adding additional information.
Section #5: Skills
Networking resume skills are essential. Soft skills, hard skills, technical skills, and communication skills show what you are capable of. However, it's important to list the right skills on a network engineer skills resume. That means going back to the job description to see what the employer is interested in. Then look at your own skills and see which of them match.
Network engineers have to be proficient with complicated software and complex tasks so including your skills is a must. Whether you largely focus on troubleshooting firewalls, routing LAN, or working to configure VPN, those are things an employer wants to know. Below you'll see an example of the skills section to get a better idea of how to create your own.
Skills Example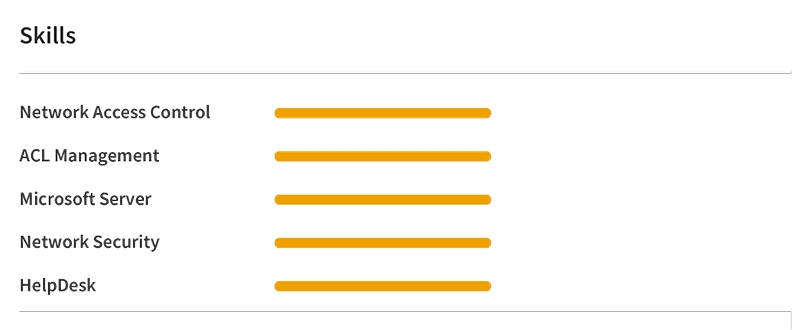 Every position is different. One might largely focus on network security, another on network infrastructure, and a third on network administration. Skills can include knowledge of various things, from TCP/IP to WAN, and OSPF upgrades to a Cisco router. You might have some of the same skills listed in the image above or you might not.
Since there are tons of skills to choose from, make sure you choose only the most relevant for your network engineer resume. Below are a variety of skills that might work for your needs:
·       CCNP
·       BGP
·       Network performance
·       Network systems administration
·       Routing protocols
·       Connectivity
·       Network design
·       Technical support
·       Cabling
·       Disaster recovery
·       Project management
·       Operating systems
·       Juniper
·       EIGRP
How to Format This Section
The skills section resume format can vary depending on what you like. However, there are some rules to follow. For instance, don't make the skills a block of text. It's better to use a list. Employers can easily skim the list to find the things they're most interested in. In addition, it's a good idea to indicate how proficient you are in a specific skill.
For those who are very experienced, you may not have room to include all your skills in the field. That's okay. Make a list, check them against the job requirements, and add five to 10 entries that match. Use a legible font but feel free to add some color to the list so it's more likely to be read.
Section #6: References
Sure, you know how to work with a wireless network, but who else knows that you have that ability? That's what the references section is all about. You should be providing a list of people who are aware of what you can do. The majority of these should be from past employment or education but not all have to be.
As an example, one of the references could be from someone who knows you in the community. However, be careful about who you choose. Adding in family members or friends is typically frowned upon. Make sure you have at least three references available for this section.
References Example

An example of a reference section is listed above that you can use. This is another of the simpler sections and a great way to end your network engineer resume. You can see that the applicant has included three references from work and education in their past. However, you can add additional entries if you have several great references.
How to Format This Section
The best formatting method is debated, but we like the one used in the sample. You add the name and place of employment for each reference. Then instead of including the email address, phone number, or other contact information, you note that it is available upon request. This keeps reference privacy while showing you do have references ready to go.
Other IT Resume Templates
A free resume template can be used based on the examples in this guide. However, there are additional options if it isn't quite right for your needs. If you want to try out different formats and styles, we also have many other options. While these aren't specifically designed for a network engineer resume, they're similar and you can adapt them to meet your needs.
Select any of the resume templates you see above and put in your own details. Next, go over it to make sure it looks aesthetically pleasing. Once everything looks good, you can move on to the final steps.
Final Points on Writing a Network Engineer Resume
You've reached the point where you have all the information you need for your network engineer resume. Once you finish it up, there are only a few other things you need to do to turn in your application. The first is to read over the resume for typos and other issues. Consider using Grammarly or a similar tool to catch anything you might not.
In addition, you should take the time to craft a well-written cover letter. If there are other documents needed, get them all together at the same time before you submit your application. When you have an excellent resume and cover letter, it can easily make you a better candidate than the next person. Good luck!