Maintenance Resume: Example, Template & Writing Guide for 2023
While there may be many positions out there for those who know HVAC preventative maintenance, you still need a stellar maintenance resume to set you apart. Acquiring a job with a great salary and excellent benefits requires turning in a perfect resume with your application. But don't worry, we'll help you build a strong maintenance resume you can count on.
When you're writing resumes for maintenance workers, remember what the job is about. You'll be maintaining and fixing buildings, machines, and equipment. In many cases, you have experience with electrical repairs, plumbing work, flooring repair, HVAC systems, and more. In addition, problem-solving skills, physical stamina, and experience using power and hand tools are needed.
Even if you are experienced with all these things, the right resume is often what gets you the position. We'll be sharing all the best tips to make a maintenance resume that stands out and gets noticed. Keep reading to find out how to start and learn how to make the process simple and quick.
Maintenance Resume Examples
One of the best tools to create your own professional document is a sample maintenance resume. When you craft your resume based on the great ones already out there, it makes you a competitive applicant. Taking a look at a maintenance worker resume sample gives you an idea of what hiring managers want to see from you.
This guide will delve into all the sections needed in a maintenance resume, from contact information and references to educational background and work experience. You can take a look at a high-quality sample resume for a maintenance technician below. While you might choose different colors, alter the format, and change the wording, it offers a first step to creating an excellent resume.
As you work through the guide, you'll see samples for each of the sections on the maintenance resume. This will be accompanied by tips, information, and formatting ideas that ensure your resume looks great before you send it in. Take inspiration from the samples while adding in your information so you don't miss anything essential.
Below is our first general maintenance resume sample for your use. Take a look at it as you work through building your maintenance resume. You can also download it and have a hard copy as you start working on your resume. Use our resume builder to create a resume for each of your jobs and you could be working at your dream location more quickly than you ever expected.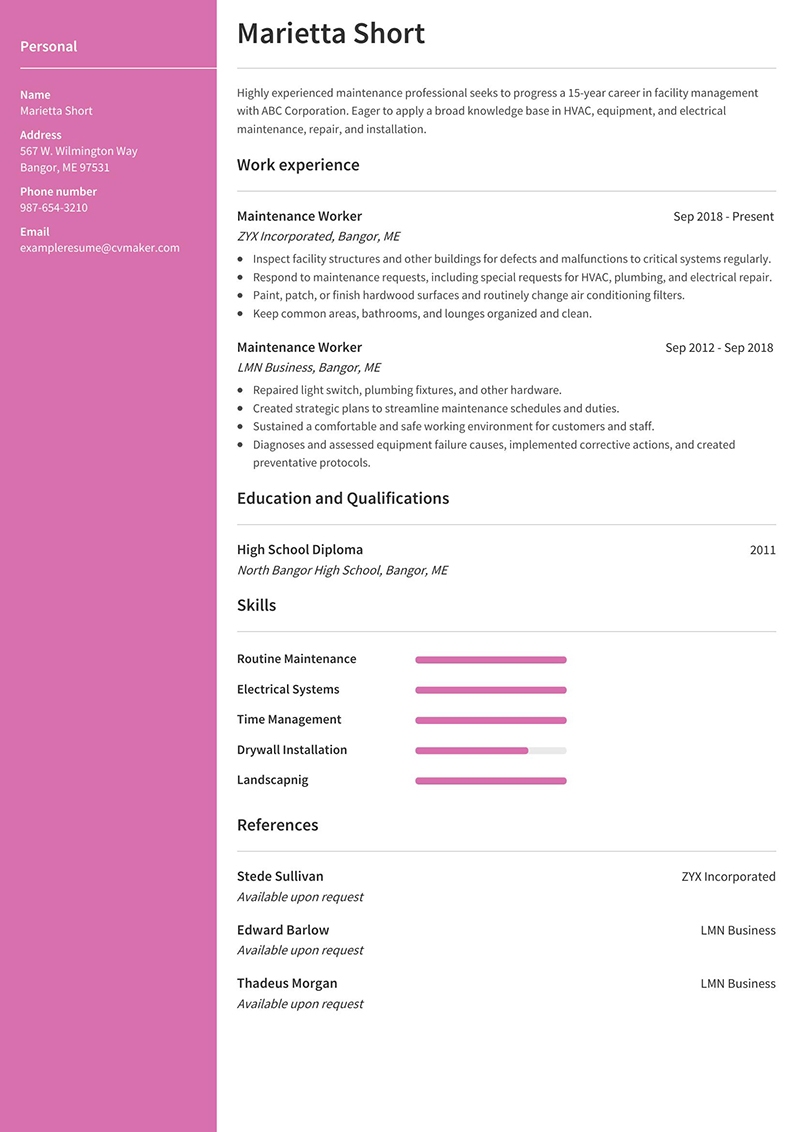 Download This Resume Example - Maintenance
How to Write a Good Resume for Maintenance Worker in 2023: Full Guide to Maintenance Resumes
Getting a job occurs when you have an excellent resume for a maintenance position. This resume should pull the attention of the manager and convince them to keep reading. This involves bringing together several pieces of information. While you create your resume, have the job description nearby so you can peruse it as needed. The information in this ad will help you build an impressive resume.
Why do you need the maintenance job description for the resume? Because it has keywords. All the information about the skills and experience they want can be used to build your resume is provided there by the employer. When you introduce keywords from the job description, it's more likely that a human will end up taking a look at your maintenance resume. However, these keywords should be in the right section and make sense.
While an entry-level maintenance technician resume may differ from the resume for a maintenance supervisor in terms of information, many have the same format and can benefit from the same tips. Putting in useful information that an applicant tracking system (ATS) wants to see is the key to management seeing your resume at some point.
As you work through this guide and build a maintenance resume, check out the job description on occasion. Make sure you have it handy as you go through the most common sections for a maintenance resume. These include the following:
·       Personal Information
·       A Resume Objective
·       Professional Work Experience
·       Education
·       Skills
·       References
An example of the resume section will be included in every section so you can see a visual of what you might want to create. All you need to do is a bit of formatting, adding in your information, and proofreading to get the amazing maintenance resume that is sure to be read through by a member of management.
Section #1: Personal Information
Most maintenance man resumes are going to focus on your physical skills with repairing equipment and buildings. However, keep that information and use it later. Before you delve into the gritty details of your education and experience, first you need to introduce yourself. The personal information section is where you provide a short list of details about yourself.
This is a simple section to start with since everything you include pertains to the basics about you. This will all be information you already know. You simply need to write it down. Once you're finished, the manager will know not only who you are but the best methods to get in contact with you.
Personal Information Example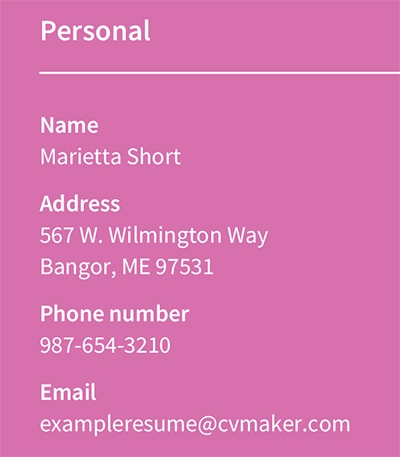 You might know a ton about power tools but nobody can hire you without having your contact information. Above you'll see that you should include. While there's nothing wrong with having additional information, this should be a concise section. The basics are all you need unless otherwise specified.
For instance, if the job description noted the need for your LinkedIn profile, you'd add it here. Otherwise, it's generally not required. It's better to have the mandatory information than to go too far and include more than is needed. It can make the resume look messy and hard to read.
How to Format This Section
When it comes to the personal information section, the functionality should be the purpose of your formatting. This isn't necessarily a section where you should go crazy with creativity. You want to be sure you can easily be contacted. Simple fonts and colors are the best methods to do this.
As you build this section, include your name, address, and two types of contact information. If you want to go with the tried and true model, add your email address and phone number. These are the ways most applicants prefer to be contacted. However, feel free to use others if they work better for your needs.
Section #2: Resume Objective
Not sure what a maintenance resume objective is used for? This is where you really show your cards in terms of knowledge, experience, and achievements. Also called a maintenance resume summary, this should be packed with action words and achievements should be quantified using numbers whenever possible.
This section is essential to selling you as a great candidate for the job. You want to share all the things you do best while providing your past accomplishments. The hardest part of crafting a resume objective is that it's meant to be very short so you'll want to avoid going wild with word count as you write it.
Resume Objective for an Entry Level Maintenance Resume

For someone with few or no years of experience, you need to go into your abilities and skills. Consider your traits that correspond to duties on the job description and add those to the maintenance resume. Volunteering, interning, or other experiences may have given you skills that fit the job duties.
Resume Objective for an Experienced Maintenance Job Resume

As an experienced maintenance technician, you know all about malfunctions and troubleshooting. Maintenance work and maybe even carpentry are a part of your blood. What will help you is to jot down your achievements and add the ones that match the job description. Choose big accomplishments that show you in the best light.
How to Format This Section
The images above give you an idea of what kind of formatting is typical for a resume objective. You'll want to have a concise paragraph that shows off the things you do best (as related to the job you want to get). There's no need to use fancy fonts or worry much about the format other than ensuring the information is legible.
As you add in achievements and accomplishments, watch for how much you write. The longest the resume objective should be for a maintenance resume is four lines. Avoid using words like "I" and "me" and instead dive into what you bring to the table. That's what a recruiter wants to see.
Section #3: Professional Work Experience
The work experience section is the next place hiring managers will look. If the objective is good, management will consider where you've worked and what experience you have. You'll want to go over the skills in the job description if you've used them in past employment.
Even those without past maintenance work need to create this section. Use it for other positions you have held. If you have no work history, volunteering and other experiences can be used instead. No matter what you've done in the past, this section will largely look the same.
Professional Work Experience Example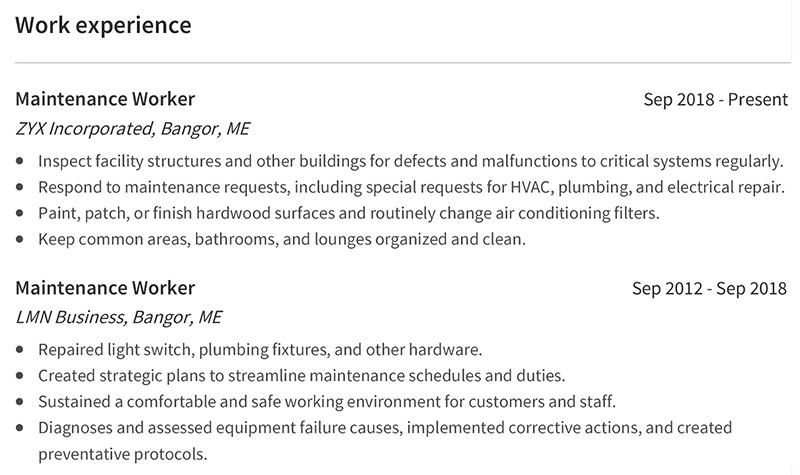 To create the best resume, focus on what you do well that pertains to the job. If you've done a lot of work orders and that's mentioned in the job description, make sure it's included in the professional work experience you note. You can get an idea of how you want this to look by checking out the image above.
You don't have to include every role you've had or even all the responsibilities you dealt with in the past. Jobs related to maintenance should be included as well as those that segue into the industry. Otherwise, be prepared to explain gaps in employment.
How to Format This Section
Resume format can vary but most people will choose reverse chronological. For this format, you want to list jobs starting with your current or last job and then go backward. A functional resume can work well for those with less experience. This focuses more on abilities and education than experience.
For each job, make a header that includes the company name, where the company is located, and when you worked there. Underneath, you can add a series of bullet points that describe your tasks and achievements at the job. This kind of format makes it easy to scan your resume and get an idea of what you are capable of.
Section #4: Education
Whether you have a GED or high school diploma, an education section is essential to your resume. However, if you happen to have a degree above and beyond that, the diploma or GED doesn't need to be included. Many jobs that involve maintenance of HVAC systems and more require only a diploma but check the job description.
For those who have multiple degrees, multiple certifications, or a degree and certification, you should list those starting with the most recent one you acquired. Then go backward to include the others on your maintenance resume.
Education Example

You might know a lot about building systems, but did you learn that through experience or education? The image above shows that the applicant completed high school, which is often enough to start in maintenance. However, degrees or certifications may be needed to move into management or other upper-level positions.
The image shows how this should look on the average maintenance resume. Yours might be longer if you have additional education. Those who haven't done a lot of work in maintenance might also want to add extra information about education to create a resume that fills most of a single page.
How to Format This Section
With your professional resume geared toward a maintenance position, look at the job posting. Make sure you have the required education for the job before you move into formatting this section. The formatting you will use here is similar to what you did for the work experience information. Have information about where you went to school, when you graduated or got a degree, and any extras you want to share.
If you want to add additional information due to a lack of experience, feel free to do so. Consider adding your GPA, special classes you took, or projects related to the job role you want.
Section #5: Skills
We're getting close to the end of the resume so we need to talk about skills for a maintenance resume. The skills section gives you a space to include things you're good at that you might not have mentioned up to this point. For instance, you could include special experience with landscaping, drywall, air conditioning, or blueprints. Talk about your excellent time management, use of hand tools, or expertise with electrical systems.
When you choose maintenance skills for a resume, go back to the keywords on the job listing. Consider adding both soft skills and hard skills to make a well-rounded maintenance resume skills section. Both things like communication skills and routine maintenance knowledge are useful. Make sure to highlight skills you are good at that pertain to this specific job.
Skills Example

You can see how a typical skills section looks for a maintenance resume above. You'll likely have a different assortment of key skills but the visual can give you an idea of how to highlight them right. Remember to use assorted skills of all kinds but make sure they are relevant to the position you want.
If you aren't sure what to add to the skills, look at the ones above and use those to start your brainstorming section. Check the details of the job and add the skills you have that are listed. This will make a huge positive impression that could get you to the next stage of the process.
How to Format This Section
Now that you know what repair work and maintenance work to add, you might be wondering how to format it. Consider something similar to the example above or select something that fits your personality. The main thing is to make it a list rather than a long paragraph that describes your skills.
The skills section can be placed on the sidebar or in the main resume, depending on what works best for you. Add the most important skills but don't go overboard. You don't want the list to overwhelm anyone. Include how skilled you are with each item you list as extra information for a potential manager.
Section #6: References
You know about the upkeep of systems, have plenty of technical skills, and offer a great work ethic. Even if all those things are accurate, you may need to prove them. The reference section is the area where you get to do that. References are individuals who know the good work you do and are happy to share that with others.
The references you add are a show of how easy you can work with others. It demonstrates that people enjoyed your work and felt you were an asset to the team. Many references are from workplaces but not all of them are required to be.
References Example

You can see a sample reference example above. The people listed know the applicant is skilled with facility maintenance. However, you can add anyone who has knowledge of maintenance tasks you have done in the past. You want these people to be those who know what you're capable of and who will say good things about you.
In this case, all the references come from past jobs. However, you can also use people from the neighborhood or educational institutes that you have attended. Speak with the references beforehand to make sure they're happy to provide this for you.
How to Format This Section
There are three ways you can include your references. The first is to have their names, work locations, and contact information included. The problem with this is that private information could be spread. A second method is just to forgo the section other than to state "available upon request," which saves privacy but gives the manager nothing to work with.
The final method, and the one that is recommended by most, is to include the person's name and where they work. However, instead of adding their phone number and email address, let the manager know this information is available on request. You share some of the information and then provide the rest if the manager needs it as you move forward in the process of being hired.
Related Resume Templates
Choose the resume template features in this article if you want a simple method to create the best maintenance resume. However, there are several other resume templates that you can choose to use. Each is different so you can select the one that works best for you. Show off your building maintenance experience with any of the ones listed below:
While these aren't designed specifically for maintenance positions, they can be easily edited. Choose the format with colors and details that match what you want to convey and then place your own details inside. It's an easy way to build an excellent maintenance resume that fits your needs.
Final Points on Maintenance Jobs Resumes
It may take some time to create the perfect resume but it's worth the investment. When you use a resume builder, it can make the process quite a bit easier. What you need to do is show that you have the needed skills through your maintenance resume. This is a great way to show you deserve an interview.
Don't forget about the other documents you might need for the application. For example, a cover letter is a great addition to the resume. It can be used to explain who you are, why you want the job, and what you bring to the table. Proofread all your documents, make sure the formatting looks good and then send it in. Good luck out there!