Java Developer Resume Example & How to Write Tips 2023
Have you come across a job description that sounds perfect for you? When nothing matters more than getting the job, you need the best possible Java developer resume to help you. Not only will you show proof that you can rise above the rest in terms of application development, but you'll indicate you take the job search seriously.

Having the right tech skills is a must, but you also need to show that you're a team player. A Java developer resume no longer focuses solely on what you can do on your own but what you can do with the help of those around you. Communication, teamwork, and other soft skills can go a lot farther than you might think – even in specialized tech environments.
Creating a resume can be done fast, but it might leave you with formatting issues or missing sections. It might seem like doing it right will take too much time, but that isn't the case. When you understand what needs to be in the resume, how to easily format it, and the best way to stand out, you can create a resume that impresses a hiring manager without spending hours on it.
Java Resume Sample
Before creating your own resume, make sure you've viewed a few Java sample resumes. This is the best way to get an idea of how others format their professional documents. In addition, you can learn from the things that work and the areas that might contain mistakes. No matter how much experience you have, you'll find sample Java developer resumes to help you.
This guide will share various aspects of a sample resume for a Java developer fresher, a junior Java developer resume sample, and a senior Java developer resume sample. The bases are covered so you can focus on finding the right words for your own resume.
Below, you'll find a full Java developer resume sample that you can use as you start your own document. In addition, you can look at the way this resume for an experienced developer is put together to offer vital information to a recruiter or hiring manager. Then we'll move on to tips and tricks for creating the best resume so you can get that fantastic job you've been hoping for.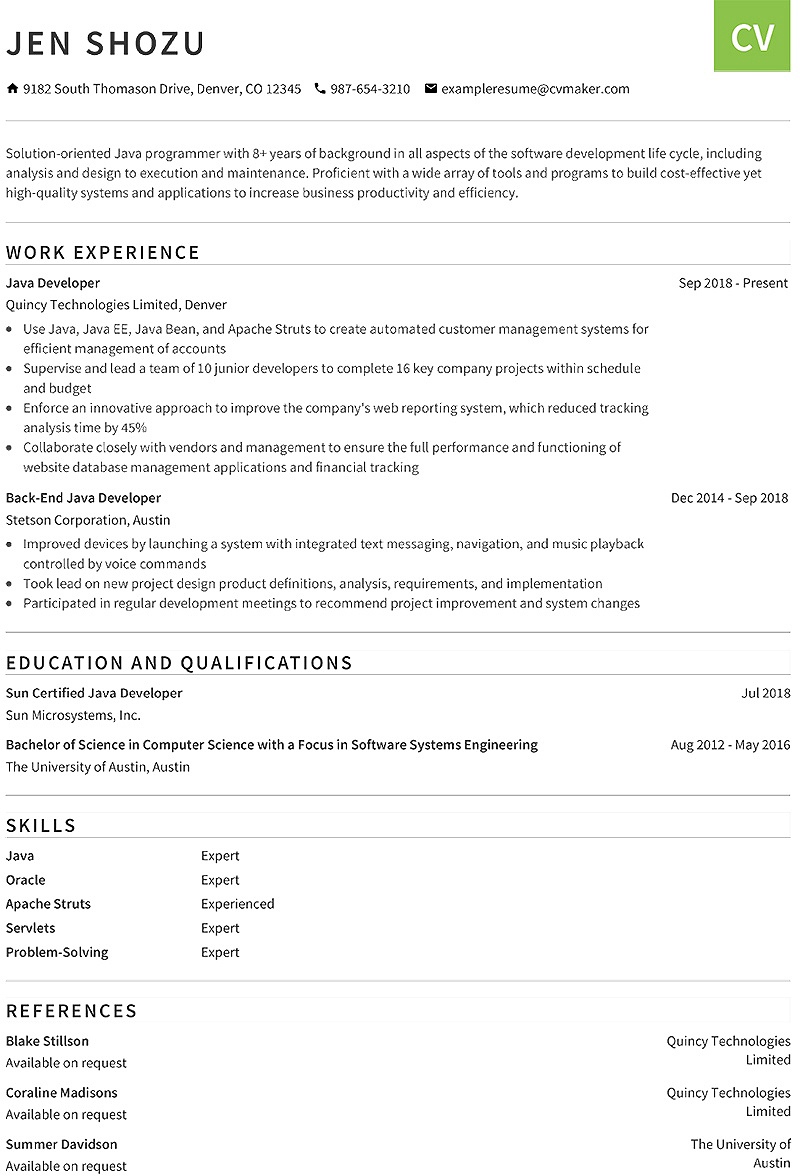 How to Write the Best Java Developer Resume in 2023: Java Web Developer Resume Guide
Whether you need a resume for a Java developer at an entry-level job or an experienced Java backend developer resume, many things are going to be the same. For instance, certain sections are considered all but mandatory on a tech resume. However, these different bits of information all have a use, and when they are combined in a professional document, they tell a story about who you are and what you can do.
Your Java programmers resume should focus on the things you are the best at, especially when you have skills that are relevant to the position. All the top resumes will have a lot of the same information – so yours needs to stand out in some way. For instance, a Java developer resume will typically utilize all of the sections below:
Your personal contact information
A resume objective that shows off your achievements
Data about where and when you've worked at other companies
Details about your educational background, including certifications
All your top skills that relate to Java programming
And a set of compiled references to speak to your abilities
One other thing to be aware of while crafting your resume is the presence of applicant tracking systems. This is a computer-based way for resumes to be analyzed before they ever reach anyone's desk. Having the right keywords, often including phrases from the job application, gets you through the filter.
Knowing these things, you can get started on your Java developer resume. Below, we'll go through the different sections and what to include in them. We'll also finish up with additional examples and samples you can use, and a few tips that will help you ensure your resume is one of the best that someone looks over for a position.
Section #1: Contact Information
Before you show off your skills with web applications and web services based on Java, you need to ensure an employer has your contact information. It's recommended to start here since this is a simple section to write, and you should have everything you need to add already memorized and ready to go. From there, we'll move into areas that require a little more work to get done right.
You might think that this section is so simple that you need no tips, but every little bit extra can help. The idea here is to introduce yourself and provide at least two ways for a recruiter to get in touch with you after reading the rest of your resume. Even though the information is simple, make sure not to have typos or use a font that is hard to read.
Contact Information Example

In our Java resume examples, you can see each section of the document in more detail. The image above will give you an idea of how a template can help you create a streamlined and easy-to-read contact section. Of course, your own contact section might look different than this one depending on your preferences.
However, the most important details should align with the sample Java developer resume. You should have your name, an address or the state or country where you live, and at least two ways to get in touch with you. That will include a phone number and a professional email address most of the time.
With a template, you can just enter your information and move on. Even made manually, this section is typically manageable in terms of information to include. Some people may question whether to add a link to GitHub or LinkedIn, and it's a matter of preference. You don't have to unless the employer specifically asks for it.
How to Format This Section
You want to use a format for the contact information section that makes it easy to reach out to you. That means a lot of formatting might be a bit too much in this instance. Add your information, starting with your name, continuing with your location, and then including the best ways to contact you. Other required information can be added as necessary.
Use a simple font to add all of your personal information. There's no need to get fancy; this can even make it harder to read, which you want to avoid. Then go over everything for errors or tweaks, and you'll be ready to move on to the second section of your Java developer resume.
Section #2: Resume Objective
The resume objective is the next thing you need to focus on for a Java programmer resume. This can also be called the resume summary; the two are the same. This section has one primary objective: to reel in the recruiter and keep them reading. That means you need to sell yourself and your skills across the entire section.
If the job description mentions the need to know Oracle Java and JDBC fundamentals, this is where you can place it on the resume for the first time. In addition, be aware that most resumes are only seen by a person for a few seconds. This might seem intimidating but use that knowledge to your benefit. This should be the strongest section of the entire resume.
Your level of experience will play into how you build a resume objective. Below are three different examples, one of which will work for your particular situation. First, we'll share an entry-level objective, one for a mid-career potential employee, and a resume for someone with senior-level skills.
Resume Objective Example for Java Entry Level Resume

Everyone starts at an entry-level position at some point. If you have no experience at a job using Java development, that's you. It could also pertain to someone right out of college. You may have internships and projects from class that can fill out your resume objective. Even if all you have consists of personal projects, tie in what you can do with what the job description is asking for. Always work to sell your skills.
Resume Objective Example for a Mid-Level Java Developer Resume

For a mid-level Java developer, you have a few years of experience. Maybe you know a lot about J2ee technologies and can share how some of your projects cut costs or freed up time at a past job. Whenever you can show you achieved something through the things you did, that's what you should focus on for the resume objective. Evidence that you're better than others will help you acquire an interview.
Resume Example for a Sr. Java Developer Resume

Finally, we come to the senior Java developer. Hiring managers should feel lucky that you are interested in their job description. You know the nuances of everything from Java design patterns to leading a team and providing relevant information to shareholders and managers. You also probably have the most projects under your belt, which might make it challenging to keep this section short. Your goal is to pick the most significant achievements and share those with the hiring managers.
How to Format This Section
You probably noticed that the resume objective is meant to be short and to the point. That's accurate, but it can be explained even more. Resume objectives should be no more than four sentences long. Two or three sentences are most common, while some people can pack all the needed information in a single line.
The idea here is to get rid of extra words and avoid talking about skills you can't prove you have. Instead, use power words and include numbers to show how you can improve a company from your position as a Java developer. This is what will convince a hiring manager to keep reading the resume.
Section #3: Professional Work Experience
Now we get to the meat of your resume: professional work experience. This can look different for everyone since all of us have different skills, experiences, and work histories. For instance, a resume should be one to two pages. That might mean a Java developer resume with eight years of experience cuts some jobs that aren't relevant.
On the other hand, a Java resumes with 5+ years of experience may not need to, especially if all of that time was at one or two companies. On the other hand, a Java developer resume with two years of experience will likely fit within the length constraints, but there may be exceptions.
The main point of this section is to show that you have done things in the past that make you prepared for your potential new role. It contains more information than the resume objective to expand on the things you did well and include additional responsibilities that you are familiar with.
Work Experience Example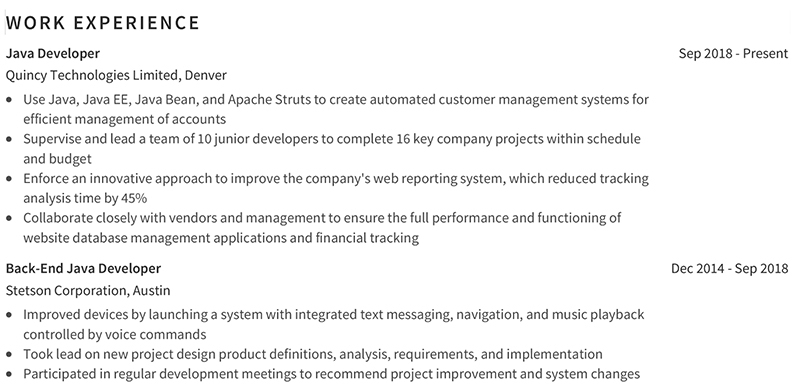 You can see in the image above that a Java developer responsibilities resume is packed with information. All of the details are focused on the job you want to get and how you can help your chosen organization. For instance, you might focus on showing how you worked with Java programming and debugging in multiple positions if that's relevant to the role.
If you have technical skills to shout about, add them here. Show all the Java development you have done in the past and include other skills. Even if you have limited or no work experience in the industry, pull things from past experiences that pertain to this one. Get creative if needed but don't say you have done something you have not.
How to Format This Section
Recruiters expect most Java developer resumes to be in reverse-chronological order. This will be what you see in most Java developer resume samples and likely will work for your needs. The job you currently have, or the most recent one, comes at the top, and then previous jobs are placed underneath that.
In the headers, make sure to include your job title, the company you worked with, and when you were with the company. Underneath is where you can add a lot more information. Use bullet points to include your responsibilities and talents to better show off what you can bring to a new company.
Section #4: Education
When you look at a sample resume for a Java developer with one year of experience, you can see why the education section matters. Sometimes, education is a massive example of what you know and can do. Therefore, even those more experienced in Java development should include this section, even if less information is needed.
Whether your education taught you the basics of software development or filled in the gaps with core Java, this is where employers can learn that. However, the education section isn't only for college. Some developers never went, after all. You can also use this section to include certifications you've gained over the years.
Education Example

Not everyone who gets into Java development has a computer science degree, as you can see from the example above. Whether your major is psychology or software engineering, showing your highest level of education is essential. As you can see, the example shows the applicant's highest degree and certification. You can make your resume in this format or split the degree and certifications into separate areas.
How to Format This Section
Formatting is similar here to your work experience section. However, you may wish to put all your certifications together and degrees below or above them. Otherwise, use a reverse-chronological resume format. For those who have work experience, all you need to include is the degree or certificate, where it came from, and when you got it.
Those who are newer to the industry can include extras. For example, this might give you space for your GPA, practical modules you completed related to Java development, or achievements you've had while at school. While this kind of information isn't required, it can beef up your resume and show what you are capable of.
Section #5: Skills
When it comes to a Java development resume, you must have a list of skills. It acts as a final space to share details that might not have fit anywhere else. Use the job description to see what the employer is looking for and include the items you can do well. This could be what tips you over the edge to get called in for an interview.
If you aren't sure what kind of skills you should add, consider the ones listed below. These are common on Java developer resumes and may give you a place to start when brainstorming skills to include:
Agile
Algorithms
CSS
Eclipse
Hibernate
HTML
Java Application Programming Interface (API)
JavaScript
Java Server Pages (JSP)
JMS
jQuery
JSON
JUnit
MySQL
PL/SQL
Programming languages
Python
Scrum
SQL
Struts and/or Spring frameworks
Tomcat
Unit testing
WebLogic
XLM
Skills Example

The skills example above focuses on mainly technical skills but don't doubt the value of soft skills like problem-solving and teamwork. Sure, you should make certain an employer knows you are experienced with Java servlets and can create a user interface, but you also want to show that you work well with others.
Many employers will choose someone less experienced over someone with additional skills if the first person seems more pleasant to spend time with. Don't count yourself out. Work to the end to sell yourself and what you can do for a company.
How to Format This Section
The skills section is an excellent place to put your front-end development, back-end development, and full-stack development skills. But you still need to consider how to format this information. A list format is typically recommended, but you can be more creative if you like. Add all the skills you chose, making sure not to go overboard, and add them to the resume.
In addition, you should show your proficiency with your skills. For instance, in the example above, you can see some skills are marked as "expert" or have other indications of mastery. You can choose templates that display these in different ways or make up your own if you're building a resume by hand.
Section #6: References
Last but not least, you need to provide validation of your skills and experience. For instance, who will be the best person to indicate that you are great at service-oriented architecture? This is where references come in. These are people who know you and what you do best. The best options are people who are aware of your character and can positively speak to that.
References Example

As you see above, most of the references should be from past jobs, if possible. These individuals can say that you have the software development life cycle down, know how to program for multiple operating systems, and work well in a team. Three references are ideal most of the time, which you'll see in the image example.
If you want to include personal references, make sure they are only one among the others. This also should not be used for relatives or close friends. That can make it seem as if you're trying to tip things a bit too much in your favor. Instead, choose someone reputable who you know who can speak to how you act outside of employment.
How to Format This Section
Resume reference formatting is simple. Use a standard font and include only the needed information. Include the name of the reference and their place of employment. From there, you can include contact information or simply state "available on request." The second is considered the best option in most cases.
Privacy is essential, so leaving emails and phone numbers on a resume could be considered a faux pas. Plus, when you leave the recruiter to contact you about your references, you know your resume is in the running for the position. This can give you time to polish up interview skills and prepare for the next steps.
Other Developer Resume Templates
With knowledge of the formatting and information you need on your Java developer resume, all that remains is bringing it together. The easiest and most time-efficient method uses a Java developer resume template. The one used in this guide is a good choice, but you can also select from some of the following:
Any of these templates can work since you'll be filling it in with your own education, experience, and skills. Choose one that matches your style and fits your industry for the best results.
Final Points on Successful Java Developer Resumes
Beyond creating a stunning and informative Java programmer resume, the last thing you'll want to do is build a cover letter for the position you want. Then proofread both of these items and send them out to the employer so you have a chance at the upcoming interviews. When you use the tips above, this process will be easier than you think.
Once you have a resume and templates, you can make changes quickly to send your information to other recruiters. You'll always have a gorgeous resume ready to go out whenever you need it. Now get out there and see if your new skills can land the job you want!