Full-Stack Developer Resume Example & How to Write Tips 2023
Recruiters want to see a fantastic full-stack developer resume before signing you to the position you want. That means it's important to show both your back-end and front-end skills as well as what sets you apart from the pack.
While there are many full-stack jobs available, there are also plenty of applicants, so taking your time on a resume is essential.
Companies want to hire the best applicant, and our guide and tips will help prove that you are that person. If you want a job that has the perks you desire, going over your resume and making sure it's pristine and perfect has a ton of benefits. It could tip the scales in your favor and put you in an office you've always dreamed about.
Your professional full-stack developer resume can make a hiring manager notice you. And that's the first step to speaking to them and ending up in a chair for an interview. It might take a little time and effort, but there are ways to simplify the process. All you need to do is keep reading to make sure the odds are ever in your favor.
Full-Stack Developer Resume Sample
Full-stack developer resume examples are a great way to get an idea of what your resume should look like. They can give you an edge that makes it more likely that you get an interview and find yourself a step closer to the job you want. Whether you need a junior full-stack resume example or a senior full-stack developer resume example, we have you covered.
In addition to the examples throughout our guide, you can also download a full-stack developer resume in PDF form to look at it while you make a resume that blows recruiters away. This is how you build a resume that gets you the job – even if that job is one of the best in the business.
Look below to get an idea of what an excellent full-stack developer resume looks like. Each section can be seen so you can mimic them or improve them on your own professional document. As you go through the rest of this guide, we'll zoom in on the sections and give extra information to assist you as you work.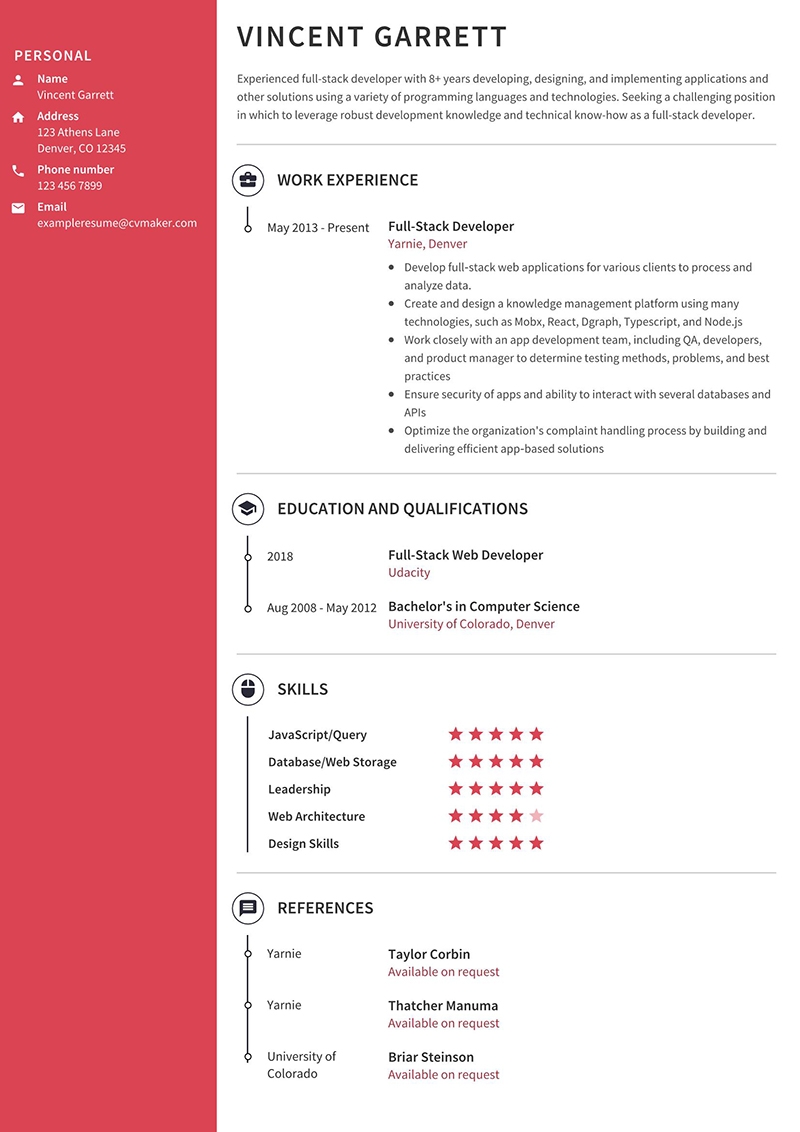 How to Write a Successful Full-Stack Web Developer Resume in 2023: Full-Stack Resume Guide
When you need a full-stack Java developer resume, the worst thing you can do is throw things together and hope for the best. There may be many development jobs out there, but there's also plenty of competition for the best of these positions. You want to show that you care about how you come off, and that means sharing the correct information in a visually-pleasing way.
So how do you make your .net full-stack developer resume get some attention? The answer is keywords. Look through the job description and see what the employer is looking for. Then, all you need to do is add those things to your own resume. It shows you've created a resume for this specific position and understand what your duties will be.
Why are keywords so crucial for a Python full-stack developer resume? Many resumes will first be "read" by a computer that checks how close your information matches what is desired for the position. If you don't add any of these or only have a few, you might end up never having a human pick up your resume to see how you'd excel at the position.
A master resume can be helpful for this since you keep all your information in a central space. You can switch things up for each individual resume you send out – and it quickly since you already have all the information. While you create a master resume for a full-stack development job, make sure you include the sections below:
Personal contact information
A stellar resume objective
Where and when you've worked
Any education and certificates you have
All the skills you are great at
References who vouch for you
Now you should have a good idea of what your resume should look like, what information it contains, and how to put it all together. So from here on out, we'll give you information about the sections we just mentioned and how to make them look great on your full-stack developer resume.
Section #1: Personal Information
The personal information section is the first thing a hiring manager will see on your Java full-stack developer resume. The great thing about this being first on your list of sections to create is that it's tough to get wrong. You're simply sharing essential information and contact details about yourself. The worst that can happen is making a typo that you go back and fix. So while you build this section, there's no need for much creativity. Just make sure the information is there.
Personal Information Example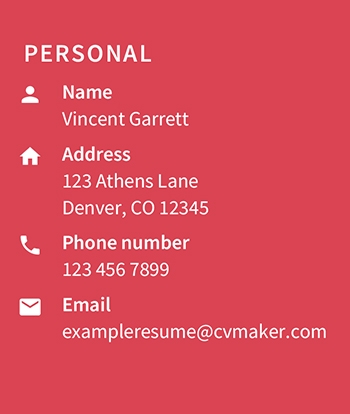 Building a resume as a full-stack developer can be daunting, but as you can see above, the personal information section is quick to design. You can see everything necessary to a hiring manager in a small area to the side or at the top of the document. In this case, that includes a name, address, phone number, and email address.
The contact options don't have to be email and phone, but these are the most common. If an email is one of your choices, make sure it's purely professional. Don't choose the Hotmail account you've had for decades with an in-joke username made for friends. An email address with just your name is an excellent option for job applications. Be sure it's an account that you check regularly.
How to Format This Section
Every Java full-stack resume needs to provide contact information. The way you impact this information is equally important, which is why we want to share formatting tips for this section and the ones we get into below. This section is meant to be accessible and straightforward to understand. After all, you want the hiring manager to be able to contact you as quickly as possible.
Make sure to add your name at the top and then include at least two forms of contact information. In most cases, you should have your address or at least the state/country that you reside in. Wondering whether to add links to LinkedIn or GitHub? It isn't required but you can if you'd like. If the job description requires anything else, make sure it's included.
Section #2: Resume Objective
The resume objective for a full-stack developer needs to be just right. The reality is that these positions often have many applicants, so you need to show you're perfect for the position. This is your pitch – you're showing a recruiter exactly why you'd fit into the role with ease. The way you do this might vary based on your experience level, but the main goal is to gain interest and get someone to keep reading.
Resume Objective Example for Entry-Level Full-Stack Developer Resume

class="blog-content-img"
Creating a resume summary for an entry-level position as a full-stack developer might seem daunting. However, it doesn't have to be that way. If you have other work experience, use that as a way to show what you're capable of. Even newly graduated students can create an excellent objective. For example, have you made web pages or web applications using HTML5 and CSS3? Add that and other skills you have.
Resume Objective Example for Mid-Career Full-Stack Software Engineer Resume

class="blog-content-img"
For a mid-career full-stack software developer, you understand application development and functionality. You probably have lots of experience implementing new features and working with a ton of software as it comes out. Take what you know and show how you've helped past positions with those skills. This is what is sure to make a recruiter stand up and take notice.
Resume Objective Example for a Senior Full-Stack Developer Resume

As someone with many years of experience, you have an advantage in terms of your abilities. However, it can be challenging to take everything you've done and cut it down into just a few sentences. After all, you want to talk about technical skills, software development, and your greatest achievements. The best thing you can do is consider your highest accomplishments that fit the job. Then, use those to build the objective.
How to Format This Section
You've likely gathered the most important part of formatting a resume objective on a full-stack developer resume – it should be brief. It's expected that it will be from one to four sentences. Some will lean toward one sentence, but two or three sentences let you break things up better and share all of the information you think is essential. Make sure you use an easy-to-read font, and you're good to go.
Section #3: Professional Work Experience
Whether you're creating an entry-level or experienced full-stack developer resume, this section shows what you have done in the past. Share any front-end or back-end work you've done to clarify that you can handle this job. Your professional work experience is going to be listed under the resume objective. That means it needs to be as perfect as possible. These two sections have a considerable impact on how far you make it in the hiring process.
Professional Work Experience Example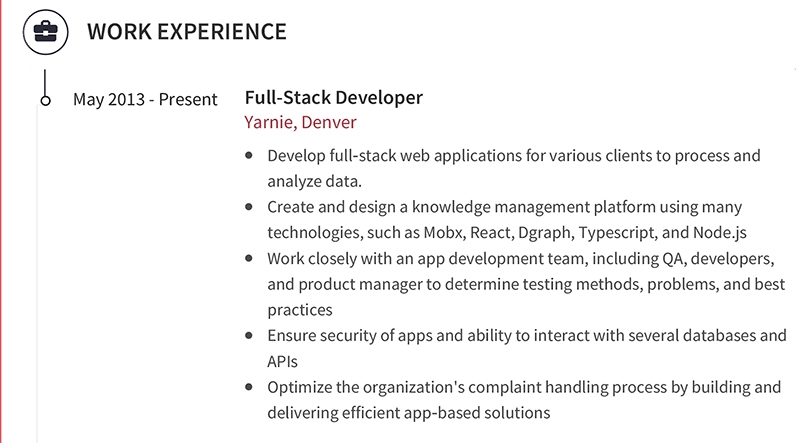 Above you'll see an image of a work experience sample tailored to a job description. As you can see, the applicant has listed all of the different abilities they have and tasks they did to show precisely what they are capable of if they are hired. This is another section that can really sell you as being the perfect candidate for a position.
If you have special development abilities, make sure these are here. For those who haven't worked as a full-stack developer, you can still add things you did that are similar from other jobs. As you go through the process, use keywords from the job description to ensure that your resume gets noticed.
How to Format This Section
The professional work experience section should be provided in reverse-chronological order in almost every case. The only exception is if you have no work experience, including internships or volunteering, to share with a potential employer. As such, put your current or most recent job at the top and then work your way down. Also, keep in mind that not every job has to be included.
Bullet points go under the company name, job title, and when you worked. You can use these to talk about how you used programming languages to revolutionize customer service or took on project management tasks regularly. Add the most relevant work you did for the bullet points, rather than including mundane things you did that anyone can handle.
Section #4: Education
When building a full-stack developer resume, you need to share your education. However, keep in mind that ability often trumps education in this field. Having a computer science degree and certifications can look great on a resume, but you need to also show that you have the skills the employer wants. Therefore, while creating the education section, make sure to include all degrees you might have.
Education Example

The sample education section listed above shows the applicant has both a degree and a certification. For those who may have several certifications, you can go a different way. The alternative is to create another section for certifications away from your education. However, either way works fine and shares all the pertinent information with a hiring manager so they can decide whether you should be contacted for an interview.
How to Format This Section
The resume format you want to use for education will be similar to the one you used for your professional work experience. Essentially, this means you should use a reverse-chronological method when you add degrees and certificates. So, if you got a degree in 2015 but finished a certification in 2018, the certificate would be listed first.
Format information in a clean and easy-to-read manner. You should include where you went to school (or get a certification), what the degree or certificate was, and can choose to add dates or not. Most people should add them, but it may be better not to if they were received far in the past.
Section #5: Skills
Your full-stack developer skills resume is where you show off everything else you know how to do. Of course, this will be different for everyone, so you need to consider what you have done in the past. However, there are several skills that often pop up on these resumes. This can give you an idea of what to include:
JavaScript
CSS
Scripting
Frameworks like AngularJS
HTML
MongoDB
Node.js
PHP
Agile
Bootstrap
jQuery
Git
MySQL
AWS
JSON
Oracle
ReactJS
Scrum
XML
Ajax
Ruby on Rails
Use some of the skills above to show what you are capable of. Feel free to add in other skills that make sense, especially if you have a few soft skills that you are confident about.
Skills Example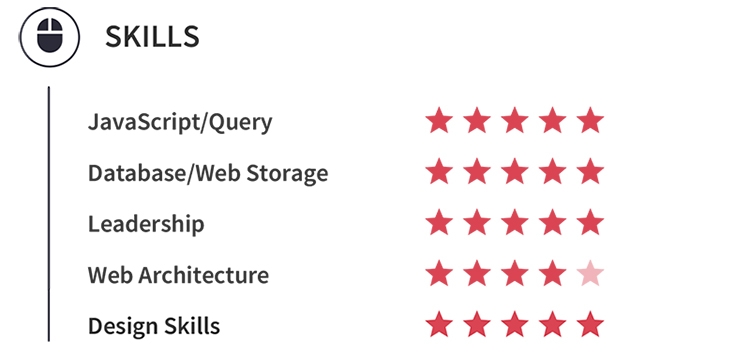 Above, you can see a streamlined skills section that shows back-end development skills. This should give you an idea of how your own resume section should look. However, the skills themselves should be based on what you are best at and what the employer is looking for. As an example, if the position needs problem-solving and you focus mainly on methodology, you might get passed over.
You also don't want a massive list of skills, so pluck out the ones that you are best at. Think about everything you are capable of, and then choose several of them that are the most relevant to the position. Those are what you want to focus on. A list that seems endless might be overwhelming to a recruiter.
How to Format This Section
Professional experience matters, but the skills section gives additional information about what you can do. While you go through skills and format this section of a full-stack developer resume, make sure you incorporate a combination of hard and soft skills. In addition, scrutinize the job description for keywords you can add if you have experience with them.
Listing skills is simple, but you also want to show your proficiency in each of them. As you see above in the example, most full-stack developer templates will make that easy. If you're creating a resume on your own, you should add visual or written information about how skilled you are in each thing you list, so an employer has additional information.
Section #6: References
Whether your focus is on unit testing, web services, or user experience, you need a set of references who can vouch for you. Hiring managers and recruiters will contact these people to ask questions about you and verify employment. Choosing the ideal set of references can round out a resume nicely. Make sure you choose only references who will say excellent things about you and your work.
References Example
The perfect resume will have a similar look to the example above. You can see that this is a simple section that takes only a few minutes to create. You'll see above that you can view the references and where they are employed, which gives recruiters a chance to determine the references are legitimate and valuable.
There are three references included above, but you can add up to five if you have solid names to add. Going below three is unusual and should be avoided unless there is no other option. Remember that most of the references should be professional, such as coworkers or past managers. However, you can include one personal reference – just be sure it is not a family member.
How to Format This Section
When creating a resume for a full-stack developer job, you want a nicely formatted list of references. Choose references who know you can handle debugging and other front-end development tasks. Next, choose a simple font and add the entries to your front-end developer resume. You should add the references' names and where they work.
Instead of leaving a phone number and email address, consider letting the hiring manager know that this information is available on request. This enables you to control who has access to personal information, which your references will appreciate. This is generally favored to adding all contact information or not leaving the names of references.
Other Developer Resume Templates
At this point, you have all the information you need. All you have to do is place it in a full-stack developer resume template or create a resume by hand, and you're good to go. The example used in this guide is an excellent place to start, but you can use several other templates.
Below you'll find a few of our favorites. Make whatever changes you like to ensure your resume shines when it hits a hiring manager's inbox:
Select a resume template that appeals to you, and then add the relevant information. You'll also want to read through the final document for grammar issues, typos, and other mistakes. Using a tool like Grammarly will help you catch errors, so the resume a recruiter sees is the best you can provide.
Final Points on Full-Stack Engineer Resume
If you've been following this guide, you now have a fantastic resume that you can tweak for various full-stack developer positions. All you have to do is update the resume for each application based on the job description. However, there is another document that is important – the cover letter. Once you create one, you can start the application process.
With a master resume, you have all the most critical information in one place. Using the tips above, you'll be prepared when your dream job is available. When you choose a full-stack developer resume template, the process is quick and easy. You could have an interview waiting for you soon!