Administrative Resume Example, Template & Writing Tips 2023
Efficient operations are the key to any successful business. And at the heart of efficient operations are passionate administrative assistants and managers who handle many day-to-day tasks. These multitasking experts must have a diverse portfolio of experience and skills to be effective managers. Still, before they can take on that responsibility, they need to be hired – which begins with writing an engaging administrative resume.
Many companies internally post job openings for administrative positions, giving employees the first opportunity to apply. However, some businesses prefer to go through recruiting firms. Either way, you will want an excellent resume and cover letter to increase your chances of being hired.
A few key questions should be considered when writing an administrative resume: How should it be written, structured, and formatted for success? What specific terms should be included in the objective statement? Is reading the job description before starting to write a good idea? Are there differences between management resumes vs. administrative assistant resumes?
These are a few questions we'll explore and answer in the information below.
Administrative Resume Sample
Sometimes the best way to start a project is to review an example of what today's hiring managers are looking for. Our team of professional resume writers is here to help. We'll showcase three unique administrative resume samples in the information below to provide practical tips. We will also outline some of the critical strategies our team of professional resume writers employs to craft engaging and convincing resumes for clients across the globe.
Administrative Assistant Resume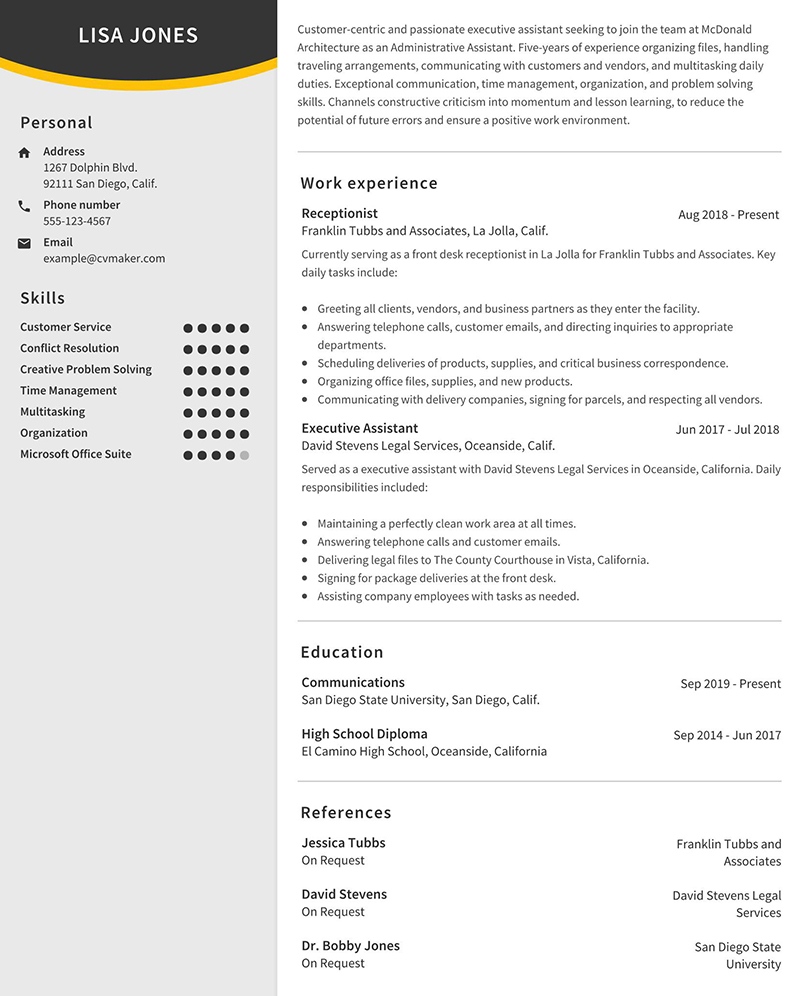 This first resume is for our mythical candidate Lisa Smith. She is applying for an office administrative assistant position for an architect in her hometown of San Diego, California. As you can clearly see, the resume is clean, organized, easy to scan, and filled with engaging content that tells a straightforward story from start to finish.
Her professional administrative resume includes all the required sections – personal contact, resume summary, work history, education, skills, and references. As you read the resume, pay close attention to the layout, the tone of her writing, and some of the critical action verbs (or administrative skills resume inclusions) that hiring managers (and software) will pay attention to when selecting candidates for interviews.
Office Manager Resume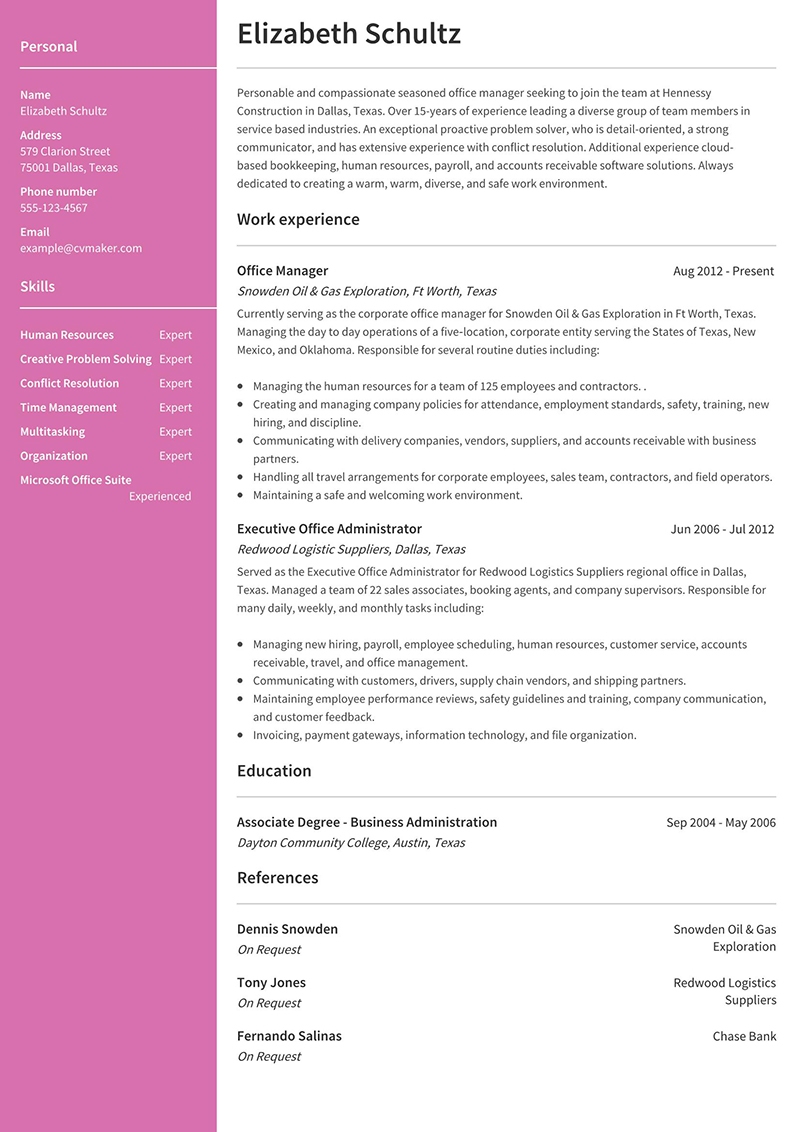 Elizabeth's resume flows well and tells a story of why she would be perfect for the job. She has made an effort to edit her resume specifically for this application, which sets her apart from other candidates.
The objective section of the resume mentions the intent to join Hennessy Construction. As you continue reading, you'll notice that she's selected her two most recent administrative jobs and a few critical items from each to demonstrate practical experience.
She also lists her highest level of education, provided some references (including two from her most recent employers), and abilities that will allow her to succeed as an Administrative on her CV.
This administrative-career resume is clean, error-free, and uses the same font. This document was created using an administrative resume template, making it simple for Elizabeth to duplicate and paste the information after it had been updated.
Virtual Assistant Resume Sample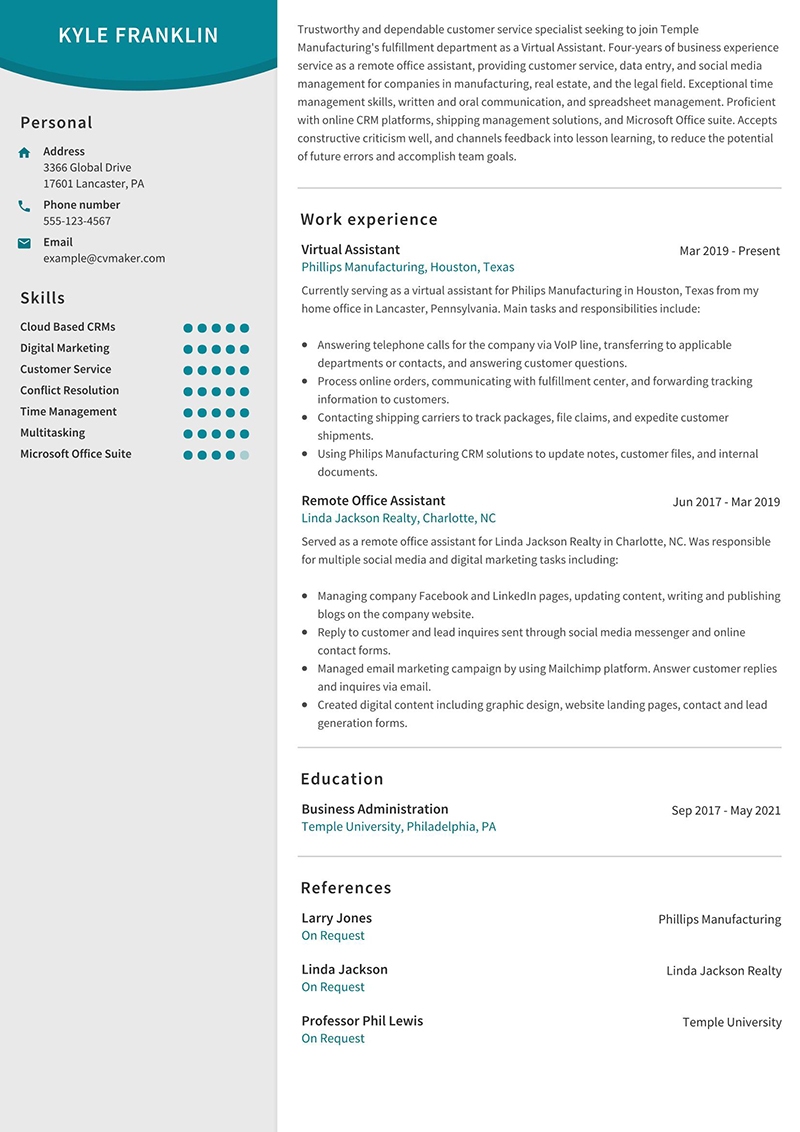 Not all administrative positions include working in an office environment. In fact, it's becoming more common for companies to hire virtual assistants or those who will work from home or a remote location. For people looking for this type of career, you'll need to write a resume that helps to build trust – as you're likely going to work without direct supervision.
Let's take a closer look at Kyle Franklin's virtual assistant administrative resume example. The main difference between the two samples can be noticed in his resume summary. Like the other two candidates, his is explicitly written to the company he applied to. However, he provides multiple job tasks, duties, and special abilities within this section.
In fact, his entire resume is heavy with skills and action verbs that are relevant to virtual assistant jobs. This is because many virtual assistant jobs are rewarded on job search engines or recruiting websites – like Upwork, for example. These sites will rank resumes based on the quality of the content – mainly based on keywords or action verbs. They use applicant tracking systems to rank their resumes.
You'll notice phrases like time management skills, spreadsheet management, cloud-based CRM platforms, shipping management solutions, digital marketing, customer service, and multitasking. This type of resume is best suited for uploading to job search platforms – but can be personalized, as this sample shows for specific applications.
How to Write a Good Administrator Resume in 2023: Full Guide to Successful Administrative Resumes
Every successful project starts with careful planning. This also applies to writing a resume for an administrative position. Although experts wrote this sample resume, you can still produce impressive results by following their lead. A great way to get started is using a master resume as a guide for your content.
A master resume is a document where you can input content, fine-tune the structure and layout, and edit everything to your liking. Once it has been perfected, transferring the content into an online builder will be much simpler. As a result, fewer mistakes will be made, and the final product will have better quality overall.
Here are a few recommended sections that we think should be included in any administrative assistant resume.
Personal Contact Information: There is no need to overthink this section. Simple is best. Just write your full legal name, complete mailing address, email address, and mobile phone number.
Professional Summary: The administrative resume objective or professional summary is your chance to pitch your application in a single paragraph. We'll explain more in the section below.
Work History: An administrative manager or assistant must showcase leadership, organization, multitasking, and problem-solving skills. Your relevant work history can assist.
Education: This is another section not to overthink. Document your highest level of completed education.
Skills: It's good to list five to seven management skills in bullet point format. For your skills section, pick ones that apply to office management or assistant tasks, such as experience in multitasking, Quickbooks, Outlook, human resources, leadership, travel arrangements, payroll processing, and conflict management. The key is to list relevant skills to the job you seek.
References: An office administration job seeker must have a proven track record of solving problems while having the project management or technical skills needed to accomplish specific tasks. Using references who can provide practical examples can help you hurdle other candidates.
The following sections below will help you build out the content for each.
Section #1 – List Your Contact Information
The first line of a business administrative resume should include the contact information for the company. An administrator must be a leader, and attention to detail is crucial. This begins with obtaining the correct contact information in the opening item on your resume. If you want to apply for an administrative position, make it simple for hiring managers or recruiters to contact you.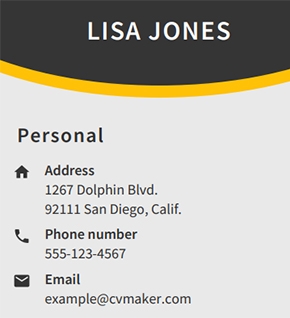 It is highly suggested that you put your correct contact information on your resume, which would entail:
Your whole professional name
The comprehensive mailing address (with the city, state, and zip code included)
Your email address (should be one used only for personal/professional purposes)
Your mobile phone number
In addition, make sure that the email address included on your resume is linked to your mobile device so you can receive text messages. This is because many recruiters use automated systems to set up interviews via email and text. If you're unable to reply promptly, you may miss out on opportunities with those who do respond quickly.
How to Format this Section
Using a resume builder or template, you can format your contact information correctly. You should have your personal contact information in the top left-hand corner or at the top of the page so it is easy for hiring managers to find. This also creates a look that is clean, neat, and organized.
Section #2 – Professional Summary 
Wouldn't it be fantastic if you could sell yourself as a competent and articulate administrator before they even speak to you? A professionally written resume summary can help you accomplish this goal. The resume summary is the second section of your administrative resume, but it is likely the most important. It introduces your experience, hard and soft skills, and those vital interpersonal skills crucial for the best office staff to possess.
Let's examine two specific resume summaries - one for an administrative assistant - and one for a manager.
Administrative Assistant Resume Summary 

Any administrative assistant resume example should contain a few key action words, such as being able to solve problems, being proactive and detail-oriented, and having experience booking travel for executives. This is what Lisa has accomplished in her administrative assistant job resume summary. She keeps the focus on her resume skills and 5-years of experience.
Office Manager Resume Summary
An office manager or administrative manager should focus on their key leadership skills, expertise, and some HR tasks, including experience with bookkeeping, creating Powerpoint presentations, or providing general administrative support.

Our candidate Elizabeth mentioned several of these skills in her summary, as shown in the example above. Suppose you're applying for a specific industry position - such as writing a resume for dental administrative jobs. In that case, you'll want to include specific training or certifications you've obtained in this section.
How to Format this Section
The summary on your administrative work resume should be around 200-250 words or four to five complete sentences. Format it similarly to how you would speak during an interview - professional yet conversational.
Section #3 – Work History
It's crucial to read the job description of an administrative position carefully before you start writing your resume. Your future employer may give you a plan for what they want to include in this section, depending on the role.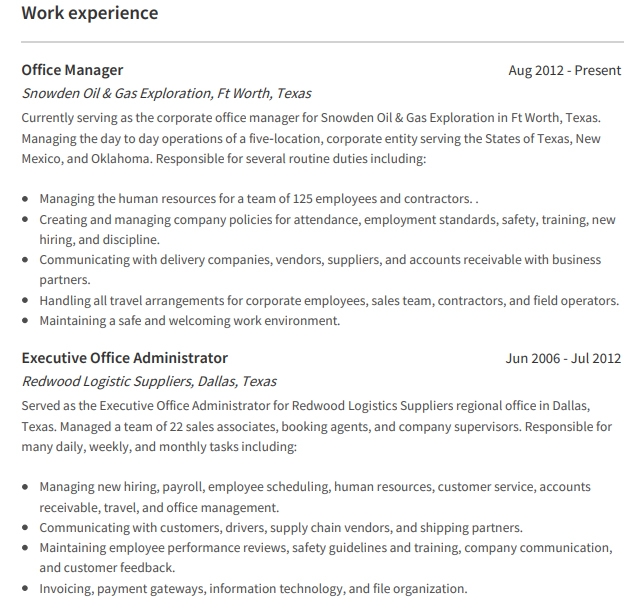 For example, in Elizabeth's resume sample, you'll notice that she has included two jobs from her previous work experience – one as an administrator for an oil exploration company and the other for a logistics business. Even though she has been an office manager for over 15 years, she selected these two positions because they are most relevant to the construction firm she hopes to hire.
In the work experience section, she specified four to five significant activities most likely mentioned in the job posting as part of the office manager's regular duties. That's how you make your perfect resume stand out - by including relevant information or practical examples pertinent to the position you're looking for.
How to Format this Section
The work history section should be formatted as shown in the sample image. The company name, location, and dates of employment should all be included. Your most recent position should always be listed first, followed by previous jobs. It would benefit you to read the job description in the posting to determine how many previous jobs they are looking for before applying.
Section #4 – Education
An associate's degree in business administration, or relevant experience, is required for several Administrative occupations. This may be unclear to many job search prospects as to how to assess the proportion of theoretical knowledge versus applied expertise. The good news is that this information isn't crucial to your resume — especially in the education section.

Elizabeth presents a perfect example of honesty by including her highest level of education completed, even though it's from a community college. Integrity like this is always relevant and appreciated. Unless the future employer requests it, there is no need to list current enrollment in higher education.
How to Format this Section
The education section of the resume is another example of minimalism. It's ideal for including the essentials — such as the school's name, location, dates of attendance, and any degrees received — in a resume format.
Section #5– References
Two types of references are used for candidates seeking an administrative position: a personal connection and someone who has worked directly with the candidate. When you review Elizabeth's sample resume, you'll notice that the references she selected were direct managers from her previous jobs.

Think again if you're applying for your first office operations manager position and using your boss as a reference. A professional reference is supposed to be given by a third party that can vouch for your qualifications - someone not already employed by the company.
The ideal professional reference would be able to vouch for skills such as excellent communication, experience with keeping files tidy and organized, successfully training new employees, and being able to oversee office functions delegated to other staff members.
For personal reference, selecting an individual who has served as a mentor is best. Many office staff candidates will choose a peer they have worked or learned from or a family or friend who has provided guidance or advice in the past.
This reference should testify about your character, personality, and ability to communicate with a diverse group of people. They can speak to your time management skills, courteous nature, and other interpersonal skills.
How to Format this Section
Regarding your resume, some of the best practices for ensuring it's perfect include keeping your reference section private and straightforward. Verifying that your reference contact information is updated and accurate is critical, but you don't want to list that info on any old resume. That's their private information! Instead, follow the format in the sample image above – write down the name, place of employment, and the phrase "available upon request."
Section #6 – Skills
An administrator is generally responsible for the day-to-day operations of a working business. Leadership positions will manage employees' payroll, write or manage schedules, and oversee multiple departments.
Office assistants typically set appointments, complete data entry, work with Excel sheets, order office supplies, work with local vendors and carriers, and handle event and travel planning. They have great communication skills, and typically require proficiency with Microsoft Office programs. These are some administration resume skills that are appropriate for this type of position.
The individuals who work the hardest should have many years of experience under their belt, be great communicators and multitaskers, know how to handle crises as they come up, solve problems rapidly, and have a natural talent for the organization.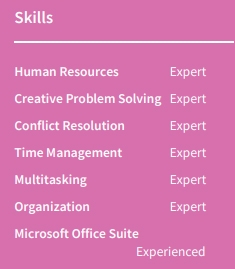 The following administrative resume skills should be included in your final document. From Elizabeth's resume, you'll notice that she highlights many of these hard skills. Using a resume builder, she could format the skills in an easy-to-review bullet point style and note her level of proficiency for each one.
How to Format this Section
There are two locations where you can list your skills: at the bottom of your resume or in the sidebar. Regardless of which location you choose, keep it simple. List the skills that will help make you an effective administrator, such as those shown on the sample resume posted above.
Other Related Resume Templates 
Doing research beforehand is always a good idea when creating your administrative or administrator resume. The article above gives in-depth, step-by-step instructions. Still, many people prefer to learn by looking at examples of already completed resumes.
We've gathered a bunch of related resume templates for you to read through – hopefully gaining some inspiration or ideas for revamping your own finished product.
Administrative Assistant Resume
Executive Assistant Resume (Link to the article once it's published)
Entry Level Administrative Assistant Resume (Link to the article once it's published)
Final Points on Crafting an Effective Resume for Administrative Jobs 
To be a successful administrator, you need to be detail-oriented and able to handle multiple tasks simultaneously. You must also have excellent organizational skills and the ability to prioritize effectively. If you are applying for this position, your resume should reflect these qualities.
We've outlined each part of an administrative resume in the content above. However, it's critical to tailor your resume for a particular position. For example, if you're requested for certifications specific to technology or tasks, include this in a dedicated certifications section. If this is pertinent to your employment, your work history and education should be included below.
Here are some essential items to remember for those who prefer bullet points.
The resume needs to flow from start to finish. Take time and fine-tune the content to ensure it reads quickly.
Always write your resume on a plain white background with black font.
Edit the document SEVERAL TIMES. Using Grammarly is a great tool.
Ensure it's well-spaced, organized, and professional.
Finally, read it aloud a few times before you're ready to paste the content into a template if you choose to use one.
Creating a solid administrative resume is straightforward; most job candidates struggle with creating an engaging one. The suggestions above will save you time and frustration while increasing your chances of getting that coveted interview. While the structure and content of your resume might assist you - and while selling yourself can be as important as anything else on there - making sure it's perfect before submitting applications is crucial.