Interview Attire for Women: What to Wear to a Job Interview (Female)
It's well understood that you only get one chance to make a strong first impression – especially during a job interview. While you've likely spent dozens of hours perfecting your job application, resume, and writing an eloquent cover letter, it's incredible how little time job candidates spend on considering interview attire for women.
Considering what to wear to an interview for women can be challenging and time-consuming. Some job candidates understand the importance of selecting interview outfits for women that fit the job. Other applicants are focused solely on selecting a women's interview outfit that articulates their personality best.
The simple truth is – choosing the appropriate interview clothes for women should be carefully considered. It's a process that should involve research, understanding the company's culture, and more importantly – comprehending the importance of dressing for the career you desire. In short, you should carefully consider the interview dress for women before applying to jobs.
So – with all that said, if you've wondered what to wear to a job interview for women, this article will provide the details you need. Let's jump right into the discussion about choosing the best women's interview outfit.
The Importance of the Right Interview Attire for Women
As you're preparing to enter the workforce, expand your career potential, or find a better-paying job in your industry, you'll complete much research. You'll probably spend hours exploring how much certain jobs pay, what benefits specific employers offer, and other perks that come with the job you seek. We know you'll wonder what questions to ask in an interview (link to blog of the same name once it's published) - and that's exactly what you should be doing to prepare.
But how often do you research a company's dress code? Or explore how employees are expected to dress for this profession? Most of the time, this is considered something you'll discover during your interview or orientation process. However, failing to conduct a little research about what to wear to an interview for a female can be a huge mistake. This is why it's important seeking interview dress tips for female candidates is a proactive part of the entire job search process.
To help clear the air and ensure you don't overthink or stress out too much, we will provide some simple-to-follow guidance for selecting semi-formal, casual dress job interview attire for female job candidates. If you found this article - but are looking for interview attire for men ( link to this blog once it's published), we've got you covered as well.
What to Wear for an Interview as a Female? Six Tips to Choose the Appropriate Interview Clothes for Women
Position Type #1 - Internships
There are two types of internships: paying and positions rewarding the intern with school credit. Nevertheless, an internship is critical and can turn into full-time employment with many firms. As such, it's essential to dress for the full-time position you're seeking. While many internships are received during a casual interview, it's still important to dress to impress.
Here are some practical tips for choosing which outfits are best for an internship interview.
Tip #1 - Colors to Consider
Neutral is always a conservative color palette for any job interview. Consider wearing white, black, navy blue, beige, or gray as your primary colors. It's more than acceptable to splash in some color accents, but keep it mild – such as light yellow, blue, or pink.
Tip #2 - Types of Clothing
We mentioned the importance of dressing for the job you want – not just the position you will start. Most interns in a professional environment are asked to dress in business casual. However, if you're hoping to become an executive – feel free to show up to that interview with the style of clothing that the company's leadership wears daily.
Generally, you'll be safe with dress pants, knee-length dresses, pencil skirts, neutral blouses, cardigans, sweaters, and tights for internships. For your shoes – keep it professional – so closed-toed heels, short boots, or flats.
Tip #3 - What Not to Wear
Avoid knee-high boots, flip flops, bright colors, intense perfume, and loud accessories. The critical item to remember is you're trying to make a professional impression during an interview. Everything you wear – including accessories, makeup, or perfume, should be toned down.
Position Type #2 – Entry-Level Job Positions
If you're looking to join a company at the bottom of the totem pole, don't make the mistake of thinking that you can or should dress casually for the interview. While it's common for many entry-level jobs to have a more casual attire than executive or management positions, it's still a good idea to display a professional appearance.
Like we stated above – always dress for the job you want – not the one you're applying for. Here are a few tips for what you should wear to a start-up job.
Tip #1 – Business Casual is a Good Bet
There are a lot of HR professionals who strongly believe that the most conservative and safest interview apparel to wear is business casual. This is universally accepted as a good plan of attack. Here is the tip – if the company culture is business casual – meaning female employees wear dress pants, nice blouses, and/or pencil skirts, that's what you should wear to an entry-level position.
Tip #2 – Wear a Suit If It's Justified
During a job interview, your primary objective should be to prove to the employer that you'll fit into their company culture seamlessly. One way to prove this is to show up to an interview dressed as if you're already employed. If the culture is business professional – dust off that dress and blazer or suit.
Tip #3 – Don't Be Afraid to Ask
When you're contacted by the HR manager or a recruiter about setting up a job interview, feel free to ask them about the company's attire or outfit ideas. Is it a casual dress code or business professional? Not only does this show that you're genuinely dedicated to fitting in with that company, but it will avoid any awkward feelings during the interview about what you're wearing.
Position #3 – Management / Supervisor
As a supervisor or management candidate, it's important to remember why you're applying for this position to climb the corporate ladder eventually. With most professional companies, management positions are asked to dress in business formal – or for females, a pantsuit or business suit, or a dress and jacket. Again – if the culture is relaxed, and management wears business casual – match their attire.
Tip #1 – Pay Attention to the Details
Wearing a business suit to a management interview will fall flat if you wear flashy shoes, aggressive perfume, or too much makeup. Your entire outfit – from head to heels should blend.
Tip #2 – Don't Over Accessorize
Another common mistake that some job candidates make is showing up to an interview with their ultra-luxury purse, handbag, or other non-essential items. Please keep it simple and leave most of your extra items at home or in the car.
Three Examples of Good Job Interview Outfits for Women
Ladies understand the value of the statement – dress to impress. However, for a job interview, it's essential to dress for success. We mentioned above how critical it is to match the company's attire you are hoping to join – with a few samples of interview outfits based on a general description.
If you're confused about what qualifies as a business professional, business casual, or smart casual, here are some practical examples.
What is Business Professional for Women?
What pops in your mind when you hear the term business professional attire? The truth is – perception is reality for every individual job candidate. Their opinion about professional or casual will vary based on individual taste.
However, the essential item to remember about job interviews is that it's not your opinion on fashion that matters. It's the perception of the interviewer that counts. Business professional attire is used mainly in professional organizations with strict dress code regulations – focusing on maintaining an upscale business model.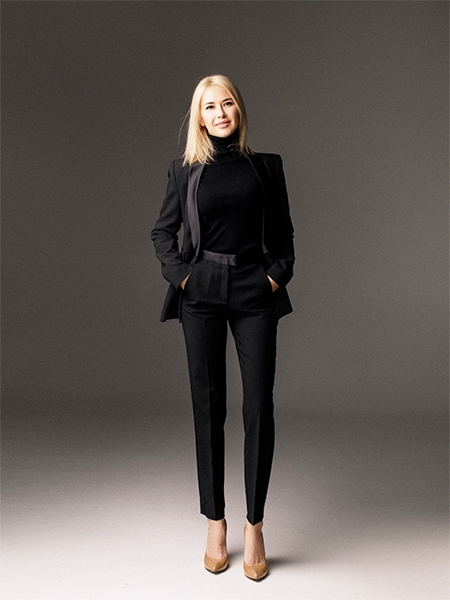 You'll find business professional attire mainly in careers such as finance, the legal profession, accounting, banking, or government. This type of attire is often well-fitted or custom-tailored to ensure clean lines and taken to professional cleaners for maintenance.
Business professional for female job candidates means wearing neat button-down blouses or shirts, slacks, tidy skirts, or dresses. Shoes should be clean flats, loafers, or classic heels less than three inches. Accessorize with minimalistic belts and jewelry.
What is Business Casual for Women?
The business casual attire is quickly becoming one of the most popular worn in the United States. Most job candidates instantly think of Khakis as being the staple of business casual outfits. And quite frankly, they're not wrong. This attire is meant to present a calm and relaxed atmosphere – which makes it great for most job interviews – especially entry-level positions.
Business casual outfits are found in virtually all professions, including sales, marketing, manufacturing, retail, medical, insurance, etc. You'll also find this type of apparel worn in education, research, and many office environments – especially in customer service or administrative positions.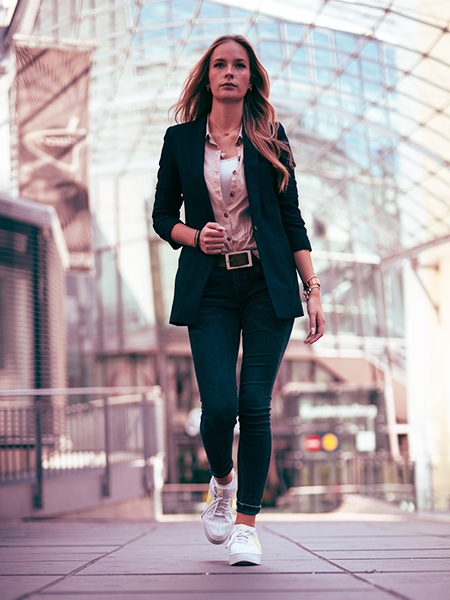 As you can tell by the sample image above, business casual outfits for females are quite diverse. Some examples of specific business casual clothing include slacks, pencil skirts, trousers, and khakis. Collared shirts, blouses, button-down shirts, sweaters, blazers, and a sports coat would also qualify. Shoes that fit this attire include loafers, boots, heels, oxfords, flats, or lifestyle (canvas and leather).
What is Smart Casual Attire for Women?
Smart casual attire provides you with an exciting option if you're looking to splash some creativity into your business casual. The smart-casual clothing line for interviews infuses trendy fashion styles – and is best suited for relaxed office environments.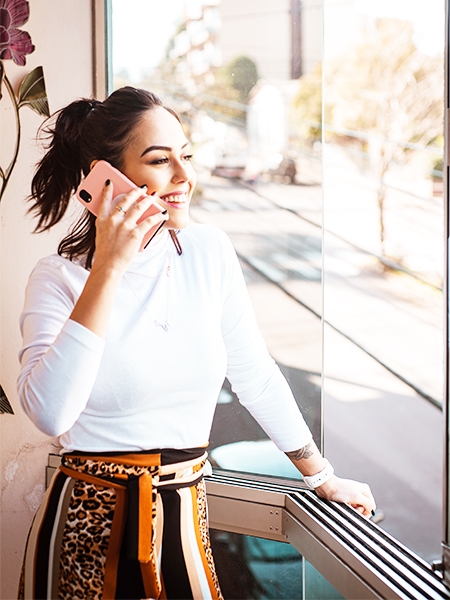 For example, if you want to join a fashion-inspired PR firm with relaxed yet posh office culture, smart casual would be appropriate. Smart casual items would include adding comfortable-fitting collared shirts, button-downs, sweaters, dresses, skirts, blouses, clean sneakers, scarves, and belts.
Three Outfit Pro Tips for Before the Interview
So, you've decided that you're going to assemble a business casual outfit for your job interview with that new PR firm in New York City. Fantastic – that's a great choice as it's conservative yet gives you a chance to showcase some creativity. While picking the right outfit is critical, preparing for the interview is an entirely different conversation.
To help you plan out your interview day, three tips will provide you with peace of mind.
Tip #1 – Have Your Laundry Done at Least 48 Hours Prior to the Interview
Here is a worst-case scenario we hope never happens to you – but it has occurred with many new job candidates. They're asked to show up to an interview on Friday – and have seven full days to prepare. However, they realized that the blouse and khakis part of their outfit needed to be washed. The job candidate waits till Thursday night to do the laundry – and finds out they're out of detergent.
Now the mad scramble occurs – they stress out and barely make it to the interview on time with a clean and wrinkle-free outfit. All of this could have been avoided if the job candidate had been proactive by ensuring their interview outfit was clean, pressed, and ready to go at least two days prior.
Tip #2 – Lay Out Your Clothes the Night Before
When it's "Game Day" for your interview, the last thing you need to worry about is rushing. You're already going to be stressed, concerned, and nervous about the context of your sit-down with the future employer. It makes perfect sense to prepare your outfit the night before. This includes your shoes, accessories, and all items you're planning to bring.
Tip #3 – Prepare a Backup Outfit
Everyone should have a backup plan when they're preparing for an interview. This includes choosing a secondary outfit – just in case something happens on the way to the interview. Nothing is worse than having an accident – like spilling a cup of coffee on your blouse. Consider packing a spare shirt, sweater, or another item that can get dirty before the actual interview.
Inappropriate Female Interview Clothes and Accessories: Three Items Not to Wear
So far in this article, we've explained what you should wear for a job interview. But are there items that are inappropriate or shouldn't be considered? The answer is a definitive YES. Here are three must avoid items that should be reserved for nights out – and never for an interview.
Mistake #1 - Heavy Perfume and Cologne
We touched on the concept of perception earlier in the article – what might be OK to you is offensive or inappropriate to others. The same thing applies to the fragrances you wear to an interview. While it's essential to display good hygiene – you don't want to overpower the interview room with heavy perfume, body spray, or cologne. Please keep it clean, crisp, and subtle.
Mistake #2 – Drop the Flip Flops
Wearing cute shoes is better suited to a night on the town vs. a job interview. In fact, your shoes should not be a topic of discussion during an interview, except when you are applying for a shoe salesperson or fashion designer job. However, one pair of shoes that should never be worn to an interview are flip-flops. Save those for the beach or pool day.
Mistake #3 – Be Tasteful – Always
It's vital to maintain a professional image when applying for a new job. This is especially important with the clothing you wear to an interview. For ladies – pay close attention to the length of your hemline, neckline, and tight-fitting pants. Yoga pants and workout clothing are also not tasteful during an interview.
Key Takeaways on What to Wear to an Interview for Women
You've got a lot on your plate during a job search. Finding the right company that fits your personality, culture, and work ethic are hard enough. The last thing you need to worry about is whether the outfit you select for the interview is appropriate enough.
The best advice we can offer is to dress for the job you are looking to obtain. Here are some helpful hints on how to make this decision easier.
Research the industry: When you're looking to join a specific industry as an employee, research a few of the top companies in that industry – and find out their dress code or attire worn by their employees.
Search Online – Social Media: If you're applying to a specific company and have a social media page – check it out to see if they've posted pictures of employees in the office. That will give you a good idea as to the expected attire.
When in Doubt – Keep it Business Casual: If you've researched as much as possible, asked the HR manager, and are coming up with nothing, your best bet is to pick out a professional appearing business casual outfit with neutral colors and minimal accessories.
The attire you wear to an interview should never get you the job. But it's crucial to ensure that the outfits chosen don't disqualify you from that position. By following these interview attire for women tips, you'll have a better chance of letting your personality, charisma, and passion convince your future employer to let you join their team.
FAQs 
What shoes to wear for an interview (female)?
It's always best to keep the conversation during a job interview to your qualifications – and not the cuteness of your shoes. The best shoes for a female job candidate to wear to an interview are flats, dress shoes, or low heels. Always keep the heels below 3" – as you want to be professional – not flashy. It's also important to be comfortable during your interview.
Can you wear a dress to an interview?
Indeed – if the job attire is appropriate for the position you seek. However, we would strongly recommend keeping that prom dress or other formal dress in the closet for a night on the town. As we've stated in the article – always research the attire worn by employees at the office – and make your decision based on that research.
Is it inappropriate to wear a mini dress for an interview?
Yes, it is not appropriate for most job positions to wear a mini-skirt or dress to a job interview. You always want to present a professional appearance, and a short dress or mini skirt simply does not articulate that mission.
What colors to wear for an interview (female)?
We touched on this in the article above – but it's important to drive the message home. Neutral colors are always the best colors to wear during any job interview. Some of these colors would include black, white, gray, or beige as your primary colors. Adding some light blues, yellows, or pinks would also be subtle inclusions.
What to wear for an interview as a female teenager?
When you're a teenager applying for your first job, you're likely going to be highly nervous. That's quite normal – and it's OK to be a bit scared. One way to ease your mind is to wear an outfit that is comfortable yet fits our description of a business casual outfit. Keep the colors neutral – don't wear too much makeup and keep the body mist or perfume to a minimum.
What should women wear to an interview in hot weather?
It might be tempting to dress down for a job interview when it's hot outside. However, it's important to remember that maintaining a professional image during the interview is extremely important. If it's hot outside, consider bringing your 'dress shirt' or blouse to the interview – and change before walking into the building. If you want to wear a t-shirt on the way to the interview – that's more than acceptable, but you should avoid the temptation to underdress with shorts, tank tops, or shirts with low necklines.
What to wear to an interview as a plus size woman?
It's always best to wear well-fitting clothing to any job interview. Regardless of your body style or shape, showing up to a job interview in comfortable clothing yet representing a professional image is an essential item to consider.