Interview Attire for Men: What to Wear to a Job Interview (Male)
In the 1980s, a famous statement among professional men entering the workforce was "dress for success." Any recent college graduate applying for an entry-level position would be decked out in their power suit – a three-piece, tailor-made black or navy suit, accompanied by a red tie and dress shoes. While style and times have thankfully changed, many job seekers still consider the interview attire for men as a top concern.
Making a positive first impression is crucial for any interview. While some consider wearing smart casual outfits when there is a casual dress code, it's important to remember that you want to dress professionally. However, it is possible to maintain a casual look while also appearing professional and being comfortable for those tough interview questions. So - how is this accomplished?
This is what we'll attempt to answer below. In today's article, we'll provide some helpful hints on how to dress for an interview for male candidates. We will provide some samples of business casual interview outfits for male applicants, business professional attire for interview male candidates, and the ultimate question of should I wear a tie to an interview?
These tips will help for interviews in a casual environment, with a recruiter, or all types of interviews. If you are looking for interview attire for women (please link to the interview attire for women blog once it's published) tips, we've got you covered - simply click that link to access the article.
So, let's get started.
The Importance of the Right Interview Attire for Men
Choosing the right outfit to wear to a job interview is a critical decision all-male job candidates need to factor in. However, while it was common for everyone to wear their best suit to all interviews (including in fast-food restaurants), today's standards for what to wear to an interview for men have evolved.
The simple truth is there is no black and white, yes or no answer to define the interview dress code for male candidates. There are suggestions, guides, and general rules, but the important item to drive home is that the clothing you wear to an interview should match the job you're seeking and the company's culture.
What to Wear to an Interview for Men? Three Tips to Choose the Appropriate Interview Clothes for Men
Today, interview attire for men is more relaxed, meant to represent confidence without intimidation. Business casual is often the suggested interview outfits for men, but there are exceptions. In fact, defining precisely what to wear to an interview for men is still one of the most challenging questions to provide a direct answer to.
However, specific attire recommendations for certain types of jobs are generally accepted as a safe bet. Here are three unique company positions and the men's interview attire recommended for these positions.
Position #1 – Entry-Level Position
If you're applying for a startup or entry-level position, you want to make a positive impression. The trick is – not overdressing for the job. In fact, sometimes, showing up to a job interview overdressed can leave a negative impression on the hiring manager. This is especially true for a startup or entry-level job, where you'll likely be tasked to complete some physical labor.
In this situation, it's best to stick with a business casual outfit for men. Here are some specific tips below about what you should be wearing to an internship or entry-level job interview.
Tip #1 – General Outfit Tips for Business Casual Attire
Business casual is an attire style that is applicable for many job interviews. This type of outfit includes wearing a nice button-down shirt, polo shirt, or sweater (for your top) and a pair of slacks or khaki pants.
Tip #2 – What Type of Shoes to Wear for Business Casual?
Although the attire has the word casual in its description, you want to be cautious with your shoes. A business casual interview should include comfortable dress shoes, loafers, or boat shoes. This might seem elementary, but make sure your socks match each other, and the shoes are clean, neat, and professional.
Tip #3 – Keep the Cologne to a Minimum
While personal hygiene is essential, you should keep the cologne or body sprays to a minimum. Pick a pleasant scent – but not overpowering.
Position #2 – Mid-Level Management 
As a supervisor, you're tasked to oversee the daily activities of fellow employees. Many companies firmly believe that a manager's attire should be more upscale and business professional than the people they manage. Times are changing, however. This is an excellent example of why you should spend some time researching the company you intend on working with before choosing the management outfit.
Here are a few tips for selecting the proper interview attire for a middle or entry-level management position.
Tip #1 – Dress to Fit the Culture
Most of today's successful managers connect with their employees through their actions, words, and ability to inspire them – not by intimidation. Overdressing for a management interview might have a negative impact – especially if the business culture is casual or mid-level professional.
Here is a good tip:
Hop online and research the company when you're scheduled for an interview.
Check out their Facebook page and see if there are pictures of employees and leadership.
Visit their website and see if they list leadership in the about us section. This will give you some valuable insight.
Tip #2 – Consider the Industry
Some professions or industries default to wearing business professional attire in the workplace. This would include banking, financial, legal, and government agencies. If the industry you seek to join has a set business attire, dress to that level. Always wear a nice business suit for professional careers, with conservative color ties. Keep the red power tie in the closet – and opt for greys with splashes of subtle colors.
Tip #3 - When in Doubt – Business Casual with a Sport Coat
If you've completed a lot of research but can't gain any valuable insights, opt for a business casual and professional combination. Wear a nice button-down dress shirt, dress slacks, leather or suede shoes, a nice clean belt, and a sports coat or blazer. Navy blue or grey jackets are best.
Position #3 – Senior Management
For those with extensive work history, dressing for an interview is often a formality. They'll know the industry, the culture of companies, and the attire expected during an interview. However, as we mentioned above – culture within today's growing enterprises is changing. While a business suit is always a safe bet for executive management positions, don't be complacent by refusing to research the company's organizational culture.
Tip #1 – Keep Colors Neutral
Business professional attire is often the default outfit to wear to this job. A black or navy three-piece suit or jacket and matching dress pants is a solid bet. Make sure your tie is a solid color with neutral tones. Belts and shoes should match colors – as should your socks.
Tip #2 – Wear a Nice Conservative Watch
While it might be appealing to wear that Rolex you received from a former employer, many hiring managers might consider that to be a bit obtuse and arrogant. Instead, wear a nice leather or steel watch that is subtle.
Tip #3 – Polish those Shoes
It's always a great idea to have your dress shoes polished and shined before any interview. This will complete the outfit with a shiny look and feel.
Two Examples of Good Job Interview Outfits for Men
If you want to make a great impression during a job interview, pick the outfit that matches the job and the company dress code. We mentioned above how critical it has become to fit in with the company vs. trying to stand out.
So, what qualifies as a good job interview outfit for men? We strongly believe that all male job candidates should narrow the type of attire choices to either business casual or business formal. As we explained above, the direction you choose should be based on the job you're seeking, the dress code of that position within the company you're applying to, and the region you work.
Here are a few general guidelines and business casual and business formal samples.
Overall Dress Code Suggestions
Regardless of whether you opt for formal or casual attire, there are a few general rules to remember when choosing an outfit for an interview.
Pants
It is best to select plants that are neutral colors – including navy, black, gray, or khaki. For formal, the pants must match the suit jacket.
Shirts
You can never go wrong with plain white long sleeve, button-down shirts for an interview. However, suppose your industry is more fashion-forward. Don't rule out integrating some subtle splashes of subtle color – shades of blue or stripes are suitable for these jobs.
Ties
For business casual – leave the tie at home – or even better, pack it in a backpack as you head to the interview. If you show up to the place of employment and all males are wearing a tie with business casual attire, put it on in the bathroom before walking into the interview. Color and pattern for ties should be solid – or extremely mild – especially with business formal.
Shoes 
Leave the sandals, flip-flops, and tennis shoes at home. Always defer dressing shoes, leather or suede, loafers, or if the job climate is relaxed – boat shoes (with socks).
These are the general rules for any male job interview outfit. Now, let's define and show you some business casual and formal examples.
Business Casual
The concept of business casual is to represent a calm and relaxed demeanor. You'll want to wear a button-down shirt with slacks, a sweater over a button-down shirt and slacks, or a polo shirt with slacks or khakis.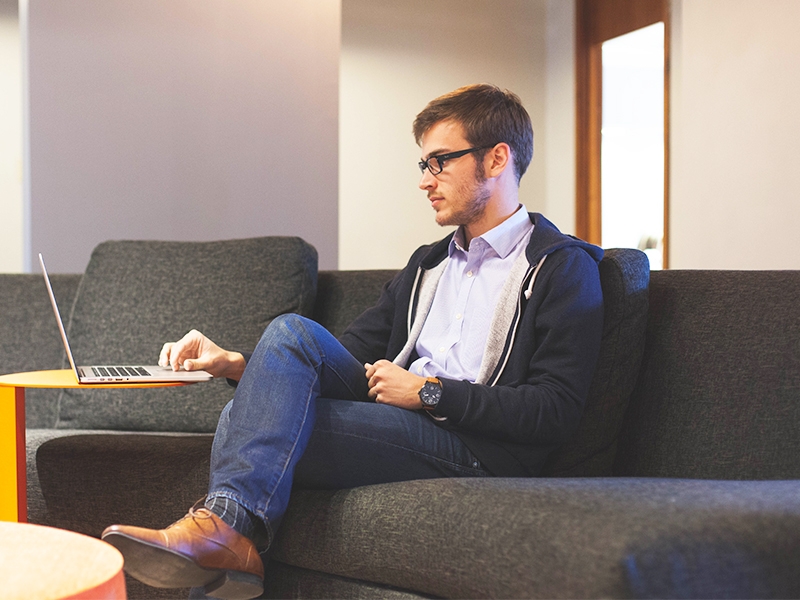 If you'd like to wear a sports coat, that's more than acceptable – but you should only wear a coat if the profession is in an office environment. Again – always research the culture of the company before wearing the jacket.
Business Formal
Business formal attire is defined as a three-piece suit with a solid-colored tie. However, it's OK to remove the formal vest from the outfit if the company position or industry-standard dress code dictates.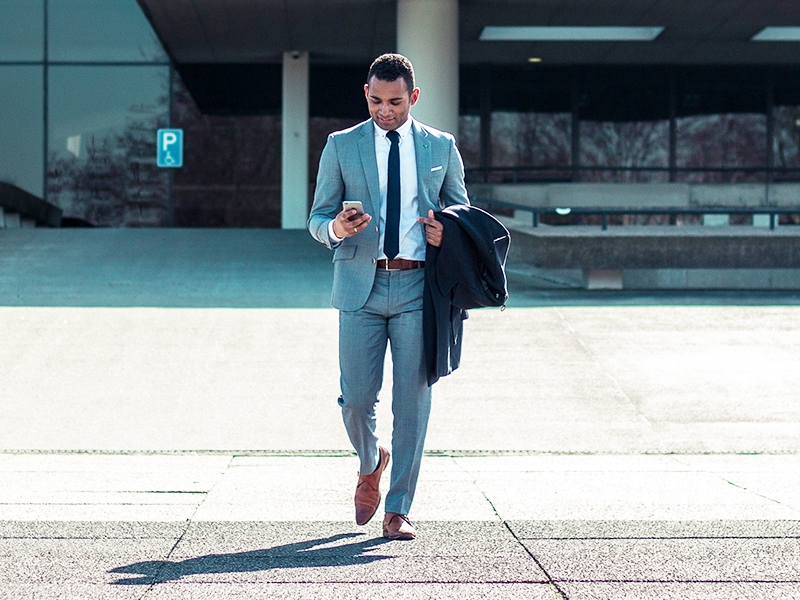 A few ancillary outfit items that are often skipped in many articles about men's attire for an interview are the belts, watches, and jewelry for men. The best advice we can offer is to keep it conservative and non-conversational.
During a job interview, you want the focus to be on your skills, personality, and interpersonal skills. Conversations about your attire worn during an interview might be gracious and kind – but those candidates are typically not offered a job position.
Three Outfit Protips for Before the Interview
At this point, you've likely selected what you're planning on wearing to your job interview. It's entirely possible that you are nervous, unsure of what questions to ask in an interview (insert link to the questions to ask in an interview article once it's published). Don't worry – those are normal feelings. But, you don't want to make things worse by having some unexpected issues pop up – especially if you can avoid them through some proactive measures.
Tip #1 – Don't Wait till the Night Before to Do Laundry
Here is a scenario that can 100% be avoided. You're aware on Monday that you are scheduled to attend an interview on Friday afternoon. You're planning on wearing your white, button-down long sleeve shirt and navy-blue slacks. The problem is – they are both dirty and need to be washed and ironed. Instead of doing this on Monday or Tuesday night, you'll wait till Thursday to find out that you are out of laundry soap or dryer sheets.
Be proactive and do any laundry for items you need to wear during an interview at least 72 hours before the appointment.
Tip #2 – Lay Everything Out the Night Before
This one follows the item above – being prepared to avoid stressful situations. By having your dress shirt and pants ironed and ready to go the night before your interview, you'll be less stressed out on the day of the big day.
Tip #3 – Prepare an Extra Outfit
Another common stressful situation is when you're heading to an interview and spill coffee on your dress shirt. At this point, you typically have three options. First, you can head back home and change – hopefully making it on time to the interview. Second, you can try to remove the stain (usually unsuccessfully) before the interview. Third, if you are proactive – you can grab that spare dress shirt from your backpack and change it before the interview.
The third option is always the less stressful one. So, consider adding an ironed and neatly folded shirt that matches the one you planned to wear.
What's Inappropriate Attire for an Interview? Three Items Men Should Not Wear
Showing up to an interview with inappropriate attire can ruin your job chances instantly. While some items on this list seem to be no-brainers, you'd be shocked to learn that some candidates consider wearing them.
Item #1 – Never Wear T-Shirts
Regardless of how trendy or relaxed your soon-to-be workplace might appear, it's never a good idea to wear any t-shirt to an interview. The only exception to this rule is if you're asked to wear one to the interview by the hiring manager.
Item #2 – Make Sure Your Socks Match
We literally thought twice about typing this into the list of items not to wear during an interview. However, you'd be surprised how many men don't consider their socks. It's always best to wear dress socks to an interview – as you'll be in business casual or business formal anyways. Just make sure they match.
Item #3 – No Branded Clothing
One of the best interview tips we offer is for the candidate to 'be themselves. The exception to this is expressing your personal brand preferences in clothing apparel. Even if you're applying for a job at Nike – resist the urge to wear any branded apparel.
Key Takeaways on What to Wear for an Interview as a Male
Gentlemen, start your engines. As you prepare for the interview that will land you the job you need, desire, and have worked hard to retain, it's important to remember a few critical items. Here are some of the key takeaways from the information we've detailed above.
Always research the standard dress code and attire for every company you have an interview scheduled.
Keep it to business casual or business formal – based on the industry, company culture, and expected job attire once you're hired.
Always wear neutral tones – no flashy or bright colors.
Reduce the urge to wear high-end watches, jewelry, colognes, or other accessories.
When considering interview attire for men, the primary item to remember is to make sure everything matches, is clean, pressed, and represents confidence – but not arrogance. Stick to these tips, and your chances of getting that job will improve.
FAQs 
Should I wear a tie to an interview?
This depends on the job you're applying for. Obviously, if you're applying for a profession requiring a tie as a dress code, you should wear one. However, suppose you are interviewing for a position where employees currently do not wear a tie. In that case, you should defer from wearing one to the interview. One way to determine whether to wear a tie is to ask peers who have interviewed for similar positions in the past.
What is the best color to wear to an interview (male)?
Neutral tones are always best. For primary colors, white shirts and dark-colored pants are the most conservative. Other colors to consider – as either accents or primary include black, navy, gray (light and dark), or light shades of blue. Beige in the form of khakis is also a solid color choice for business casual outfits. For shoes and belts, leather black or brown is best.
What to wear to an interview for teenage men?
Never let your age determine what to wear to an interview. This is especially true for male teenage candidates. As a teen – it's likely that you already have a negative perception about being responsible, professional, and having a solid work ethic. Combat all those objectives by wearing the same business casual attire we recommend for all male candidates. Unless the employer recommends it, don't bother wearing a business suit to a job interview.
What to wear for a Zoom interview (male)?
Pretend a camera is a physical person and dress for the interview as usual. Those who suggest wearing a dress shirt or a tie – with a pair of shorts underneath are not giving good advice. You never know when or if you'll be asked to stand and let the interviewer see your entire outfit. So – dress the same for Zoom interviews as you would an onsite one.
What should men wear to an interview in summer?
Stick to the plan mentioned above. While it's attempting to wear khakis shorts to a job interview, this will not end up well in most cases. Instead, consider bringing your interview pants, some deodorant, and dress shirt to the interview – and change in the bathroom before entering the office. Or you can deal with the summer heat for about an hour – which shows character and a desire to retain the job.
Is a polo shirt appropriate for an interview?
Yes, a nice polo shirt is more than appropriate for some less professional jobs. Some examples of these jobs would include working in fast food, retail outlets, warehouse jobs, or labor positions. All other job interviews should include a button-down dress shirt.
Are short sleeves OK for an interview?
It really depends on the job and business culture. If it's common for employees in jobs you are seeking to wear short sleeves on the job – then it's OK to wear one to an interview. However, we'd recommend against this – as the point of interview attire is to dress to impress.
Are black jeans OK for an interview?
Jeans should be avoided for most interviews. Consider jeans in the same line of attire as a polo shirt. If the job is a manual labor position, it might be acceptable to wear them during the interview. If you prefer to wear black, consider slacks, but jeans do not present a professional image during a job interview.