Virtual Assistant Resume Example, Template & Writing Tips 2023
The global pandemic changed business forever. As COVID-19 spread globally, many established and start-up businesses began to embrace remote working. More employees are exploring work-from-home opportunities from sales associates to compete for marketing departments. Virtual assistant resume writing has also become more popular over the past few years.

A virtual assistant is responsible for multiple administrative tasks. Since they work remotely, most virtual assistants focus on data entry, corporate communication, and customer service jobs. It is easier for those working remotely to complete these tasks but keeping track of their work is also easier for employers.
Most of the time, a virtual assistant position is posted online – via freelance websites like Upwork.com or through online job search engines. The candidate will fill out a job application, and the employer will weed through the pile of applications to hopefully find that needle in the haystack. Attaching a professional resume for virtual assistant positions can push your application towards the front of the list.
So – how do you write an engaging virtual assistant job description resume? Are there special sections that need to be included in the entry level virtual assistant resume? What action verbs trigger automated software solutions used by many recruiting firms? These are a few of the questions we'll answer in the information below.
If you're ready – we are, so let's get started.
Virtual Assistant Resume Sample
A great application should be accompanied by a virtual assistant resume cover letter and virtual assistant skills resume. The cover letter is an opportunity to introduce yourself to the employer, with the freelance virtual assistant resume being the supporting document. The content in the application, cover letter, and virtual assistant resume PFD that you'll attach should all match, be written in a professional yet conversational tone, and inspire the reader to invite you for an interview.
While that all looks great on paper – the question many job candidates ponder is – how does one accomplish these lofty expectations? Sometimes reviewing virtual assistant resume examples written by a professional resume scribe is a good starting point.
The virtual assistant resume sample below is for our mythical candidate Kyle Franklin. He is a college student working on his master's degree and living in Lancaster, Pennsylvania. He has been a virtual assistant for several companies – ranging from manufacturing to real estate businesses. He has handled excel sheets, managed social media pages like Facebook and LinkedIn, answered company phone calls, and served as a project management specialist and personal assistant to a former CEO.
Take some time to review this virtual assistant bio example. Once you're finished, please continue to the rest of the article, where we will explain how to structure, format, and edit each section.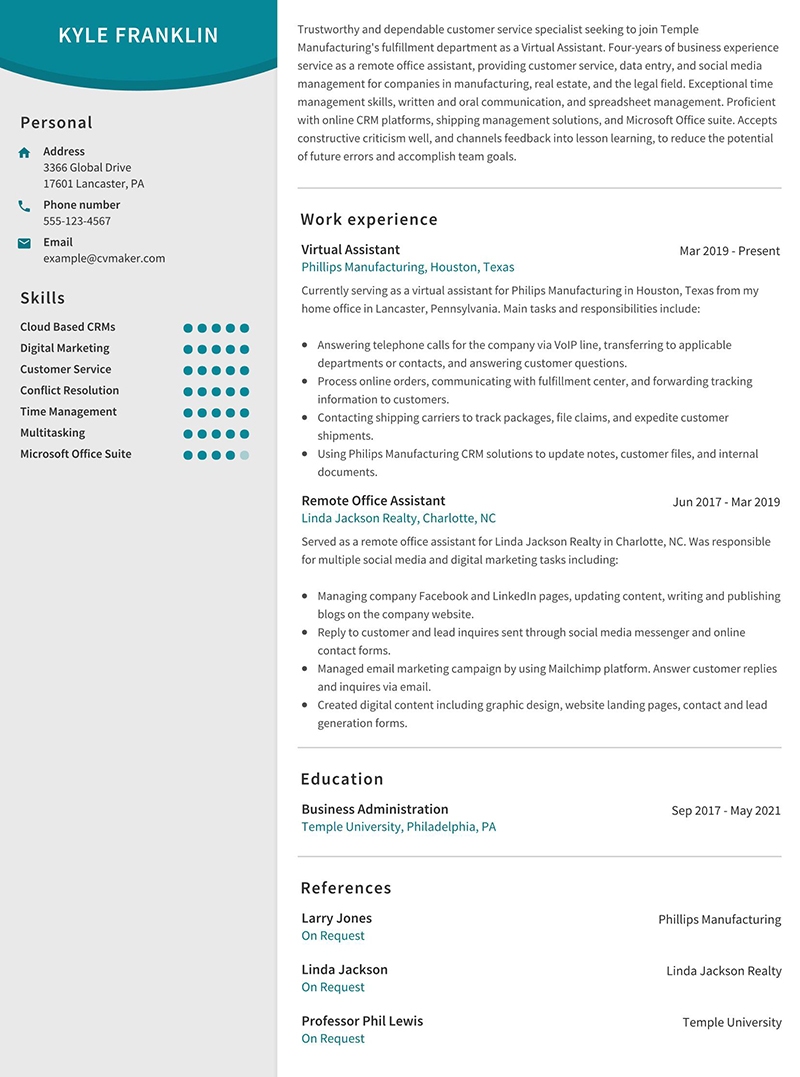 The best virtual assistant resumes tell a story about the candidate from top to bottom. Like this sample resume for a virtual assistant, your resume should be one page long and include all the relevant information to support your job application.
As you can see in Kyle's resume, he has listed his contact information, written a powerful virtual assistant resume objective, inserted two previous VA jobs, and listed his education. Finally, he lists some of the top skills that allow him to serve as a great remote office assistant. He also provided credible references who can vouch for his experience, work ethic, and personal character.
The entire sample resume for virtual assistants reads cleanly – start to finish. It includes a professional tone, yet it's conversational at the same time. It's grammatically perfect, exudes confidence, and fits nicely on a single page.
How to Write a Good Resume for Virtual Assistant in 2023: Full Guide to VA Resumes
If you're ready to learn how our team of professional resume writers created this finished product – we're ready to teach you. Let's make something clear before we get into the weeds. The tools we will share with you in the information below are guidelines. Each virtual assistant position will require specific experience, and they may ask for your specific information on your resume.
To have the best chance at landing an interview, we strongly suggest reading the entire job posting before writing your resume. Not only will the job posting tell you precisely what the company is looking for in a candidate, but it'll also provide you with the skills and some action verbs they hope you'll include in the finished resume.
Once you read the job posting and note all the skills required, it's time to start the resume writing process. The best way to begin any writing project is to create an outline. We recommend starting with a resume for experienced or entry-level virtual assistants by creating a master resume. This working Word document permits you to insert the primary sections, add content in each, edit the grammar and spelling, and structure it to ensure it reads well.
Here are a few recommended sections that we think should be included in any virtual assistant resume.
Personal Contact Information: The resume will begin with personal contact information. Keep it simple – by listing your full name, mailing address, email, and mobile phone number.
Professional Summary: Many people call this a resume summary – and for purposes of this article, we will as well. It's a paragraph-length elevator pitch filled with the interpersonal skills and talents that make you a great virtual assistant.
Work History: Virtual assistant resumes need to have two relevant jobs listed in the work history section.
Education: List your highest level of completed education – documenting any degrees you've earned.
Skills: It's a good idea to list five to seven assistant skills that will make you a great virtual assistant. Some skills for virtual assistant resume include communication, problem-solving, phone etiquette, customer service, and working with cloud-based CRMs.
References: You should select a total of three references – two of them who can testify to your work history one that provides a personal testimonial.
As you start your master resume, create six primary sections – using the ones we've listed above. Once you have the six sections listed, bold type them to know they are significant categories. Proceed below to each section to learn the best practices for creating content for each section of the virtual administrative assistant resume.
Section #1 – List Your Contact Information
Sometimes simplicity is the hallmark of genius. Such is the case with a virtual assistant resume – and the contact information section. Many resumes start on the wrong foot by trying to stuff a ton of content into something that should be short, sweet, and to the point. Even worse, some candidates will create a single resume – and never update it if contact information changes.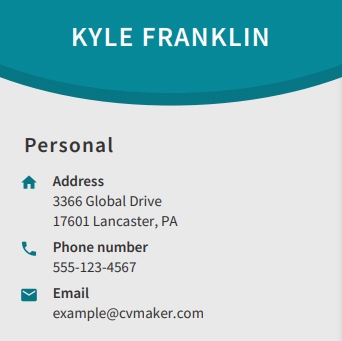 This is a sure-fire way to lose any potential interviews. If the information on your application does not match that on your resume, many recruiting agencies will toss out any resumes and applicants that don't add up. As such, keep your personal information simple by listing your legal name, mailing address (including the zip code), email, and mobile phone.
How to Format this Section
Formatting is easy when utilizing a resume builder or virtual assistant resume template. The contact information should be listed on the top of your resume, so it's easy for hiring managers to contact you. Here is a bonus tip – make sure that your mobile device is SMS text capable and linked to your email address. This will make it easier for you to quickly reply to job interview inquiries.
Section #2 – Resume Summary
If there is a section that can make or break your chances of getting an interview – it's this one. The resume objective or summary is your chance to sell a job candidacy in an elevator pitch format. Within this section, which is typically only four to five sentences, you'll mention your intention to join the company as a virtual assistant, introduce your hard and soft skills, and wrap it up by explaining why you're an ideal candidate.

As you can see in Kyle's sample resume for a virtual assistant, he has followed the above advice precisely. He mentions the company he is trying to join in the first sentence. He follows up by explaining his four years of virtual assistant experience in multiple industries. This showcases his diversity and ability to adapt to different tasks. He further introduces his hard and soft skills and wraps up the section by explaining his unique ability to work unsupervised.
How to Format this Section
Your resume summary should be kept to 200 words, written with a clean, professional, and conversational tone. You want to sound confident – but not arrogant. Make sure to read the finished paragraph many times aloud – and ask some peers to review it as well. Place the finished paragraph directly under your contact information and above work history.
Section #3 – Employment History
Having the right work experience is a critical attribute that hiring managers seek in virtual assistant candidates. They are looking for people who are easy to train, have a proven record of completing tasks on time, and focus on quality. This is especially important when the virtual assistant is tasked with completing data entry or communicating with customers.
Best practices for writing experienced VA resumes suggest listing two of your most recent but relevant jobs in the experience section. However, a sample resume for a virtual assistant with no experience should include two of your most recent jobs. The key here would be to add bullet points that showcase the skills needed to be a great virtual assistant.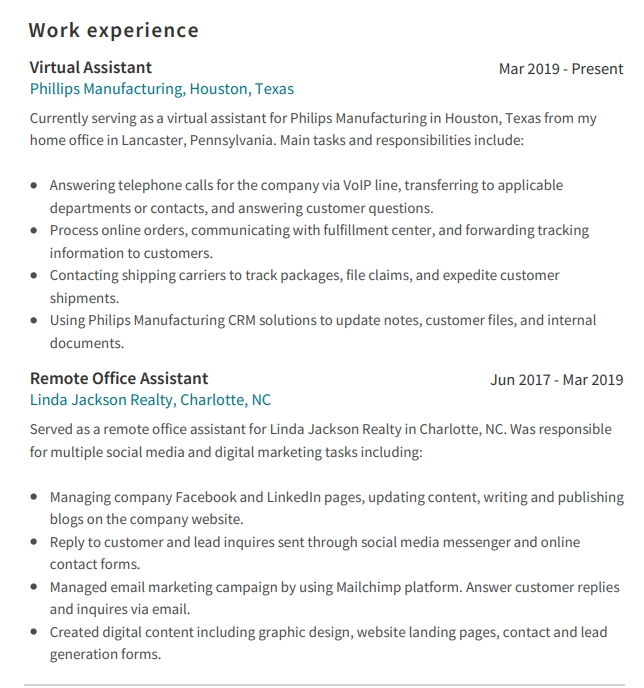 When you review Kyle's resume, you can see that he has listed his two most-recent virtual assistant jobs. He is applying to a manufacturing firm – where he will be handling customer service tasks such as emails, scheduling deliveries, and tracking packages. His resume mentions two previous jobs where he has completed these tasks to support the application, making him highly qualified.
How to Format this Section
You should always list your jobs in reverse chronological order or from the most recent to the latest. Always list the company name, location, dates of your employment, job title, and four to five bullet points of key job responsibilities. This is a great spot to add some of those soft and hard skills we mentioned above – and will explore in the skills section below.
Section #4 – Education
Unless you're applying for a professional career – such as a lawyer, doctor, or specialist, the education section should be straightforward. In fact, with many virtual assistant positions, there are no educational requirements. However, it's always a good idea to showcase your dedication to improving your knowledge. And the education section is a great place to accomplish this task.

As you can see from Kyle's sample resume, he has listed his bachelor's degree in business administration. While he is currently working on his master's degree, this should not be listed in the resume (as he hasn't finished). This would be a great item to mention in his cover letter. If you have a high school diploma only, make sure to list this in your education section.
How to Format This Section
You should keep the information listed in your education section simple. List the school's name, the dates attended, and the degree earned.
Section #5– References
A good reference should always support your job application. Many references are former managers or bosses who can speak to your ability to work well under pressure, focus on quality results, and multitask responsibilities. As we mentioned briefly above, you should select two professional references and one personal reference for your virtual assistant resume.
The personal reference will be a family friend or mentor who currently or previously held a professional position (like a doctor, attorney, or business owner). They speak to your credibility, ability to communicate with people, or your compassion.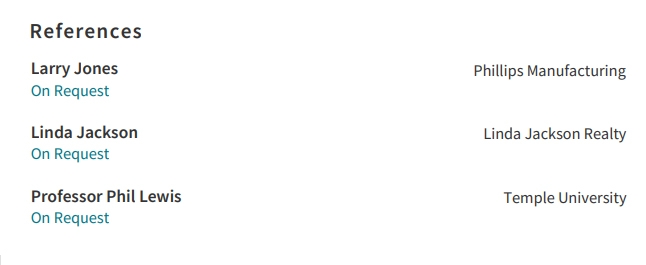 In Kyle's sample resume above, you can see that his references include two previous managers at the two jobs he listed in the work history section. His final reference is a college professor, where he earned his degree.
How to Format This Section
The reference section is intended to provide general information – not details. You'll list the first and last name of your reference, their place of employment, and the phrase "available upon request." This will keep their contact information private. If you are invited to an interview, and they ask for the reference contact information, supply it to them at that point.
Section #6 – Skills
As a virtual assistant, you may be asked to complete many jobs. Some of the more common tasks of a virtual assistant will include data entry, customer service, bookkeeping, and digital marketing services like graphic design. They should be adept at working with Microsoft Office, spreadsheets, Powerpoint, and digital office management solutions.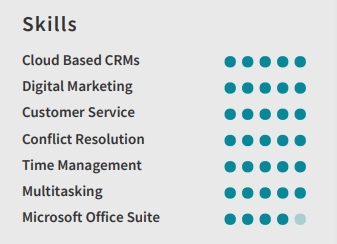 If you review Kyle's resume objective above, you'll see that he has sprinkled these keywords into his paragraph. However, to ensure that the hiring firm understands that he is a qualified candidate, he has mentioned them in a dedicated skills section – found in the sidebar of the resume. He also mentions his hard skills like time management, conflict resolution, communication skills, and organizational skills.
How to Format This Section
It's easier to format the skills section when you take advantage of a resume builder or template. Many of them permit you to assign a skill level – which you can see in the sample above. List your top five to seven skills in order of strength from top to bottom.
Other Related Resume Templates 
As a virtual assistant, you'll enjoy the flexibility of working remotely – and often from the comfort of your home. However, retaining these jobs can be challenging – with more candidates applying daily. The best way to tackle any project is by reviewing sample resumes in similar industries – such as office assistants, secretaries, or executive assistants.
We have compiled multiple resume templates that you have complete access to review. Take time to read a few of these sample resumes and take notes of inclusions you might want to add to yours. By taking notes and reviewing those multiple samples, learning how to make a resume for virtual assistant jobs will be much easier.
Final Points on Successful Virtual Assistant Resumes
The information above provides you with a clear blueprint for organizing, optimizing, writing, and editing a virtual assistant resume. If there were a single message we'd like to drive home, it's to take your time with resume writing. While you can use a single virtual assistant resume for all applications, we strongly suggest customizing the resume for each company you apply to.
This type of personalization can separate you from other candidates – and earn you an interview in this very competitive industry. Here are a few bullet points of critical items to remember.
Make sure the resume reads and flows easily.
Always write your resume on a plain white background with black font.
Edit the document SEVERAL TIMES – through Grammarly.com and visual inspection.
Ensure its well-spaced, organized, and professional.
Finally, read it aloud a few times before you're ready to paste the content into a template for virtual assistants.
Always remember to edit your content in Grammarly.com or another high-quality editor. Don't be afraid to use a virtual assistant resume template like the one in this article to make sure it's clean, neat, and organized.