Product Owner Resume Example, Template & Writing Guide for 2023
Are you ready to create the perfect certified scrum product owner resume? You have the skills and know all there is to know about metrics, business analysis, methodologies, lifecycle, and software products. All of those things are important to share with the recruiters who contact you about outstanding positions in the industry.
Sharing these items is crucial but there is another factor to consider. You need to tailor your product owner resume to communicate that you can handle this job much better than others who are applying. That's a lot of pressure, which is why we are here to help. We'll walk you through the process of building an amazing product owner resume that checks all the boxes.
With over 70% of companies using agile methodologies, your work is needed. But you need to put in the effort to get that great job with fantastic pay and benefits. You can be the top product visionary, story prioritizer, and backlog groomer but your resume has to catch attention to move forward in the job application process.
The good news here is that we have a roadmap you can use to create an amazing product owner resume. We'll help you create a better resume than most applicants while teaching you how to write to win interviews, what skills you should include, and the best way to describe your experience.
Sample Product Owner Resume
Before we delve into other tips and tricks associated with product owner resumes, we want to talk about product owner resume examples. Being aware of how other resumes look and read can help you imitate and improve them when you craft your professional document. It's crucial to understand the resume you might be going up against.
Because this is so essential, this guide will feature several product owner resume samples. We'll provide you with a full resume that has a high chance of getting an interview for the applicant. Then, we'll break that resume down into parts and explain what you need to know to make each section exciting and useful to read.
One glance at your resume could have a huge impact on your future. This is why you need to pay attention to a technical product owner resume sample. Not only can you learn what to do, but you might also spot things you want to avoid. No resume is perfect and putting your own spin on a classic can show how inventive and innovative you are.
Think of your resume as a new product you're working on in the office. It needs to shine and you need to hone every part of it with the skills you have. We're here to help you do that. Take a glimpse at the product owner resume sample below to get an idea of how yours could look once you finish.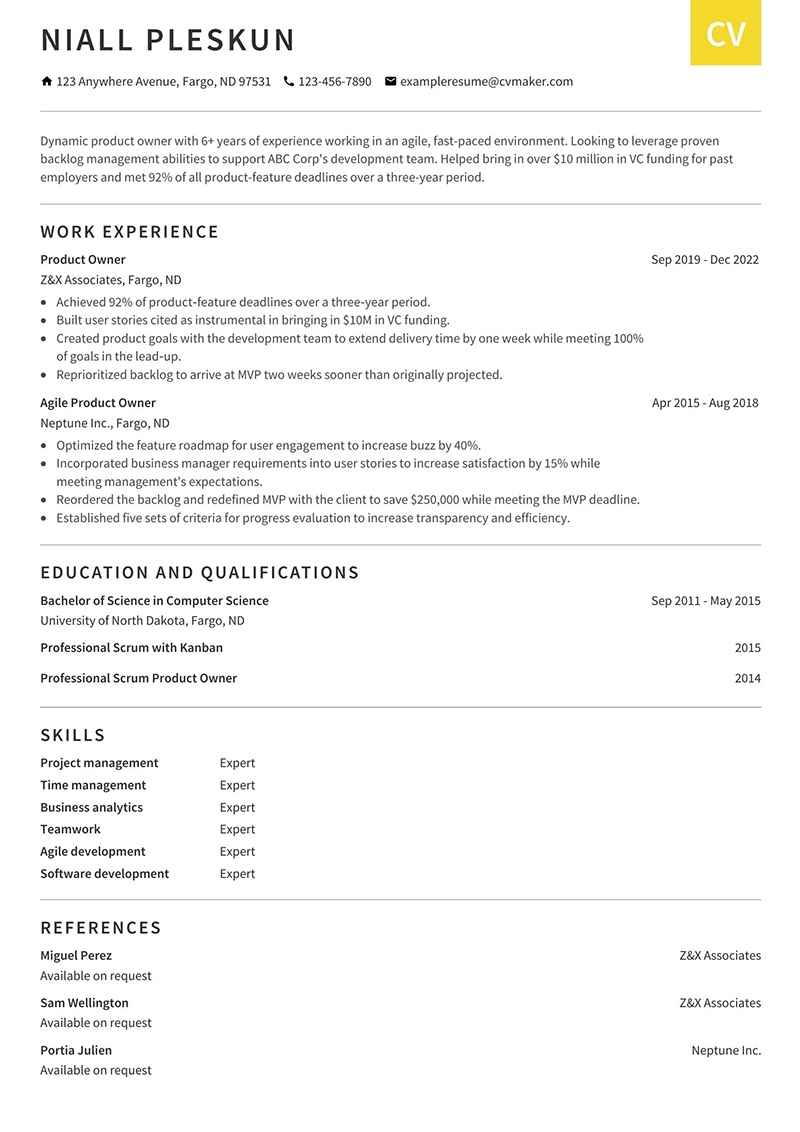 Download this resume example - Product Owner Resume
You may have noticed that an excellent resume has a series of sections. When you make your product owner resume, make sure you include the following information:
·       Your contact information
·       An engaging resume objective
·       Relevant employment history
·       Your educational background
·       Various skills for the job
·       And a set of references
Most resumes have the same sections unless they are highly specialized. So you'll find other types of resumes that are similar but with different job positions in mind. However, the last thing you want to do is build a generic resume and send it to multiple job listings. Your resume needs to be tailored to the position, which we'll share more about below.
How to Write a Product Owner Resume in 2023: Full Guide to Successful Product Owner Resumes
You want to turn in the best possible business analyst product owner resume to have a chance at a job you desire. The start of that is having a copy of the job description available as you craft your document. This might seem silly since you've already read it but that job description is something you'll need to look at multiple times as you write.
The reason you should have the job description for your digital product owner resume is because it gives you clues to use in the product owner resume. You'll find information about what education, experience, and skills are essential to include. Those are things that are available in nearly any professional job advertisement. You'll use that knowledge to pick out product owner resume keywords.
Why do keywords matter? Because you want your resume to be customized, not generic. Read through the job description and see how many words seem important for the position. Those are what you want to include in your resume, whether in the skills you list, the work experiences you've had, or the education you list. Keywords just make things easier.
As an example, someone who is applying for a position as a product owner manager is going to have different things to highlight than someone who is coming in at entry level. If you don't look over the description, you could run into the issue of not including relevant information and never getting an interview.
The second reason to use keywords is that most companies make use of applicant tracking systems (ATS). This means that the resume is first scanned by a computer. It's going to be using keywords to see how well your resume fits the job description. If it doesn't, the resume might never be seen by a human.
Beyond keywords, it's important to choose the right format for your product owner resume. This should most often be a reverse-chronological format as it puts your experience at the forefront of the other sections you include. However, there are other formats to use for those who may have less experience to share.
In terms of length, most product owner resumes will be only a single page long. However, those who have more than a decade of relevant experience can bump that up to two pages. However, only include employment that relates to the job if you find yourself in this situation. That may cut the resume down to the standard single page.
Section #1: Contact Information
There is no need to talk about workflow and past positions on a development team to start your product owner resume. The first thing you want a recruiter to do is to see your name, where you're from, and how to get in contact with you. Even if you have the best product vision as a scrum master, nobody can reach you if they do not know how.
Thankfully, this section is simple. All the information is based on things you already know. You just have to fill in the details before moving on to other parts of the resume. It's important not to forget anything or it could lead to not getting the interview you want.
Contact Information Example

This example shows you how to build a contact information section. You can see the person's name, where they are from, and two ways to get in contact with them. There isn't a lot that needs to be touched on. It's basic information. However, work to make it look good and highlight your name.
How to Format This Section
You can place this section at the top of the resume or on one of its side bars. It doesn't matter which you choose. We've talked about the information to include but you can add things as needed. For instance, some positions may ask to have your LinkedIn profile. This isn't mandatory though.
Section #2: Resume Objective
While the contact information is simple to complete, the product owner resume summary (or resume objective) takes a little more thinking. The idea here is to build a product owner resume objective that shows off your most significant achievements. Keep in mind that the objective will vary on a senior vs. a junior product owner resume.
Resume Objective Example for an Entry-Level Product Owner Resume

As someone without years of experience, a simple resume objective can work well. Add in education and skills you do have, like teamwork or leadership. For those with past work in other industries, talk about some of the skills you learn that could be utilized in the new position.
Resume Objective for a Senior Product Owner Resume

On the other hand, an agile product manager resume should have more detail. Talk about enhancements you made and how they improved the workplace. You should have more accomplishments to note so keep it to the most impressive ones that are relevant to the new position.
How to Format This Section
While creating a professional resume for a product owner job, formatting does matter. However, that's less important for the resume objective. This is an elevator pitch in written form. It should be nothing more than a block of text. However, keep the length in mind. Experts agree that this section should be four sentences long at the absolute maximum.
Section #3: Professional Work Experience
At this point, you need to consider product owner roles and responsibilities for a resume. This is where you compile all your product owner accomplishments in the workplace and share them with hiring managers. Be sure to include the company you worked at, what your role was, and what duties you were responsible for.
If you have little to no experience, this is still a necessary section. Any experience is better than none. Add in jobs that aren't relevant if you have none that are. You likely gained some skills that would also be useful in the new position. Volunteering experiences and internships are also great things to include.
Professional Work Experience Example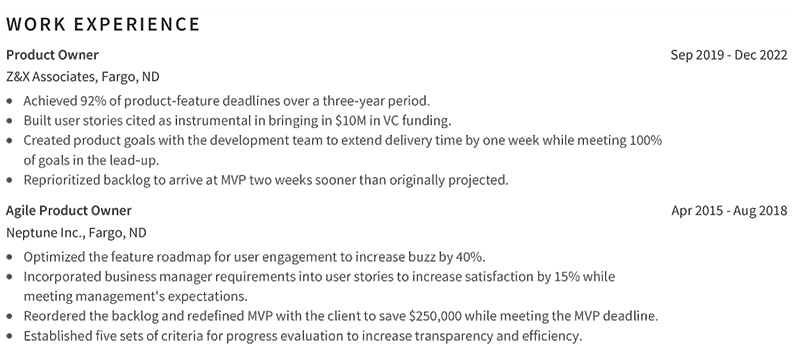 You know all about the prioritization of user stories from your past in product owner positions. This is where you prove that to the person who is reading your resume. You can see how this looks for an experienced candidate in the image above. It shows all the important information and adds numbers to show what their work did for the company.
How to Format This Section
This will be the section with the most formatting detail. For instance, the heading is going to list the company, job title, and dates you worked there. Beneath that is a series of bullet points used to describe your responsibilities on the job. Add a pop of color here if you wish to stand out even more.
Section #4: Educational Background
Now that you have the work experience section done, we need to consider education. Hiring managers want to be sure you're ideal for the position and your education plays a part in that. While it might not be mandatory to have a bachelor's degree in all cases, it can make you stand above applicants who don't.
All of your university degrees should be included. You also want to add certifications that are related to the position. If you haven't acquired a degree, it's also important to list that you have your high school diploma.
Educational Background Example

You can see this person has a degree in computer science and several certifications related to product owner skills. All of these things can push the hiring manager to call them in for an interview. Every part of your resume should be clear and professional for the best results.
How to Format This Section
If you're trying to be a part of a scrum team, you need to indicate that to your potential employer. Throughout the job search, education cannot be understated. It works in tandem with work experience to show how you would do in a new position at a company.
Section #5: Skills
As we get closer to the end of the process, you need to consider product owner skills for a resume. For example, you might have experience with product backlog, product roadmap, Jira, and cross-functional teams. If those things are used by the company you are applying for, make sure they know you're proficient.
This will typically be a collection of hard skills like technical skills and soft skills like communication skills. For instance, you might put down the software development life cycle (SDLC) as a hard skill and include leadership as a soft skill. Make sure only to add relevant skills associated with the position on your product owner resume.
Skills Example

You can see above how the skills section is often set up. The chosen skills are clear and it indicates how good the potential employee is at each one. When you look at this list, you might see things you want to add. However, everyone is different and each job needs unique abilities so be honest while showing how you fit the role.
A few other resume skills you might wish to use include:
·       Project management
·       Product development
·       Software development
·       Creating initiatives
·       User experience
·       Agile methodologies
·       Problem-solving
·       SQL
How to Format This Section
The skills section is all about showing your functionality and what you do well at. For the format, use a list since it's easier to read. You also should make sure you indicate how proficient you are with each of the skills you list. This ensures the hiring manager can make the right choice.
Section #6: References
The last section of your resume is the references. This is where you show that stakeholders and others know you have a grasp on the tasks associated with the job. Choose people who know how adept you are at explaining product features and making edits to ensure great results.
The people you choose to use for your references should be knowledgeable about your abilities. These people will help you create the perfect resume by backing up the things you have said throughout it. Make sure you contact them before adding them. Everyone listed in references should consent to be contacted about your skills and knowledge in the field.
References Example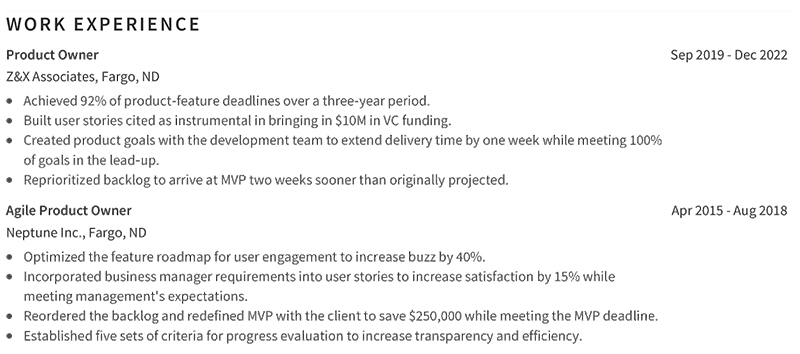 Here you can see a simple version of references that you can emulate on your product owner resume. You can see that it provides the needed information in a neat manner. You'll see that not all of the references are from the same employer. You can choose to make one reference a personal one but avoid family and friends.
How to Format This Section
Formatting is simple for references. You simply want to share the name of the reference and what company they are affiliated with. Then the best practice is to fill in "available on request" for contact information. Once someone needs to contact these people, they'll reach out to you.
Related Resume Templates
Now that you have all the details you need for your document, it's time to choose your favorite product owner resume template. This makes the creation of the document much quicker and easier than it would be to format all the information in Microsoft Word or a similar type of software.
The agile product owner resume we've shared throughout this guide is a great choice, but some of you may want a different look and feel. Below are a few other templates that you can use to spruce up your product owner resume. They aren't specifically for this position but can easily be updated to fit your needs.
·       Business System Analyst Resume
Any of our resume templates can be used for a product owner resume. You simply need to edit the information to fit the role you're applying for. Select one that you like and add your information to it. Use our Resume Builder to make resumes in a fraction of the time you used to. There's no need to handle every speck of the formatting on your own.
Final Points on Writing a Resume for a Product Owner
Right now, you have all the information you need to nail an interview, get the job, and start meeting your team members. If you are using one of our resume templates, you can make your resume look exactly the way you want while retaining a dose of professionalism. After you get this done, there are a few things to handle before you turn in the product owner resume, your cover letter, and any other attachments to apply for the position. Go through this short list to make sure everything is ready to turn in:
1. Read through the resume in its entirety one or two times. Check on how it flows and make sure it's simple to read. Fix any errors if you notice them now but don't make that your priority for this round of reading.
2. Look carefully at the font you chose and what colors make up the resume. Is anything challenging to read or see? If so, make some changes where needed. You want the hiring manager to be able to quickly scan the resume.
3. Take your product owner resume and start the editing process. Read through it again but this time focus on finding errors that need to be resolved. You don't have to manage this process all on your own. Use a program like Grammarly to find errors you may not notice on your own.
4. View the resume from the lens of the recruiter. It should have good organization, decent spacing with some white areas, and look entirely professional. Make changes as needed.
5. This last tip involves a final read of the resume. Only this time, read it aloud. This can help you catch any areas that don't have a good flow or are confusing.
Now that you've done all of the work, it's time to turn that resume into a PDF document. This ensures it looks the same on any device, whether someone is using a smartphone, tablet, or personal computer. Attach it to your application with any other documents and move forward! Good luck!