Business System Analyst Resume Sample, Example & Writing Tips 2023
Today there are so many job titles out there, so you need to ensure you list your career choice and skills accurately. We can quickly become confused between Business Intelligence, Business Analyst and Business Systems Analyst jobs.

The thing is, you can't afford for a reader or parsing software to not immediately identify your skills and potential value as an employee. If that happens, your hopes of landing your dream job go right out of the window.
Your business system analyst resume must not only be professional but super be reader-friendly too. You want to create the kind of document someone can scan over and know at once they want to set up an interview with you straightaway.
Our resume builder has you covered. This article is packed with info, a resume sample, and example excerpts. Read on so you can write a business system analyst resume that gets recruiters dialing your number.
Sample Business System Analyst Resume
Frequently, people feel somewhat overwhelmed when they need to update or make a new resume. Generally, they search for resume templates online and compile their own without knowing what recruiters and hiring managers really want.
Investing your career goals in a resume builder saves you loads of time and hassles. Plus, you also get access to skills and expertise usually reserved for pricey professional resume writers only.
You can learn a lot from browsing business systems analyst resume examples before selecting the resume template that works best for you.
Another great thing is that if you choose a resume template that doesn't look quite right once you're done, you change it at a click.
Whether you're looking for an entry level systems analyst resume, system business analyst sample resume, or any other option – you'll find it!
Kim has opted for our Stanford resume template in bright red to make a striking impact.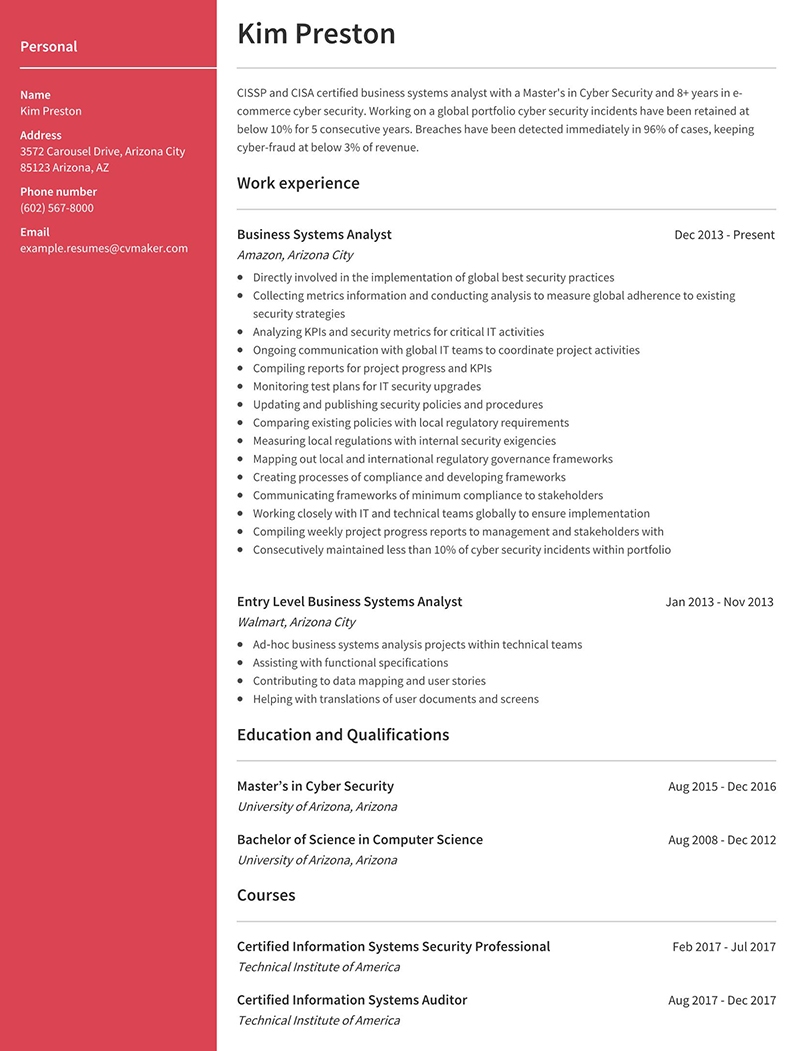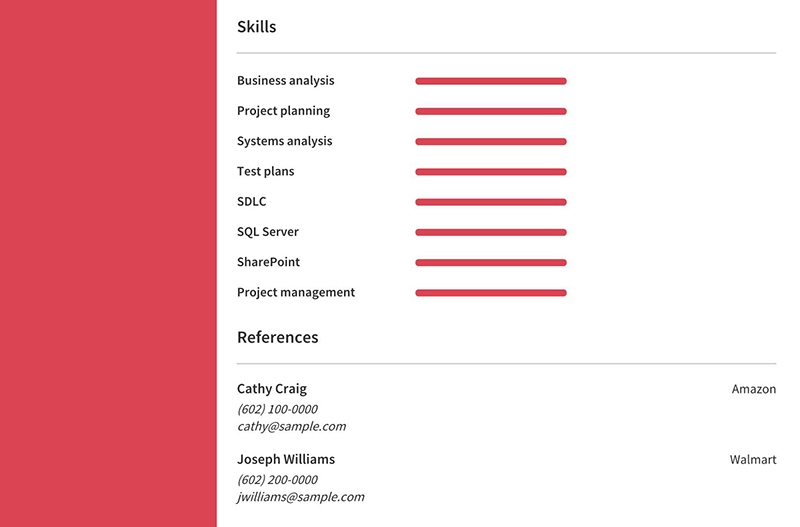 How to Write a Successful Business System Analyst Resume: Tips that Work in 2023

Approach compiling your resume as if it's a critical project that's got no room for error.
Take time to write down all your business systems analyst skills and experience from when your career started. While you won't use everything on your resume, you want to have all the details.
If you're crafting an entry level system analyst resume without work experience, make a note of all your education. List your full degree or college results if you haven't completed your degree yet. If you graduated from school in the last two or three years, include your GPA if it's above 3.5.
No matter what level you're at, don't forget transferrable skills. These can make or break your business system analyst best resume.
Now, compare your business system analyst skills with job posts you want to apply for. This isn't like a tick list, though. Read the job ads very carefully first and identify crucial keywords.
Business systems analyst resume keywords start popping up in the job titles already. So don't assume you're suitable or not by just skimming over and making a snap decision.
Job titles and descriptions vary from company to company. Your task is to recognize keywords matching your skills and mirror them exactly on your resume. This is the secret to getting your application past ATS or applicant tracking systems.
Virtually every organization uses ATS nowadays because they make life easier for recruiters. But if you don't know what they're about, ATS will crush your resume for a business system analyst.
Critical keywords are written into job titles and descriptions when jobs get loaded to an ATS.
Parsing software in ATS scan all new applications searching for the keywords. These keywords come from hiring managers, and they only want resumes that meet their standards. If they're not there, the resume is rejected without anyone ever seeing it.
Formatting and resume length is equally essential.
A drawn-out, disjointed business systems analyst resume with tons of unrelated info is sure to get ditched fast. Even if it gets past the parsers, recruiters spend only a few seconds scanning resumes. They're not going to search through screeds of text to find what they're looking for.
Stick with a two-page resume limit with plenty of white space and bulleted points. Keep it reader-friendly and skimmable.
You might or might not want to include a cover letter, depending on the role and your work experience. Some employers value a cover letter, while others only want a resume on application. Give them what they want.
Personal Information
There's no use sending out your business system analyst best resume without personal info. You want the reader to know your basic personal details, and most importantly, your contact details.
List your full names, physical address, correct contact numbers, and email address. You can give your address in full or just the city, as details can be provided if requested.
LinkedIn profile or not? Your profile is an excellent way to showcase a more in-depth experience if you have a lot of it. But it's unnecessary for an entry level system analyst resume. Include the link, though, if you're writing a senior system analyst resume.
Personal Information Sample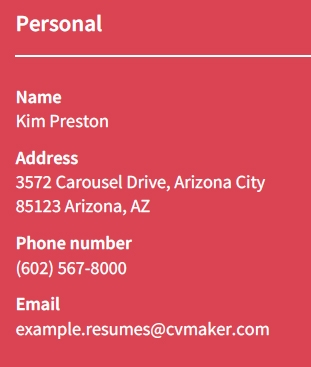 Keep personal info to the point and easy to read.
How to Format this Section
There's no need for much detail here, but it must be accurate, particularly your contact numbers and email address.
It must be very reader-friendly, so use a clear, well-spaced black font.
Check it and then recheck it. Even the slightest typo can see your application binned if they can't get hold of you quickly.
Resume Objective
Business systems analyst resumes that make it onto the shortlist aren't assured to make it onto the interview shortlist. A fantastic resume objective can be a game-changer.
A resume objective or personal profile is the first thing the reader sees when looking at your resume. It's your first and maybe only chance to grab their attention and get them to read on.
Keep it short, sharp and punchy! Since you don't have much space, get creative with power words, numbers and statistics to hook the reader in.
At the screening stage, all employers want to know is if you can bring what they want. Include your experience, skills, achievements, numbers, stats and keywords from the job post in your objective.
Take your time and write your business systems analyst skills resume objective with confidence and persuasion. Tell them why they need you on their technical team.
Take a look at these three resume objectives -
Resume Objective for Entry Level Systems Analyst Resume
This entry level system analyst resume sample objective focuses on education, soft skills and attitude. These are the most vital points to highlight at this stage of your career.
Resume Objective for Mid-Career System Analyst Resume

With over 8 years of experience, this mid-career business system analyst example resume objective places more focus on certifications. Areas of specialization are crucial here too, to grab the reader's attention.
Resume Objective for Senior Business Systems Analyst Resume

This senior business analyst sample resume objective shows, there's no need to mention education here. Focus is on leadership skills and results achieved.
How to Format this Section
In only about 60 words, you want to convince the recruiter to pick up the phone and call you.
Use the opportunity to highlight your best soft and technical skills, experience and achievements. Including numbers, statistics and money values add to impact without saying much more.
Remember to match key requirements from the job description and keep it short and to the point.
For instance, a reader knows straight away you're very experienced when you list your working history as 10+ years of experience. Or, when they see you've saved employers heaps of dollars, they know you're focused and results-driven.
Re-read your resume summary a few times before submitting an application to ensure you get it right. Always write a new resume objective for each job you apply for.
Professional Work Experience
This section is a prime hunting ground for ATS parsing software. Make sure they find what they're looking for!
Business systems analyst resumes come in many shapes and sizes, so be sure to tailor yours to mirror the job post. Keywords are king and unnecessary stuff trash here, so focus on your content. Also, be sure to not exclude pertinent details relating to your skills and experience.
The best route is to list all your roles and responsibilities in detail separately and then compare them to the job ad. Take only skills and experience that match and use exact wording from the job post to capture the keywords. Duplicate the job titles as well.
Every business uses its own jargon and keywords, but technical skills usually remain the same. Here are some typical business system analyst keywords to watch out for –
Project management
Business process
Microsoft
Oracle
Agile
Business needs
Business requirements
Communication skills
Computer science
Life cycle
Process improvement
Quality assurance
Requirements gathering
SDLC
SQL server
Stakeholders
System analysis
Workflow
Business analysis
Deliverables
Development team
End-users
Functional requirements
Information systems
Information technology
Interfaces
Java
Methodology
Metrics
Microsoft office
MS SQL
Software development
System requirements
System solutions
UAT
Use cases
Visio
Business rules
Business unit
CRM
Functional specification
Gap analysis
HTML
Initiatives
Problem-solving skills
Process flow
Project plan
Regression
SAP
SharePoint
Test cases
Test plans
Unix
User acceptance testing
User requirements
User stories
Validation
Business systems analyst resumes are primarily presented in a reverse-chronological format, starting with your most recent job and continuing in descending order.
However, an entry level systems analyst resume and senior system analyst resume may present better in a skills-based resume format.
Professional Work Experience Example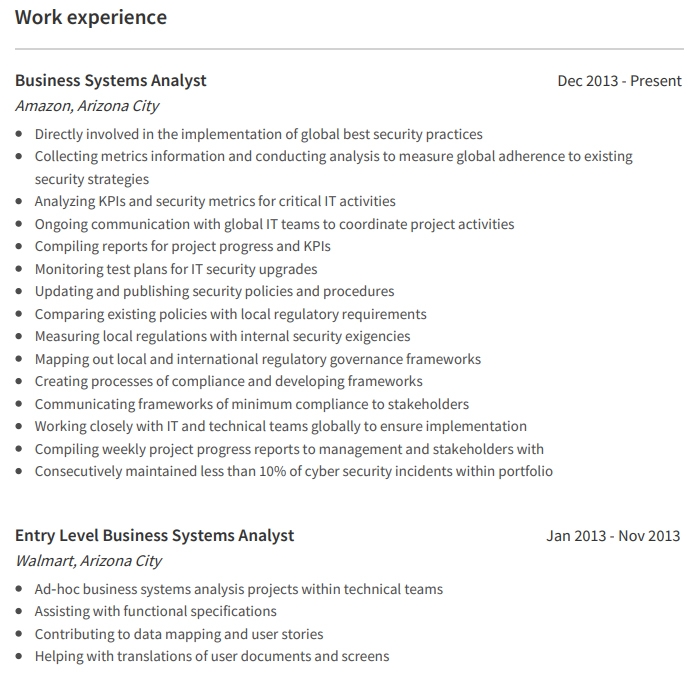 Note how reader-friendly this resume is, but vital info isn't omitted. Pertinent keywords are placed throughout to ensure it reflects the employer's requirements.
How to Format this Section
The work experience section must be clear and concise but very informative. Use a reader-friendly font, bullet points and plenty of white space. Your resume must be easy to read and follow so readers can find what they want at a glance.
You want employers to know what you bring to the table without adding loads of irrelevant info. Numbers, stats, currency and percentages will keep them glued to the page.
Write each responsibility, skill and achievement to fit into a bullet point. It might take a bit of creativity, but with some thought, you'll nail it.
Another must-do is to list your skills and experience in the same order of importance as it appears in the job description.
Don't worry about an opening statement unless you've had more than one role with the same employer. In that case, briefly mention it as an opening line stating you started in a different or more junior job and moved on.
For instance – "I started as an entry level business systems analyst and got promoted to business system analyst after two years."
Education and Courses
For the most part, you need a Bachelor's degree in computer science or information technology to work as a business systems analyst.
That said, going into details about your education only holds a lot of weight when you have limited working experience. The more years of experience you have, the less education matters in this section.
An unspoken rule is if you have less than five years of experience, put your education in detail, with applicable subjects, awards and achievements. Only include your GPA scores if it was over 3.5 and you graduated less than 3 years ago.
When professional experience exceeds five years, list only your degree, graduation date, year and educational institution.
Further courses are an essential if you want to grow in your career as systems and technology are constantly evolving. Eventually, more recent courses combined with experience and skills can become more relevant than earlier degrees.
Both education and courses are listed in descending order, starting with the most recent.
Education and Courses Example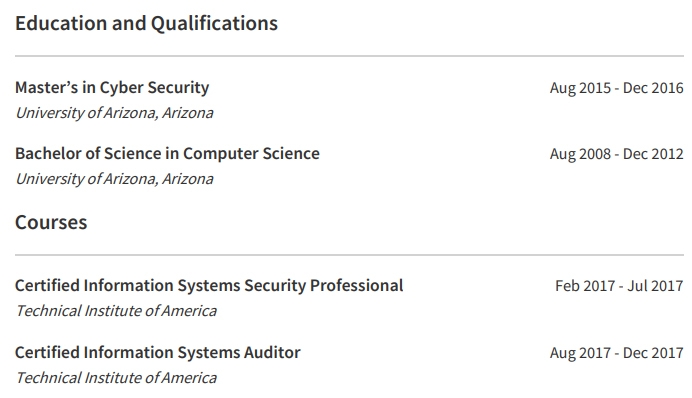 Say nothing more than is necessary, but make sure you're details are accurate. Employers will want to verify this info in the interview process.
How to Format this Section
Keep this section brief, correct, short and snappy.
You want the reader to glance over your education and know what you're saying right away.
When your work experience is limited, and you want to detail education, put your qualifications, subjects, etc., in descending order, starting with the most recent.
 Always put the name of the educational institution first, followed by the qualification.
Skills
The skills section is another hangout of parsers.
Soft and technical skills are equally crucial as listed in a job advert, so ensure you pick them up and use them in your business systems analyst skills.
Technical skills may include –
Business analysis
Business process
Business requirements
Information systems
Java
Visio
CRM
HTML
Microsoft
Oracle
Project management
Project plan
SDLC
SQL server
SAP
SharePoint
System analysis
Test plans
Unix
User acceptance testing
 Soft skills are usually related or interpersonal skills
Communication skills
Stakeholders
Development team
End-users
Initiatives
Technical teams
Skills Example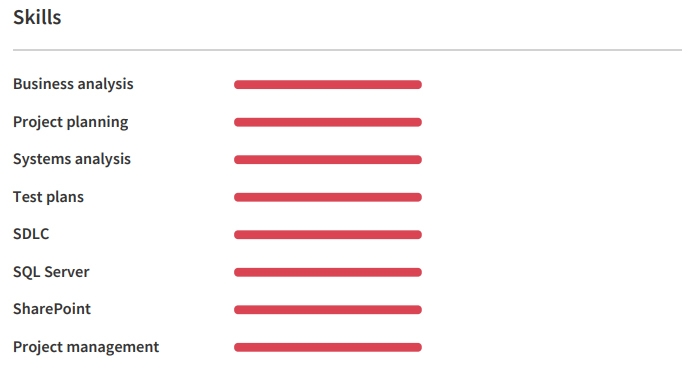 The layout is easy to read and gives the level of expertise. This helps hiring teams when it comes to decision making.
How to Format this Section
Irrespective of how many skills you have, mention only those listed in the job post. You can always give more details during interviews.
What you want in the immediate term is for parsing software to recognize skills keywords and move your business systems analyst resume to the shortlist. Keep each skill short and mirror the phrases from the job ad. Even the slightest change to keywords could see your resume rejected by an ATS.
Rating your skills helps readers know your proficiencies before making contact.
References
References come last on your resume.
Avoid giving full contact details unless the job post asks explicitly for contactable references. Instead, list references as available on request and give details later in the hiring process
When applying for a job, you don't know much about the employer yet. There's a margin of risk involved in giving too many details. Sharing contact details could see in them being misused.
You only need two references, but confirm they're still available in advance. In that way, they've got a heads up, and you're confident about your references.
References Example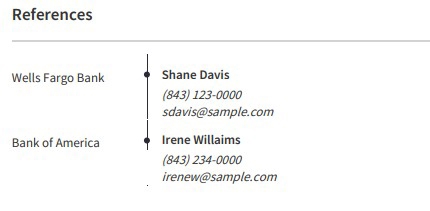 Making sure the details are clear and correct is crucial and all that's required here.
How to Format this Section
Only accurate facts are required in this section.
You can also use the reference name only with "available on request".
Other Business Related Resume Templates
Not sure this system business analyst sample resume article is what you need? We've got an excellent portfolio of other business-related templates for you.
Final Points on Writing Successful Business Systems Analyst Resumes
Before we go, here's a quick summary of the nitty-gritties of writing your winning resume -
Extract keywords from each job post
Take your time selecting info for your resume
Keep your resume to no more than two pages
Use clear and concise wording
Include numbers and statistics
Check facts before including them
Use positive upbeat language
Pay attention to formatting
Proofread your resume before sending it out
Focus on your abilities and what value you bring
Submit your resume in pdf format