IT Resume: Example, Template & Writing Guide for 2023
You're looking for a new job and you need the best IT resume to make sure you get the position. Resume writing doesn't come easy to everyone, but you want to know the socks off the hiring manager who sees yours. These jobs get hundreds of applicants in some cases, which makes it even more important you stand out. But how do you do that?
The first step is knowing what hiring managers want to see. The key to that is paying attention to the job description. Nearly everything you need will be in that short block of text. It gives the skills, education, and experience that the company needs when hiring for the position. It also gives you an idea of what to focus on when creating your resume.
The best IT resume is one that incorporates all the things the employer wants. It shows that you can handle it all, even when the pressure is at its highest. If you aren't sure where to start, that's okay. This guide will walk through the entire process for you.
You'll learn everything there is to know about crafting a compelling IT resume. We'll talk about the best formatting, the information to include, and how to bring everything together to look great. However, before you get started, it's a good idea to look at an example to start you off right.
IT Resume Examples
Information technology resume examples give you an idea of how your own resume should look. While you can choose the fonts, colors, and general aesthetic, the resume format will be largely the same. If you only check out one resume sample for IT jobs, view the one below. However, taking in several resume examples for IT jobs is even better.
As you move through the guide, you'll see an IT resume sample for every section. This is in addition to the main sample which shows the resume as a whole. You can also download the PDF resume below to take a closer look or use our resume builder to create an IT resume that fits your needs.
Below, you'll see the first IT resume example with all the common sections included. Moving into the guide, you'll also get tips and advice for each part of the resume. You can be sure that the final product will look great, impress a recruiter, and help you get that job with the pay and benefits you hope for.
Take a look at the resume below, download it, and read more to create your own IT resume. Once you're done, you'll have a professional document that you are sure to be proud of. Use a resume template and the process is as easy as adding in your information. Making an IT resume doesn't have to be a challenge – it might even be fun.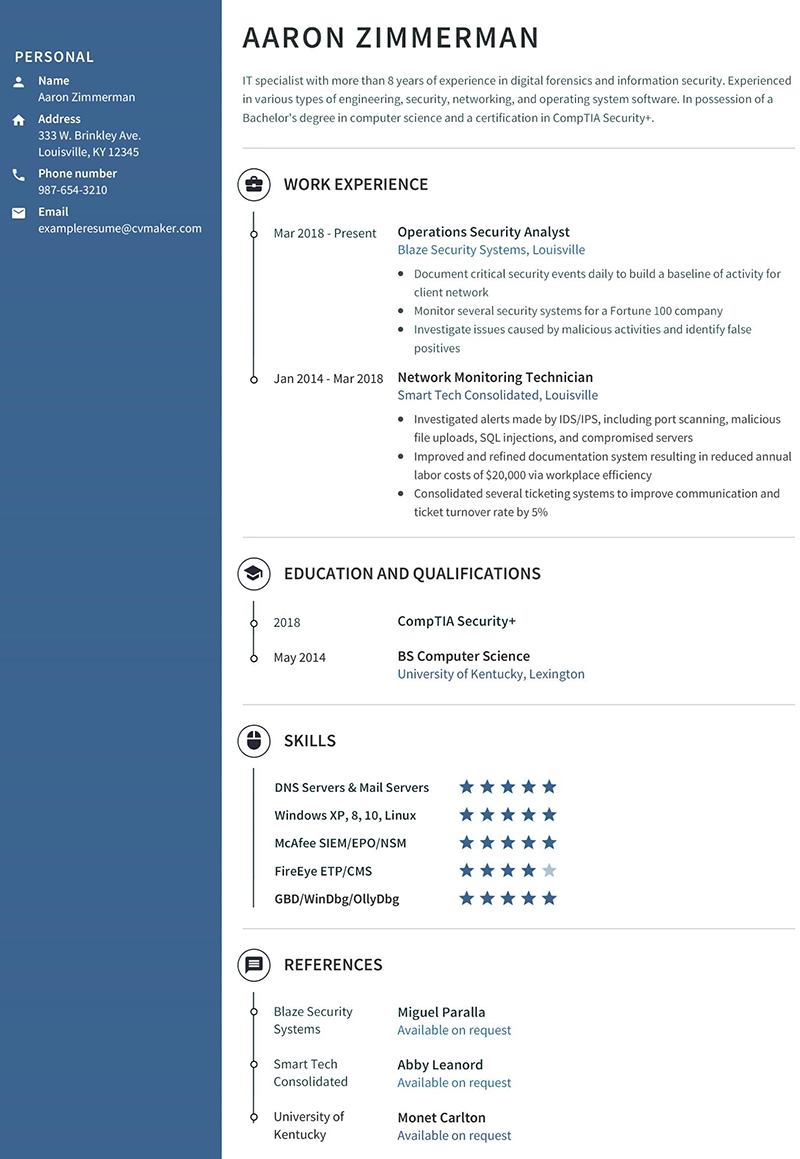 How to Write a Successful Resume for Information Technology in 2023: Full Guide to Professional IT Resumes
You want to create the best IT resume that lands on a manager's desk. Whether you need a no-experience IT resume or something that works with years of experience, we have you covered. Beginner IT resume examples, IT resume summary examples, and more will be provided. All you need to do is look at the job description to see what to include in them.
While you build a resume for an IT job, don't forget that most companies use an applicant tracking system. This system is computerized and searches your resume for keywords that management is interested in. This is why the job description should be at your side throughout the IT resume creation process. Your IT resume will only be seen by a human if you show you know what the company desires.
Weave in keywords that make sense from the job description as you move forward. Next, we'll be delving into what you need to know for every section of your IT resume. We'll cover contact information, a resume objective, work experience, educational background, and skills, and then wrap it up with references.
Section #1: Contact Information
Skills, education, and past employment matter to recruiters. However, first, you need to provide the basics. The first section of your IT resume will be all about contacting you. While this might seem like a section that requires no explanation, that isn't true. Making mistakes here can be a huge blunder. If hiring managers don't see the right information or notice typos and other errors, it could mean your resume is put to the side.
The good news is that this section is easier than most of the others you'll be creating. Contact information is simple stuff and you have all the info you need to put down memorized in your brain. It's just a matter of putting it down and double-checking for any issues.
Contact Information Example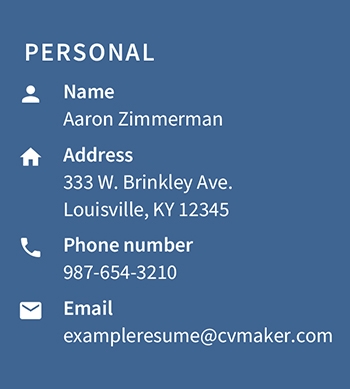 As you can see in the IT resume example above, this section is small but packed with information. It starts with the applicant's name followed by their address. This can be a full street address or a city and state or country, depending on what works best for you. It's followed up by a phone number and email address.
What you don't see is a lot of extra information. Most people won't need to add extras. However, leaving your LinkedIn profile can be a good idea in some cases. It isn't mandatory unless the job description indicates it should be there. Otherwise, what you see above is what is expected.
How to Format This Section
Formatting this section is simple. You want to make sure the font is easy to read and the colors you use are complementary. Otherwise, there's not a lot you can do wrong here. Start with your name, which can be in a larger and more prominent font, before including the rest of the information. While the example shows a phone number and email, you can choose something else as long as two methods of contact are provided.
The font you use should be a professional one rather than something that might be hard to understand. Otherwise, add the information in one of two places. It can be used on the sidebar as you see in the example or you could place it as a heading to the entire resume. Use whichever you prefer as it doesn't matter much in the end.
Section #2: Resume Objective
The next section for job seekers to create on an IT resume is the resume objective.  This is a section that could be seen as a written version of an elevator pitch. All the great things you've done should be covered in a short combination of sentences toward the top of your IT resume. Be sure what you choose pertains to the position you want to be hired for.
When you create a resume objective, you should use some of the keywords from the job description wherever possible. Your largest accomplishments that fit the job go here. Think about all the things you've done well that match the wanted skills for the position and you'll do great with this section.
Resume Objective Example for an Entry Level IT Resume with No Experience

When creating an entry-level information technology resume with no experience, you'll have different requirements than someone with experience. With limited or no experience, you'll need to think about other ways to show you can handle the job.
For instance, consider technology projects you've done or internships you can draw from. Our entry-level IT resume examples will help you.
Resume Objective Example for IT Resume Samples for Experienced Professionals

Professional IT resume samples can also be useful if you have a great deal of experience. Since you've worked in the industry, you should have many accomplishments and achievements to choose from.
The bigger problem is making sure you choose the right skills to focus on. Make sure you consider the job listing when you decide which to include. Whenever possible, quantify what you include with numbers to show how you helped a previous business.
How to Format This Section
You've made it through the job search and need to focus on making your resume look great. Be mindful that a resume objective is a group of one to four sentences about what you have done best in the past. Going over that length is going to make it too long to be easily absorbed. That means you should work to be concise whenever possible.
The format of this section is simple. It's a paragraph toward the top of the resume. There is no need for bullet points or extras. The format is less important for this section than choosing the right achievements to highlight.
Section #3: Professional Work Experience
The number of years of experience in your work history will go in this section. Whether you worked at a help desk or have experience as a lead, you want to provide that information in this section. While the number of years you've worked in the sector matters, so does what your responsibilities have been up to this point.
When hiring managers look at your work experience section, they want to know where you worked, when you worked there, and what you did. All of that should be included for past jobs in the same industry. If you're new to the industry, experience from other types of jobs can be used instead.
Professional Work Experience Example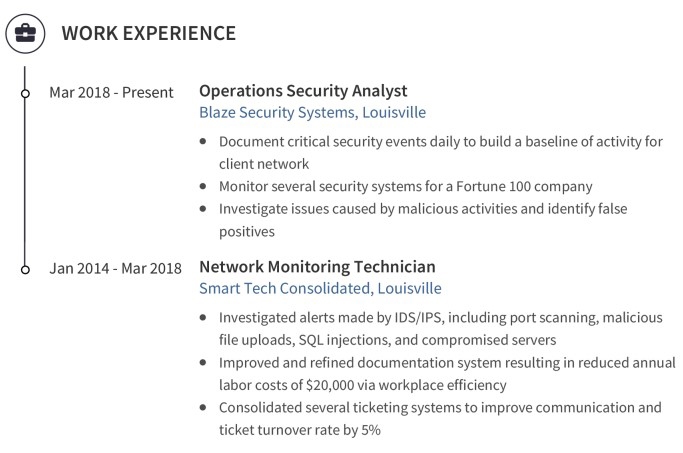 The above image gives an idea of what this section looks like for an IT specialist. Whether you're a system administrator or a security analyst, it will look similar. The main difference will be in what tasks you list as having done at that position. This is another place where you can add keywords you noted on the job description.
Looking at this sample can give you an idea of what employers expect to see. Build yours in a similar way but with your own skills and responsibilities inserted and you'll be headed in the right direction.
How to Format This Section
Most people developing the professional experience section will use a reverse chronological format. This means that you start with your current or most recent job and work back from there. However, if you have little experience, a functional resume is another choice. This focuses more on skills than work experience.
Start each job entry with a header. Begin with the job titles you held, what companies you worked at, and when you were employed at each place. Under that, you can use bullet points to explain what you did on the job. Make the sentences brief but packed with useful information.
Section #4: Educational Background
The educational background section is where you list what degrees and certifications you have. For instance, many people in IT have a computer science or information technology degree. This is where you want to include that information. Certifications like CompTIA offers can also be placed here or you can create a section solely for those.
Regardless of how much education you have, you need to list it here. Place all your degrees if you have more than one. A high school diploma only needs to be listed if that is your only education. In most cases, you don't need to delve into things too much but entry-level IT resumes might have additional educational info.
Educational Background Example

As another of our IT professional resume examples, you can get an idea of what to include here. In this case, it has a certification followed by a bachelor's degree. It's fairly short but has all the needed information. A hiring manager can easily see what degrees and certs you have and where you got them.
If you happen to be a new graduate without a lot of work experience, adding additional information here is fine. Consider placing your GPA or some info on an IT project you handled that you're proud of. This is a good way to show what you can do if you weren't able to add a lot of information under your employment.
How to Format This Section
You want to show you excel at computer systems from start to finish, including when you make the education section. Formatting this section well is a part of that process. However, if you've already done the work experience earlier, this will be a simple process. It's very similar to layout and complete.
The main header should tell your degree, where you got it, and when. For certificates, just listing what it is may be enough. As with the work experience, a reverse chronological format is best to keep things in order. Place your most recent degree or certificate and work toward the past from that point.
Section #5: Skills
As we move to IT resume skills, we're much closer to finishing a great resume to turn in for that job you want. The skills section is where you list all the things you can do that relate to the position you're applying for. This is another place to pull out the keywords you haven't had a chance to use up to this point. Whether it's software development or project management you're interested in, add what is relevant.
Whether you have tons of work experience or not, you can make an IT resume shine with the right mix of hard skills and soft skills. Think about the things you do best that also apply to the position you want. Those are the best skills to include in this resume section.
Skills Example

Your skills are likely going to be different than the ones above but you can get an idea of what you are going for from the image. The skills all pertain to the position they want and have been honed from hard work, Whether you want to focus on problem-solving skills, technical skills, or troubleshooting skills will depend on the specific job in IT.
Not sure what to add? Some of the most common deal with programming. Consider adding Oracle, Java, CSS, SQL, or JavaScript if you know those things. Those looking at management positions may want to focus on leadership skills. The important thing is that you are very good at what you list and each entry is relevant to the position.
How to Format This Section
When you format your IT skills, it's best to choose a list or bullet point format. This makes it simple to read and understand what you're capable of. A paragraph is likely going to go unread. In the same vein, avoid listing a huge number of skills. Instead of having dozens, cut them down to the ones you are the best at. Our sample resume has five of them and you can go higher but not by much.
The choice of where to place the skills can also vary depending on your needs. Some will put it on the body of the resume while others may place it on a sidebar. Either works. It comes down to where it fits best. Those who are already bordering on a two-page resume should go with the sidebar to avoid that.
Section #6: References
Who knows your abilities at technical support (or other job responsibilities) best? That's right. The individuals you choose to list as your references. Most references are professionals who provide information about your work history or character. Personal references also exist but shouldn't make up the majority of your reference list.
Managers often contact references so you want to be thoughtful about who you include. Make sure those you add have agreed to take calls and emails from potential employers. Once you have that arrangement, you can add them to your roster for future job applications.
References Example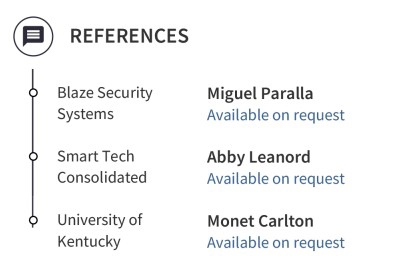 Above is a simple references section for an IT resume. This example includes three references but you can add more if you like. Going below that number isn't recommended. Even if you include three to five, not all managers will contact them all.
It's good to have references from different places. The image above shows two references from past jobs and a final reference from someone at the university the applicant went to.
How to Format This Section
This is another section that is fairly easy to create. As the last of our resume tips, consider adding the person's name and company but not their contact information. Instead, note that the hiring manager can ask for that information. This prevents the phone numbers and emails from being seen by anyone who sees your resume. Just make sure you're ready to send that information if and when the manager contacts you about it.
Related Resume Templates
There are many IT resumes templates that can be used to make the job easier. When you choose an IT resume template, there's no need to create and format the document in Microsoft Word or Google Docs. The aesthetic and sections are already complete so you just need to input your specific information.
While resume templates for IT jobs are available, even templates for other industries can be used in some cases. If you would like to view several other options, check out the list below:
Browse the examples above until you find the resume you like. Download and edit to meet your needs. Then all you need to do is send it in with your application!
Final Points on Writing Effective Information Technology Resumes
Using a resume builder is the perfect way to create an IT resume that stands out. Package it with a well-written cover letter for the best chance of getting the job of your dreams. You'll have the chance to show off your computer skills, experience, education, and more.  Make sure you stand up to the competition with tools to create an amazing IT resume. Good luck!