Dental Receptionist Resume Example & Writing Tips 2023
The healthcare industry continues to offer attractive and well-paying positions to passionate candidates. One medical practice that is always needed is the dental profession. While it takes years of education, specialty training, and extreme attention to detail to become a dentist, other positions are easier to retain. A dental receptionist plays a vital role in the daily operations of a busy office. However, you'll need to write a stunning dental receptionist resume before applying for these jobs.
The best dental receptionist resume examples clearly articulate the applicant's experience, skills, and passion for working in the healthcare field. They are typically a single page and include two relevant jobs, required education, and a few references. While this seems simple, choosing the correct format and words to include in your dental front desk resume is where most candidates struggle.
If you've been thinking about becoming a dental receptionist, this article will be an exceptional resource. The information below will provide several practical tips for dental front office resume writing. Our professional resume writers have created a practical dental receptionist resume sample for you to review. We'll also give you a few links to review other dental receptionist resume samples to gain additional ideas.
Plus, we'll break down each section of the dental receptionist duties resume to explain some best practices that streamline the process of writing, editing, and formatting the resume.
Let's get started.
Dental Receptionist Resume Sample
A dental office can be a hectic and active business. Depending on the location and type of dental practice, the job of a dental receptionist can range from scheduling appointments for vendors, patient appointments, or gathering patient information for filing, to completing dentistry administrative assistant duties. Due to the diversity of required job duties, candidates must carefully review a job posting to ensure they possess the right skills.
The job posting for dental receptionists will provide you with a clear roadmap for what to include in your resume for dental receptionist. It will explain the required skills, previous job experience, and minimum education. In many cases, the posting will introduce the type of interpersonal skills the dental office seeks in their employees.
That's what this dental receptionist resume sample accomplishes. The dental front office resume sample posted below is from our mythical job candidate Lisa Jones. She lives in San Diego, California, and is hoping to join the dental office team of Dr. Steven Franklin as a receptionist and administrative assistant. Please take a few minutes to review the dental office receptionist resume example below.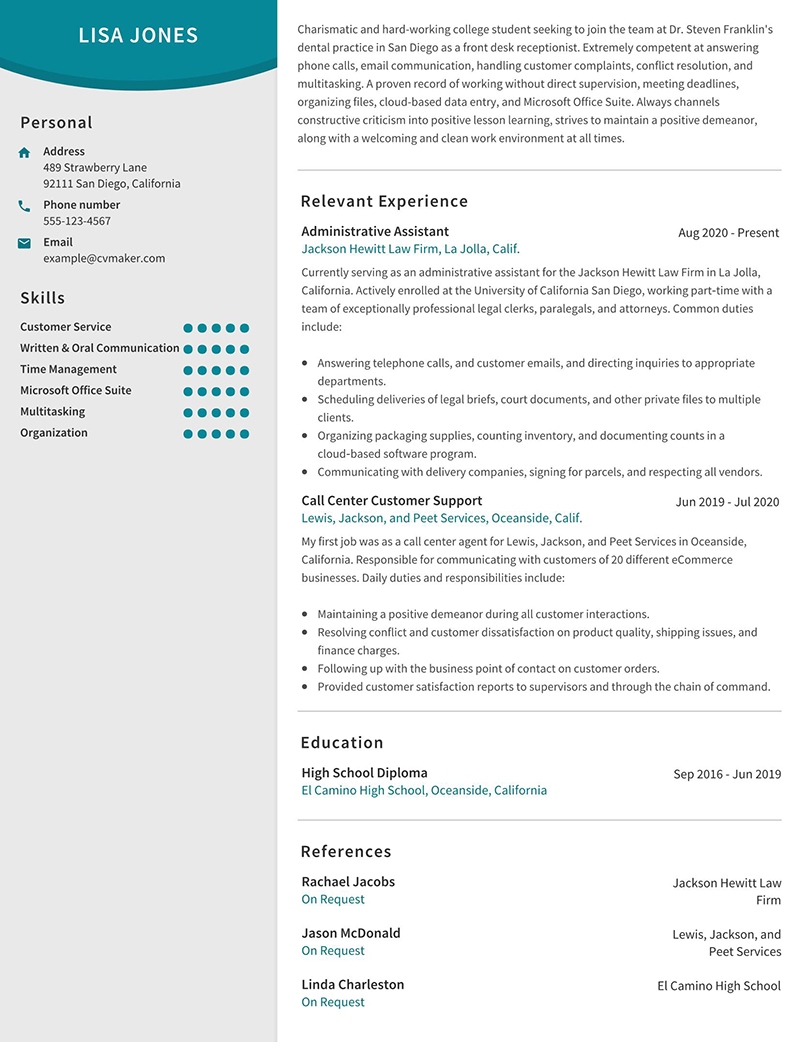 Many positions for dental receptionists are published on job search engines designed to automate finding the right candidate for the employer. These platforms use automated software solutions to search candidate resumes for keywords. However, not all jobs are published on these forums. Therefore, it's important to customize resumes for specific jobs if you have the chance to apply directly to the dental office.
This is what our candidate Lisa has done. She has written this resume specifically to the dental firm in San Diego. You can tell this by examining the resume summary in her dental receptionist resume example.
As you continue through the resume, you'll note that she created a work history section, including two previous jobs relevant to this receptionist job, with a few bullet points highlighting job duties.
She adds her highest completed education, three job references, and a list of hard and soft skills, including communication skills, organization, and attention to detail. An applicant tracking system will recognize these keywords, and HR managers will also search for them in resumes and applications.
In the end, her resume is clean, organized, and grammatically perfect. It showcases her professionalism and attention to detail – two skills vital for being an exceptional receptionist in a dental office.
How to Write a Good Resume for Dental Receptionist in 2023: Full Guide to Dental Front Desk Resumes
The sample resume posted above was written by our team of professional resume writers. So if you think you're not capable of that level of quality writing, don't sell yourself short. To be honest, the reason why our resumes look great is because of two important details. First, we start with a plan of action – or a Master Resume.
The master resume is an outline – or a working document that allows you to structure the primary sections, add content within each, and edit the content. You can use Apple or Word documents, as you'll complete the final editing in an online grammar software solution – such as Grammarly.com.
The resume template used is the second detail that allows our resumes to look great. Our online template allows you to add personal information, customize primary sections and paste the content into sub-sections. In the end, the finished product is organized, easy to read, and professional.
Now that we've provided you with the secrets to our success let's break down the primary sections you should add to the dental receptionist resume.
Personal Contact Information: This section should include your accurate contact details to make it easy for them to contact you for an interview.
Resume Summary: The resume summary is your best chance to articulate what makes you an ideal candidate for the receptionist position.
Work History: This is where you'll add the relevant work experience section. If you have never been a receptionist or worked in a dental office, you'll select the two last jobs where you've shown good work habits and ethics. If you're writing a dental receptionist resume with no experience, you'll call this section "Relevant Experience" and list a few examples where you've used similar skills.
Education: The education section in a professional resume is the easiest to fill out. You'll add the highest level of education you've completed in this section.
Skills: We recommend picking your top six hard or soft skills that are important for a receptionist or office assistant in a dental office to possess. We'll provide some samples in the sections below.
References: A reference is a personal or professional contact that can vouch for your experience, work ethic, and skills. For a dental office position, selecting three references to list on your resume is best. We'll explain how to format this in your resume – so you can protect their private information.
Start your master resume by adding the primary sections in bold type on the document. As we outline each section, you can add relevant details to each – so you save some time.
Let's start working on your resume.
Section #1 – List Your Contact Information
A dental office is a healthcare facility, which means you'll be working with people with private information that you'll have access to. There are HIPAA (Health Insurance Portability and Accountability Act) regulations in the medical industry that all employees must follow. As a receptionist, you'll have to showcase your ability to pay attention to details. You'll have an opportunity to prove this when you start with your resume in the contact information section.
For a resume, you'll want to list your full legal name, complete mailing address, email address, and mobile phone number. The most important item to remember is to match – 100 percent – what you listed on your application. If you write a cover letter, your personal contact information on that document should also match the resume.
How to Format this Section
When using the master resume, write each item listed above separately. This will make it easier for you to copy and paste into a resume builder or template – such as the one we used to create the sample resume above.
Section #2 – Resume Summary 
Anytime you write a document, whether it's an essay or a resume, the opening paragraph is what captures the reader's attention. For a resume, this section is known as the resume summary or your 150 or so word elevator pitch. The resume summary explains your desire to join the company quickly, what skills and experience you possess, and what separates you from other candidates.
With a dental office receptionist position, you'll want to focus on your interpersonal skills, such as having solid communication skills (both written and verbal), attention to detail, ability to work unsupervised, and ability to handle conflict.
One item that many job candidates for front desk office positions tend to forget is that they are often the person who is the first to connect with upset customers. As such, an excellent dental office receptionist needs to be great at handling customer objections and conflict resolution. You can see in Lisa's sample resume summary section above that she lists her conflict resolution as a top skill.

When you review the opening statement, it's easy to see how she's listed the hard and soft skills that will make her a great dental receptionist. Finally – she wraps up the paragraph by talking about her interpersonal skills – including teamwork, compassion for others, and maintaining a clean workspace.
If you have previous entry-level dental receptionist job experience, focus on industry specific skills such as processing dental insurance claims, co-pays, multiple incoming calls, multitasking, and filing dental records.
How to Format this Section
The best resume summaries are those that read naturally, with a professional yet conversational tone. We believe it is best to write it as you'd speak during an interview. We recommend using the word document master resume because you can have the program dictate it to you to hear how it sounds.
Please keep it to five sentences, around 125 to 150 words. When you format it – this section needs to be listed directly under your contact information or at the top of the page – either directly under your contact information or next to it (like you can see in Lisa's sample resume.)
Section #3 – Relevant Experience
It's common for many dental office receptionist positions to be rewarded to those without medical office experience. However, if you have served as a receptionist in a professional business environment, such as a law office, manufacturing company, or service company – this would qualify as relevant experience for many employers. Lisa has done this in her sample resume work history section posted below.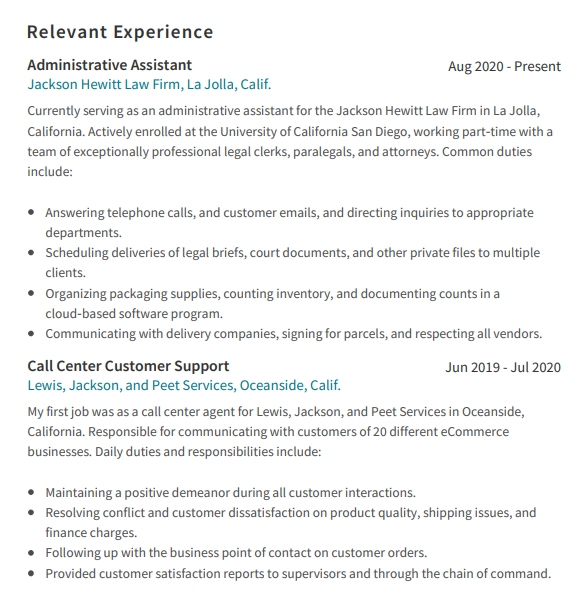 You'll notice in her work history section that she's selected two previous positions. The most recent is working as an administrative assistant for an attorney in her hometown of San Diego. Her second position showcased her phone communication skills as she worked for a customer service call center where she would answer phones, complete appointment scheduling, and other data entry tasks. The combination of both jobs showcases the skills required for being a great dental receptionist.
How to Format this Section
The work history section should include (2) examples of jobs or places you've worked. Ideally, you'll want to use paying jobs in this section, but an internship will be an excellent item to include if you don't have two previous employment positions.
For the formatting, list the business's name, location, dates of employment, and a few bullet points of your responsibilities. You'll want to record these jobs in reverse chronological order – or list the recent positions on top and follow in order of the day you left the previous employment.
Section #4 – Education
Education requirements for dental office positions will vary based on the location, cliental, and job responsibilities. You'll find the requirements posted on any job description. Most administrative assistant positions in a dental or medical office require the candidate to have a high school diploma or GED certificate (in some cases).
When listing education on your resume, the critical item to focus on is only documenting your highest completed level. The resume should list the education or diploma you've completed if you're currently enrolled in college but have not received your degree. Information about current enrollment is best notated in a cover letter or resume summary (if it's applicable for your job).

You'll notice that Lisa has listed her diploma from El Camino High School near her hometown. She mentions being a college student in her resume summary – and will include that in her cover letter. However, current enrollment does not belong to a dental receptionist position in this section. If you were applying for a dental assistant job, it might be a good idea to list that in the education section.
How to Format This Section
Formatting the education section is very easy. Just list the name of the school, its location, dates, and the degree earned. Remember – only use the school you've graduated from or completed your education.
Section #5– References
You likely understand what a reference is – and how to choose one. However, if you don't have much work experience, how do you select the best references for a dental receptionist position? The critical item about any reference is speaking with confidence, credibility, and knowing you very well. Any reference you select should be able to clearly explain why you're the ideal candidate for that dental receptionist position.
In a perfect world, you'd select (2) references that you've worked with – either in school, a previous job, or a volunteer position. The final reference should be a personal one – or a family friend or mentor who can speak to your personality and credibility. Lisa has done this in her resume – by listing her former managers of the two companies listed in the work history section and one of her high school teachers.
How to Format This Section
You want to protect the private contact details of any reference you use or list on a resume. To accomplish this goal, write down the first and last name of your reference, place of employment (or where you know them from), and the phrase "available upon request."
This will keep their contact information private unless the dental office you are applying to join is requested. Always keep your reference's personal contact information – including their email, mailing address, and phone number. Provide that information to a potential employer only when asked.
Section #6 – Skills
We touched on this briefly in the opening paragraphs – but it's essential to clarify what skills are crucial for a dental office front desk receptionist's resume. A great receptionist is going to be an exceptional communicator (both written and spoken), be charismatic on phone calls and in person, showcase attention to detail with patient records, have a strong work ethic, and have excellent computer skills. If you have specific technology skills such as using Excel, communicating with insurance companies, and new patients, this would be the place to document them.
Let's take a closer look at Lisa's sample resume format. She has listed five of them on the sidebar of her resume. She has also used a resume builder or template, which allows her to assign an experience level for each skill. Further, the resume template allows her to list them in order of importance for the job.
How to Format This Section
List the skills you possess requested by the future employer in a bullet point format in your master resume. From that point, you can add them to a template – making them easy to access for future employers and hiring agencies.
Other Front Desk Resume Templates 
We're quite proud of the collection of dental receptionist resume templates we've written for aspiring candidates over the years across the globe. However, sometimes it makes sense to review other dental industry resumes seeing how others in this industry structure, format, and articulate their resumes.
We have assembled a collection of dental office resume samples and front desk resume templates, which are 100 percent free to review. Take some time to read the sample resumes – and feel free to incorporate some of the ideas in these resumes into yours.
Receptionist Resume
Medical Receptionist Resume
Veterinary Receptionist Resume
Final Points on Writing a Dental Front Office Resume 
Hopefully, you've found the information we've published above helpful in writing your dental front office resume. Whether you're applying for a direct receptionist position or office clerk who schedules appointments, the key is writing your resume to address that specific position you're hoping to receive.
When you know how a resume should be formatted, which sections to include, and the key phrases or skills to include in each relative section, customizing the master resume for specific jobs is easy. We strongly recommend using Lisa's document as your template – but personalize it for each admin position you apply for.
For a quick recap, here are some specific tips to remember.
Make sure the resume reads and flows easily.
Always write your resume on a plain white background with black font.
Edit the document SEVERAL TIMES – through Grammarly.com and visual inspection.
Ensure its well-spaced, organized, and professional.
Finally, read it aloud a few times before you're ready to paste the content into a resume builder or template.
Of all the bullet point tips listed above, editing your content in Grammarly.com or another high-quality editor is the most important. Don't be afraid to use a dental receptionist resume template like the one in this article to ensure it's clean, neat, and organized.