How to Write a Successful Business Consulting Resume: Tips that Work in 2023
Increasing the efficiency and profitability of your clients' business is second nature to you. But do you know how to write a winning business consultant resume?

Consultant resumes are literally a dime a dozen. So if you don't make yours jump out at recruiters right away, it won't get noticed.
Business consulting is a diverse field, and that's the secret to success. You must intentionally hone your resume skills section to immediately showcase your value.
Puzzled?
Don't worry. We've got you covered.
This article shows you how to grab a reader's attention and reach for the phone to dial your number. We show you how to get it right using top-ranking samples and examples, keywords, format and more.
For instance –
Business consultant resume examples
Family business consultant resume example
Sample resume for a business consultant
Business Consultant Resume Example
Jody has chosen our spacious Princeton resume template in green.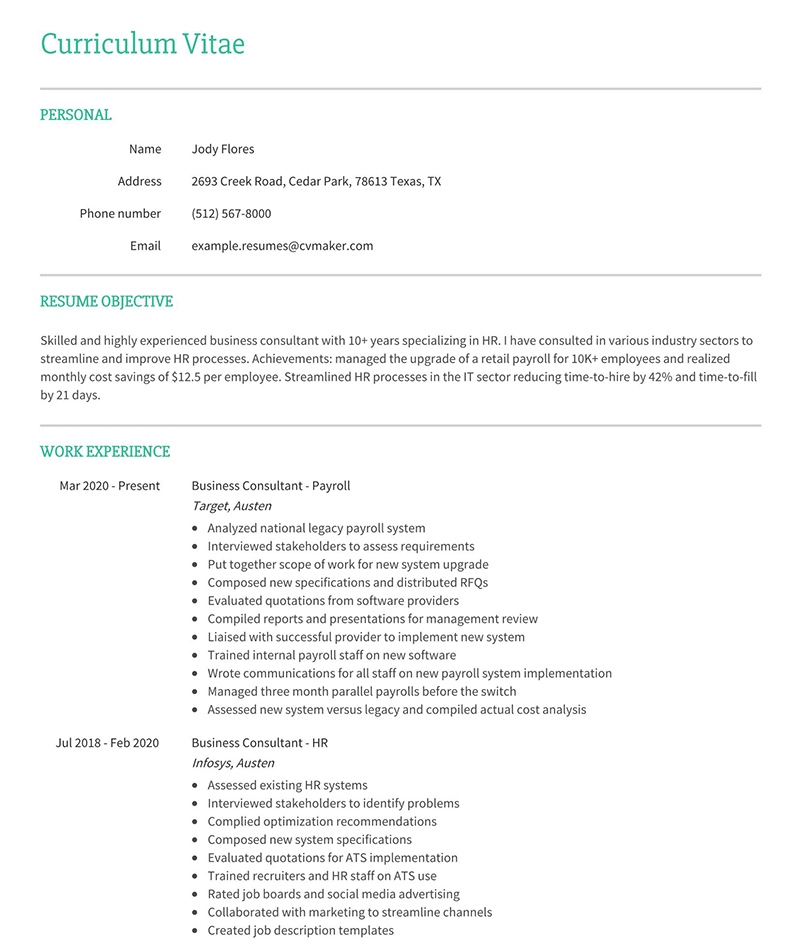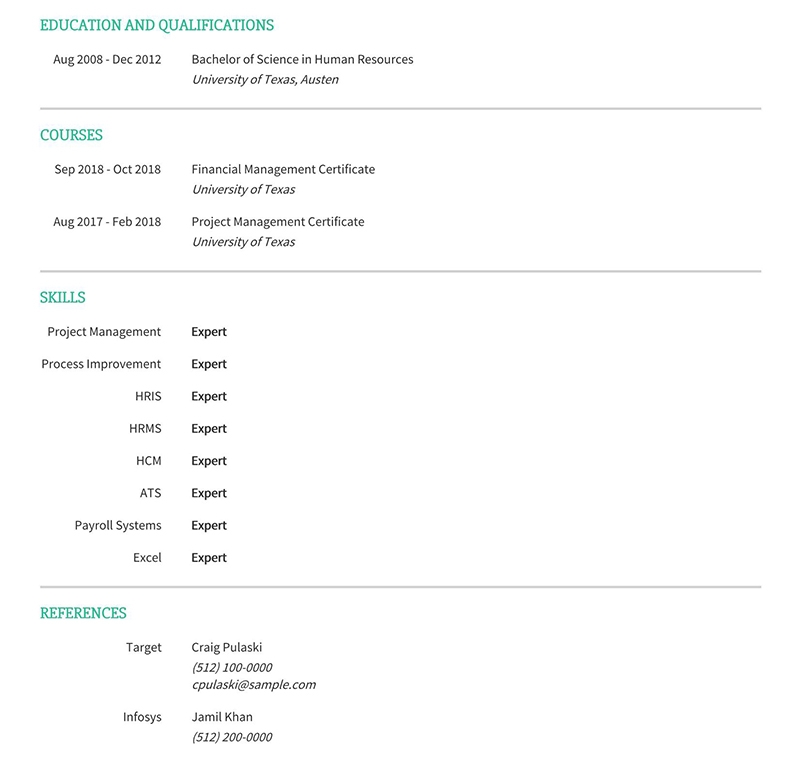 How to Write a Successful Business Consulting Resume: Tips that Work in 2023
While most business consultants can work in various areas of business, each project is usually specialized. Besides, your skills may only be needed in particular business capacities, such as HR, marketing or finance.
Many business consultants prefer to work on freelance contracts. Organizations only sign them up for the duration of large scale upgrade initiatives or change implementation. The plus for consultants is higher rates and working on multiple projects.
To succeed, though, your professional resume must be up to date all the time. The best way to handle it is to treat your business consultant resume as a living document. Update it each time you gain a new skill or when contracts close.
A detailed living document makes resume optimization easy and your job search a breeze. All you need do is extract relevant info into a short resume targeted towards job posts.
Free resume templates may be tempting, but it gets tricky. Not only are you very busy, but free resume formats are often outdated. You can't afford to waste time!
Conversely, resume builders are regularly updated and are at the forefront of recruiting trends. They have the right headings, sections and resume formats to get you writing your best resume.
There's another reason you need a resume that's at the cutting edge. Applicant tracking systems or ATS, which feature immediately in the hiring process.
Critical keywords in the job description and job title get loaded to ATS parsing software. Applications are scanned for these keywords as they come in. If the parsers pick them up, your resume moves to the shortlist; if not, it lands in the bin.
Examples of targeted resumes include –
Small business consultant resume
Independent business consultant resume
Business process consultant resume
Startup business consultant resume
Let's see how it's done!
Contact Information
Without personal information on your resume, you're identifiable and uncontactable. Even though it seems simple, ensure you get the details right.
What about your LinkedIn profile? It's a great way to showcase your more in-depth experience, but it's not essential.
Contact Information Example

Keep personal info accurate and easy to read.
How to Format this Section
Keep this section concise.
Use a clear, reader-friendly font with enough spacing between your name, address, contact numbers and email.
Re-check the info when you're done. The slightest typo in your contact info can see your application being overlooked.
Resume Objective
Beating parsers onto the shortlist doesn't guarantee you a spot on the interview shortlist.
Here's where a resume objective comes to your rescue. An objective or personal profile is the first thing the reader sees at the top of your resume. However, it's not a consultant cover letter.
Use it to hook them in and continue reading. It's your only opportunity, after all.
Write a powerful, persuasive summary of why they need to hire you.
Spur the reader's curiosity to know more with power words, numbers and statistics.
Businesses only check for what you bring to the table at the screening stage and if it's what they want. Write your business consultant resume objective with self-assurance and persuasion.
Remember to include specific keywords from the job post and write a new resume objective for each job you apply for.
Take a look at these two objective examples-
Resume Objective for Entry Level Business Consultant Resume

This entry level system sample objective focuses on soft skills, education and attitude.
Resume Objective for Senior Business Consultant Resume

Areas of specialization are more crucial than education to grab the reader's attention.
How to Format this Section
You need to convince recruiters you're worth interviewing in around 50 to 60 words.
Use the opportunity to highlight your best consultant skills, achievements and track record. Add stats, figures and currency for maximum impact.
Match critical requirements with your work experience and skills.
Ensure your resume objective is accurate and factual. You want it to showcase your value but don't want it to be misleading.
Professional Work Experience
The experience section is parsing software's first port of call. Spend time here matching your content to job posts so ATS like what they see.
Resumes for consulting jobs vary. You want yours tailored to match the job ad, specifically if you've worked in several market sectors. Don't include inessential details, but make sure you don't exclude vital information.
Extract matching skills and years of experience from your living document resume and adapt the wording to match keywords. Mirror the post in job titles too.
Each business uses its own keywords and jargon. Here are a few typical keywords to look out for when writing your business consultant job description resume.
Business development
New business
Business plans
Business administration
Business analyst
Business management
Business needs
Business operations
Business problems
Business process
Business strategy
Change management
Competencies
CRM
Excel
Financial analysis
Forecasting
Healthcare
Human resources
Management consultant
Methodology
Microsoft
Problem solving
Project management
Partnerships
Process improvement
Seminars
Strategic planning
Work Experience Example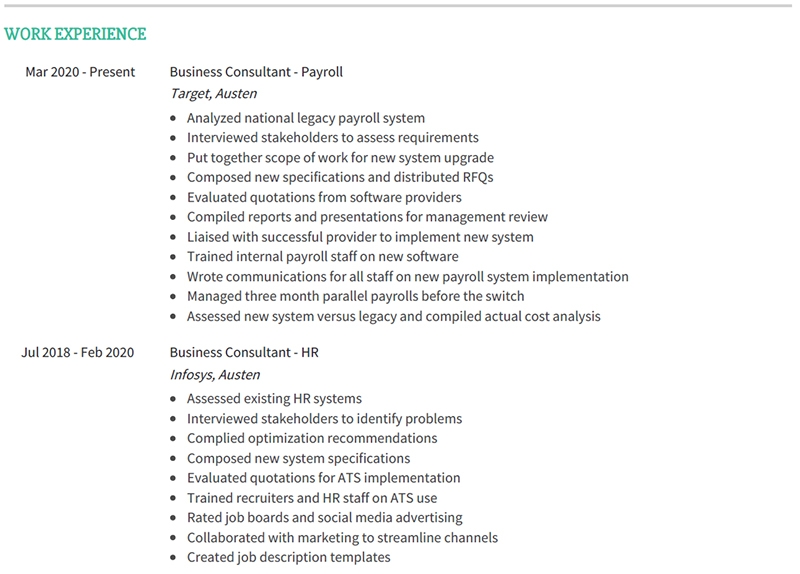 Note how reader-friendly this resume template is to ensure no critical gets omitted. Vital keywords are included to ensure it mirrors the employer's requirements.
How to Format this Section
Use bullet points and a reader-friendly font with plenty of white space in the experience section.
Keep the wording short without omitting vital information. Win hiring managers over with numbers, stats, currency and percentages.
Write each required skill or duty to fit a bullet point. List your experience in the same order of importance as the job advert.
Opening statements aren't necessary unless you've had more than one role with the same employer.
Education and Courses
Most business consultants have a bachelor's degree relevant to their area of specialization.
The less working experience you have, the more relevant your education. An entry level business consultant resume would have more details than a senior business consultant resume or management consultant resume.
Ongoing learning is also essential for business consultants.
Short courses and certifications in specialist areas count considerably towards your success.
Don't omit registrations with professional industry bodies, such as IMCUSA either.
Education and Courses Example

Facts are all that's required in this section.
How to Format this Section
Keep the education section brief, accurate and easy to read.
Make it scannable to convey your education and course details.
When listing several qualifications, start with the most recent and continue in descending order.
Put the name of the educational institution first, followed by your qualification.
Skills
The skills section is another hot spot for ATS parsers.
Soft and hard skills carry equal weight when listed in a job post. Extract and list them in the same order of importance.
Skills Example

This layout is reader-friendly and gives the skills level of expertise.
How to Format this Section
Always only list skills required for the job on your business consulting resume. You can elaborate further during interviews.
Focus on getting parsers to recognize your skills and move your resume to the shortlist. Keep the wording short, mirroring phrases from the job post.
Additionally, include a rating for each skill so your skills level can be assessed upfront.
References
References close a resume of a business consultant.
Avoid giving full contact details unless the job post asks explicitly for contactable references.
Two contactable references are adequate, but give them a heads up beforehand, so they know to expect a call from hiring managers.
References Example

Just ensure reference details are correct.
How to Format this Section
You only need basic details in the reference section.
Other Business Related Resume Templates
Isn't a business consultant resume example what you're looking for?
What about our other resume templates?
Final Points on Writing a Successful Resume for Consulting in Business
Let's recap on the fundamentals of a perfect resume for consulting -
Extract keywords for each job post
Spend time selecting resume info
Stick to a two-page resume
Use clear and concise wording
Include numbers and statistics
Focus on abilities and what value you bring
Check facts before including them
Use positive language