Accounts Payable Resume Example, Template & Writing Guide for 2023
If you're here, we know you're trying to wow hiring managers and recruiters with an impressive accounts payable resume. You have the skills needed to manage cash flow leaving the company while ensuring things are done with attention to detail. The right resume is a great way to show your skills and draw attention to your achievements.
Since some duties of traditional accounts payable specialists are being automated, it's more crucial than ever to show your organizational skills. As you work through this guide, we'll make sure you have all the information you need to land that great job that you just came across.
To get that job with epic pay and outstanding benefits, you have to stand out. The accounts payable resume that you send in is the best way to do that. Our resume tips will cover not just how to write the information you want to share but how to make it better than managers will see from your competitors.
Whether you've written dozens of resumes in the past or this is your first, we'll share all the secrets you need to present yourself in the best light. You'll tick the boxes for an accounting job and could land an interview. As you keep reading, we'll go into more detail about what to do and provide examples to help.
Accounts Payable Resume Examples
A sample accounts payable resume is one of the best ways to ensure your resume stands up to the best. If you haven't taken a look at examples before, that's okay. We'll provide a fantastic set of accounts payable resume examples so you can view what your resume might look like when you complete it.
Through these accounts payable resume samples, you'll learn how to insert your education and experience with accounts payable tasks like auditing, ledgers, and handling discrepancies in records. You'll show off all the things you do best while making sure you hit the mark when it comes to indicating you'd be an exceptional employee.
Below you'll get your first glimpse of a sample resume for an accounts payable specialist. This is an entire resume designed for a specific job so you can dig into all the things that make it stand above the resume of other accounts payable professionals. Take a look below and then we'll share additional useful information for your resume.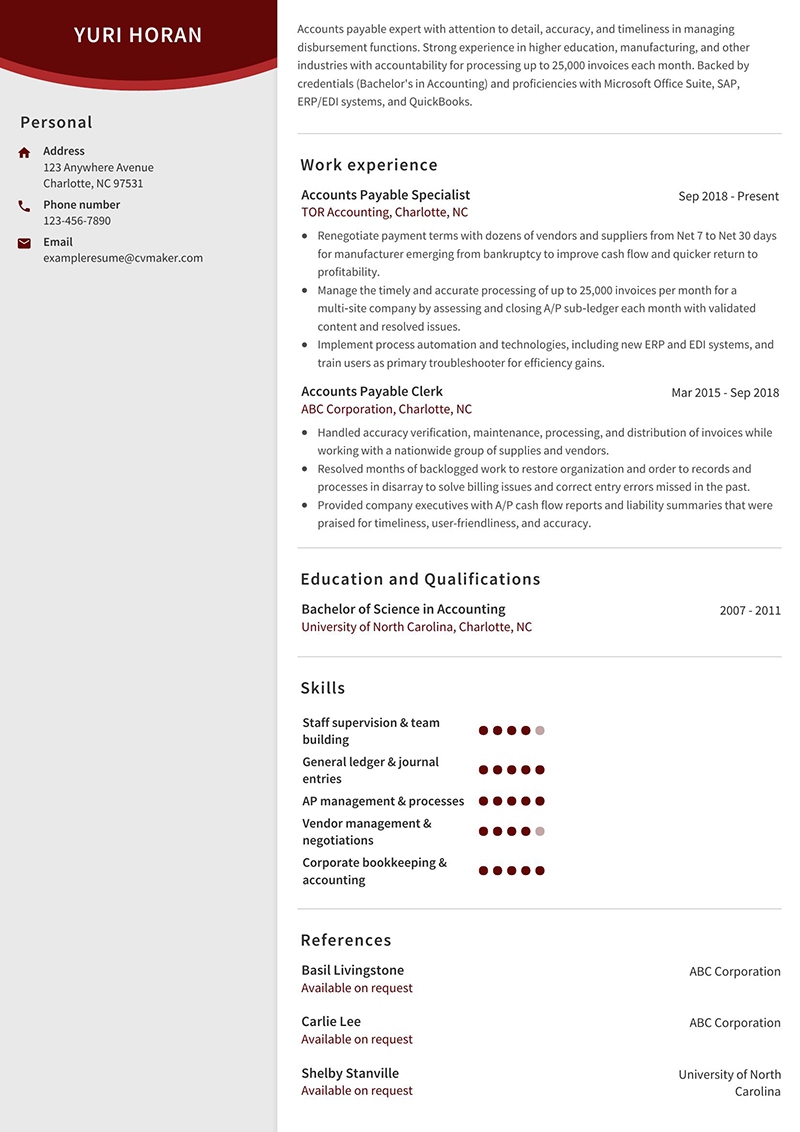 Download this resume example - Accounts Payable
Now that you've seen an example of an accounts payable resume, you'll notice that it's broken down into several sections. For your resume, you'll want to include the sections below:
·       Contact information
·       Resume objective
·       Employment history
·       Education
·       Skills
·       References
These are common sections on many resumes for countless industries, but you want to make sure your own is created based on the specific job opening you are interested in. Taking your time to make an excellent accounts payable resume gives you a better chance of getting into the interview room.
How to Write a Winning Resume for Accounts Payable Specialist in 2023: Full AP Resume Guide
The accounts payable description for the resume you craft should be followed closely for the best results. This is a critical piece of information that helps you determine which skills, experience, and education you should highlight as you start creating the resume. It can also take some pressure off of you about how to make a resume if it's not in your wheelhouse.
So why should you pay attention to the accounts payable job description for a resume? It has a ton of keywords that you can use in your accounts payable resume. The job description, list of desired skills, and required education can all be used to help you tailor your resume to this particular position.
For instance, for someone applying with an account payable clerk resume, it's going to be quite different from those who need to build a senior accounts payable job description resume. However, this isn't the only reason that you want to include appropriate keywords while building your accounts payable resume.
Relevant keywords are essential in the modern job market. Most companies make use of applicant tracking systems (ATS), which are programs that probe what is entered on the resume to see how well you fit with the information in the job description. Not adding in these words can lead to your resume never being seen by a human.
As you create all the sections we listed earlier, make sure you customize things for the job. You want to show you're great for one specific position rather than being good at accounting in general. This is how employers choose between candidates to ensure only the best of the best are hired.
Another thing to be aware of as you build your accounts payable resume is the format you choose to use. Most of the time, the right option will be reverse-chronological when it comes to experience and education. This means you put the most recent entry on top and then work through other relevant experiences below that.
For the length of the average accounts payable resume, this professional document should be only a single page long. If you have over 10 years of experience in the field, you can bump that up to two pages. Going over that is generally not recommended. A concise and customized accounts payable resume should be concise.
Section #1: Contact Information
No matter how many years of experience you have, your accounts payable resume should start with your contact information. Any accounting firm or other employer is going to need a method to reach out to you when they see your excellent resume. Making that easy for them is an important part of crafting an accounts payable resume.
The good news is that this section is also an easy place to start since you have the information memorized and all you need to do is include it. In most cases, this includes your name, address, phone number, and email address. While this is an easy part of the resume to add, it's important not to forget anything.
Contact Information Example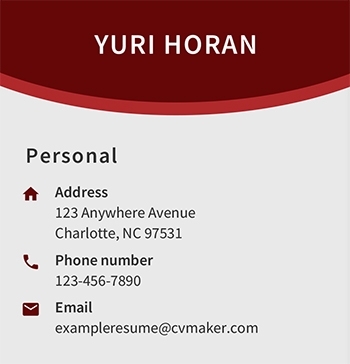 You can see in this example that it's easy for the manager to get in touch with the applicant. Two different methods of contact are included along with their address and full name. There isn't much to this section, which makes it easy to emulate. The name should be highlighted or bold so it stands out from the other information.
How to Format This Section
There are two choices in terms of where you should add the contact information. The first is as a header on the top middle of the accounts payable resume. You can also opt to place it on the sidebar if you include one. It doesn't matter which but it should be easy to find and understand.
Those who feel the need to include additional information, like your LinkedIn profile, can do so but it's not mandatory. Otherwise, make sure the font is legible and everything can be read quickly and easily.
Section #2: Resume Objective
Next up, you have the objective of an accounts payable resume to work on. This is a more complicated section for many account payable specialists. The idea here is that you want to create a section that shows off all your top accomplishments and achievements in this line of work.
You'll find accounts payable accomplishments examples below that can give you insight into how yours should read. If you have a verbal elevator pitch, this is where you put it down in writing. Of course, your amount of experience will determine how to stitch things together. Someone who is a new grad will have different experiences than those in the industry for decades.
Resume Objective Example for an Entry-Level Accounts Payable Resume Without Experience

The best resume for an entry-level accounts payable expert will have a simple resume objective. You want to add in any skills and education that make you a good choice for the job. If you have past positions outside of the industry, think about what is useful in both jobs and include that as you see above.
Resume Objective Example for a Senior Accounts Payable Resume Objective

On the other hand, for an accounts payable supervisor resume, you should have plenty you can add to this section. Add in the best achievements you have that are relevant to this specific position. However, this section tends to be short so you also need to keep it concise to ensure the entire objective is read.
How to Format This Section
You won't need to do a lot of formatting for this section since it relies on what you say. As you saw in the example, it's often a simple block of text spanning between two to four sentences. Don't go longer than this since it might lead to your resume never being fully scanned or read.
Section #3: Professional Work Experience
As you might expect, another essential part of the process is listing your accounts payable duties for the resume. This is where you lay out the past jobs you've had with other companies. This will include the dates you worked there as well as information about what you did in your previous roles.
Even those without work experience in the industry should list jobs from the past when possible. Think about what skills you have that would be used as an accounts payable professional and make sure to draw attention to those. Internships and volunteering experiences can also be used.
Professional Work Experience Example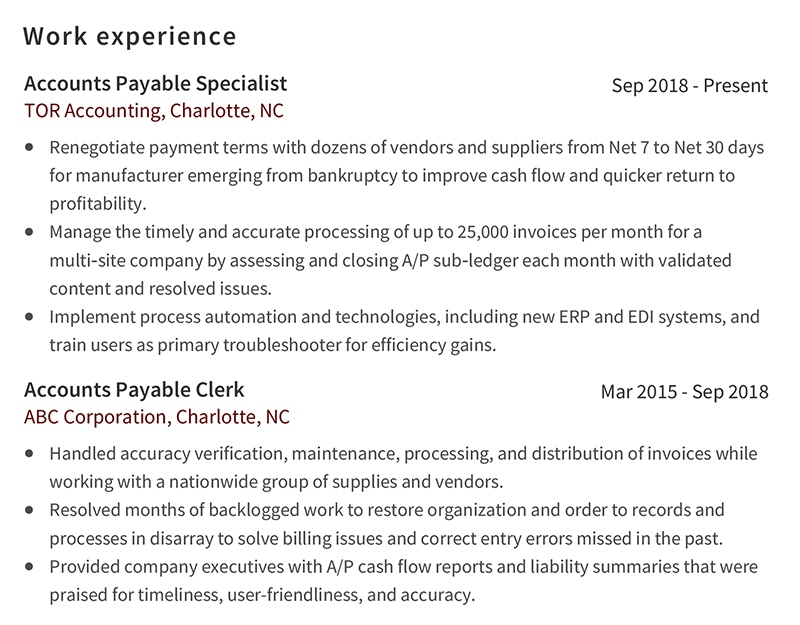 This is an example of a perfect resume section for work experience. It delves into the details of each position and is tailored for a specific new role. You can see all the important details are laid out with attractive formatting that draws the eye. Using all of your past work experience isn't necessary, just the most relevant tidbits.
How to Format This Section
There are two parts of the work experience section to be aware of. The headings are the first thing to conquer while crafting your accounts payable resume. This is where you put the name of your last position, where you held the role, and when you worked there.
Underneath that is where you can list a few bullet points. This is an excellent area to utilize all those keywords you found in the job description. Leave a short description of each of your important tasks and show off what you know and have done in the past.
Section #4: Educational Background
After you finish the work experience section, you can move forward to share your educational background. This can be just as important as the job responsibilities for this type of position. You want to share all of your experience in higher education, including your associate's degree, bachelor's degree, or terminal degree.
If you haven't been to university, make sure to add your high school diploma to the resume. Otherwise, it isn't required on your accounts receivable resume. Only refer to university degrees and certifications you have. It's even better if they apply to the position you desire.
Educational Background Example

Above is an example of a professional resume with an excellent education section. It shows the person has a bachelor's degree in accounting. If they had an associate's degree, that would be lower on the list while a master's degree would be higher. Certifications can be placed here as well unless you want to make a separate section.
How to Format This Section
Compared to the work experience section, the education area is a bit less in-depth and requires less work. For the most part, you want to share where you went to college, which degree you earned, and when you were enrolled. You can also choose to just include the date when the degree was acquired.
For those with less experience, you can bulk up your accounts payable resume in this section. For instance, you might include information about honors, GPA, and other things that were achievements as you gained your education.
Section #5: Skills
There are a lot of accounts payable resume skills and you want to home in on the ones that are relevant for this particular position. At the same time, this should be a nice mix of soft skills, hard skills, and interpersonal skills. Showing that you are detail-oriented is often a good choice.
Think about what the job description says about duties and choose skills that fit with that. These are what you want to highlight in this area to show a manager your capabilities. Since this varies by job, this should always be customized. Also, make sure the skills you choose are ones you do best that match with desired skills.
Skills Example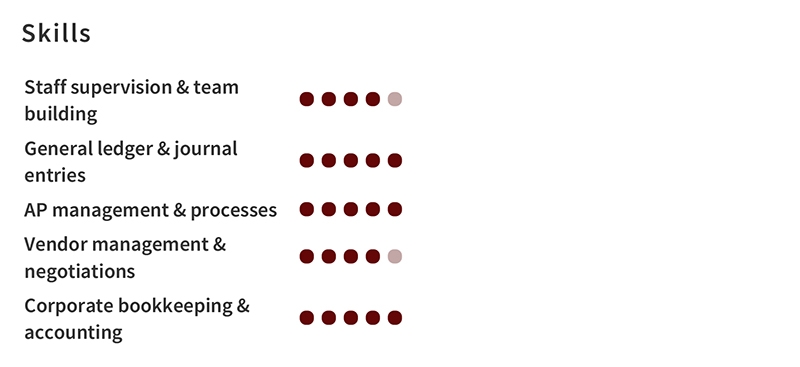 Above you can see a version of skills for an accounts payable resume. You likely won't have the same skills but that's okay. It's just an example to show you how this might look and help you determine what to include yourself. Several common options in this career path include:
·       QuickBooks
·       Purchase orders
·       Microsoft Excel
·       General ledger tasks
·       Auditing
·       Bookkeeping
·       Reconciling expense reports
·       Processing invoices
·       Statutory accounting principles (SAP)
·       Data entry
·       Discrepancies in account payable processes
·       Accounting software
·       Financial records
·       Cash flow and expenditures
·       Oracle
·       Vendor invoices
How to Format This Section
Throughout the skills section, a little more creativity can be used in formatting. In most cases, you want to use a list format. Nobody wants to look through a paragraph composed of skills. It's dry and hard to finish so it's less likely you'll get to showcase what makes you special as an applicant.
The list shouldn't be overly long, either. This is why you need to prioritize the skills for this exact job. About five to 10 entries will be long enough to get across some of your best abilities in this type of role. Stick to things you're sure are in the job description and you'll be done in no time.
Section #6: References
The last section we want to look at is the references section. This is where you put information down that lets others talk about how great you would be in this position. The people you include should be fully aware of how qualified you are and willing to answer questions about you from a potential employer.
Past supervisors and leaders may be a good option, but not all your references have to be from that pool. Coworkers, professors, and people from the neighborhood can all be used as references. However, avoid using family members or friends and only choose references who have consented to be included.
References Example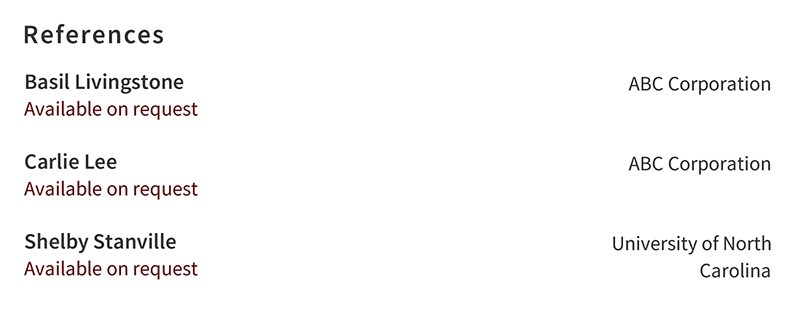 You can see a basic references example above. It's a fairly simple section to round out the end of your accounts payable resume. The main goal is to provide information about people who know you and your skills well. In this case, two past bosses and a professor are used.
How to Format This Section
There are several ways to format this section, but one tends to work better than the others. We recommend a format that includes each reference's name and company while noting that actual contact information can be provided on request. This gives the information while asking the manager to reach out for more details.
You can choose to omit the section or only list the phrase "references available upon request," but this should generally only be used if references would make the resume go to an additional page. You could also add all the contact information but this runs the risk of someone sharing the private information so it isn't recommended.
Related Resume Templates
The best way to make the accounts payable resume crafting process quick and simple is through the use of templates. The one you've seen as you read this article is a great example of an accounts payable specialist resume template that you can adapt to meet your needs. however, you can choose another resume format from the ones below:
·       Technical Project Manager Resume
Most of the above resumes are not created specifically for accounting positions, but they can be edited to meet your needs. Choose the one that you like the best and place your information in it. Our Resume Builder will make this process a cinch. It's much easier than formatting and building an accounts payable resume using Word or other programs.
Final Points on Writing a Successful Resume for Accounts Payable Clerk
At this point, you've created an accounts payable resume that you can be truly proud of. You can adapt and change it as needed for future jobs you want to apply to. Since the resume is written, it's almost ready to go. However, there are a few things to do before you turn it in with your cover letter and any other necessary documents:
·       Read through the resume a time or two to make sure it's easy to read and has a good flow.
·       Make sure the font and background you choose work well together. An accent color can be used for a touch of style.
·       Starting at the top, edit through the full resume, making sure you pay attention to the sidebar if one is present. Grammarly is an excellent program to check for errors you might not notice.
·       Check that the resume is organized, well-spaced, and professional.
·       Read the resume once aloud to be sure it comes out the way you want it to.
Once you complete these steps, you should convert your document into an accounts payable resume PDF. This ensures the resume looks good on phones, tablets, and computers. Attach it to your job application and you're ready to move forward. All that's left to do is wait for a hiring manager to reach out to you. Good luck!