How to write the perfect Marketing CV? Check our tips, examples and cv templates!
It may come as a shock, but many marketers can promote products and achieve promotional goals, but struggle to put together an impressive marketing CV. The downside of this is that they end up missing an opportunity, which they can do well. A CV is an elevator pitch, and if you cannot sell yourself, it reflects poorly on your abilities. Besides, the presentation is evenly important. Therefore, make sure to use a professionally designed cv template. If your curriculum vitae needs polishing to make it perfect, read on for ways to make it stand out and land any (online) marketing job.

How to Write a CV for a Marketing Job
In the current competitive markets, companies fight for the same customers. Therefore, you need to prove that you can win customers over. For your CV to attract attention, you need to know your target audience. In this case, what company is offering the job? What techniques do they employ? How can you improve on their promotional message to produce better results? Once you know what the hiring company needs, tailor your resume to fit their requirements. You should also highlight your strengths in the industry. Are you good at online marketing or offline? When displaying your strengths, ensure they are relevant to the position you want.

CV example - Marketing - Stanford template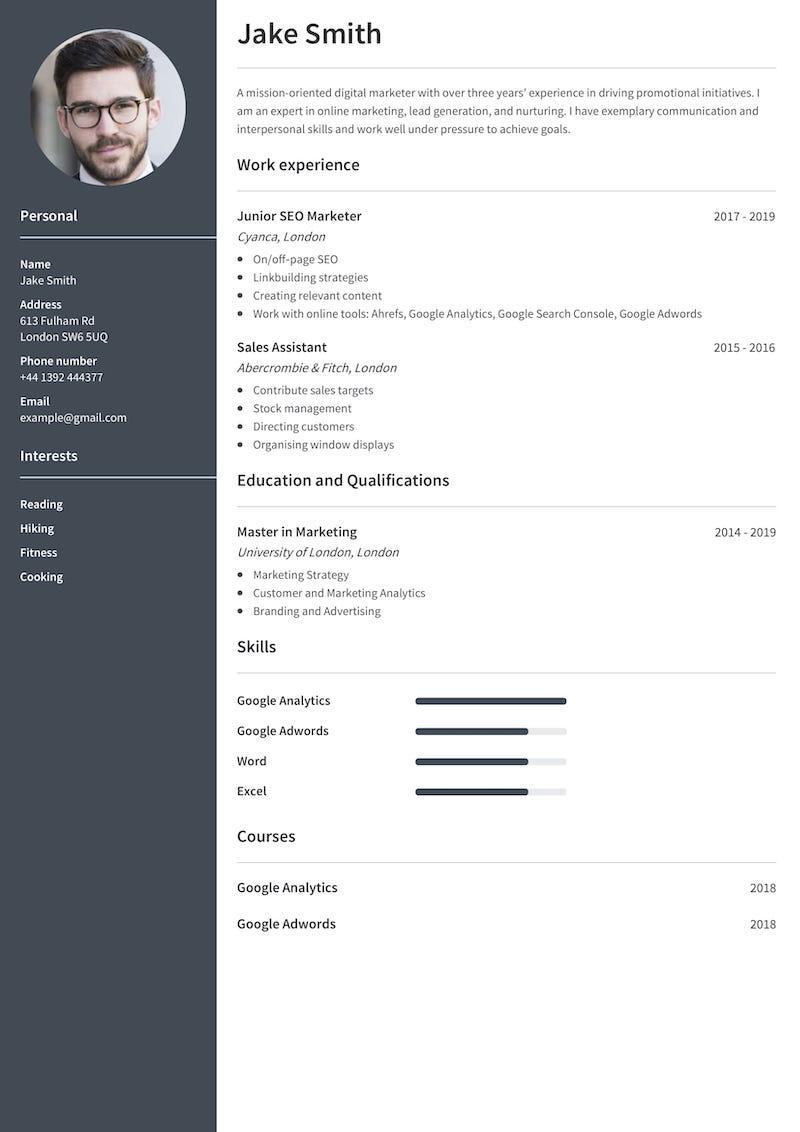 Download this cv example - Marketing

Common Marketing Jobs
Digital marketing is a broad career field with numerous job options. A job in this field has varying roles and requires a unique skillset and industry-specific knowledge. Here are a few jobs available in the industry:
Marketing Specialists
Their job is to create promotional campaigns that will support business growth. Through market research, they determine the current market trends and the types of products that are in demand. After doing a market analysis, they present their findings to the upper management for implementation.
Social Media Manager
A social media manager builds a company's brand awareness through social media and online marketing campaigns. They update an organisation's social media pages with relevant content and regular posts to generate leads and promote sales. With close monitoring of the media trends, they can adjust a company's social media efforts to achieve the promotional objectives.
SEO Specialist
A search engine optimisation specialist ensures the company's website is visible and ranks high in search engines to generate steady traffic. They employ multiple SEO tactics, including optimising the site using specific keywords, improving website speed, and mobile optimisation. Website optimisation also includes on-page SEO tactics like optimising page titles, header tags, meta tags, and link building. SEO experts can analyse the performance of their tactics and adjust them to achieve better results.
Content Specialist
A content specialist identifies the types of content that will boost search engine visibility. Their roles also include writing blog posts, sales copies, email copies, and newsletters for their company's website. They also make sure relevant content is posted on the website to increase customer engagement on the site.
Product Manager
Product managers oversee product development and ensure they meet the needs of consumers. Most specialists come up with product ideas based on industry research and interaction with consumers. They use their buyer knowledge to come up with products that satisfy their needs while increasing the profitability of the company. The job also involves monitoring the production process to its completion and ensuring the cost does not exceed the budget.
Marketing Analyst
Analysts determine the effectiveness of promotional campaigns by studying and evaluating trends. Their jobs involve data collection and utilising the information to create better digital marketing plans that will increase the company's bottom line.
What to Put in the CV?
The following sections should be in your resume:
1. Personal Information
At the top of your CV, provide your full name, nationality, physical address, email address, and phone number. The information will make it easier for potential employers to reach you for an interview.
2. CV Profile
Just below the contact information, you need a summary of one or two sentences highlighting your attributes and experiences that are relevant to the job. Your professional profile tells the recruiter why they should consider you for the position.
3. Educational Background
Give a breakdown of your education history from the highest level to the lowest. Since digital marketing is a competitive career, adding professional development courses or conferences you attended can make you stand out from the rest of the applicants. Besides, those extra courses show your passion and commitment to success.
4. Work Experience
When giving your employment history, refrain from listing your roles. Instead, show how you made a difference by providing relevant statistics and mentioning significant accomplishments. You should also use standard industry terms to highlight your knowledge in the field.
5. Skills
What hard and what soft skills do you have that are in line with the job you want? Even if you have no experience, include attributes you acquired in volunteer programs or college. Provide your specialised marketing abilities and personal traits that will be relevant to the job you are seeking.
6. Personal Interest
It is an optional section where you mention your hobbies and your passions. The hobbies will give the impression that you are a whole-rounded person. However, do not lie about your hobbies.
What to Write in the Personal Statement?
The personal statement or profile summary is the first section a recruiter will read. Therefore, it should pack a punch if you want the hiring manager to read the rest of the resume. How do you make it attention-grabbing?
Know Your Target Audience
What is the hiring manager looking for in an employee? When you know the essential abilities they are searching for, tailor your statement accordingly. Lead with the attributes and experience that will be valuable to the recruiter, and you will have their attention.
Present Your Value Proposition
Those unique abilities and traits that set you apart from other applicants are your value proposition. Show the hiring manager that you will add value to the company.
Use Statistics
Listing your roles and attributes in the personal statement does not assure the recruiter that you can deliver on the job. You need to highlight your impressive performance using hard evidence like statistics and figures. If your promotional techniques boosted sales, what are the exact numbers?
Here are a few examples of profile summaries:
Example 1: A mission-oriented digital marketer with over five years' experience in driving promotional initiatives. I am an expert in online marketing, lead generation, and nurturing. In my previous job, I increased the duration of visitors on the website to eight minutes.
Example 2: A result-oriented advertising manager, with extensive experience in inbound promotional techniques. I have an excellent eye for design and communicating with the intended audience.
Example 3: A self-motivated social media manager with three years' experience, strong analytical abilities, and an interest in social media campaigns. I have exemplary communication and interpersonal skills and work well under pressure to achieve goals.
What Are the Important Skills or Competencies to Mention for a Marketer?
As a marketer, you need to include industry-specific abilities to make the cut. Besides, if the hiring company is using screening software, your CV must have some keywords to pass the screening. Here are the attributes to include:
Proficiency in Specific Promotional Techniques
Product promotion is broad, and depending on your area of expertise, some of the channel-specific skills include PPC, lead nurturing, video editing, content creation, web design, and mobile optimisation. If you are applying for an SEO specialist position, keyword research and content creation should be on top of your list.
Software Expertise
Promotional campaigns require the use of tools to accomplish tasks. For instance, you need to be proficient in Microsoft Office, Photoshop, email automation, video editing tools, and design tools, among others. Mastery of relevant tools and software gives you a competitive advantage.
Programming Languages
List the coding languages you know that will help in marketing in your new job. Even content management systems that you have used in the past can put you ahead of other applicants.
How to Stand out Among Other Candidates?

Use Statistics in Your Resume
Instead of listing your responsibilities in the employment history, highlight your accomplishments and use statistics to show your track record.
Use a Striking CV template
After reviewing several resumes in a row, the recruiter will be bored, and a striking CV template can save your CV from being tossed. Use a little colour; you can get away with it in the advertising world, but keep it refined. You can also use a two-column design because it is easier to read.
Use Powerful Action Words
Action words will make the hiring manager read your CV. For instance, use words such as 'designed promotional content' instead of 'responsible for designing.' The action words make your CV less bland.
What Personal Characteristics Does the Employer Want?

Effective communicator: Excellent communication ability is vital in marketing. You need to be an expert in tailoring your message to the audience.
Problem-solver: Bringing new leads to the company can be challenging, and sometimes campaigns will hit bumps on the road. Therefore, it requires someone who can think on their feet and come up with solutions.
Creativity: You need to be innovative to come up with unique campaigns that promote sales.
Interpersonal abilities: Most promotional tasks are done in groups. Therefore, you should be able to work well with others to get the job.
What Other Information Is Important to Mention as a Marketer?
Your abilities in marketing cannot solidify your application if there is nothing to back up your claims. Therefore, you should add a link to your work. It could be an online marketing portfolio, LinkedIn profile, personal blog, or professional social media pages. It gives the hiring manager a sneak peek of your capabilities and achievements.
As earlier mentioned, applying for a marketing job involves selling your skill, which should come easy for marketers. If you leverage your communication ability, you will have the edge over other applicants.