How to write a good cv as a teacher? Check out our tips and examples!
Are you a fresh graduate looking to start your teaching career? Perhaps you are seeking promotion or transitioning from the private sector to education. If any of these situations resonate with you, start developing a killer curriculum vitae. An eye-catching CV is a sure-fire way to get you through the door. While writing a CV is not rocket science, creating an interview-landing piece can be challenging. Read on to discover how to write a CV as a teacher, the format, structure, and essential attributes to mention.
How do you write a CV for a teaching job?
Being a teacher is a rewarding profession. You get the rare opportunity to influence someone's life and bring out the best in them. Tutoring is highly competitive, and to land a job you need impressive qualifications and some experience. A well-presented CV will land you the opportunity you deserve. Those with less experience can also get an interview if their CV is impressive. So how do you make your CV as a teacher shine?
Know your audience
Imagine yourself as the hiring manager or headteacher. What qualifications, attributes, and experience will they be looking for? Most will focus on your tutoring experience and methodology. They do not want to see a list of your previous duties. Instead, focus on your accomplishments and the value you bring to the school.
Tailor your CV to the job
Everyone has a copy of their CV saved up somewhere. Therefore, with the deadline looming, you are tempted to send it the way it is. You can argue that you have recently updated the document. However, you must adapt the contents of the curriculum vitae to suit the job you are seeking. Ensure your experience and traits make you the right candidate for the job. While you do not have to write from scratch every time, you need to highlight transferable attributes that would impress that particular employer.
Focus on being the perfect candidate
When advertising for a vacancy, an employer has the ideal candidate in mind in terms of experience and qualification. Traits vary from one job advert to another. Therefore, if you can nail a few attributes an employer is hunting for, you stand a better chance of getting an interview.
Use relevant keywords
Your CV should contain appropriate educational terminology. It highlights your experience in the field. Besides, if it is an online application, keywords will get your CV past the applicant tracking systems.
What to Put in Your CV
With the skeleton structure, it is time to add the flesh. Your CV should contain the following sections.
Contact information: you must write down your full official name, all other information including your age, marital status or nationality is optional. You also need to indicate a physical address, personal email address, and telephone number.
CV profile: your CV needs a brief personal statement at the top. The short paragraph is a summary of who you are and the traits that you possess that are relevant to the position. Think of it as a summary of your cover letter in two sentences.
Educational qualifications: provide a comprehensive and accurate report of your educational background. Highlight the relevant professional development courses, conferences, and workshops you have attended. Apart from the necessary educational requirements of a tutor, attending seminars and taking extra classes show your passion and commitment.
Work experience: indicate your past work experience and display their relevance to the position you want. Instead of listing responsibilities, which could be repetitive, focus on significant achievements. Include details on your teaching methodology and dealing with challenges in the past.
Skills: match your qualifications to the job by including transferable traits. Use relevant examples to support the attributes. You should focus on your strengths for your CV to shine.
Personal interests: optionally, you can list your hobbies and interests, which is especially useful if they are relevant to the profession. Activities such as mentoring, coaching, and public services can boost your CV. Sporting activities are also great, especially if you have accolades.
References: it is likely that your new employer wants to speak to someone you've worked with, preferably someone who has seen you teach. It can be the principal of your former school, or a mentor teacher if you are a fresh graduate. It is good to mention "References available on request." at the end of your cv. This way, you are able to notify and prepare your contact for a call from your potential employer.
What is the best CV structure for a teacher?
Before you begin writing, you need to decide how to organise your CV. That way, the principal can easily follow the information you are trying to convey. The two popular CV formats are skill-based and reverse chronological. Both have numerous benefits. However, which one should you go for? Well, it depends on personal preference. However, if you recently graduated and have minimal experience, a skill-based CV is an excellent option. A reverse-chronological format is ideal for anyone with impressive work experience to show off.
Reverse chronological format
In this format, you focus on your previous work experience beginning with the most recent. You also need to highlight the roles and achievements in your past employment. For the CV to attract attention, be specific, and highlight the results rather than duties. Mention key transferable traits along the way. To avoid repeating your responsibilities, you can mention the challenges you encountered and overcame. While the chronological format is straightforward and easy to write, it highlights employment gaps.
Skill-based CV
The curriculum vitae highlights your transferable traits. Your accomplishments, experience, and education are also mentioned briefly. When writing the CV, choose a few skills and competencies to focus on and give relevant examples for the traits. It can be from your educational background, past work experience, and other activities. With a skill-based CV, you can highlight how you are a good fit for the job.
Essential skills to mention as a teacher
Effective communication: A teacher needs to be an excellent communicator. The ability to pass on the message to the student comes in handy when tutoring. You must be an expert in varying your tone and keeping the class lively. Your communication skills should also vary depending on the age of your students. An essential part of communication is body language. Therefore, you should know how to maintain positive body language.
Confidence: Apart from the ability to articulate your message, you should have a good mastery of the subject matter. That way, you can relay the information with confidence.
Interpersonal skills: Schools and learning institutions operate effectively in groups. Therefore, you need to be able to work with your team without problems.
Organisation: As a teacher, you have sessions to prepare, grades to fill out, and classes to attend. Tutoring is overwhelming if you cannot organise your time. You must have a routine to follow to ensure no work is left unattended.
CV example primary school teacher - Otago template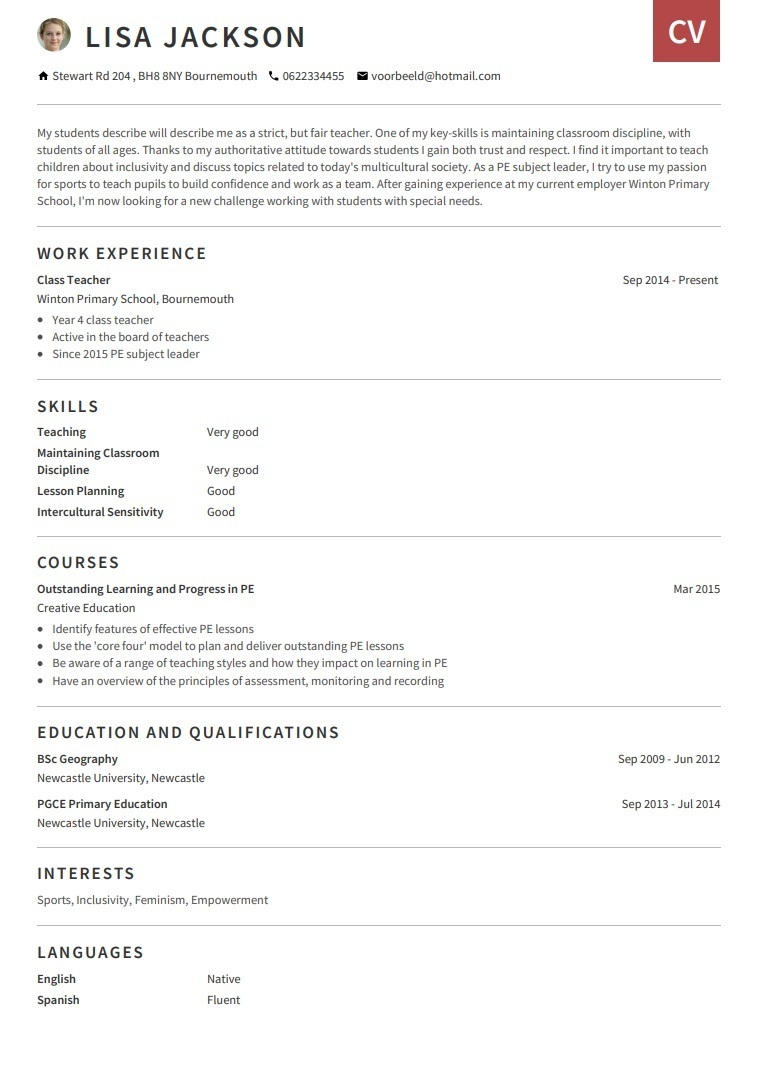 Download this cv example - primary school teacher

Lisa Jackson is a primary school teacher looking for a new challenge. In her personal statement, she explains her strengths, ethical values and the type of job she is looking for. By adding her key skills, interests and courses, she gives her new potential employer all the information required to have an image of her as a teacher. She used the Otago cv template which has a neutral layout and features a small picture in the top left corner that doesn't distract attention from the rest of the cv. However, this template can also be used without a picture, if desired.