How to create a CV in French?
Are you looking for a job in France, Canada or another French-speaking country? Are you applying for a role in a company with a strong international focus? Be aware that you will need to provide a Curriculum Vitae in French. The quality of the CV must be impeccable, at the risk of discrediting your level of French or even your overall profile. How to write a resume in French? This article details the differences between a French CV and an English CV.
French CV example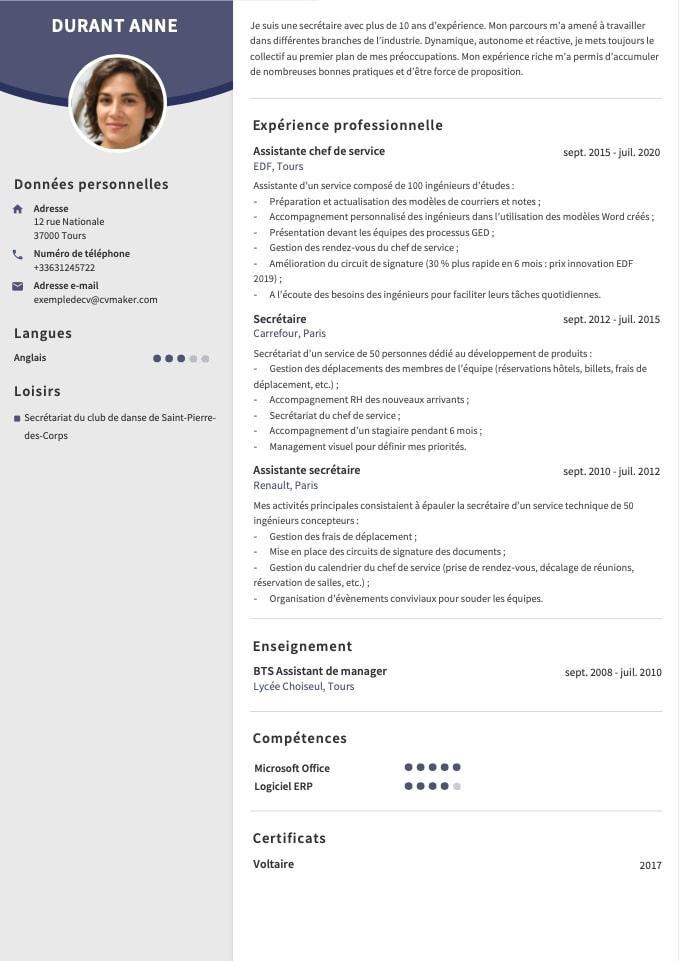 Click here to download this example!

Creating a CV in French
There are important differences between a French CV and an English CV. When writing your French CV, take into account the following points:
CV Title
If you are used to putting a title at the top of your documents, be very careful with your French CV. Do not write "CV" or "Curriculum Vitae" at the top of your CV, as it is quite recognizable without having to name it explicitly.
Instead, indicate the position you want to apply for, for example, "French-English bilingual medical secretary". To choose the title of your CV, locate the job title described in the job posting and add something that sets you apart if possible. Be careful, however, not to fall into clichés with adjectives like "serious" or "motivated".
Whereas, the title of your English CV should contain your own name, which works as the main title, your professional title and contact details.
Personal information
The amount of personal information to include on a French CV generally depends on the position for which you are applying. At a minimum, you must include the following information:
First and last name;
Landline and mobile phone numbers;
E-mail address;
Full address;
Age.
Depending on the characteristics you want to highlight for the position, you can add:
Gender;
Marital status;
Nationality;
Driver's license;
LinkedIn profile (if up to date).
For example, indicating that you have a driver's license is useful if the desired position requires business travel by car.
The personal information section of your CV is where you will probably find the biggest difference between an English CV and a French CV. Most English CVs will not include marital status or nationality. For example, in the United Kingdom it is illegal to even discuss a candidate's marital status. In France, you could choose to let the recruiter know if you are single to highlight your availability/flexibility. On the other hand, being married can be viewed as proof of stability or a sense of responsibility. Obviously, whether or not to include this information largely depends on the requirements of the specific role.
Remember to include this information in your French CV, be open about your nationality and whether you hold a work permit.
Photo
In many English-speaking countries like the United Kingdom and the United States, laws prohibit employers from requesting a photo. A photo is considered useless as it does not add anything that informs the employer about your professional experience. However, this is different in France.
The anonymous CV appeared in France in 2006. This type of CV does not contain a photo, nor even the name and address of the candidate. The idea of the anonymous CV is to remove all indications that could cause discrimination in hiring: physical appearance, sex, racial or ethnic origin, social level associated with place of residence, etc.
However, this initiative had mixed results. Consequently, we see that the anonymous CV has never really succeeded in establishing itself in France. HR (and businesses in general) therefore always expect to find a photo on a French CV. The photo is considered an asset because it helps to make the CV more personal.
So remember this: unless explicitly stated otherwise in the job offer, a French CV must include a photo of the candidate.
Profile text
Your personal profile is possibly the most important aspect of an English CV. Positioned at the top of the page, directly below personal information.
The profile section of the CV is not always present on French CVs. However, due to Anglo-Saxon influence it is more and more common to write a text that summarizes your profile on a French CV. Even if the profile text is not widely used in France, it can only be an asset on your CV. This is a unique opportunity to outline your goals in a few words. Plus, this short, quick-to-read presentation gives the recruiter a brief overview of your CV. This is a little extra that can clearly make the difference between your CV and that of other candidates.
This text should be positioned at the top of the page, directly below the personal information. Keep it brief, no longer than six sentences. A successful personal profile gives the reader an insight into your identity and summarizes your skills and career goals. Focus on facts, be specific, giving examples of your skills. When your profile is too generic it will not stand out from other candidates. Your profile should only apply to you!
CV length
In the majority of English-speaking countries, your CV should be one to two sides of an A4 page.
The terms CV and resume are often used interchangeably. However, in the United States a resume and CV are two distinct documents. A "resume" is a concise, one-page, document that focuses on the skills relevant to the position. Whereas, a CV gives a comprehensive history of your education, experience, skills and qualifications and are usually much longer than a resume.
In France, this distinction between "CV" and "summary" does not exist. The length of the CV must be one page.
General format
Despite its reduced format on one page, the French CV must be uncluttered and have a light graphic. If you have a lot of experience, this can be a real challenge! To help make the page less cluttered, use a direct and very factual style. Don't hesitate to use bullet points without making complete sentences.
Spelling and language level
In some countries, especially English-speaking countries, language defects on a CV may be compensated for by the candidate's other qualities. Unfortunately, French recruiters tend to be not very accommodating in this area.
You must therefore take care to remove any spelling, grammar or conjugation errors from your CV. Use simple sentence structures to make sure you do not make any mistakes. If necessary have someone proofread your CV for you.
Education
In France, the attention of recruiters is particularly focused on education. While professional experience is slowly starting to gain value, education remains fundamental. List educational achievements, including training, and remember to specify:
name of your school or university;
exact title of your diplomas or certificates;
ranking or the results obtained (give the French equivalent).
Career continuity
Finally, you must indicate the start and end dates of each of your professional experiences. List your experience in chronological order putting the most recent first. If possible, list your experiences continuously, without leaving a blank year. This is extremely important as it is frowned upon in France to leave a "gap" in your career history. If your background is choppy, or if not completely up-to-date, be prepared for it to be brought up during the job interview.
How to translate your English to French with CVmaker
Most of the time, you will need to use your existing English CV to translate it into French. CVmaker is an online service that helps you write your CV in English and translate the CV into French. This service is provided by professionals and takes into account not only linguistic but also cultural differences between countries in order to produce a suitable CV.
If you have already produced your English CV through CVmaker, it will be very easy to translate the CV into French. To do this, you must go to "My CV" then choose to "duplicate" the English CV. You can then transform the duplicate by applying a French format to it ("Personal data" then select "French"). Headers and titles will be translated automatically. You will have to translate the content.
French translations of main words
In order to help you translate your CV into French, we have provided a list below of frequently used words in a French CV.
General terms
Education – Formation scolaire
Training, course – Formation qualifiante
Certificate, Degree – Diplôme
Skills – Compétences
Professional experiences – Expériences professionnelles
Interests, hobbies – Centres d'intérêts, loisirs
Interview – Entretien, entretien d'embauche
Language Skills
Language skills – Compétences linguistiques
Mother tongue, native language, native speaker – Langue maternelle Fluent, near native – Courant
Proficient, advanced – Très bonne maîtrise
Intermediate – Niveau intermédiaire
Basic, elementary – Niveau élémentaire Reading – Lu
Written language, writing – Écrit
Spoken language, speaking, verbal communication – Parlé
Profile text
Eager to learn, curious, studious – Studieux
Motivated, eager – Motivé
Sensitive – Sensible
Leadership, taking the lead, give direction, manage, to run – Capacité à manager
Communicative – Communicant
Stress-proof, stress-resistant, able to work under pressure  Capacité à travailler sous pression
Result oriented, focus on results – Porté sur les résultats
Reliable, trustworthy – Fiable Confident – Confiant
Client-friendly, customer-oriented – Qualités relationnelles avec les clients
Knowledgeable – Connaissances
Personal Information
Personal, personal details – Informations personnelles
First name – Prénom
Surname, last name, family name – Nom de famille
Email, email address – Email
Telephone, telephone number, phone number – Numéro de téléphone
Address – Adresse
Postal code, zip code, postcode – Code postal
Street name, road name – Nom de rue
Place of residence, city, town – Lieu de résidence
Date of birth, birth date – Date de naissance
Place of birth, birth place – Lieu de naissance
Gender, sex – Sexe
Marital status – Situation familiale
Nationality – Nationalité
Professional Experience
Work experience, career summary, work history – Expérience professionnelle
Role, position – Poste
Currently, present, current position, "year / date" onwards – En cours
Outline, role description/summary – Description du poste
Responsibilities, key responsibilities – Responsabilités
Achievements, accomplishments – Résultats / Réussites
Common Professions / Jobs
Cashier, checkout girl/boy – Caissier
Sales representative, sales employee – VRP
Stock clerk, shelf stacker – Magasinier
Customer service representative, customer service agent – Agent de service à la clientèle
Driver – Chauffeur
Hospitality – Métiers de l'hôtellerie
Waiter, waitress – Serveur / serveuse
Construction worker, builder – Ouvrier du bâtiment
Carpenter – Charpentier
Mechanic – Mécanicien
Education
School education is the most difficult to translate since there are as many school systems as there are countries! It is therefore usually not possible to find an exact translation for every course you have taken or every diploma you have obtained. However, you will find below some translations of commonly used words on a French CV:
Education – Formation
Internship, traineeship, work placement – Stage
Primary school – École primaire
Secondary school – Collège
A-Levels – Baccalauréat
University – Université
Bachelor's degree – Licence professionnelle
Master's degree – Diplôme d'ingénieur
Thesis – Thèse de master
Dissertation – Thèse de doctorat