How to craft a top-notch developer CV recruiters will love
All categories of developers are in high demand worldwide. But if your software developer CV isn't outstanding, it will go unnoticed.

On the other hand, developers with an excellently prepared CV can have their pick of open jobs in the marketplace.
If you've chosen a career as a software developer, you've made an excellent choice.
According to the US Bureau of Labor Statistics, demand for developers will grow by 22% by 2030. That's a much faster growth pace than for most other jobs.
While that might be brilliant news, CV for developers must be of exceptional quality. That's not only to stand out but to display your skills and knowledge professionally.
Luckily we're here to help you!
In this article, we show you how to best highlight your skills, and we include a developer CV sample for you to see how it's done.
Developer CV example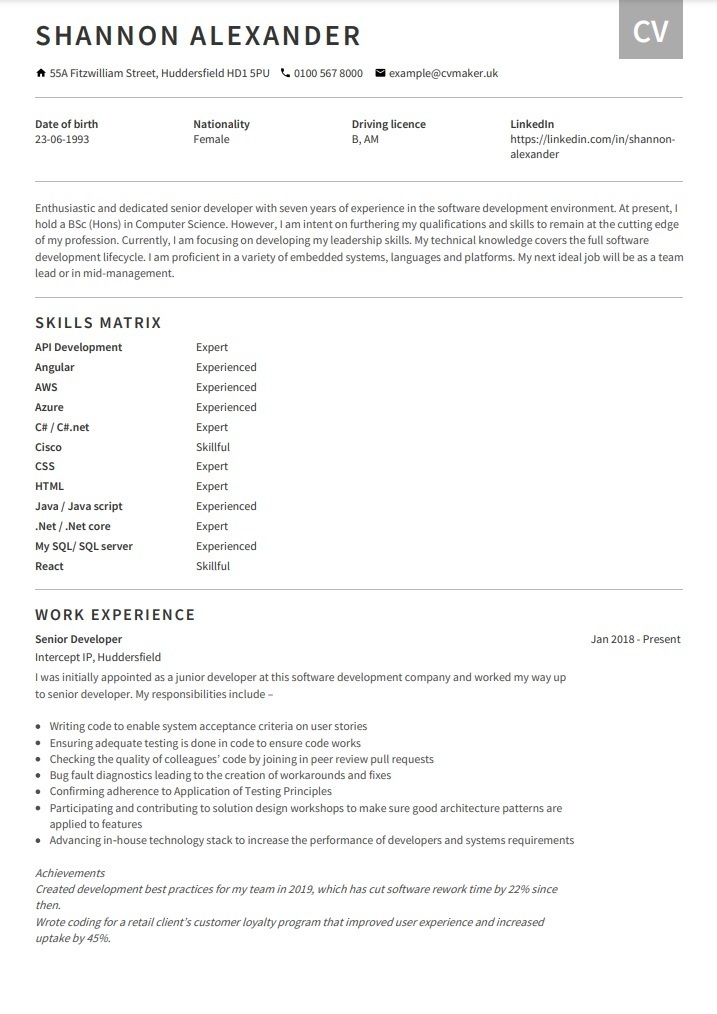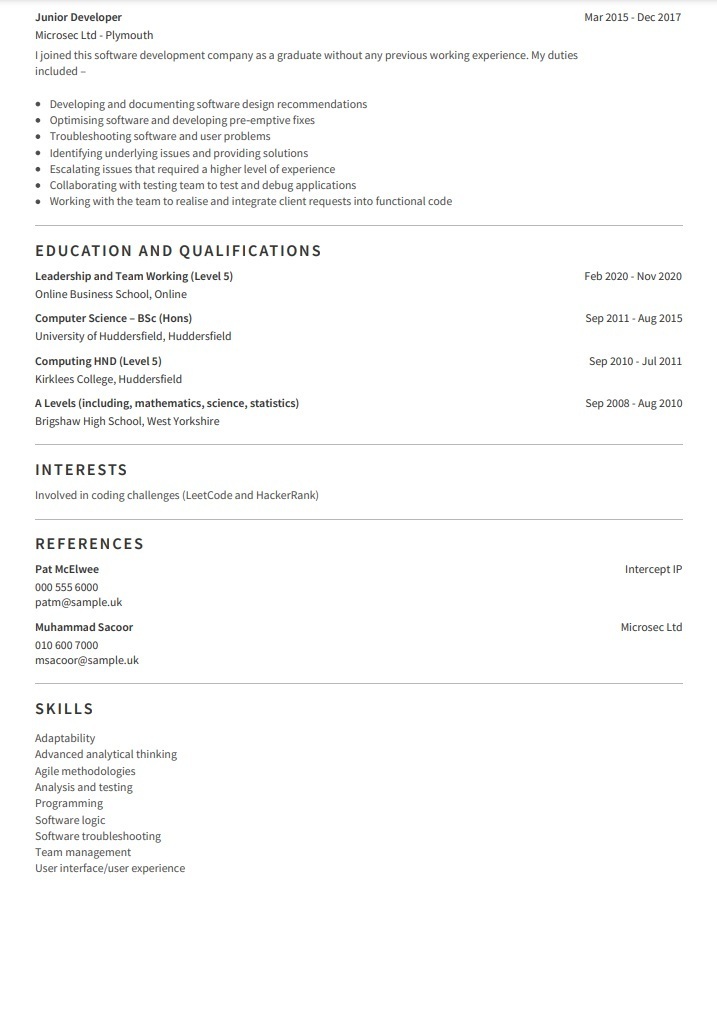 Download this developer CV example as a PDF
Looking at this developer CV template, you can see how Shannon opens with her years of experience in the summary. She also mentions that she has an Honours degree. The reader immediately knows that Shannon is qualified and experienced. She indicates that she's looking for a promotion to a more senior role and has qualifications to support her ambitions. Shannon's CV shows a stable working history, signifying that she's looking for long term prospects. She chose the no-fuss, clean Otago template, which can be used with or without a headshot, to stand out. 
Compiling a winning developer CV requires upfront planning, so set some uninterrupted time aside. Approach it as a project that conveys your skills on paper as accurately as possible. The aim is to get the reader to know all you have to offer by just scanning through.
At the heart of every good tailored software developer CV is a master CV – a comprehensive document covering all your education, skills, and working history.
The document must –
Flow, be logical and reader-friendly
Use positive language and power verbs
Be plain black font on a white background
Have plenty of white open space on each page
Be error-free with no spelling mistakes or bad formatting
Be well presented, uncluttered, organised and professional
Start with your most recent job and work backwards to your first job
List education and qualifications in the same way
Highlight hard, or technical skills clearly in a skills matrix
Include soft skills separately
Have accurate reference details for each job
Take time and ensure that nothing gets left out because this CV forms the foundation of all future job applications. It can be as long as is necessary, so be detailed.
Include every job title, all responsibilities and any achievements in each role. Obviously, this will be time-consuming, but it's essential for future success.
While writing your master, make copies of all relevant qualifications, awards, letters of reference and anything else that matters. Save it all together in a secure file with your master software developer CV and keep it where you can access it easily.
Always proofread and edit your master carefully, so it's error-free. If possible, ask someone else to check it for errors as well. You don't want basic grammar errors putting readers off.
Include your developer skills
Core skills for developer roles vary substantially. That's why it's best to separate hard and soft skills in a developer CV.
While they all create, implement and maintain software and databases, their role and industry specialisations differ. These are the 9 main types of software developers in the market –
Language/compilers developers
Embedded systems developers
Operating systems developers
Data scientists
Video game developers
Dev ops developers
Desktop developers
Mobile app developers
Web developers

Front-end developers
Back-end developers
Since developer jobs all require particular technical skills, you must compile a detailed matrix of all your hard skills. Compile the skills matrix in an easy-to-read format that rates your knowledge from beginner to expert.
Place your hard skills on the front page of your CV before your work experience and education.
That way, the reader can see right away whether you have the required technical proficiency. If they like what they see, they can move on to your working experience, education and soft skills.
Doing it this way makes it really easy for recruiters to spot your talents and suitability for the role.
Once that's done, you can move on to the rest of your skills.
Avoid overlooking anything when bringing together your CV for developer jobs. List all your skills, hard and soft, even if you only used them for a short while or moved between industries. Soft skills may not be so apparent to you because you use them daily.
Therefore, for each role, spend time figuring out what you do and which skills are necessary to do your job to the best of your abilities.
These are some typical technical or hard skills developers have; however, there are plenty more -
Algorithms and data structures
Basics of testing
Cross-platform software
Database management
Cryptography and encryption
Integrated development environments (IDE)
Networking basics
Operating systems
Programming, scripting and markup languages
Software development life cycle (SDLC)
Software troubleshooting
Source control
Text editors
User interface
Here are some crucial soft skills needed as a developer –
Analytical skills: understanding, breaking down and analysing data
Attention to detail: ability to focus on fine points of complicated information
Problem-solving: devising solutions to problems to mitigate risk and loss
Perseverance: capacity to remain focused on an outcome despite setbacks
Time management: working within a predetermined framework to meet deadlines
Organisational skills: controlling and setting priorities in order of importance
Effective listening: listening to understand and letting the speaker know they're heard
Ability to handle criticism: viewing disapproval practically without taking it personally
Persuasion: offering solutions to problems by winning client/management confidence
Clear communication: relaying information in a direct and easy to understand manner
Teamwork: ability to share and collaborate with others to achieve a successful outcome
Taking responsibility: ensuring that issues get resolved, irrespective of who is at fault
Integrity and confidentiality: upholding honesty and discretion in all business matters
Personal statement versus a profile summary
You don't need a personal statement for a CV for developer positions. However, you must write a profile summary at the start of each tailored CV.
You can write one core summary and tweak it for several similar applications over a short time. However, it's best to rewrite it each time if there are time lapses between applications.
Here are examples of summary statements at different levels of skills and competency. The bold text indicates pertinent info that immediately lets the reader know vital details before reading the rest of the CV.
Developer profile summary example – senior
"Enthusiastic and dedicated senior developer with seven years of experience in the software development environment. I hold a BSc (Hons) in Computer Science. I intend to further my qualifications and skills to remain at the cutting edge of my profession. Currently, I am focusing on developing my leadership skills. My technical knowledge covers the full software development lifecycle. I am proficient in a variety of embedded systems, languages and platforms. My next ideal job will be as a team lead or in mid-management."
Developer profile summary example – experienced
"Keen developer with 5 years of experience in software development. I am involved in all aspects of the software development lifecycle. I hold a BSc in Computer Science and intend to complete my Honours next year. I am adept in a variety of embedded systems, languages and platforms. My intention is to secure a long-term role within a scaling software development startup."
Developer- profile summary example 3 – inexperienced
Enthusiastic graduate developer who is eager to get practical experience in a software development environment. I have just graduated with a BSc (Hons) in Computer Science. Although I lack working experience, I have a qualification and am keen to start my career within an expert team. My aim is to learn from others and grow until I am a valuable contributor.
What's the difference between a profile and a personal statement?
A profile summary is a brief statement included at the beginning of your CV. In contrast, a personal statement is a longer, separate motivation.
A profile summary is usually less than 100 words; a personal statement ranges from 500 to 1000 words.
See it like this: a profile summary is a short, accurate sales blurb to hook the reader's attention. In contrast, a personal statement is detailed info intended to motivate your application and convince the reader you're the best candidate.
In effect, they're both an elevator pitch for your developer CV to get noticed.
Profile summaries can also be called – 'overview', 'professional summary', 'skills/qualification summary' or 'professional bio'.
Which one should I use?
Professional, management, executive and specialist roles benefit from a personal statement. They can be used for entry into graduate training programs and internships as well.

On the other hand, every CV benefits from a brief profile summary because it allows the reader insight into who you are before reading your CV.
That's why it's essential to take your time writing both statements and writing them specifically for each job you apply for. It's your only opportunity to stand out from other CVs since all applicants have similar qualifications and experience.
Make the most of it!
Write an optimistic, honest and informative profile summary or personal statement. Sell yourself well, and it becomes the key to winning a spot on the interview shortlist.
What must I say?
Even though a profile summary is short, it must still be relevant to the reader.

Working from the job post and using your experience, include hard and soft skills, years of experience and any keywords you can identify. You want to match your summary with the employer's requirements as much as possible.

Keep these points in mind –
Your job title
Highlight your knowledge
Include years of experience
Cover vital soft and hard skills
Match it to the employer's requirements
A personal statement must contain the same details as your profile summary but be expanded to give broader information about your skills and experience. It also allows you to express vital info like why you went into a specific career, would like to go into it, or why you want to change careers.
Take the time to match your personal statement with the employer's requirements as much as possible too.
Whatever info you decide to include, keep both statements friendly, conversational and upbeat; it's the first impression prospective employers have of you.
How to use your master CV
Once your master CV is complete, you can apply for jobs quickly and be sure you won't omit any important details.
When you see a job you'd like to apply for, read through it very carefully, noting the main requirements. Often employers use keywords in the job description to parse applications.
Parsing is an automated process done by Applicant Tracking System (ATS) software. CVs that don't meet the prescribed criteria are removed from the system without a pair of human eyes having seen them.
Parsing is a way of sorting suitable applicants from the rest using keywords and scoring. If your developer CV ends up with the 'rest', you won't hear a word again other than a polite automated message of regret.
The best way to identify keywords in a job post is to sift through the job responsibilities for directly relating words. For example, look for related terms in the job description, such as developer, code, database, design principles, solution design, testing principles, etc.
Keep in mind that companies might have different titles for developer jobs. Also, consider titles like software engineer and programmer.
Your next step is to condense your master into a slick developer CV that gets through parsing software and immediately draws the reader's attention.
You achieve this by extracting relevant and crucial info from your master and transferring it to a software developer CV tailored with skills for the specific job.
It's vital to know that recruiters and employers spend only seconds on each application before moving on because they're looking for specific information. If they don't see it, they don't read further.
Placing pertinent keywords in your application from the start keeps them reading. It also tells them you read the job ad thoroughly and you're not a time-waster.
There are a few rules for a tailored CV developers need to keep in mind –
Keep the same clear, concise black and white format of the master
Length matters, so don't exceed 2 to 3 pages
Make it relevant to the job only
Keep the language positive, proactive and easy to read
Check spelling, dates and sequence carefully
Don't include contact details of references; instead, say 'available on request'
Also, include the note – 'a detailed CV is available on request'
To conclude
Getting your dream developer job is in your hands because we get out what we put in, as with everything in life. Spending time upfront planning and compiling a master developer CV is investing in your future.
Let's recap on the key points to writing a perfect developer or graduate developer CV –
Spend time crafting a comprehensive master CV
Save your master and all relevant documents in a secure file that's easily accessible
Read job posts carefully and pick up keywords used by the ATS
Compile a summary CV from your master using only info that's relevant to the job
Write an upbeat personal summary into the CV focusing on the job requirements
When you send your application –
Always send your tailored CV for developer and cover letter in pdf format
Don't send any other documents unless  specified as essential
Check that your contact details are easy to find on the CV
Don't include references with an initial application
Developer CV FAQs
We answer some of your most pressing concerns -
What is a master developer CV, and how do I use it?
A master developer CV is a compilation of your highest level of schooling, through further education to your first job and on to your current, or most recent, employment. It also includes all your hard and soft skills.
Why do a master developer CV?
Ultimately, to save time and present yourself in the best way possible every time.
Once you have all the info accurately in one place from start to end, you don't ever have to do it again. Your master developer CV is a living document. All that's required is to update it annually.
When must I include reference details?
Only once the recruiter or employer has made contact with you and requested reference details. Don't include reference details when you initially respond to a job post.
If the recruiter gets back to you for a telephone interview, they may ask for references, but if they don't, just leave it. Your application might be unsuccessful at this stage, or the interviewer can prefer to take references in the final hiring stages.
Including reference details upfront puts both you and the referee at risk.
Firstly, you're sharing someone's personal details with people you know nothing about. This leaves the referee at risk if their details get into the wrong hands.
Secondly, unscrupulous recruiters may contact the referee first before they contact you. This is an unfair practice, but you can't do much about it if you give them the details.
Finally, suppose a referee is surprised by a call they're not expecting. In that case, they might not take it or not recall all your details, giving a weak sounding reference.
When you're job hunting, it's always best to contact referees beforehand and remind them that they'd agree to provide employment references for you. When a few years have passed, it can be difficult to remember dates, job responsibilities and other crucial details.
Giving a past employer a heads up ensures that they're still willing and available to provide a good reference. It helps ensure that all your references are confirmed and promotes your skills and abilities accurately too.
Should I include hobbies, interests and accomplishments on my CV?
If you're including hobbies and interests in a CV or personal statement, only mention those relevant to the job. Avoid irrelevant memberships and personal accomplishments as well.
Remember that recruiters and employers are pressed for time and won't read anything immaterial. Hobbies and interests are excellent for our health and well-being but don't include them unless they add value to your CV.
Genuine accomplishments, however, must be included. Be sure, though, that it's clear where and when you achieved them.
A great example of relevant interests is applying for a developer job and being a serious video gamer.
Developer career path
Are you interested in a career as a developer or thinking of changing careers in that direction? Here's how you can do it -
What education do I need?
Usually, you need a bachelor's degree for all developer roles and a willingness to continue upgrading your skills. The world of IT evolves at a rapid pace, and developer skills can quickly become outdated.
Some companies, though, do hire intern developers on a work-while-you-study basis. In those instances, though, you'd start as a junior, and your studies must progress well for you to keep your job.
Do I need additional skills? Yes, most definitely. Some skills can be learnt on the job, but most require further study.
Suppose you intend to progress as a developer. In that case, you'll have to undertake further study courses and register with industry-related professional bodies. Their membership always stipulates specific levels of skills achievement for certification.
Are there different fields of speciality?
Plenty and developers work in a constantly evolving environment.
You can choose your speciality at the tertiary level or change course during your career as opportunities present themselves.
The more knowledgeable you become, the greater your career prospects and earning potential.
Many experienced developers prefer to work freelance, allowing them to choose their projects and negotiate their own contracts.
Is there career progression?
Most definitely!
As your skills and experience grow, you can progress from junior developer to senior developer, team lead, manager, and c-suite positions.
Many developers start their own businesses servicing niche industries.
Experience and qualifications are crucial to career progress, so be willing to continuously improve your skills and update your education. Keeping up with trends in IT and changes to statutory law is also essential.
How do I get started?
Compile a trainee developer CV or graduate developer CV master before you do anything else. That way, you waste no time applying for jobs when you see them.
If you've just graduated or are thinking of a career change, approach businesses that offer internships.
Although a personal statement isn't usually a requirement for this kind of role, it can be a good idea to motivate your career choice when you have little or no experience.