Craft a winning Nurse CV - here's how to do it!
Nursing skills are in high demand, but you want to find the job that's right for you. Crafting an outstanding nursing CV is an essential start to career success and finding job fulfilment.
Whether you've just qualified or are a veteran on the wards, you probably don't have much spare time to focus on writing a winning CV. As simple as it may sound, many people don't know how to write a nursing CV and end up being overlooked for jobs they'd love to have.
This article guides you on exactly how to represent yourself to employers in a way that highlights your skills and tells them what you have to offer. It also includes a nursing CV template.
Example CV - Staff Nurse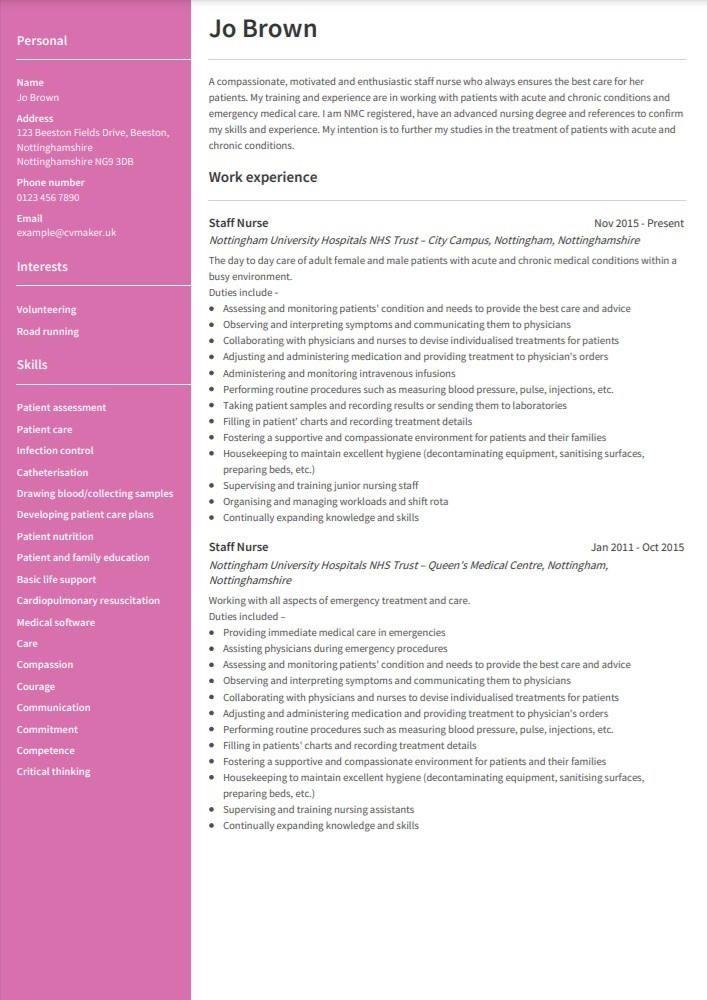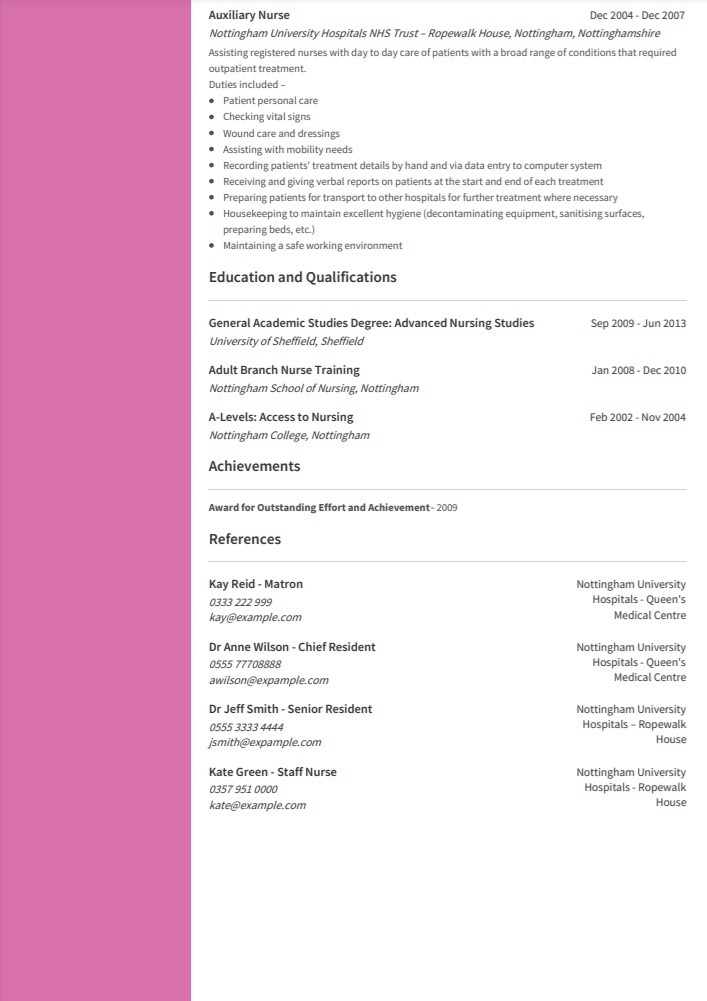 Download this Staff Nurse cv example as pdf
You can see from this CV template how Jo cleverly lets the reader know that she's looking for a career in acute and chronic medicine. She charts her career listing day-to-day responsibilities clearly and concisely. A quick scan of the well-laid-out CV immediately tells you she's an experienced staff nurse. Jo chose the Stanford template in pink, a colour of compassion, which allows her to make her skills stand out. In addition, this template gives you the option of including a professional headshot.
Planning the basics
All good projects need upfront planning, and that's how to approach crafting a CV.
See it as a project that gets what you have to offer on paper as accurately as possible so that the reader gets to know you by just scanning through.
Any good CV starts with a master CV that's a comprehensive document covering all your education, professional registrations and working history.
The document must -
Flow and be logical, reader-friendly, plain black font on a white background and error-free
Well presented, uncluttered, well-spaced, organised and professional
Start with your most recent or current job and work backwards to your first job
List education and qualifications in the same way
Include both soft and hard skills
Include accurate reference details with each job or role
Put in the time to prepare your master CV because it forms the foundation of all future job applications once it's done.
Why do a master nursing CV? Ultimately, to save time and present yourself in the best way possible every time. Once you have all the info accurately in one place from start to end, you don't ever have to do it again, and all that's required is to update it annually.
Don't include a nursing CV personal statement in your master. Each personal statement and cover letter must be unique and written for the job you're applying for only. Also, we change and evolve; a nursing CV personal statement that looked good a few years ago probably won't do today.
Apply the same thinking to covering letters; never use a generic document for all applications. Your master CV can be as long as is necessary. Be sure to include every job title, all responsibilities and any achievements in each role. Obviously, this will be time-consuming, but it's essential for future success.
While you're writing your master, make copies of all relevant qualifications, awards, letters of reference and anything else that matters. Save it all together in a secure file with your CV and keep it where you can access it easily.
Don't forget to proofread and edit your master carefully, so it's error-free. If possible, ask someone else to check it for errors as well. You don't want basic grammar errors putting readers off.
Include your nursing skills
Nursing is a demanding a varied job, and you mustn't overlook any of your skills, whether soft or hard.
Apart from the extensive medical knowledge nurses need to perform their role, they also need to have soft skills that lean towards emotional intelligence. Technology is a vital aspect of medicine, so nursing has become very tech-savvy too.
Your skills may not be so apparent to you because you use them daily. Take time to figure out what you do and which skills are necessary to do your job to the best of your abilities.
Soft skills are probably less clear, so here are some examples -
Hard skills
Patient assessment
Vital sign assessment
Patient care
Infection control
IV Therapy
Catheterisation
Pain management
Collecting samples and drawing blood
Developing care plans
Patient nutrition
GI feeding and tubes
Patient and family education
GI feeding and tubes
Basic life support
Cardiopulmonary resuscitation
Soft skills
Teamwork
Care
Decision making
Compassion
Working under pressure
Courage
Empathy
Communication
Time management
Commitment
Competence
Critical thinking
Personal statement for a nurse
Don't rush when writing your personal statement. Be honest and write from your heart, telling the reader why you took up nursing, what qualifications you have and why their job appeals to you.
This is your opportunity to stand out from other CVs since you'll all have similar qualifications and experience. Write in a personal, conversational tone but still keep it professional. You want the reader to see the person behind the CV when they're finished reading.
A personal statement can be as little as 500 words but try not to exceed 1000 words, so don't be longwinded or include irrelevant information.
If you want to include hobbies and interests, be sure to include only those relevant to the job. For example, if you volunteer at a care home or a food bank. You can also have fitness-related hobbies, but keep it brief.
You'll notice that this example uses contractions (didn't versus did not) to make it conversational. It must be a reflection of you and not overly formal communication.  Use your discretion. If you think the reader is excessively proper, then opt not to use contractions.
Note: never use contractions on a CV.
Here's an example -
"When I was a child, my oldest brother developed cancer. It was a shocking diagnosis that affected our entire family. We all tried to help him as much as possible, but I saw that his nurse truly impacted his recovery.
She was the one who could soothe him after chemotherapy sessions and who was ultimately responsible for guiding him through the difficult months of treatment. It was as if she instinctively knew the right this to do in each situation. And she was always so calm and caring.
His cancer went into remission, and he got his life back. His nurse became my hero! There and then, I decided that I know what I want to do with the rest of my life. 
My dream was realised when in 2004, after A-Levels, I was accepted as an auxiliary nurse at Nottingham University Hospitals NHS Trust Ropewalk House, a centre that handles outpatient treatment.
There I worked with many patients who had chronic illnesses, and I came to understand their conditions, treatments, experiences and prognoses. I was also privileged to work with a highly skilled medical team who encouraged me and taught me so much.
From there, I moved to emergency care at Nottingham University Hospitals NHS Trust Queen's Medical Centre which handles emergency medicine. It was a complete change of environment and a steep learning curve where I learned a great deal more about patient care and handling emergencies.
Once again, I was surrounded by experts in their field who were willing imparted their knowledge and expertise to me. It was here that I came to see how crucial staying calm and focused is in nursing.
My next move (and current job) was to Nottingham University Hospitals NHS Trust Queen's Medical Centre, where we treat patients with acute and chronic conditions.
In my time here, I've grown tremendously, not only as a nurse but as a person. Working directly with the fragility of human life has made me wiser and more compassionate. I've also seen how essential it is to offer kindness and support to the family of chronically ill and often terminal patients.
I've definitely found my calling and want to progress in the treatment of patients with chronic conditions.
That's the reason I want to apply for the role you've advertised. I know I have the experience you need, but I'm also keen to expand into the treatment of the various cancers in particular.  Working in an oncology ward will give me the hands-on experience I need to peruse the different lines of study I intend to do.
Finally, I'm a volunteer at our local food bank a member of an athletics club. So far, I've completed three marathons, and I'm currently training for next year's London marathon.
I have the skills, qualifications, fitness, and mental strength to handle a vital role such as this, and I know that I can contribute to oncology patients' treatment, care, and well-being."
*If you have a lengthy personal statement, you can choose to deliver it as a separate document, with CVmaker you can use a template that matches the styling of your cv.
How does a personal statement differ from a profile?
A cv profile is a brief statement that's included at the beginning of your CV. You may want to rewrite it every time or include it with your master. If you do that, remember to update it regularly.
Here an example –
"A compassionate, motivated and enthusiastic staff nurse who will always ensure the best care for her patients. I am trained and experienced in working with patients with acute and chronic care and emergency medical care. I am NMC registered, have an advanced nursing degree and references to confirm my skills and experience. I intend to further my studies in the treatment of patients with acute and chronic conditions."
How to use your master CV
Once your master CV is complete, you can apply for jobs quickly and be sure you won't omit any important details.
When you see a job you'd like to apply for, read through it very carefully, noting the main requirements. Often employers use keywords in the job description to parse applications.
Parsing is a way of sorting suitable applicants from the rest. If your nursing CV ends up with the 'rest', you won't hear a word again other than a polite standard message of regret.
The best way to identify keywords in a job post is to look at the job title and then sift through the job responsibilities for words that relate directly. For example, if you're applying for a theatre nurse job, it will be in the job title. The duties will contain related words, such as surgery, surgical, operating theatre, operations, preoperative, postoperative, etc.
Your next step is to condense your master into a slick nursing CV that gets through parsing software and immediately draws the reader's attention. You achieve this by extracting relevant and crucial info from your master and transferring it to a nursing CV tailored for the specific job.
Writing a personal statement and cover letter each time allows you to use keywords and think about why you want the job. Recruiters immediately recognise a general standardised response and then don't bother reading it.
It's vital to know that recruiters spend only seconds on each application before moving on because they're looking for exact information. If they don't see it, they don't read further. Placing pertinent keywords in your application from the start keeps them reading. It also tells them that you read the job ad thoroughly and you're not a time-waster.
There are a few rules for tailored nursing CVs –
Keep the same clear, concise black and white format of the master
Length matters, so don't exceed 2 to 3 pages
Make it relevant to the job only
Keep the language positive, proactive and easy to read
Write a new personal statement for every job application
Each covering letter must be unique to every application
Check spelling, dates and sequence carefully
Don't include contact details of your references; instead, only list their name and role and give contact details upon request
Also include the note – 'a detailed CV is available on request'
To sum it up
Getting your dream nursing job is in your hands because, as we know, we get out what we put in. Spending time upfront planning and compiling a master nursing CV is investing in your future.
Here are the key points to writing a perfect nursing CV –
Spend time crafting a comprehensive master CV
Save your master and all relevant documents in a secure file that's easily accessible
Read job posts carefully and pick up keywords
Compile a summary CV from your master using only info that's relevant to the job
Write an upbeat personal statement into the CV focusing on the job requirements
Ensure your personal statement offers solutions
Write a unique cover letter that briefly tells the reader who you are and what you offer
When you send your application –
Always send your tailored CV and covering letter in pdf format
Don't send any other documents unless  specified as essential
Check that your contact details are easy to find on the CV and in the covering letter
Don't include references with an initial application