Are you multilingual? Show off your language skills on your CV and impress potential employers
Being able to speak multiple languages in today's globalised world is valuable. It's a skill that can open up a range of professional opportunities and make you stand out when applying for jobs.

So it's no surprise we often hear the following questions from CVmaker.com users:
"What's the best way to mention my language skills on my CV?"
"Where on my CV do I place the language skills section?"
"Is it okay if I don't mention it on my CV"
If you're wondering the same, you can read the answers to those questions and others below.
When is it good to mention your language skills on your CV?
Adding your language skills to your CV is always recommended! It's a powerful skill to show off. Even if it is not specifically required in the job description, there's always a chance that you will encounter other languages in your day to day role. Just think about it, what are the chances your prospective company will have an international customer base? Or even colleagues based abroad either in an overseas office or working remotely (which is becoming the norm). For an employer's perspective it's nice to know that should a situation arises that requires someone that can speak another language, they'll have someone on hand.
Where on your CV should you add your language skills?
That short answer is it differs depending on your CV style and the job vacancy you're applying for. We always recommend you include the most relevant information as high up your CV. This way the hiring manager reviewing your CV sees your suitability straight away. Does the role you're applying for specifically ask for language skills? If it does then it makes sense to mention them as prominently as you can. This way the employer notices it instantly.
If the role doesn't specifically ask for the ability to speak a foreign language then we recommend placing it lower down your CV leaving room for the aspects most relevant to the role you're applying for. Rule of thumb, in this case, would be to include it with your other skills in the skills section of your CV.
Which languages should you mention on your CV?
Short answer? Every language you can speak. The more you can speak the better. But from an employer's perspective they'll find the most value from the languages you can speak at least to a conversational level. So if you only know how to say "hello", "taxi please" and "thank you" in a language it's probably best to skip it out. While they may help you on your trips abroad, they won't be too useful for the role you're applying for.
In addition to mentioning the languages you can speak, always include your mother tongue...or mother tongues if you were lucky enough to be raised bilingual.
What's the best way to list language proficiency on your CV?
There are several different ways in which you can present your language proficiency which we'll explain in more detail below. If the vacancy specifically asks for language skills, look carefully at how the job description states what proficiency is expected. It is best to indicate your proficiency in the same manner. For example, is English at B2 level required? Then make sure that you also indicate your English knowledge by means of the CEFR standard (which the JD in this example is referencing).
In general, you want to demonstrate the languages you're proficient at in a short and powerful way. Make it visual where possible! By making it visual you'll make it very easy for the hiring manager to get a good idea of your language skills.
What are the most common languages on a CV?
English
German
French
Spanish
Mandarin
When listing the languages you can speak, order them by relevance. If it's important you be able to speak French for the role you're applying to then state it first.
In terms of presentation of your language skills, be creative! Here are some common ways you can present your skills:
List them with bullet points or asterisks
List them using standard terminology
List them using the International standard
What is standard terminology for stating language proficiency?
Most CVs tend to opt for the standard terminology highlighting their language proficiency. The standard terminology typically used are: 

Native language
Excellent
Good
Reasonable
What is the International CEFR Standard?
If you've applied for roles at international companies before then you've likely come across this before.
The Common European Framework of Reference, or CEFR for short.
The CEFR distinguishes between six different language levels:
A Level
A1 Level -: Beginner
You're able to understand basic concepts and expressions
You're able to introduce yourself and ask questions to find out personal information
You're able to interact as long as the conversation is slow and clear
A2 Level: Elementary
You're able to understand commonly used expressions in shops, family settings and the workplace
You're able to perform tasks that require the direct exchange of communication
You can define advanced terms in simple terms
B Level
B1 Level: Intermediate
You're able to understand topics related to family, work and school
You're able to briefly describe experiences, events, dreams, plans, etc.
You're able to write simple texts on topics of personal interest
B2 Level: Upper intermediate
You're able to understand the context of complex texts
You're able to interact spontaneously without too much tension
You're able to create detailed texts on a wide variety of topics
C Level
C1 Level: Advanced
You're able to understand longer and more demanding texts or conversations
You're able to express ideas without looking up too much
You're able to create structured and detailed texts on complex subjects
C2 Level: Proficent
You're able to understand almost everything you read and/or hear
You're able to summarise information from different sources in a coherent presentation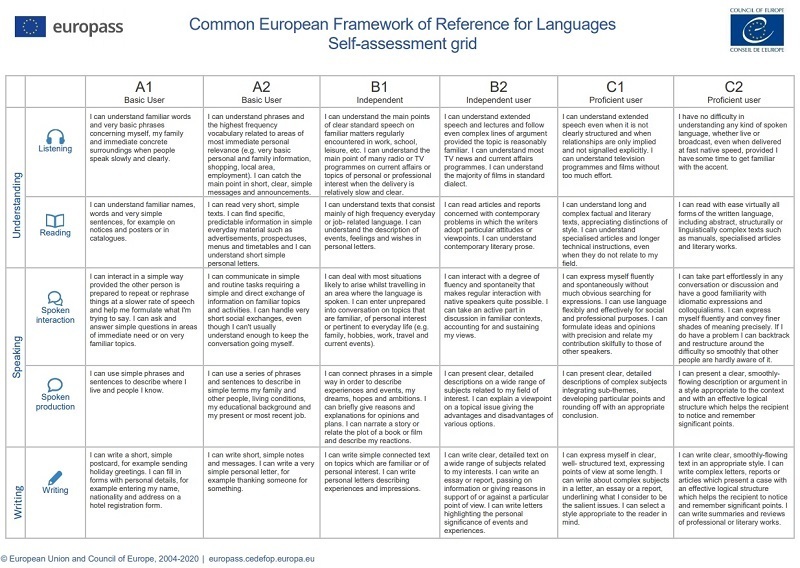 Source: Europa.eu
Want to know more about the CEFR standard? Download this self-assessment grid
How do I determine my language level?
If you have done a language course before, it is often mentioned what level you'll be expected to be at after completing the course. This is usually done through the above CEFR standard and can be added straight to your CV.
If you're planning to use standard terminology to describe your proficiency then be sure to mirror the words used in the job description. For example, If you're joining applying for a company with offices in the UK and France, you can describe your friend as "good" or "conversational" if you've achieved B1 level French.
What should you do if you have doubts about your language proficiency? You may be able to follow a business conversation in a language but struggle fully engaging in the conversation, what proficiency are you in that case? It is important that you're as honest about the proficiency of the languages you list as possible. Hiring managers may choose to test your language level during the interview process. When in doubt, we recommend taking a short language test - there are few free ones online.