Tutor Resume Example, Template & How to Write Tips [2023]
As more students take challenging classes, the demand for tutors only goes higher. Ambitious tutors want to have the perfect tutor resume to show to parents, students, and hiring managers to prove they have the chops to handle the job. There are many parts to a tutor resume and many of them are essential. After all, the position means teaching people new things and helping them improve in an academic manner.

Tutors explain concepts and teach students of all levels and ages as a way to support their learning experiences. In fact, many studies indicate that tutors are exceptionally useful for helping at-risk students improve their grades and graduate high school. They also help students prepare for important occupational and educational exams.
Many tutors work one-on-one with students. Others are engaged in small group tutoring. Some have a great deal of experience while others are new to the profession. Regardless of your personal situation, a good tutoring resume is something you want to have to get the best jobs out there. We're here to help on that front.
Throughout this guide, we'll be giving you tons of tips, recommendations, and suggestions to create a resume anyone would be happy to receive. All you have to do is take direction and add in all the information that fits your needs. Before you know it, you could be in the interview chair and into the role of your dreams.
Tutor Resume Example
One of the best ways to create a professional document like this is through the use of tutor resume samples. You can see how other people craft resumes and get ideas about how you want yours to look and flow with information. In that vein, we'll be offering a variety of samples throughout this guide.
Take a look at the sample educator resume below to see what a professional document looks like that gets picked up by a client. You can use the sample as a guide to creating your own resume. It covers all the important sections of the resume and can be tweaked for each position you apply to.
Save all this information somewhere as a master resume and you won't need tons of time to update each one. When the info is all in one place, you can grab the parts that work for each resume and make changes as needed. This is a recommended method to show you care about the job and aren't sending in the same resume for every position you see.
In addition to seeing a full resume example, the rest of this guide will provide visuals for every section of the resume. This breaks things down and makes it easier to complete each section without getting overwhelmed. Now that you have a map for your journey to creating a resume, let's look at other things you should be aware of.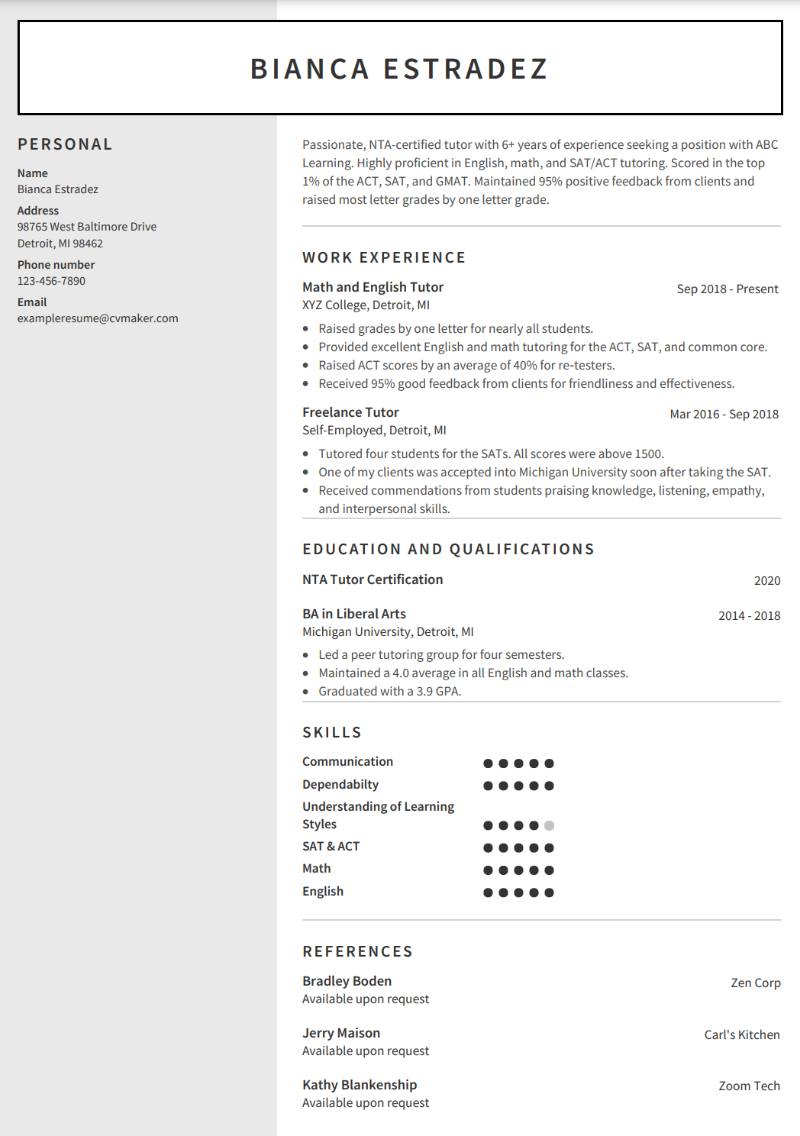 How to Put Tutoring on a Resume in 2022: Full Tutor Resume Description & Guide
Many people wonder how to describe tutoring on a resume. It's a good question since tutoring is a unique job. Your main responsibility with a private tutor resume is to show how you have helped students learn more and get more proficient in whatever subjects you specialize in. Of course, that can be easier said than done.
The good news is that a tutor job description resume can be a simple answer. Essentially, this means that you should tailor the resume to the specific job you want to get. Check through the advertisement for a tutor and see what keywords are listed. When possible, include those in your own document to catch the client's eye.
The tutoring resume description (or resume objective) is a great place to show this, but you'll also weave a story through all the other sections of your tutor resume. This includes the following sections:
·       Personal information
·       Resume objective
·       Professional work experience
·       Education
·       Skills
·       References
Set up the sections now and you can start adding information as you go through the rest of the guide. We'll delve more into how to make tutoring sound good on a resume through specific examples. Keep reading to get started with one of the simpler sections: your personal contact information.
Section #1: Personal Information
Whether you're building a math tutor resume that focuses on your algebra skills or focusing time on an English tutor resume, everyone needs to start with the personal information section. This is where you give basic information about yourself, such as your name and contact information.
The main purpose of this section is to ensure it's easy for a client to get in touch with you. It's a section where all the information is already stored in your brain so it's a quick way to get started. Then that momentum can carry you through the other sections of your tutor resume.
Personal Information Example
When you want to make the perfect resume for tutoring, the image above is a great guide. You can see how the information is laid out and easy to read. This is essential since you aren't selling yourself here. You're providing integral information when someone wants to call you for details or contact you for an interview.
Most of the time, the personal information section will include your name, your address, the state and city or country and city where you reside, and two methods to contact you. Other information can be added if required but usually is not mandatory for a tutor's resume.
How to Format This Section
Whether you work with young kids, high school students, or adults at university, the format of the resume section will be largely the same. There are two main things to focus on here. You want to be sure all the information is included and accurate. You also want to be sure the section is legible and simple to understand.
Beyond that, this section is straightforward and concise. It has a bold header and subheadings that stand out so it's easy to understand the information. It can be placed as you see in the image above or choose a tutor resume that has it on the top of the tutor resume instead of across a sidebar. That's up to you.
Section #2: Resume Objective
The resume objective is where you start the more challenging resume writing process. Whether you teach small groups or individuals, this is where you provide information about exactly what you are capable of. This section is the most important thing to get right. Clients will look here to see if you have the skills they want.
A resume objective is a short blurb about your top achievements and accomplishments. Adding information about past jobs and education can be useful here. However, you want to frame your most important wins in this section. You'll have space to talk about other things later on in the tutor resume.
Resume Objective Example for an Entry Level Tutor Resume
 An entry-level or student tutor resume will have a different objective than one for an experienced worker. If you've done tutoring after school or have other experiences, list them here. If that's not the case, make sure to explain what makes you the best person for this job.
Resume Objective Example for a Senior Tutor Resume
Whether you work with high school students or college students, this is an objective for someone with experience. You can see how things are written to show great accomplishments for the applicant. Use your own top moments to create this section and wow potential clients.
How to Format This Section
It doesn't matter if you've only worked with an individual student in a learning environment or have had dozens or hundreds of clients. This is where you need to wow people. However, the format can remain simplistic because what you write should be what indicates that you'd be an exceptional tutor.
This section doesn't need fancy fonts or intricate formatting. It's a block of text without bold, italics, or other extras. While writing the tutor resume objective, make sure it's under five sentences long. Going over that can make it more challenging to make every phrase compelling. So add in the most important bits, make sure it sounds fantastic, and move forward.
Section #3: Professional Work Experience
Next up, we want to talk about tutor experience on a resume. As you create your tutor responsibilities resume, the most significant part of it will deal with work. Even those without a lot of experience should highlight what they can here. It shows that you have done well in the position in the past.
Focus on the jobs that are most related to tutoring if you have a selection to choose from. If your jobs aren't in tutoring, you can include volunteering, internships, or other positions that show your skills and abilities. The important thing is to show that you can handle the job well.
Professional Work Experience Example
A professional resume isn't just about showing your years of experience. While that can factor into being considered for a job, it's not always the most important thing. As you can see above, what is important is sharing what makes you qualified for the position. Writing out your duties and accomplishments should be done for each job you list.
There's no reason to rewrite this completely for every job application. However, you might want to move or change keywords for some jobs. If you don't want to make these changes, choose skills that are typically needed for all the tutoring positions you apply for.
How to Format This Section
The resume format for the experience section is typically done in reverse chronological format. This means you list the job you are at (or had last) and then follow that with the next most recent, and continue that process. If you have gaps, make sure you can share that reasoning if asked.
As you make this section, add the position, when you worked there, and what your title was. Underneath, you should use bullet points to get into what you do in each position. This is where you can add some of the accomplishments that might not have made it onto the resume objective.
Section #4: Education
Information about your high school diploma, bachelor's degree, and certifications will be listed under education. As a tutor, this is more important than in some other positions. You're selling the ability to be a great tutor so having good marks in school can help with that. This is one of the few resumes where extra information about education is useful.
Of course, not everyone has a pile of degrees and certifications to list. That's okay. Just make sure you put your best foot forward. List your education experience and how those have made you into an excellent tutor. It's one of the best ways to get an interview.
Education Example
This is an example of an education section for a great tutor. As you see, it lists a degree and a certification. Yours may look slightly different. For instance, if you haven't achieved a degree, make sure you include your high school information. Otherwise, it can be omitted.
Those who have less experience may want to include more detail here. Did you have a high GPA? Are you adept at getting great test scores? Those are things a client wants to know before choosing you as a tutor. This is a resume where it's okay to go a bit overboard explaining your educational background.
How to Format This Section
For a tutor position, the formatting is fairly simple for your education. You should include what degree you received, when you got it, and where it came from. This is all that is mandatory but you may choose to add other information. For certifications, you only need to include the name and date you received them.
Otherwise, the format is similar to the work experience section. Reverse chronological works well with your most recent education on top and then moving back in time as you go. Feel free to add extra information under the header if you want to draw attention to something specific.
Section #5: Skills
At this point, you want to start thinking about tutor resume skills. Your skills section is another important section of the resume. It gives insight into the things you do best. Think about tutoring skills you've used in the past and add the ones that are most relevant to the job to a list.
This is an area where you can include anything that you haven't listed elsewhere. On the other hand, it can also be a place to remind a client about what you are skilled at. This is just a visual and written method to provide final insight into what you are capable of.
Skills Example
The skills example above gives you an idea of what this section can look like. However, you'll likely want to include completely different information than the applicant above. For instance, maybe you excel at lesson plans, assessments, and tutoring sessions. Or you might have a few subject areas to include.
Everything from interpersonal skills to communication skills and learning skills fit here. If you provide help with quizzes or writing tips, this is where it goes. We do recommend including at least one example of your interpersonal skills since that is essential for this kind of position. Otherwise, use the example to start brainstorming the best skills to make a potential client aware of.
How to Format This Section
Whether you specialize in special education learners or adult reading comprehension, recruiters want to see some of your skills. However, in this case, you can be slightly more creative than in other areas. For instance, you can use a format like the one here or make the ratings for your skills clear through another visual indicator.
Beyond that, make sure the list is clean and easy to understand. In most cases, it will be on the main body of the resume but some people put it on a sidebar instead. Choose skills carefully and don't add so many that reading becomes a slog. Five or six is usually enough to get across your point.
Section #6: References
The last section you need to work on is the references. This is where you list a few people who have experience with your ability to assist students at a grade level or in a specific subject. This is important to prove that you have the skills you are saying you have. Clients can talk to those who came before them to learn more about you.
Think through the people who would give you the most glowing reviews before creating a reference list. Then make sure you contact them before you add them. You should only add references who are happy to speak up for you.
References Example
You can see a quick example of references for a tutor resume above. This is another simple section that you can put together easily once you know who to ask. In this case, the applicant offers three references, all of whom work at different businesses. Each of them was tutored by this person, but you don't have to include only clients.
Past professors and teachers, people who know you in the neighborhood, and others can be used as references. However, avoid using family members or friends. People will assume those individuals will provide positive reviews of you which may or not be true. Look for your references from other people you know.
How to Format This Section
Once you have a list of references, you need to add them to the resume. This will typically be done in a list format with the same information provided for each one. You should make sure to include the person's first name, last name, and place of business.
While you can include the phone number and email address, it's not recommended. Instead, add "available upon request" and the client can reach out for those when and if needed. This keeps private information from being spread around before you move forward through the process of being hired and gaining a new position or client.
Final Points on Successful Tutoring Resumes
You should now have everything you need to build an excellent tutor resume for that job that caught your eye. However, there's one more thing you need to complete before you finish. If you haven't penned a tutor cover letter, that should be done, too. This lets you really dig into why you're the right person for the job and show the client part of your personality.
Take a final look at things and make sure you're representing your skills, experience, and education well. Once you've done that, you can send in all the information in your application to raise your prospects of getting an interview. Good luck with your job search!