Tax Preparer Resume Sample, Job Description & Writing Guide for 2023
Are you looking to land a position helping individuals and businesses prepare their tax returns? If you want the best chance of moving forward, you need an excellent tax preparer resume. Understanding federal, state, and local codes, being able to use electronic tax records, and having knowledge of tax law can go a long way toward making a great impression.
Because you'll be doing a lot of precise work, you need to show that you have the ability to handle all sorts of tasks without errors. That's what you need your resume for a tax preparer to convey to a hiring manager looking for someone to fill a position. You must show that you can easily communicate with clients about complicated topics and handle the technological aspects of the job.
There's a lot of work that goes into tax preparation but creating your resume doesn't have to be a challenge. That's why we created this guide: so you know what to include on your resume, what to omit, and how to structure things to succeed. You can use our tips and examples below to build an amazing tax preparer resume for the position you want.
Tax preparer resume writing guide: Where to start?
When you start to craft a tax preparer resume, it should be done in two phases. The first involves making or updating your master resume while the second is based on creating a job-specific resume. Using the tax preparer job description for the resume will ensure you add everything important in language that gets an employer's attention. Keep reading to learn more about this two-pronged approach to building a resume.
Master resume for tax preparer
The first step is crafting a master resume. This is a document that you will use yourself rather than turning it in as part of a job application. If you already have a master resume, you're ahead of the curve. Make any updates you need to make and you can move forward to the second stage without wasting any time.
On the other hand, those without a master resume should make one at this time. Whether you open up a Word document or jot information down in a notebook, it will make it easier to apply to this job and any others you might be interested in. A master resume is used to compile information about your education, experience, skills, and other items relevant to the job hunt.
Rather than only saving information appropriate for one position, you keep it all in a master resume. Anything from your past employment should be contained in this document in case you need it in the future. It's a method to avoid forgetting about important dates, projects, and certifications you may require. You can't be expected to remember all these things as the years go on.
After you have the master resume complete, all you need to do is update it on occasion. Add in new skills or education and keep a list of your top achievements. This gives you everything you need to finish your job-specific resume in the second phase of the process. It can be used for any job to speed up the resume-making process. Then all you have to worry about is the job interview.
Job-specific resume for tax preparer
Now that you have a master resume, it's time to move on and create a job-specific resume. The master resume isn't made to be submitted with a job application. It's a raw source of information rather than a streamlined and aesthetically pleasing document. The job-specific resume is where you paste information from the master resume before doing the formatting needed to create a great document.
There's a reason that you should customize each resume you send in to apply for a job. Every job is going to have quirks and be different from the next. For example, one position might focus largely on client communication while another could be more based on using specific software. If you don't tailor your resume for each, you might not seem like a good fit.
Not sure what you should add and omit? You can get an idea of the best way to present yourself by doing some research on the company offering the position. Look into the company values, what the work culture is like, and read over the news stories to get an idea of what to include on your resume. This ensures you hit the right notes with the document.
The main difference between a master resume and a job-specific resume is that one is for your use and the other is for managers to read over. Doing research and making sure you include the right keywords will ensure your document is noticed. This is how you get a phone call or email and end up interviewing for what could be your dream job.
Tax preparer resume example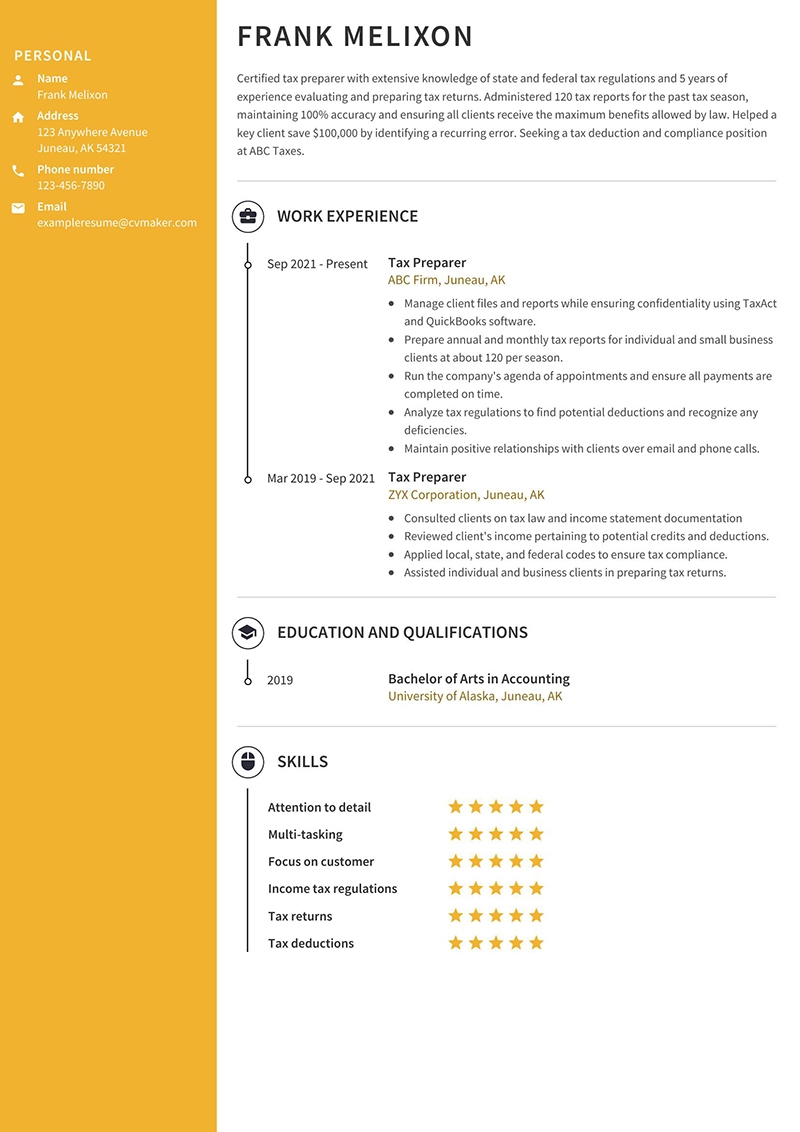 Download this resume example - Tax Preparer Resume
This tax preparer resume sample PDF hits all the right notes and is sure to be noticed by a hiring manager. The document is professional throughout and focuses on using terms and phrases found in the job advertisement. It has all the required sections for this kind of resume and it's structured to be easily understood. The inclusion of a good template pulls everything together to create an impact.
What to include in a tax preparer resume? Writing tips and examples
Now that you understand the different types of tax preparer resumes, it's time to get started with crafting your own. Keep the job description nearby so you can use it throughout the process. You'll want to include contact information, a resume objective, work history (and details about each role), educational background information, and a list of skills. Below, we'll share how to create some of those sections so you can just follow along.
How to write a resume objective on a tax preparer resume?
No matter what industry you are in, you have to have a good start to your resume. This is where the tax preparer resume objective comes in. The idea is to share what you have done that is impressive so employers know they can expect something great from you. At the same time, this section is short and takes up a small amount of space. You need to use powerful words and numbers to make an impact here.
As you start writing the tax preparer resume summary, focus on your key accomplishments from past experiences. You want to use this section to get a hiring manager or recruiter interested in delving deeper into your resume. Having a list of duties isn't going to have the same impact as showing your achievements. Quantify these things as much as possible.
At the same time, the length of this section on most tax preparer resume samples is going to be quite short. You want to follow that rule of thumb as you write your own. This section can be as short as two sentences long if you can cram everything you need into such a concise area. However, going up to four sentences is also just fine for the objective.
Tips to include work experience on a tax preparer resume
Just below the resume objective, you'll typically have your work experience. The only exception is for someone new to the working world. In this case, you'll notice that an entry-level tax preparer resume sample may prioritize education or skills above experience. Everyone else will highlight the work experience and make it high up on the resume. This gets it noticed by any hiring manager who picks up your file.
The basic process of creating work experience for a resume has two steps. First, you want a header that contains all the basic information about a position. You can bold this or make it a different color so it stands out. The details you want to include are when you worked there, what company you were with, what your role was, and where the business is located.
Of course, there's additional information you want to share beyond this. Under the basic information, you can add a blurb or a selection of bullet points. This is where you delve into your duties in the position. When possible, incorporate your achievements where they make sense. It's another way to stand out with nothing more than a resume.
How to list skills on a tax preparer resume
The final topic we want to touch on is tax preparer skills for a resume. While you likely have a variety of skills, the resume only has so much room for you to list them. This is another area where you can truly customize the document by looking at the requirements for the position. While many jobs prioritize hard or soft skills over the other, both are integral for someone who works as a tax preparation specialist.
Hard skills are things that can be learned. They require hard work and repetition to get good at. Soft skills are closer to traits and typically cannot be taught to others. These tend to be things associated with working with others. Below is a selection of both of these types of skills to get an idea of what you should place on your resume.
Hard skills
·       Income tax knowledge
·       Tax law
·       Financial reporting
·       Accounting
·       Estate planning
·       Auditing
·       Tax software proficiency
Soft skills
·       Written communication
·       Verbal communication
·       Interpersonal communication
·       Problem-solving
·       Listening
·       Client service
·       Expectation management
Now that you understand what should be included on your tax preparer resume, you're halfway done. The other part of this is making sure the document looks great and is simple to read when you send it in. Visit our website and choose one of our templates to ensure your resume is perfect when you send it in.
Key takeaways
You now have the information, tips, and examples you need to build an amazing tax preparer resume. Follow our guide as you craft your resume to ensure it gets the reception you desire. If your resume stands out, you're much more likely to get the job you want. Below are a couple of extra tips before you turn in your application, resume, and cover letter.
Tax preparer resume tips:
·       Pay attention to tax preparer job descriptions and use them to choose great keywords that make your resume stand out. Incorporating skills and other requirements is an excellent way to create a relevant document.
·       Always go over your resume after you've completed it to search for any errors. While this might seem minor, it can be a bigger issue than you think. For instance, an error in a phone number could prevent you from being reached.
·       The resume should be worded professionally but make sure you use simple terms and stay away from jargon. The entire resume should be simple to read, no matter who picks it up.
·       Only include information that you can prove. Don't add anything that isn't true. Not only is this just bad form, but it also leaves you unable to prove these items if they're brought up later on in the hiring process.
·       Avoid colloquial terms and slang in your resume.  This can make your resume seem more casual and less professional. Word things like you would to someone you didn't know in a business situation, rather than how you might phrase things to your friends.
·       After the resume looks great, take time to use software like Grammarly to check for any additional issues. Clean things up and remove errors so your information is what gets noticed when someone picks up your resume.
Next steps?
Not sure that you can create a well-written resume as a tax preparer? That's okay. We offer Resume Writing Services that you can take advantage of if you prefer to have someone take the lead. Let us take over and an expert who has written thousands of resumes will handle everything for you.
FAQs
How to use a job description for a tax preparer resume?
Having a specific income tax preparer job description for a position can make a huge difference in terms of how your resume turns out. We recommend having access to it so you can look over the requirements and add relevant skills and information to your resume. It shows that you care about this position, specifically, not just getting a job in the field.
The job description is the largest source of keywords to use in a resume. However, there are a few other places you can look. Check out the company's website and social media to see what is valued by the leaders in the business. Using those as additional keywords can be a good choice to make you stand out.
What skills do you need to be a tax preparer?
It depends on the position you want. Every tax preparer resume will have a different set of skills. Even though you may have the same skills when writing various resumes, you'll want to focus on unique abilities based on the job description. Always focus on the priorities listed in the job description.
For instance, if one position focuses largely on working with software, you want to talk up your skills with technology. On the other hand, another position might have a lot of communication with clients and you'd want to focus your skills on abilities related to that. Choose relevant skills that you are very good at for the best results.
How do I describe my tax preparer experience on a resume?
When you're writing up your work experience for a tax preparer resume, make sure you only list relevant experiences. If a position has nothing in common with the one you want, there's no reason to include it. However, if there's any overlap, it can stay. Once you decide on which positions to add, you can start to break down what information to include about it.
We recommend having a list of bullet points under each work experience entry. This is where you list your achievements and daily tasks in that position. Anything that relates to the job you want should be highlighted here. No matter which part of the resume you are working on, make a point to connect it to the new position.
What is a tax preparer resume summary?
A tax preparer resume summary is also known as a resume objective. The two are the absolute same thing, but different people prefer one term over the other. However, don't confuse the resume summary with a tax preparer resume description. The former is something you write for your resume and the latter is a post by a company.
This part of the resume is where you place your most important skills and achievements. This is the start of your resume so you want to engage people and convince them to keep reading. This is a short section that takes up little space but can make a large impact on the reader. Most experts agree it is a mandatory part of a tax preparer resume.
What is the best structure for a tax preparer resume?
The structure can vary for a tax preparer resume, but most people will choose something similar. Before you start to structure your resume, think about what sections you want to include. Some bits of information should be on all resumes, while others can be added if you have something relevant to add.
Most tax preparer resumes will include at least the sections below:
·       Contact information
·       A resume objective
·       Work experience
·       Educational background
·       Skills
Beyond that, you can add the sections below if relevant. Otherwise, you can leave them off.
·       Internships and volunteer experiences
·       Accomplishments
·       Certifications or courses
·       References
·       Technical proficiencies
·       Interests and hobbies
·       Languages
How long should my tax preparer resume be?
For most people, a tax preparer resume should be about one page long. However, there are exceptions. Think about how long you've been in the field when deciding how long the resume should be. If it's been less than a decade, you're best off leaving the length at a single page. Otherwise, you can go with two pages.
Even if you could make the resume longer, it's not recommended. If you can compress your information into one page, that's a better option. All of the important information is in a small space and it's more likely that a manager will make it through the entire document. However, two pages are fine if all the information is relevant.
What writing style is ideal for a tax preparer resume?
You can use your own personality with your tax preparer resume to a point. However, make sure you keep things professional throughout the entire document. Going overly casual can make it seem as if you aren't serious about the position. You want to avoid that even if the company doesn't take itself too seriously.
That doesn't mean you need to use huge words or talk like someone you aren't. Just make sure you're showing that you care about the company and position. Going too far in the other direction may make an employer less likely to reach out to you.
How should I lay out my tax preparer resume?
After you have the structure done and have chosen the information to include, you still need to lay out the information. There is not one correct way to do this. It comes down to what looks good to you and is simple to read. For instance, make sure the font is legible and in large enough size to be understandable.
The font size, color, and face are only part of the layout process. For instance, you want to make sure you have enough spacing between each element on your resume. Making sure one section doesn't dominate is also a good idea. Once you lay things out, make sure the resume is only one to two pages long.