Resume Examples for Executives: 3 Successful Executive Resumes Samples
Of the around 127 million people employed fulltime in the USA in 2021, only about 200 thousand were in executive jobs.
Yet, many executives don't know how to write an executive resume that sells their skills and experience to employers.
One reason is they're not inclined to job hop. Since executives are rarely on a job search, they don't hone their resume writing. The other is that hiring trends change, and so do the expectations of executive recruiters.
Unfortunately, this results in top executive applications being overlooked simply because the resume format is outdated.
This resume guide explains why that happens and how to write an executive resume that sells your business acumen.
We've also included executive resume examples as a guideline for a perfect resume.
There are helpful excerpts from executive resume samples for each resume section, as well.
Get interviews and job offers by following our director level resume examples written for you by a professional resume writer.
3 Successful Executive Resume Samples
Notice how each of these resume template for executives differs in content. Craft your executive resume format to match the job requirements.
Chief Operating Officer (COO)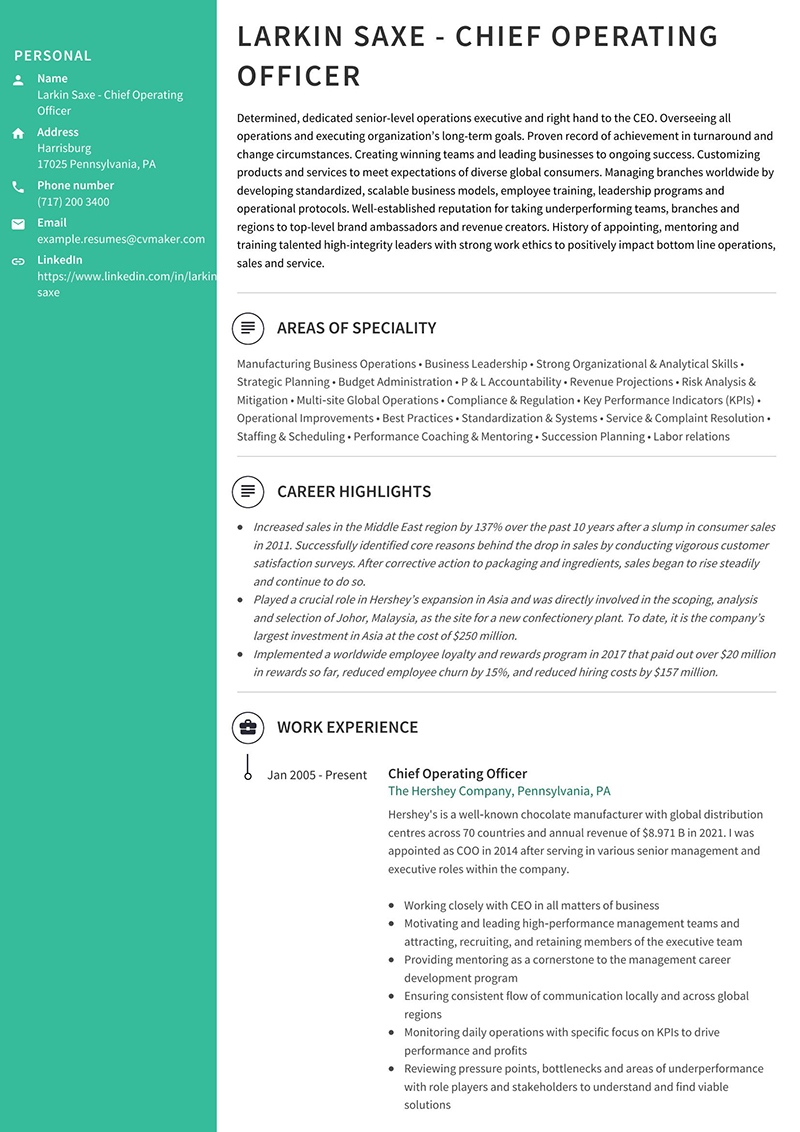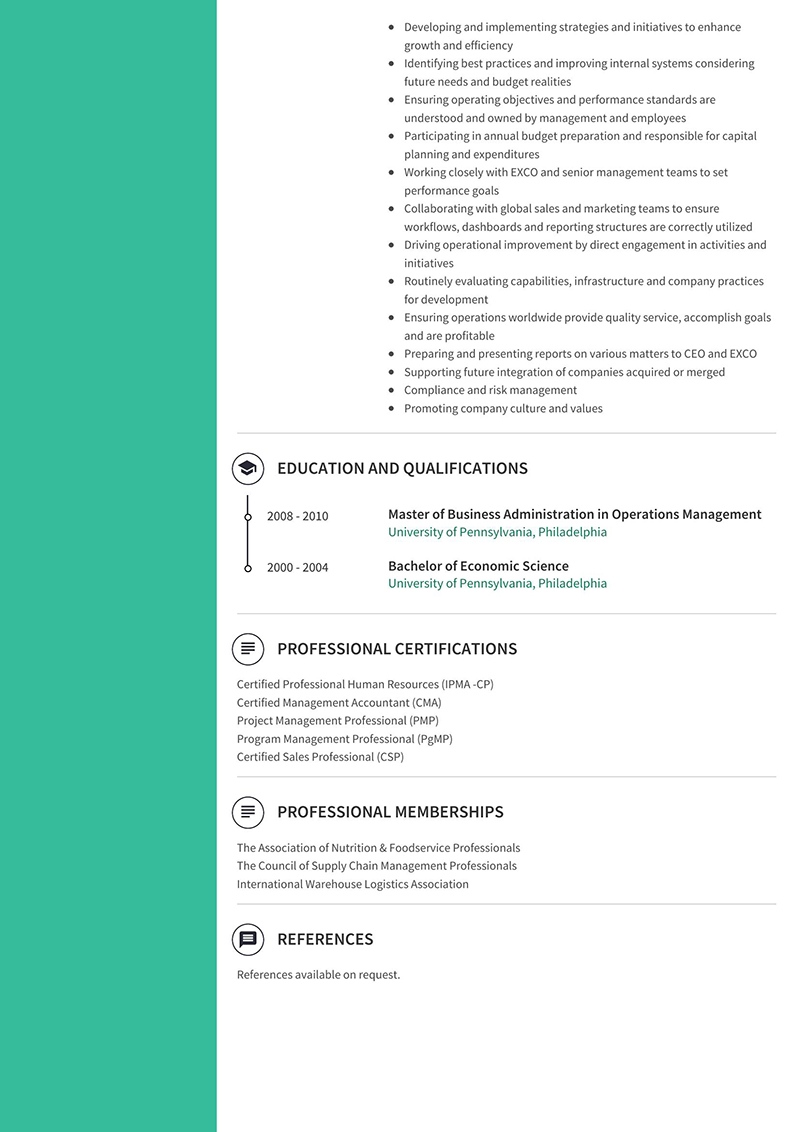 Download this resume example - Chief Operating Officer (COO)
In this COO executive level resume, Larkin preferred our Harvard resume template in green.
Chief Financial Officer (CFO)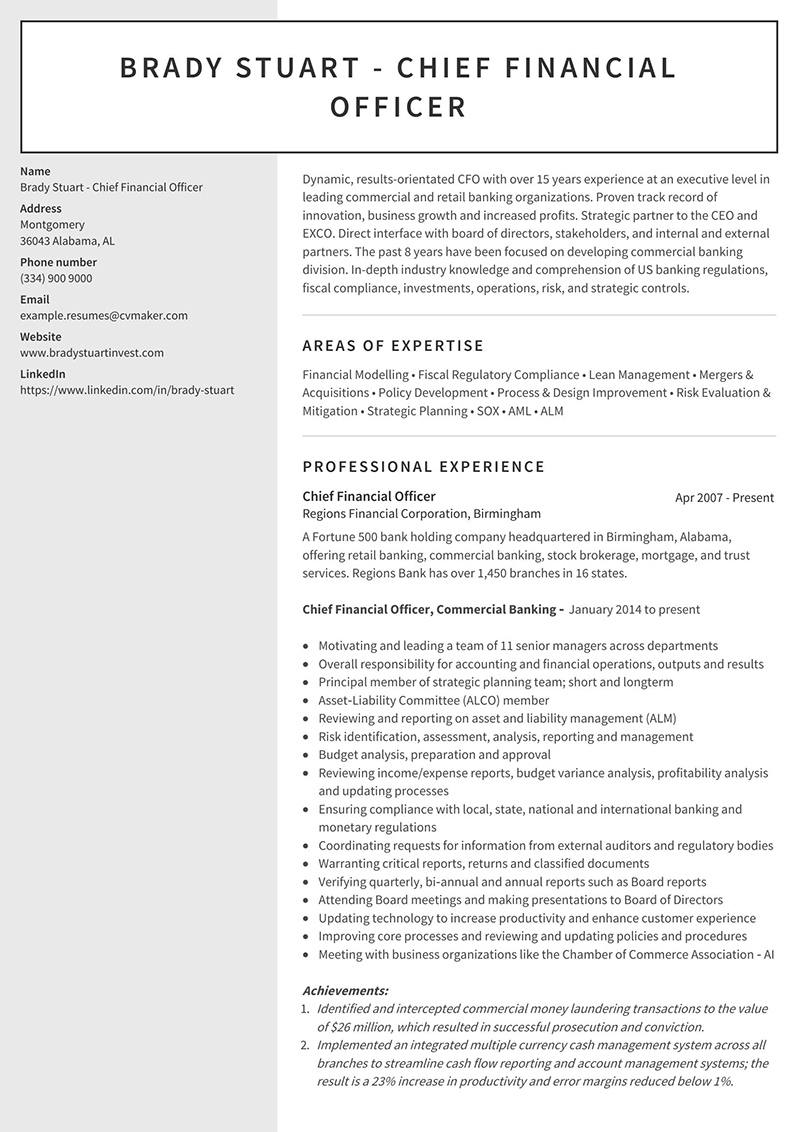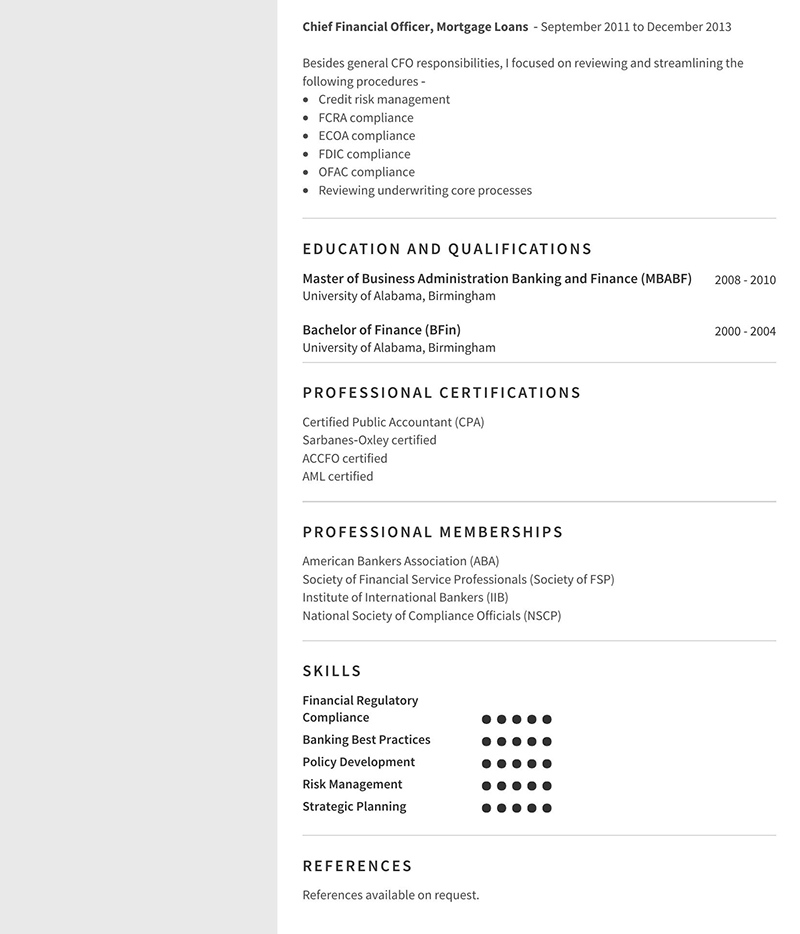 Download this resume example - Chief Financial Officer (CFO)
Brady has chosen the blue variation of our Auckland resume template for executives.
Chief Information Officer (CIO)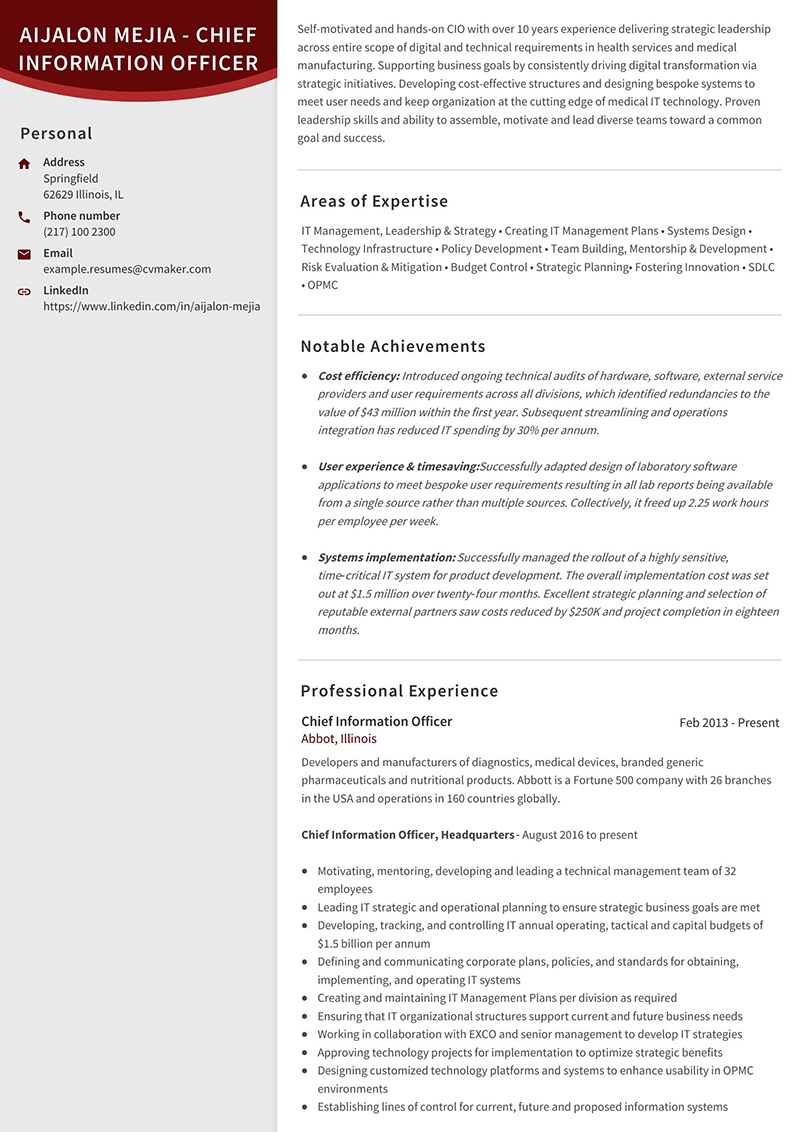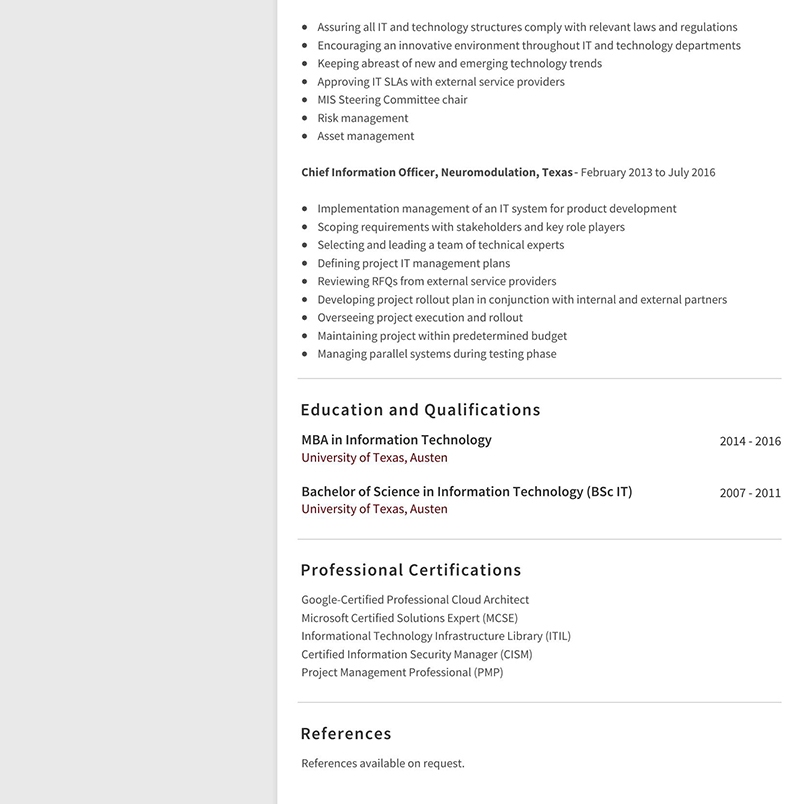 Download this resume example - Executive Resume Aijalon Mejia
In this sample executive resume, Aijalon has opted for our eye-catching Edinburgh in maroon.
How to Write a Good Executive Level Resume in 2022: Full Guide to Crafting Executive Resumes that Work
Executive resume writing differs substantially from writing other resumes.
Not only is the resume format for executives not the same, but the content is structured and written differently.
The executive resume format is the most significant difference, and here's why.
Previously, the resume format for executives was random, and there was no specified length. Today, modern executive resumes are structured and restricted to far fewer pages.
Executive resume writers recommend professional executive resumes be limited to five pages. The average is a three and five-page resume, all-inclusive.
The crucial factor when considering resume length is how well it sells your value to prospective employers.
Too long-winded with irrelevant info will see recruiters skipping past it. Conversely, too few details mean there's no way of evaluating your suitability for the executive role.
Make your executive resume as long as needed to convey what makes you the best candidate for the job. Just don't exceed five pages.
C-suite hires are managed mainly by a hiring team, including executive recruiters, selected executives and hiring managers. Hiring is a team activity and a group decision.
Nevertheless, in the screening stage, a recruiter can eliminate applications without anyone else seeing them. It's primarily based on a lack of keywords and poor readability.
That's why it's essential you follow the correct executive resume format.
Once your resume is shared with the hiring team, it will be read by various people throughout the hiring process.
As it passes from one to another, it must be easy to understand and navigate to keep readers engaged. The best way of doing that is using a resume format for executives familiar with hiring team members.
Now for content…
Most executives have at least 15 years of experience at a senior level. That considered, five pages is too little to get everything on paper.
In reality, three to five pages are ample for an executive resume. Actually, the best executive resumes are three pagers.
How come?
Because you mention only work history, skills, education and achievements relevant to the executive job you're applying for. Anything else is immaterial, therefore wasting recruiters' time.
Your prime objective is getting past the initial AI screening of ATS or applicant tracking systems. Next, you need a recruiter's approval.
Nowadays, all professional executive resumes are first run through parsing metrics in ATS to identify pertinent keywords.
If an application meets the minimum keyword criteria, it's passed to a recruiter; if not, you get a polite automated regret.
The first recruiter to review your ex resume is likely a more junior hiring team member.
They're usually tasked with comparing executive resumes to the internal job description to establish suitability.
In other words, they're going through resume content looking for specifics. The resume moves on to the hiring team if details are easy to find. If not, the recruiter sends a regret response.
Technology has made job applications easy. Many unqualified job seekers apply for roles just to get onto employers' databases.
Executive recruiters can't waste time on these applications. They spend only a few seconds scanning for corresponding details before moving to the next.
While there's a chance employers could miss out on a great hire this way, considering the time saved is worth the risk.
Yes, some executive level resumes do fall through the cracks.
But it comes down to how much upfront prep you put into your application.
Employers expect job seekers to do their research and professionally market themselves. This includes knowing what a modern executive resume should contain and how it's formatted.
You don't need to hire a professional resume writer, though. We've done it all for you.
First, check out our sample executive resumes. Then, follow the steps in this resume guide to get writing your best resume ever.
Header and Personal Information
Executive resumes open with a header and personal info.
While this section is straightforward, it still needs close attention. It includes your name, contact details, and job title, but there's a caution.
Executive titles aren't standard and vary from company to company and one industry to another.
So you may have all the skills and experience for a specific executive role, but the titles differ. How do you overcome that on an executive resume?
Match your executive title precisely with the one on the job you're applying for. Don't use both to avoid confusion.
Ensure your name, email, and phone number details are 100% accurate, but it's unnecessary to include your address. Some people prefer to leave it off entirely or only give the state.
Your LinkedIn profile is included here, along with any other business social media links and links to your professional pages.
No doubt, the hiring team will look at your online presence, so only include links that enhance your resume.
For example, a LinkedIn profile can sabotage your application if it doesn't match your executive resume. It could simply be that you haven't updated it and aren't very active on the platform, but who'd know that?
What hiring managers see is what makes an impression.
Consequently, either update your LinkedIn profile and other social media pages if you want to include them or leave them out.
Header and Personal Information Example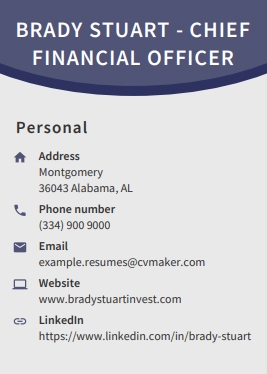 Your executive job title follows your name in the header. If you have credentials, they can be included behind your name.
How to Format this Section
The header and personal info section should be clear and concise without any unnecessary details. You want readers to know your names and job titles at a glance and how to contact you.
Most hiring team members will do some online research on shortlisted candidates. Including links to social media and websites gives you control over where they go.
Executive Resume Summary
An executive summary for resumes can make or break your job application.
It's a brief statement below the header and where recruiters go before they even look at your personal information.
They're likely to read on if the resume summary is engaging, impactful, informative, and relevant to the vacancy. Executive recruiters move on without considering your resume if it's tedious, irrelevant, and rambling.
Consider it a flashcard stating what you can do for a company and why they must interview you.
Use your upfront research to guide you when writing your resume summary. You can find news on the pages of business publications or industry-specific news portals.
If the company is undergoing change, is in crisis or is a startup aiming to scale, adapt your resume summary to suit the challenge. Also, identify related keywords from the job post.
Focus on how you can turn the tide, implement change, or fast-track growth based on your skills and experience. Specifically, tell them you can resolve their pain points and set the organization on a more successful path.
Since each business is unique and faces diverse challenges, write a new resume summary for each job you apply for.
Finally, an executive resume summary isn't a cover letter. A cover letter is written separately from executive resumes and is much longer than a summary.
If you're applying for an executive job online, it will almost certainly be scanned by an ATS. A cover letter can complicate the metrics, so don't include one.
Executive Resume Sample for an Entry Level/Beginner Executive Resume Type

See how this applicant mentions they're aspiring to an executive role in this resume summary.
Executive Resume Example for Senior Executive Resume Examples

This COO executive summary resume is a bit longer because of the applicant's extensive experience.
How to Format this Section
Limit your executive summary resume to a few sentences and no more than eighty to a hundred words.
Numbers, statistics, and currency impact more significantly than words, so use them. Don't forget to include keywords from the job ad, either.
Areas of Expertise
Place your areas of expertise between your resume summary and work experience sections.
Put it high up on your executive resume for optimal exposure as a priority section.
Areas of Expertise Example

Areas of expertise and expanded core skills.
How to Format this Section
List your areas of expertise in order of priority per the job description.
Use bullet points, and keep the wording brief and aligned with the job requirements.
Professional Work Experience
The work experience section is the most critical part of your executive resume.
It will be combed time and again by different people for various competencies. It's also the segment that will be extensively discussed by hiring managers and during interviews.
Crucially, you must write a separate resume for each individual job application; a generic approach doesn't work.
Resume writing for executives takes time if you want to win interview opportunities.
As it represents you, presenting a professional resume that's flawless in every aspect is essential at an executive level.
That said, your valuable years of work experience must still be summarized in one page without excluding essentials.
That can only be achieved by tailoring your work history, skills and accomplishments to the job post. Anything not mentioned is irrelevant and can cost you interview opportunities.
There's no need to mention all your past jobs, especially if your career spans two or three decades.
Not only is it unnecessary details, it also swallows pages and makes your resume tedious, meaning it won't get read.
For example, a marketing executive will likely have exposure to business development and sales executive in their earlier work history.
Just as each company or industry have their own job titles, they have their own jargon. However, resume examples for executives rarely use trendy terminology.
Only mirror the lingo if it's in the job ad and fits for you; otherwise, avoid catchphrases.
Personal Brand
Modern executive resumes are a personal brand catalogue of your unique professional brand.
Until you're in an interview, your executive resume is all employers have to evaluate you by.
During the interview process, it's used to compare your competencies and suitability to the job description and other job seekers.
Since your executive resume speaks for you when you're not there, your personal brand reflects your value.
Ensure the consistency of your personal brand across social media platforms, websites and your executive resume.
Professional Work Experience Example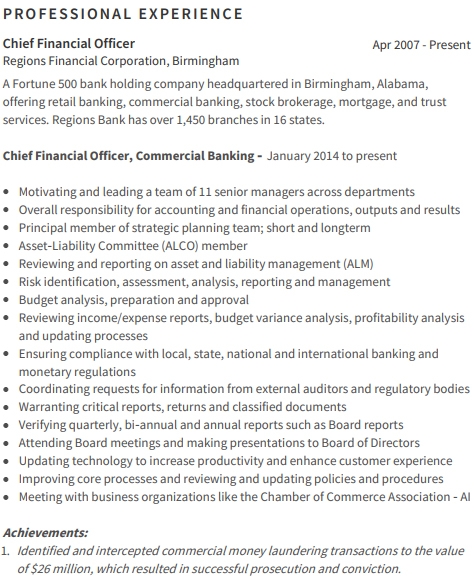 In This resume example executive skills are highlighted.
How to Format this Section
Ultimately, prospective employers want to see your value and know what you can contribute to the success of their organization.
After studying the job description, you've got a good idea of what they need. Showcase your C-level skills and competencies in a way that convinces them to interview you.
Use bullet points to break down each aspect of your work experience. Don't, however, create a single vague list of responsibilities.
Make this section more engaging and impactful by breaking it into short paragraphs with bullet points.
Approach this like an executive resume writing service. Consider the employer's viewpoint and ask yourself –
 How have you made companies more efficient, competitive and profitable?
Where did your ideas bring about positive change?
How did customers and employees benefit from your decisions?
Did you add value for other stakeholders?
Was the board of directors impressed with your contributions?
Place more critical components higher up to draw attention and never include anything irrelevant to the role.
Education, Certifications and Specializations
Although experience is the most crucial factor at the executive level, education also matters.
Most job posts include a minimum or preferred degree and essential certifications. If they're in the post, definitely have them in your executive resume.
Where no education or certifications are stipulated, show your most relevant and recent qualifications. Also, include compatible professional memberships.
Specializations will, in all likelihood, appear in the job ad. Clearly state yours using the same terms.
Education, Certifications and Specializations Example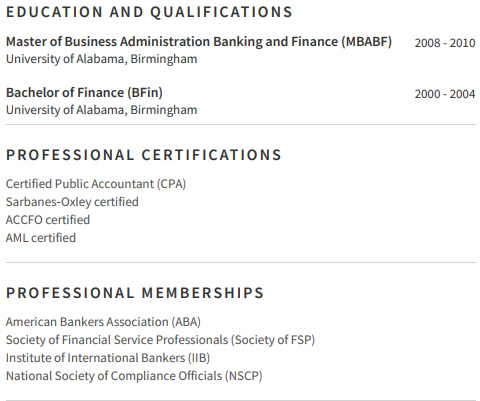 Separate each and list in date order or of importance.
How to Format this Section
Keep it clear and straightforward.
List qualifications in date order, from the most recent.
Specializations must be listed in order of priority taken from the job post.
C-Level Skills
Generally, soft skills are a priority in executive leadership roles, except for areas of expertise like Chief Technical Officer (CTO).
Again, glean the employer's skills priorities from the post, particularly for hard skills.
Typical C-level soft skill requirements include –
Regulatory compliance
Lean management
Policy development
Risk evaluation
Strategic planning
C-Level Skills Example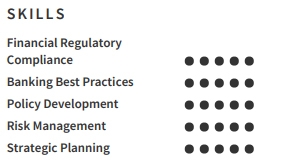 C-level skills aren't typical hard and soft skills but rather management competencies.
How to Format this Section
List skills in order of importance and rate them for easy analysis.
Keep the wording short, concise and in line with the job requirements.
References
References aren't included on executive resumes.
At this level, it's accepted that you have references and will provide them when asked.
You can either omit this section or opt for "available on request".
References Example

As in this resume example executive job applicants prefer to select "available on request".
Related Resume Templates
Job titles vary between organizations, as do executive resume templates.
Browsing through executive templates gives you a good idea of what you want and don't. Your executive resume reflects your personal brand, after all.
For instance, vice president responsibilities in one concern may be those of a chief executive officer in another.
Alternatively, you might be carving a path toward chief information officer, chief executive officer or a different top executive role.
In that case, management resume templates will suit you better. Take a look at these –
Final Points on Writing Great Ex Resumes
To excel at writing executive resumes takes time, thought, and dedication to get it done perfectly.
While you can hire a professional resume writer, a resume builder gets the job done correctly and gives you control.
An excellent benefit of a resume builder is templates are continuously updated to be at the cutting-edge of hiring trends.
You can choose which resume template for executives suits your style and needs and ensure nothing's lost in translation.
Keep these vital points in mind when crafting your professional resume –
Target each vacancy individually
Build authority by researching companies
Extract keywords from each job post
Take time selecting your resume info
Craft a compelling executive resume summary
Back the summary up in the work experience section
Stick to a three to five-page resume
Ensure impactful info is in the top third of your resume
Use clear and concise wording to make it reader-friendly
Include numbers and statistics for impact
Use action verbs and positive language to keep it engaging
Weave your personal brand throughout your resume
Submit your resume in pdf format