Office Manager Resume Example, Template & Writing Tips 2023
At the heart of the business, operational efficiency is the passionate office managers who handle many day-to-day tasks. Whether they serve in construction, manufacturing, or professional industries, these multitasking experts must have a diverse portfolio of experience and skills to manage the business effectively. But before they take the helm – they need to be hired, which begins by writing an engaging office manager resume.

Most office manager positions are obtained in-house, with current employees receiving an opportunity to apply for the job. However, there are also office manager jobs posted with recruiting firms. Either way, you'll need high-quality and convincing office manager resumes attached to a cover letter to help guide the hiring process.
Many future office executives ponder how an office manager skills resume should be written, structured, and formatted for success? Are there specific terms that should be included in the office manager resume objective? Is it a good idea to read the office manager job description for resume submissions before starting the process? Finally, are there differences between writing a medical office manager resume vs. another industry?
These are a few of the questions we'll explore and answer in the information below.
Office Manager Resume Sample
Sometimes the best way to start a project is to review an example of what today's hiring managers are looking for. Our team of professional resume writers will help you out by offering this office administrator office manager resume example.
The office manager resume examples posted below is a mythical one for our candidate Elizabeth. As you can see, Elizabeth has plenty of practical experience and has applied for an office manager position at a construction company in Dallas, Texas.
As you read the resume, pay close attention to the layout, the tone of her writing, and some of the critical action verbs (or office manager skills resume inclusions) that hiring managers (and software) will pay attention to when selecting candidates for interviews.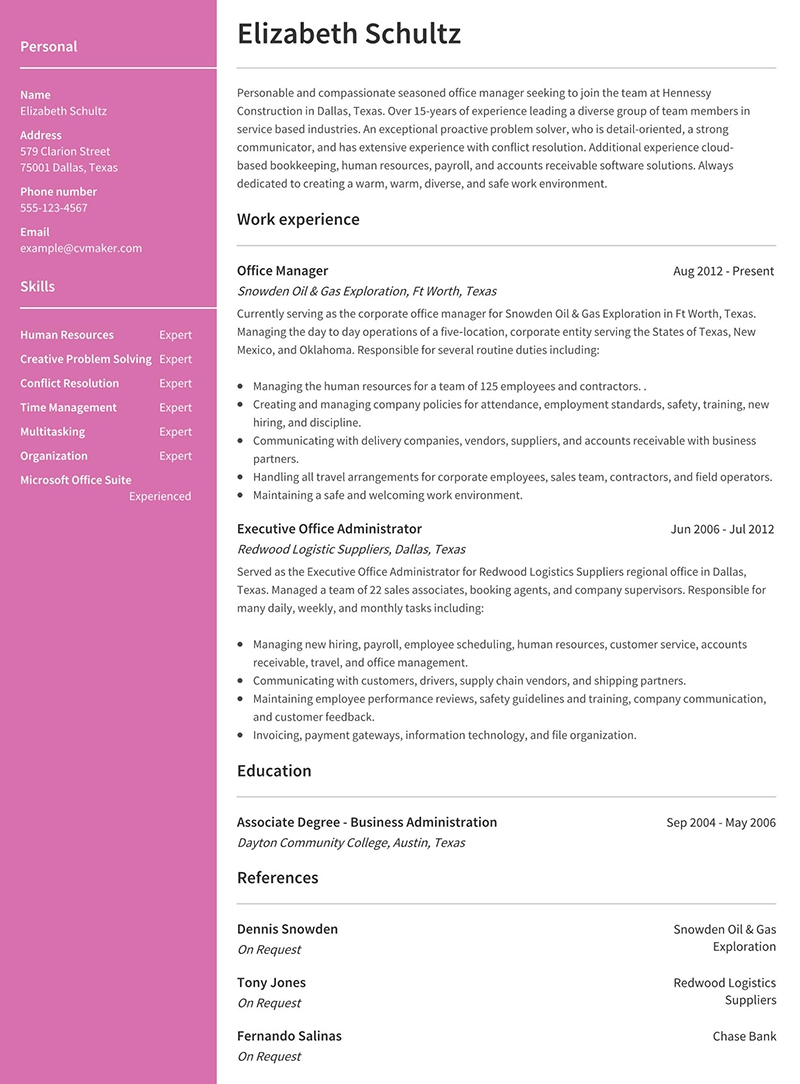 The best resumes flow from start to finish, telling a story as to why the candidate is the best person for that specific job. When you review Elizabeth's resume, it's clear that she has taken the time to customize the resume for this application.
In the office manager resume objective section, she mentions the intent to join the team at Hennessy Construction – which is the position she is applying for in Dallas. As you continue into her work history section, you'll notice that she's selected her two most-recent office manager jobs. She also mentions a few critical accomplishments and tasks to prove she has the practical experience to serve in this capacity.
Further in the resume, you'll notice she has listed her highest level of education, provided a few references (including two from her recent jobs), and the skills that will permit her to thrive as an office manager.
If you pay close attention, you'll notice this resume for office manager positions is grammatically clean, free of spelling errors, and has the same font throughout. This resume was completed using an office manager resume template, making it easy for Elizabeth to copy and paste the content once it had been edited.
How to Write a Good Resume for Office Manager in 2023: Full Guide to Office Manager Resumes
Every great project starts with a plan of attack. The same thing applies to writing an office manager resume. While experts wrote this sample resume for an office manager, you can achieve similar results – if you stick to the plan. Using a master resume to create your content is a great idea.
A master resume is essentially a working document – where you can create your major sections, insert relevant content, organize the structure and layout, and edit everything. When everything has been fine-tuned, it's easier to paste the content into a resume builder. Using this master resume will significantly improve the quality of work, reduce mistakes, and produce a high-quality finished office management resume.
Here are a few recommended sections that we think should be included in any administrative assistant resume.
Personal Contact Information: There is no need to overthink this section. Simple is best. Just write your full legal name, complete mailing address, email address, and mobile phone number.
Professional Summary: The office manager resume objective or professional summary is your chance to pitch your application in a single paragraph. We'll explain more in the section below.
Work History: An office manager needs to showcase leadership, organization, multitasking, and problem-solving skills. Your relevant work history can assist.
Education: This is another section not to overthink. Document your highest level of completed education.
Skills: It's a good idea to list five to seven management skills in bullet point format. Pick ones that apply to office management, such as experience in multitasking, human resources, leadership, payroll processing, and conflict management.
References: An office manager needs to have a proven track record of solving problems. Using references who can provide practical examples can help you hurdle other candidates.
The following sections below will help you build out the content for each.
Section #1 – List Your Contact Information
The contact information for a business office manager resume will lead off. As stated above, an office manager needs to be a leader – and showcase fantastic attention to detail. This begins with the first item on your resume listing accurate contact information. If you're going to apply for an office manager position, you need to make it easy for hiring managers or recruiters to contact you.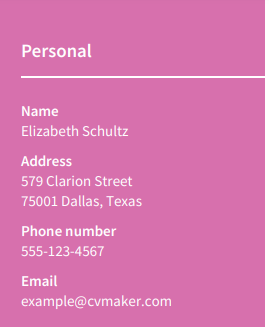 As such, we strongly recommend adding your accurate contact information to the resume. This would include your full professional name, the complete mailing address – including city, state, and zip code, your email address (preferably one specifically for personal/professional communication), and your mobile phone number.
Also – make sure that your email displayed on the resume is connected to your mobile device and that you have SMS text accessibility. The reason is simple – many recruiters use automated email and SMS text verification – to set up interviews. If you can't reply quickly to these inquiries, you may skip those who provide this quick action.
How to Format this Section
Using a resume builder or template will help you format the contact information. Regardless of which template you use, it's best to have your personal contact information on the top left-hand corner or top of the resume – in the middle of the page. This makes it easy for hiring managers to locate – and looks clean, neat, and organized.
Section #2 – Professional Summary 
Imagine if you had an opportunity to sell yourself as an engaging and articulate office manager – before they speak to you. A professionally written resume summary can accomplish this lofty goal. The office manager resume summary is the second section of your office manager resume – but likely the most critical. The summary introduces your experience, hard and soft skills, and those vital interpersonal skills crucial for the best office managers to possess.

Any office manager resume needs to mention a few critical action verbs – such as being a problem solver, proactive, detail-oriented, and having strong experience with conflict resolution. They may also complete bookkeeping, provide administrative support, or be responsible for implementing safety policies.
Our candidate Elizabeth has mentioned several of these skills in her summary, as you can see by the example above. If you're applying for a specific industry position - such as writing a resume for dental office manager jobs, you'll want to include specific training or certifications you've obtained in this section.
How to Format this Section
The sample resume section above shows you exactly how to format the summary. The summary should be written as you speak during an interview – with a professional yet conversational tone. It should be around 200 to 250 words or four or five complete sentences.
Section #3 – Work History
When you are applying for an office manager position, it's critical to read the office manager job description for resume applications before starting the project. Depending on the position, your future employer may give you a roadmap for what they are looking for you to add to this section.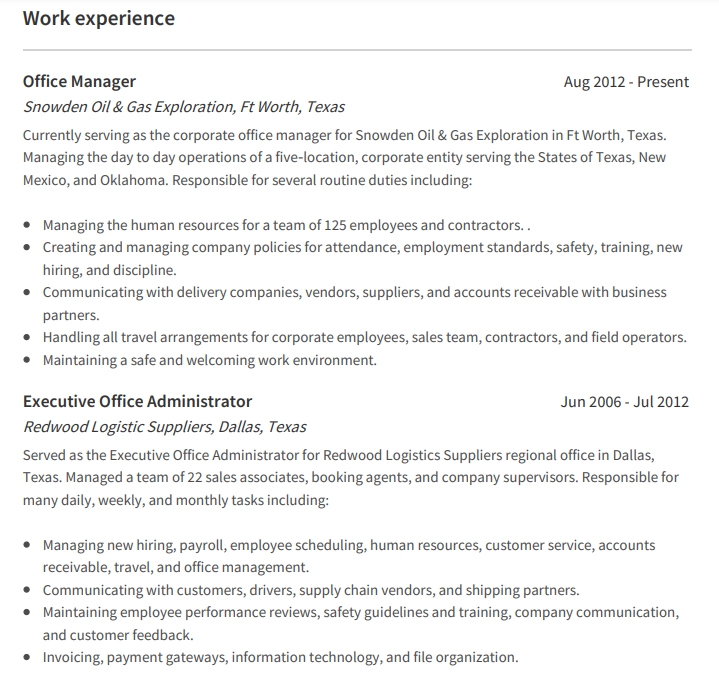 For example, in Elizabeth's sample resume, you'll notice that she has listed two previous jobs – one as an office manager for an oil exploration company – and the other for a logistics business. While she has been an office manager for more than 15 years, she chose these two jobs – as they are the closest to the construction firm she is hoping to join.
After listing the job details in the work experience section, she mentioned four to five essential tasks, which are likely listed in the job posting as part of the office manager's daily responsibilities. That's the key to having your resume stand out – by inserting information or practical examples that are relevant to the job you seek.
How to Format this Section
As noted above, the work history section should be formatted as displayed in the sample image. List the company name, location, and dates of employment. Always start by listing your most recent position, followed by previous jobs. It's a good idea to read the job description in the posting to determine how many previous jobs they are looking to see.
Bonus tip: For an office manager position, make sure to list the same jobs on your resume listed on your employment application. Consistency is CRUCIAL for these positions, so prove it with your resume. Also, include some keywords in the job responsibilities - as modern applicant tracking system programs search for these terms.
Section #4 – Education
Several office manager positions will require a college degree in business administration – or relevant experience. This can be unclear to several job search candidates as to how to determine the ratio of education to practical experience. The good news is that this is irrelevant to your resume – especially the education section.

As you can see in Elizabeth's example above, she lists her highest education completed. In her instance, she earned an Associate Degree from a community college in Dallas. Whether or not this is enough to earn the position is irrelevant – it's factual and shows integrity. There is no need to list current enrollment in higher education – unless the future employer requests it.
How to Format This Section
Another example of simplicity is showcased in the resume format of the education. It's best to list the basics – such as the school's name, its location, the dates of attendance, and any degree earned.
You'll notice on some sample resumes that education sections will include some key accomplishments, but this is typically for professional degree positions – such as doctors or attorneys. There is no need for that information for an office manager – unless directed by the employer.
Section #5– References
There are two types of references used for candidates for an office manager position. A professional connection is a previous manager or someone who has worked with you directly. When you review Elizabeth's sample resume, you might notice that the references she selected were direct managers she worked within the previous jobs listed above.

If you're applying for your first office operations manager position with the company you are currently employed as an office assistant, using your current manager as a reference is not always the best idea. The purpose of a professional reference is for a third-party - not related to the business, to provide support to your application.
The professional reference should be able to speak to your communication skills, experience with filing systems, inventory management programs, organizational skills, training new employees, and overseeing office functions completed by office staff and other staff members.
For personal reference, it's best to select an individual who has served as a mentor. Many office manager candidates will choose a previous office manager they have worked or learned from or a family or friend who has provided guidance or advice in the past.
This reference should testify about your character, personality, and ability to lead people. They can speak to your time management skills, courteous nature, and other interpersonal skills.
How to Format This Section
Best practices for writing a perfect resume suggest keeping the reference section private and straightforward. While it's crucial to verify that your reference contact information is updated and accurate, you don't want to list it on any resume. That's their private information. Follow the format in the sample image above – by writing the name, place of employment, and the phrase "available upon request."
Section #6 – Skills
An office manager is generally responsible for the day-to-day operations of a working business. They manage employees' payroll, order supplies, write or manage schedules, set appointments, and handle event and travel planning. These hard-working people should have years of experience, be exceptional communicators, multitask, handle crisis situations, be great problem solver, and have an uncanny ability to organize.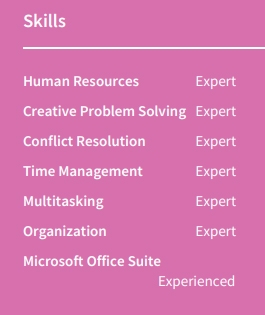 These are some of the skills that should be listed on your resume. In Elizabeth's sample resume, you'll notice that she mentions many of these hard skills on her resume. She's used a resume builder to format the skills in a simple to review bullet point format, with a level of skill attached.
How to Format This Section
There are two locations to list your skills – at the bottom of the resume or the sidebar. Regardless of which one you select, the key is to keep it simple. Mention the skills you possess that will help you accelerate as an office manager, such as those shown on the sample resume posted above.
Other Related Resume Templates
It's always a good idea to complete some research before writing your office manager or administrator resume. While the article above provides detailed information and steps, many people learn by reviewing practical samples of similar careers. We have assembled a group of related resume templates that you can read – to gain some insight or ideas that can be infused into your finished resume.
Final Points on Writing Office Administrator & Office Manager Resumes
The best office managers have something in common – they are incredibly detail-oriented. Managing multiple departments, employees, and tasks requires prioritizing, multitasking, and maintaining a positive attitude daily. If you're applying for this position, your resume needs to drive home the message that you possess these skills.
We've broken down each of the sections you need to include in an office manager resume in the information above. However, it's essential to customize your resume for a specific job. For example, if you are asked for certifications for particular technology or tasks, you need to list this in a dedicated certifications section. If this applies to your job, this should be posted below your work history and above education.
Here are some essential items to remember for those who prefer some bullet points.
The resume needs to flow from start to finish. Take time and fine-tune the content to ensure it reads easy.
Always write your resume on a plain white background with black font.
Edit the document SEVERAL TIMES. Using Grammarly.com is a great tool.
Ensure its well-spaced, organized, and professional.
Finally, read it aloud a few times before you're ready to paste the content into a template if you choose to use one.
Writing an office manager resume is simple – creating one that will engage the reader is where many job candidates struggle. The tips above will save you a lot of time and frustration and give you a better chance of gaining that valuable interview. While the way you structure and write a resume can help – the content and your ability to sell yourself is just as critical. Make sure to take your time, have peers review, and make sure it's perfect before submitting applications.