Food Service Resume: Example, Template & Writing Guide for 2023
Whenever you check out a job description for a fantastic position in the food industry, the truth is that hundreds of others are also looking at it. Hiring managers have their choice of applicants, so you really need to wow them with your food service resume.
It's more than proving you can offer great customer satisfaction; you need to prove you're better than even the most experienced person shooting in an application.
Wondering how you can possibly do that? First, you have to show what you can do. If you have experience with a cash register, multitasking, and food preparation, that's a great place to start. But you need to ensure that all those things are presented on a resume that managers want to keep looking at.
It doesn't matter if you have years of experience if nobody takes a look at your resume.
In this guide, you'll find resume samples that help you create your own. You'll also learn how to build a food service resume whether you have experience or not. We'll share examples and tips on how to build each section of the resume. By the time you finish reading, you'll be able to turn in a perfect resume that even the pickiest manager will love.
Resume Examples for Food Service
One of the best ways to create a food service resume is through the use of a resume sample for a food service worker. Taking in several samples is even better because you can see what works and what doesn't. Getting insight into various formats and designs can help you choose what you want your resume to look for.
In the sample resume for food service posted below, you can see how things are set up and imagine your own information included. Take a look and imagine your own skills, like POS systems, food safety, and time management, added in and emblazoned on this document. You'll realize this is exactly what a recruiter wants to see, which puts you a step ahead.
In addition to the image below, we'll share food service resume examples across the rest of this guide. This will give you insight into what each section looks like when you're finished if you follow the tips in this guide. You can delve into each part of the resume, the formatting to use, and how to put things together to create a food service resume to be proud of.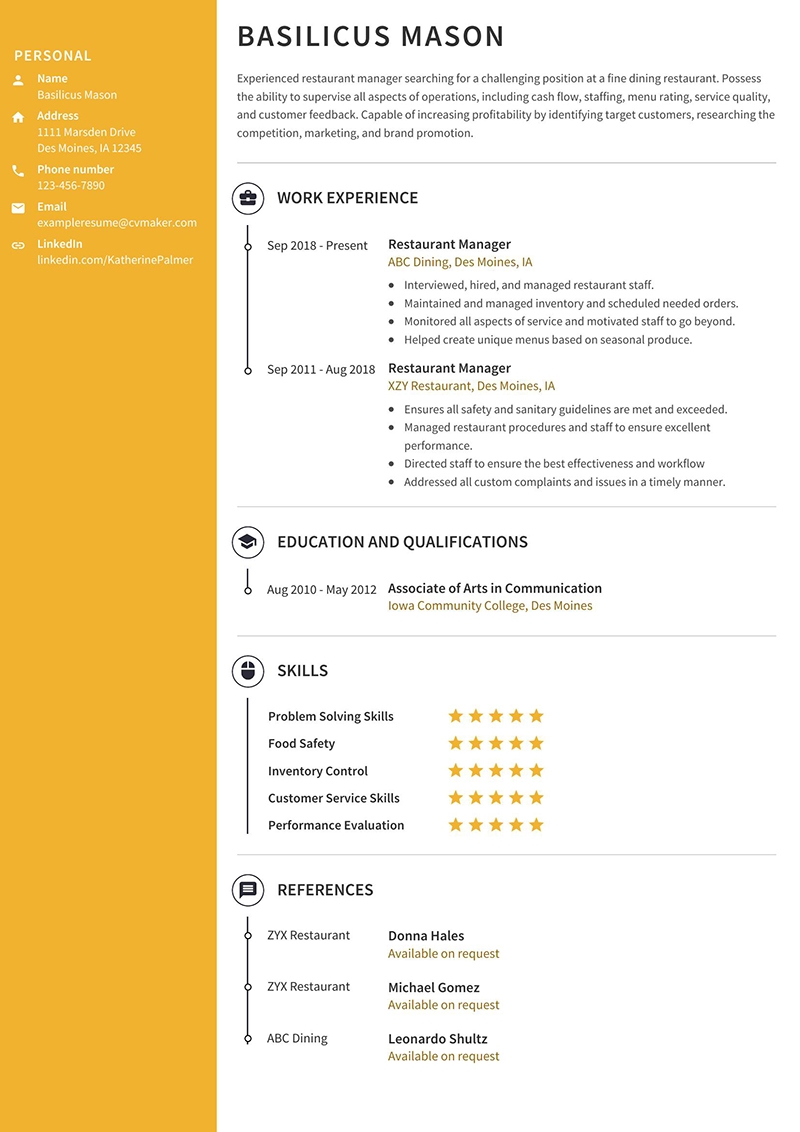 Download This Resume Example - Food Service
How to Write a Resume for Food Service Worker in 2023: Full Guide to Successful Food Service Resumes
When you start to create a food service worker resume, make sure you have the job description nearby so you can look over it as needed. While you've likely read it top to bottom and left to right already, you may need it to craft the ideal resume for the service industry. Most job descriptions will list wanted skills and accomplishments and you want to make sure you include those if applicable.
Keywords are essential on any resume of a food service worker. Not only will the hiring manager want to see them, but they may not make it to the boss's desk without them. Applicant tracking systems (ATS) are often used to look over resumes to see if you're a good fit before a human ever has the chance to see the document.
As such, a food service job description resume is what you are going for. The important keywords you pull out should be used throughout the resume. However, you want to be sure you do this in a way that makes the resume easy to read, rather than just placing them anywhere you like.
Throughout the rest of this guide, we'll go through each of the sections for a food service resume. There will be personal information, a resume objective, and professional experience. Then, we'll look at education, skills, and references. After that, the resume will be done, and you can focus all your attention on the rest of the application and the cover letter.
Section #1: Personal Information
The best resume for food service jobs is going to show you have excellent customer service and teamwork skills. It might even delve into the restaurant management experience you have. However, when starting a resume, you can keep things simple. Adding in your personal information is important, and it can get you motivated to work through the rest of your resume. This is basic data like your name, address, and how to contact you.
Personal Information Example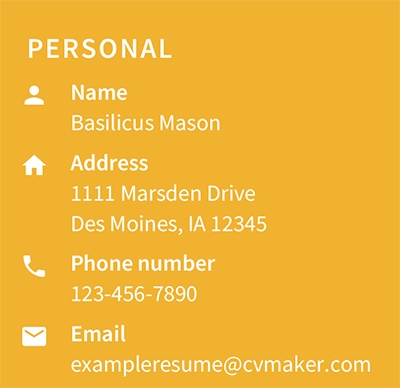 It's essential as job seekers to let a manager know how to reach you. If you forget this section of the resume, nobody is going to be able to email or call you about further steps. Since the point of the resume is to try to get a great job, make sure this is done right.
You can see a basic personal information example above, so you get an idea of what it looks like. In this case, you see the applicant's name, address, phone number, and email address. Phone numbers and email addresses are the most common points of contact, but you can use other types. Just make sure you include two.
How to Format This Section
The main formatting point for this section is to make things legible and easy to read. You want it to be apparent what your name is and simple to contact you if a manager wants to know more. Use a traditional font and make sure it's large enough to read easily. In most cases, you'll want to make the name stand out and include it as the heading with the other information underneath.
If you are asked to include other personal information, like a LinkedIn profile, this is also the spot to include it. However, other info isn't needed unless the employee explicitly asks for it. That's pretty uncommon in food service positions.
Section #2: Resume Objective
After you get the personal information done, you can move on to the food service resume objective. You can start talking here about how you're adept at hard skills and soft skills like communication skills and safe food handling. The idea here is to show your biggest accomplishments and draw attention to your top skills. However, it isn't just about showing how great you are – you need to show what you can do in a few words.
The resume objective is often what causes a hiring manager to keep reading, so it needs to be good. It also needs to be short, so you want to pack a punch to bring attention to yourself, so the rest of the resume is read.
Resume Objective for Fresh Grad Food Service Resumes

As someone who is entry-level, you'll have different skills and abilities than someone who has been working in the industry for many years. Take a look at food service resume summary examples like the one above to get an idea of what you want to go for. Even if you have no work experience, you can use education, volunteering, and other things you've done to highlight how you'd be a great employee.
Resume Objective for an Experienced Resume for Food Industry

Whether you're a food service manager or someone who has been in a kitchen for decades, you'll have plenty to add to your resume objective. Look into your biggest achievements and quantify them whenever possible. While someone just going into the industry might have trouble finding enough to say, the opposite might be true for you. Consider what accomplishments correspond to job description keywords and keep it short.
How to Format This Section
Whether you've worked in a high-volume kitchen or dining room, or it will be your first time, the format here remains the same. Focus on top skills in food service but make sure they pertain to the experience you have had. Add in the achievements that you are most proud of and give insight into what kind of worker you are. While crafting your resume objective, keep in mind that it should be no more than four sentences.
Section #3: Professional Work Experience
The experience section is next up, and it gives you the space to talk about what you've done in past jobs. Food service experience is good to include but for those who do not have it, add in other positions. The important thing is to show you have some of the needed skills for a job like this one. For example, you can add that you have customer service skills, food prep abilities, and interpersonal skills.
Professional Work Experience Example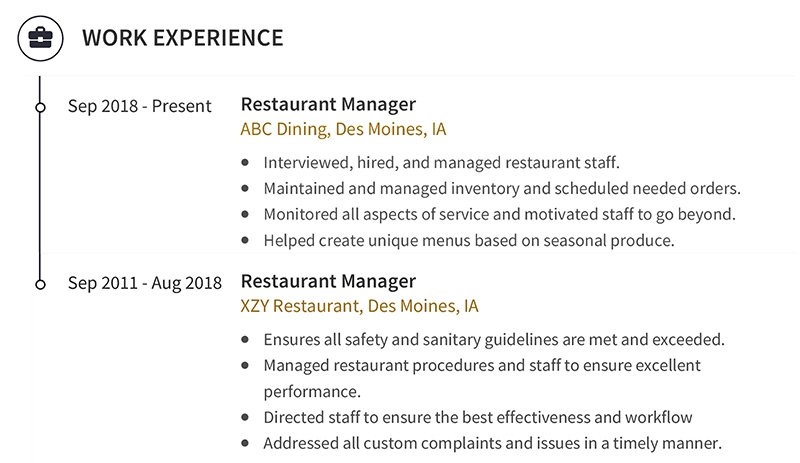 Above, you can see an example of work history to get an idea of what it should look like. The example focuses on restaurant management experiences but adds in whatever food service jobs you've had. For those without food service experience, include other experience and then expand on it with what you did, especially as it relates to the position you want to get.
Creating a food service worker job description resume is ideal since you'll weave in skills and keywords mentioned in the job ad. Start with your most recent job and then go back through time. The only exception is for new grads, who might want to create a functional resume format that focuses on skills and education instead.
How to Format This Section
As you see in the image above, the header of each job should have where you worked, when you worked there, and what your job title was. Beyond that, you can add information about your responsibilities, focusing on achievements as much as possible.
A blurb can be placed under the header, but it doesn't have to be. Many choose to focus solely on bullet points, like in our example. Regardless of the exact format, make sure it's clean and easy to read. A long paragraph should be avoided since it can take longer to read and take in for the hiring manager.
Section #4: Education
After you finish up your experience, you can move on to the education section. This is an important section for any resume, even a food service resume. However, many restaurants and other locations don't require a high level of education. Experience tends to be more important. However, this is where you include details on your high school diploma, college degrees, and certifications.
For those who do have a degree, you don't need to include information about high school. However, regardless of your level of education, if you have certifications, those should be included if relevant to the position you're applying for.
Education Example

In this example, the applicant has an associate degree, so that's listed. Since that's a higher degree than high school, there's no need to list that education. You can see the details included here, such as the degree type, the institution it came from, and when the degree was completed. In most cases, this is all the information you will need to include.
If you have several degrees or certificates, add them all. Use a reverse-chronological format where you put the most recent degree and then go back in time.
How to Format This Section
A professional resume needs to look great, and formatting is part of that. Thankfully, the formatting here is simple. If you use a template, just add in your information and save it. If not, you can see it's similar to a job listed in the section you just did. A header is used along with any additional information you want to include. However, the basics are all that are required.
For those who are just out of school, you may wish to include your GPA, honors, or other information if you have little to no work experience. That's fine to include, but it isn't mandatory. Those with experience don't need to focus on that.
Section #5: Skills
As we get toward the end of the document, we need to look at resume skills for food service. The skills section is where you can include anything you do well that wasn't already included so far. The food services skills for a resume are a good way to weave in extra keywords listed in the job description.
However, food service resume skills should be a short list. Adding a huge number makes it unlikely someone is going to read them all. It might also seem as if you're just adding skills to look good for the job when you may or may not be proficient in each thing you list. Think about what you're the best at that matters on the job, and let that guide what you add.
Skills Example

The example above gives an idea of what you might include in your own skills section. However, it will vary based on what you have done and excelled at. If you aren't sure what to add, brainstorm all the things you've done at past jobs. Then compare that to the items on the job description. You'll likely have more skills than you expect that you can add to your resume.
How to Format This Section
The best resume for food service will always have a skills section. However, the way you format it is also going to be important. You can do something similar to the example above or go with a different format. However, you should make sure it stands out and is clearly a list. A paragraph isn't the best way to put this section together.
The skills can either be included on a sidebar or the main part of the food service resume. The latter may be best if you have a lot of other information to include. On the other hand, those without a lot of experience can remove extra space by putting it in the main body. Beyond adding the skills, make sure you also show how proficient you are at them in some way.
Section #6: References
The last section to work with is the references section. This is important to recruiters, so you want to be sure you include it. It might not be a place where you show off your fast food, cooking, or hostess skills, but it does show that you can work with others.  The references section demonstrates that others are aware of what you can do and willing to tell others about it.
References Example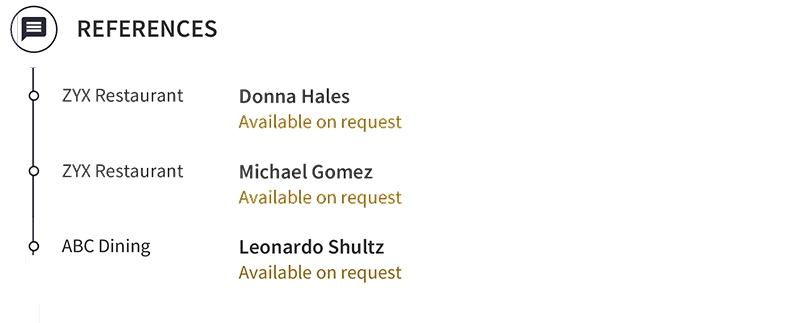 The reference example above gives insight into what a hiring manager expects to see. The applicant has three references listed. It shows who they are and what organization they are a part of. While the references included here are all from past jobs, that isn't necessary. If you prefer, add in teachers, people from the neighborhood, or others who know the kind of person you are.
While three references are the most common option, you can include up to five. However, try not to add so many that it makes your resume take up an extra sheet of paper. Most food service resumes will be one page, although two is allowable in some cases. If possible, select your references from different companies to show you can handle working with anyone.
How to Format This Section
When you create a list of team members and managers for references, the format is simple. You want to be sure you add the name of the person, where they work, and their contact information. However, the contact info doesn't have to be included from the start. To keep the privacy of those on the references list, consider leaving "available on request" instead of the email and phone number.
When the hiring manager wants to reach out to your references, they will contact you. This is great since it retains the privacy of the people who are references, and it gives you an update that the manager wants to speak to them. Make sure all references are aware they are on your list for the best results.
Related Resume Templates
Food service resume templates can make the process of building a resume much easier. There's no need to format a resume in Google Docs or Microsoft Word. The majority of the formatting is done for you. All you need to do is include your information, download the resume, and send it on to the company with the job you are interested in.
The resume template included in this guide is a good choice. However, there are others you can use. Even if they aren't explicitly for food service resumes, you can alter the contents and use them without a problem. A few of our favorites are listed below.
·       Retail Sales Associate Resume
·       Administrative Assistant Resume
Take a look at various templates to find the one that works for you. Add your info, check for grammar issues and typos, and download to send into the job that you want to get. It's an easy process that will streamline the application process.
Final Points on Writing an Effective Food Service Industry Resume
You know, have all the knowledge you need to create the ultimate food service resume. Use the template above, or one of the others on our site, to ensure everything looks great and is in the correct position. Add in your information, check for typos and grammar issues, and move through each section.
As you go, make sure you add food service skills, but also weave in interpersonal and customer service skills. Education and skills will pull it all together. References are the final piece to show you have the abilities needed to do a great job in front or back of the house. All you need to do now is get the resume together and apply for the job you want!