Finance Resume Sample, Job Description & Writing Guide for 2023
The main goal of creating an excellent finance resume is to show off your skills and get an interview. Maybe you've been looking for the perfect position, searching for job ads every night, and you've finally come across a position that could change your life. Anything but a perfect resume could leave you in the dust while someone else gets the role.
We're here to help you ensure that doesn't happen. While a resume is a short professional document that rarely spans more than two pages, it can have a huge impact on your future. Placing the right information, having a great format, and answering a hiring manager's questions are all great ways to show you'd be an excellent employee.
Whether you've never made a resume or have created dozens of them in the past, we have tips and examples that are sure to streamline your process. This guide will walk you through the must-haves and what to avoid when creating a finance resume. Follow our advice to create a resume that shines.
Finance resume writing guide: Where to start?
You know you want to get a great finance job. Maybe you're excited about having better pay, fantastic benefits, and a good work-life balance. The only way that is going to happen is with an excellent finance resume. One of the best things you can do is to research the job position and the company before starting. From there, two stages of writing will serve you well.
Master resume for finance
The first stage of creating a resume is to build a master resume (or pull yours up if you already have one.) What is a master resume? It's a document that holds information about your education, experience, training, certifications, skills, and everything else that might pertain to a job you want. The idea is to put all the information in one place so you can use it moving forward.
When you have a master resume to work with, all your info is in one place. Even things that might seem outdated or irrelevant can be saved here in case you need them in the future. This can be a huge benefit when you need to think back to years past and aren't sure you have the right information.
As you spend longer in the working world, it can be nearly impossible to remember all the projects you were a part of or which tasks you did in positions in the past. This is why we recommend creating a master resume to hold all this information. You can use pencil and paper or make a document on your phone or computer. Keep track of new tasks, achievements, and skills, even if they aren't in your typical job scope.
Job-specific resume for finance
The master resume is mainly to note all the things you might forget. It isn't the final document that you send out to a potential employer. You can take a look at finance resume examples to get an idea of what we mean. The resume you send in with an application should be tailored to the position you want to get. This means doing some research on the company and job to ensure you use the right skills and keywords.
It might seem that making a job-specific resume takes too much time, but it's well worth it when you consider the benefits. A tailored, well-written resume will show off all the things that make you worthy of a job. Keep in mind that this job-specific finance resume should be no more than one to two pages depending on your level of experience.
Not sure where to start when building a customized resume? Dig into research about the company's work environment, culture, clients, and values. You'll gain insight that can be used in the resume as well as any interviews that are in your future. When you look at a company's website and social media, you'll learn more about what they're all about.
Finance resume example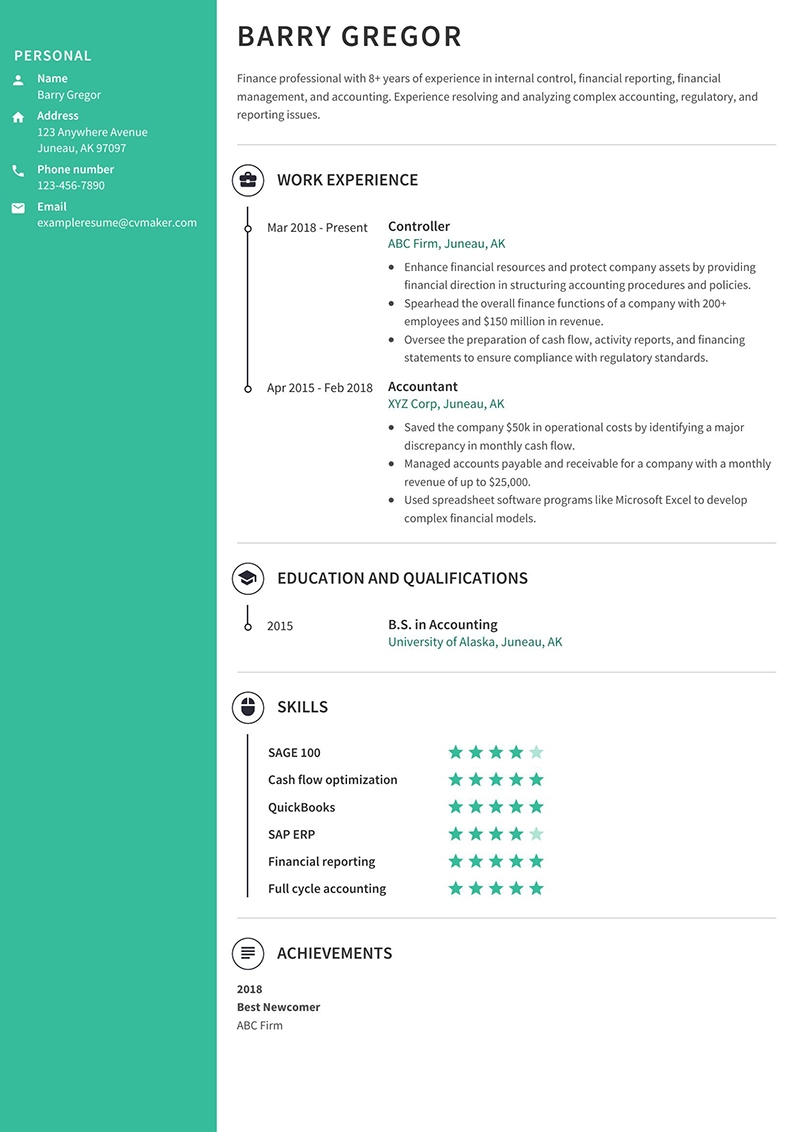 Download this resume example - Finance Resume
In this financial resume sample, Barry is looking to move up in the ranks with a new financial position. This resume has a short but well-crafted resume objective at the top to gain interest right away. His contact information is easy to read and he shares important details about past experience. The resume also includes education, skills, and achievements to allow Barry to stand out from the pack.

What to include in a finance resume? Writing tips and examples
As with any professional document, some sections are mandatory while several others are optional. First, make sure to include your contact information, experience, education, and skills. Adding a resume objective is the next step to take. From there, consider which information is the most important and add it to fill the page.
How to write a resume objective on a finance resume?
A resume objective, also known as a personal profile or resume summary, is a short section at the top of the resume that shares your biggest accomplishments and where you want to go in your career. While you build a resume objective, you should consider what things you're most proud of that are relevant to the new position. When possible, use action verbs and numbers to quantify what you've been able to achieve in the past.
Resume objective examples
Below are a few examples of finance resume objectives for people with different levels of experience and differing desires in roles. You can take a look at each of them to get an idea of how you might want to build your own resume objective.
Bank teller example
Customer-oriented professional with three years of experience in fast-paced, high-pressure customer-facing work environments in the retail sales industry. Offering outstanding communication and critical thinking skills to address complaints and resolve client issues.
Financial analyst example
Highly energetic, team-spirited, and astute financial analyst graduate seeking a position to meet and exceed the organization's objectives and goals. Well-versed working independently or as part of a cross-functional team. Capable of communicating effectively across all levels of an organization.
Financial advisor example
Strategic financial advisor with a master's in finance and business management offers 6 years of experience in financial reporting and analysis to support process improvement initiatives. Seeking to drive company growth through strategic financial planning at a fast-paced business.
Skills to list on a finance resume
Now that you've crafted a resume objective, let's talk about skills. It's important to have finance resume skills that match the position you want to acquire. However, it's not always simple to decide which skills to add and which to skip. It doesn't help that you largely want to make this decision based on a specific job advertisement.
When you're choosing skills for a finance resume, it's useful to add both soft and hard skills. Choose things you are good at that match up to what the hiring manager desires from a new employee. Below are a few examples to get you started brainstorming the best options.
Hard skills
·       Cash flow management
·       Computer skills
·       Budgeting abilities
·       Ability to create financial statements or models
·       Economic foresight
·       Data management
·       Research skills
·       Fraud awareness
·       Economics
·       Data mining
Soft skills
·       Communication skills
·       Negotiation skills
·       Influence skills
·       Critical thinking
·       Flexibility
·       Resilience
·       Collaboration
·       Problem-solving skills
·       Dedication
·       Empathy
How to write work experience on a finance resume
When you're crafting a curriculum vitae for a financial position, work experience is an important part of the document. This section is largely designed to talk about relevant positions you've held in the past, leaning into what you learned and achieved, how you applied knowledge, and what your everyday duties were.
Many people assume a resume should contain all of their work experience from the past. This isn't true. You only need to add in experiences that are relevant to the position you'd like to get. This is how you show off your skills and competencies for things similar to what the job requires.
This section is one of the largest on the finance resume and it needs to be laid out to be attractive but easy to read. A header should start each position. This can have information about the role you had, what company you worked for, where the business was located, and the dates you were there. Underneath, you can add bullet points that go into detail about your achievements and duties.
Those who are going to use a reverse-chronological format should start with the most recent relevant job. Once you finish the details, move to the next more recent one, and continue that way until you have all the information on the page. Those with less experience can add in things like freelancing experiences, volunteer work, and internships.
How to list education on a finance resume
The best finance resumes are going to focus on skills and experience, but that doesn't mean you can count out education. For most people, this section is a short one that lists out your degrees. However, people with a lack of experience may choose to include additional information. You'll want to post this section under your work experience and continue to include keywords you find in the job advertisement.
If you have only a high school diploma, that should be included under education. However, anyone who has a degree can take out high school information. On the other hand, if you have two or more degrees, you want to add them all to the finance resume. Put these in reverse chronological order as you did for your work experience.
The information that should be there includes the degree and institution where you acquired it. Most will also want to add the date when the degree was procured. The main exception is if it has been 10 years or more since that time. Starting dates aren't needed for the education section.
As for those with less experience, you can bulk up your education section to show you're a great candidate for the job. For instance, you might include your GPA, talk about some of the most relevant classes, and share any awards you have received while in university.
Are you ready to take all this information and use it for a great finance resume? Check out our templates. Choose the one you like the most and craft a resume in minutes.
Key takeaways
Now that you have the tips and examples above, you are well on your way to creating an exceptional finance resume. Knowing what sections to include, how to tailor the document, and what a hiring manager wants to see will go a long way toward getting you an interview. Use the knowledge above to create a well-structured, amazing finance resume.
Finance resume tips:
As you craft financial services resumes, you want to be sure everything is perfect before you apply for a job. Below are a few quick tips to use after writing your resume before you move through the rest of the job application process.
·       Make sure that you've included all mandatory sections, including contact information, a resume objective, employment history, education, and skills. Check for any errors before you move forward.
·       Look over the resume for anything that might be unprofessional or hard to understand. Make edits to ensure there's nothing that will keep someone from reading the entire document.
·       Keep things concise and simple. You want your resume to flow and be a breeze to read from start to finish.
·       If there are any sections with false information or things you cannot back up, it's better to take them out. Anything in the resume is fair game to talk about if you get an interview.
·       Before you turn in the resume and cover letter, read them once more. Consider using a tool like Grammarly to pick up on any spelling or grammar issues that you may not notice on your own.
Next steps?
Do you need a little bit of extra help with your finance resumes? There's no reason you have to handle the entire process on your own. When you need an impressive resume made by an expert with years of experience, you can contact us. We offer resume writing services that include a tailor-made resume, your choice of template, keyword optimization, and more. Check out the options and make certain your resume is as outstanding as it can be.
FAQs
What should a finance resume look like?
The main goal of a finance resume is to procure employment. As such, you want your resume to look very professional. It's important to avoid any errors and mistakes that might make you seem competent as an employee. For a streamlined and stylish look, consider using a resume template for a finance position.
While resumes are fairly short, that doesn't mean every inch of the page needs to be filled with text. Make sure to include a bit of white space and limit the number of colors and fonts you use. This makes the resume easy to read and could lead to you being called in for an interview.
What should I put on my finance resume?
Numerous sections should be included on a finance resume. For instance, you want to have contact information, a resume objective, experience, education, and financial skills for a resume. There are also other items you can add depending on the position and your experience.
Some of the sections that aren't mandatory but may still be useful include references, achievements, hobbies, and languages. Think through what makes sense to include based on the job description. Whenever possible, use keywords from the ad to make your finance resume a good fit for the position.
How do I make my resume stand out in finance?
There are numerous ways to make sure your finance resume stands out. One of the easiest is to utilize financial resume templates. These are made to offer style and color so your resume is more likely to be noticed and read than others. However, this isn't the only way to create a great finance resume.
Using powerful words, optimizing your text, and considering the language you use can also make the resume better. Highlight your skills and experience while using metrics and numbers to prove what you are capable of. All of these things can set your resume apart from your competitors.
How long should a finance resume be?
When you're crafting a resume for finance professionals, you might wonder how long it should be. For most people, it's best to keep the length at less than a page. However, there are times when a two-page resume may be reasonable. This is only the case for those who have a decade or more of experience.
If you have past work experience that doesn't pertain to the job, there's no reason to keep that. You should always work to offer the most relevant information on a finance resume. This can help you cut down on length if you notice your resume is a bit longer than expected.
What is the best resume format for finance jobs?
If you take a look at a few sample financial resumes, you'll see that one format stands out above the others. In most cases, the reverse-chronological format is the best option. This involves listing your experience (and education) from the most recent to the least.
However, there are other formats to consider. A functional resume format works well to share skills and how you obtained them. A combination format is also possible, which takes bits from each of the other formats. Keep in mind that most hiring managers will be familiar with reverse chronology so be aware of that when you make your choice.
What is the best resume objective for a finance resume?
The best resume objective for a finance resume will vary based on the specific position and what experience you have. An entry-level applicant might focus on the knowledge they acquired in university, while someone with experience will likely add in achievements they've had in past positions.
The main goal of the resume objective is to create interest and show what you can do. While this is a short part of your finance resume, it's one of the most important to get right. Delve into the details and show how you've been an asset in positions you have held in the past. Choose achievements based on the job description for the position you'd like to get.
How do I write about my financial experience?
Several areas of your finance CV will delve into your experience. Of course, the work experience section is where the bulk of this information will go. Including past positions where you've worked with finance is the best way to make an impact on a recruiter.
However, you'll also share your experience in other ways. For instance, if you want to add achievements to your resume, objectives and relevant skills should go in a section of their own. If you choose to include achievements, that's another place where you can show what you are capable of and have been praised for in the past.
What writing style is best for a finance resume?
When you're crafting a professional finance resume, you want to be sure it stands out. However, that doesn't mean you should get too creative with your writing style. The best tip we can give you is to make sure every inch of the wording is professional and that it isn't stuffed with jargon or unneeded information.
Make certain the finance resume is structured cohesively and uses clear language throughout. Whenever possible, add strong action verbs and avoid soft terms that don't tell the entire story. What you're creating is a formal document and you want to be sure that it comes off that way to the hiring manager.