Automation Tester Resume Sample & How to Write Tips 2023
Whether you've already worked with test cases and test plans or simply want to get involved in this world – you need the best possible automation tester resume. Recruiters expect to see certain things on the resume that show you are the right individual for the job. Experienced workers and newcomers alike need to draft a resume that makes a case for being hired.
One of the things you may wonder about is the best way to structure an automation tester resume. What sort of information should you include? How do you take advantage of the space to sell yourself? If these are questions you have, this guide is here to offer you all the help you need.
As we go through this guide, we'll share how to create the perfect automation tester resume, no matter your education level or how many years of experience you have. We'll talk about each section of the resume and the best way to format it so you can be sure recruiters read through it all and give you a shot.
Automation Tester Resume Sample
If you want to create a top resume, you need to show that you know your stuff. For instance, it makes sense to include that you have system testing experience or are an expert at using Selenium WebDriver. However, it goes beyond having the right skills. In many cases, dozens or even hundreds of people compete for a job, so you need to stand out.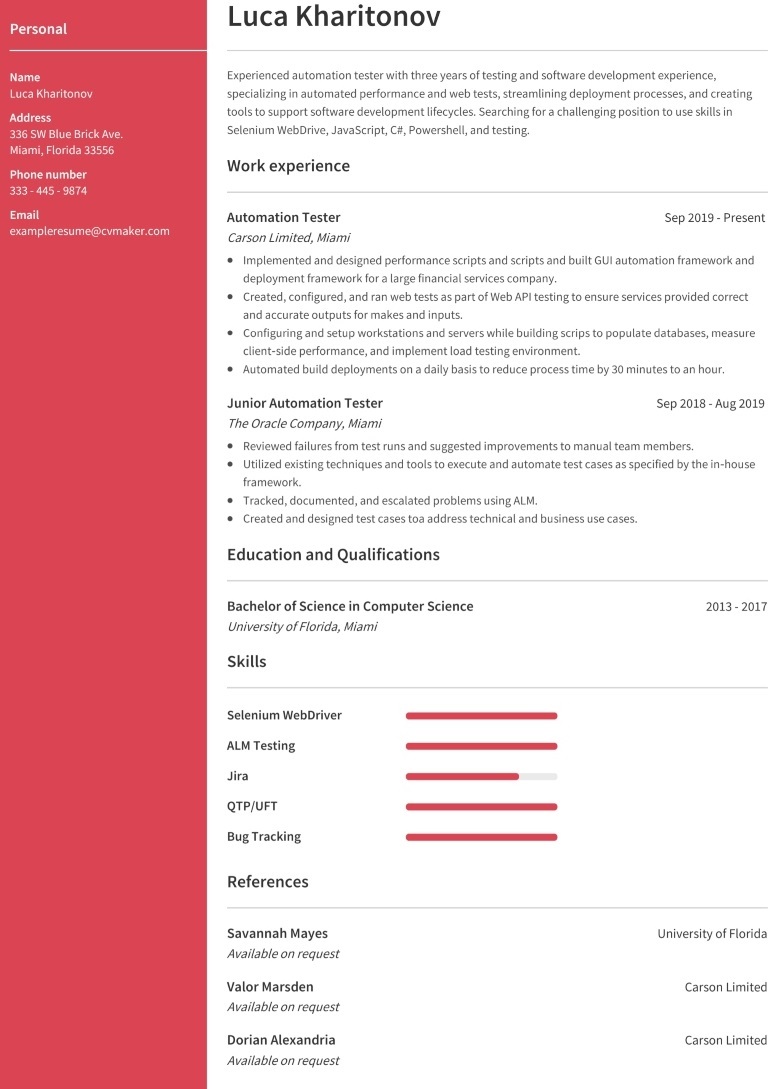 When you create a resume, the end result you want is to get an interview. Whether in person, via phone, or through video conferencing software, an interview is the next step in the process. Below you'll find automation testing resume samples that you can use throughout the process. Use it to fill in your own resume to be sure it fits the mold.
One of the essential things you can do is create a keyword-driven resume. You need to include words and phrases that are relevant to the position. Using action verbs and including hard skills that pertain to the job description can set you apart from other people and their resumes. For example, many test engineer resume examples will mention proficiency with ALM testing or experience with programming languages.
How to Write a Good Automation Test Engineer Resume in 2023: Tips That Work
As an automation tester, you need to show that you're capable of programming, designing, simulating, and testing both existing and new software. You need to know the most modern ways to test software and check its output against what was expected. This takes a lot of patience, intelligence, and attention to detail.
The automation test engineer resume sample you'll find throughout this guide will help you do that. One of the best things you can do is take those crucial qualities and add them to your automation tester resume. Actions words and supplemental information that proves you have those skills gives you a chance to show off and be noticed.
Remember that your automation testing engineer resume should be organized well, simple to read, and short. While you might need to change the sections on the resume for some jobs, in most cases, you can expect to see the below information once complete:
Contact Information
Resume Objective
Work Experience
Educational Background
Skills
References
One of the best ways to organize your resumes for different jobs is by creating a master resume. This is a constantly changing document where you take down information for all the sections, proofread and edit that data, and ensure everything stays up to date. You can also go a step farther by using Grammarly.com to catch grammar errors.
Section #1: Contact Information
No matter how much experience you have with black-box testing or backend performance testing, the first thing that should be seen on your resume is your personal contact information. Knowing who you are is essential to all the steps that compose the act of getting a position at a new company or moving up in a current organization.
This section is a simple one to complete, which makes it a good start. You can dive right in and create momentum that will carry over when you move into more difficult sections.
Contact Information Example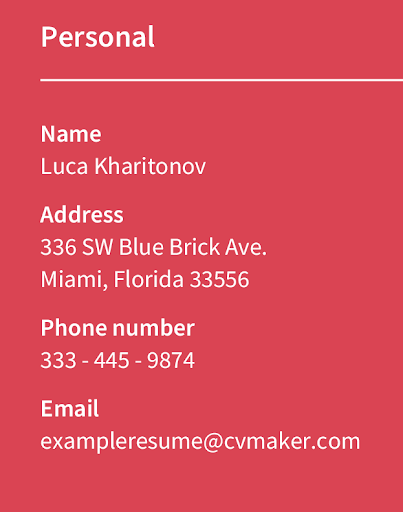 The image above gives the employer information about who you are and how to contact you. Luca shares his name, his email address, and his phone number. All of this information is double-checked to ensure no typos are present. After all, a hiring manager who can't get in touch with you will hire someone else.
In Luca's case, you can see that he includes his address. This is a matter of taste. Some people share this and others don't. A middle ground is to include the city and state but leave off the actual street address. There is no need to include social media or websites at this point. However, these can be included if the job posting asks for them.
How to Format This Section
The format is made simple and easy when you use a resume template. All you have to do is type in your information. Then move on to the next section. If you choose to create the resume by hand, it's best to add contact information to the top of the document or along the side. This makes it easy to contact you and lets your name stand out.
Section #2: Resume Objective
Now we move from a simple section to one that takes a lot of brainpower. There is a lot of thought that goes into your resume objective. While you want to share your skills, such as test data experience, Linux ability, and a penchant for using SQL Server, you want to be sure you focus on the right things. This is important because the resume objective is meant to be extremely concise.
In fact, most people shouldn't write more than three sentences on the objective. Falling to two or four lines is fine, but those sentences can't be overly long. At the same time, you need to do two things, whether you're making an automation testing resume for two years of experience or less or going for an automation testing resume for three years of experience or more.
The first is showing off what you can do. What skills do you have that you're proud of and confident in? Those are things that need to be included in the objective. However, the second part shows that you are suitable for the job. That means when choosing the skills and accomplishments to include, you need to look at the job description.
How to Format This Section
Whether you're talking about working with Eclipse or Jira, you need to do more than share what you can do. You need to make sure you explain how your experience has helped an employer get better results or bring in more money. So, if you were able to use Selenium automation to decrease errors by 10% in a quality center, that should be included.
You should quantify what you're great at and put it on paper. Talk about how you excel and why you want this specific job. The resume objective should be rewritten for every position to be clear and show you are invested.
Section #3: Professional Work Experience
Now we get to the professional work experience section. This is where you can talk about acceptance testing metrics and so much more. The main idea is to show where you've worked in the past and what you did in the position. However, this is far more than writing down that you did functional testing for some organization for a year.
While you create a list of your work experience, think about the accomplishments you've had in various positions. Maybe you learned new manual testing methodologies that sped up your workday. Or perhaps you have a natural talent for VBScript, QTP, UFT, or XML and believe those things would be helpful for the job.
Work Experience Examples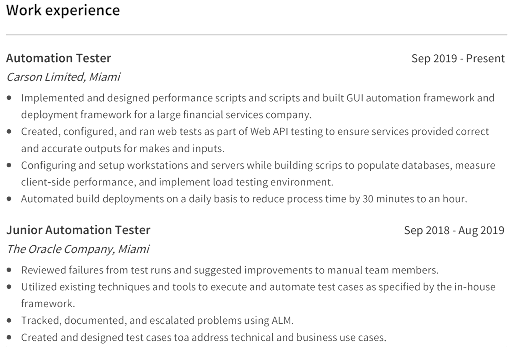 On Luca's resume example above, you can see where he worked and when. But you also get information about what he did there. The bullet points give additional data-driven information that recruiters want to see. It shows what you did and how it helped your previous company.
Think about what you did that helped meet business requirements and add that to your own work experience. Whether you excel at a specific type of bug tracking or know how to use several automated testing tools, find a place to include that information.
How to Format This Section
When you look at top-rated automation testing resumes, you'll see each position's job title, company, and dates. Then there are bullet points that showcase what you do best, such as test procedures, test results, test management, and test reports. If you want to have a resume that makes hiring managers interested, this format is what you want to go with.
So list your jobs in reverse-chronological order, add in qualifications (such as knowledge of web services), and use various keywords pertaining to the position. This is the time to look over the job description again to see what credentials they want and make sure you include your own experience with those things.
Section #4: Educational Background
At this point, we move past your work experience in test scripts and tracking tools and consider your educational background. Most people writing an automation tester resume will have some university-level experience, and this is the spot to include that. The educational background section is also ideal for sharing certifications.
If you attended school in the exact location of the job you want, this is great to include on the resume. In some cases, being a fellow alumnus can give you a slight boost and ensure you get an interview. It might not be the same level as knowing Agile practices or automation framework, but every little bit can help.
Education Example

The most common education for someone in automation testing is computer science. However, majoring in another subject doesn't mean you can't be a part of this industry. Keep in mind that most people in this position have a bachelor's degree or even a master's. Many also have certifications in things like CSS, HTML, apps, and the software development life cycle (SDLC).
How to Format This Section
The education section is another place in an automation tester resume with a relatively simple format. You really only need to include where you went to university and what kind of degree you have. However, you can also add the dates and additional information if you have room for it on a one to two-page resume.
One thing to keep in mind for those without QA tester experience is that you can fill the education section with more information. If you took courses related to programming languages, problem-solving, and other things related to the position, make that clear. Consider adding your GPA and other honors, so the hiring manager knows more about you.
Section #5: Skills
Whether you're great at regression testing, excel at software testing, or have a keen eye for quality assurance, you want recruiters to be aware of that. Sometimes you might find that you can't squeeze all of your skills into the work experience or education sections, so adding a specific area of the resume for skills is a good idea.
This is the place where you focus on the skills that you are the most capable of, whether that means Java programming, Excel spreadsheets, or debugging on Unix, Windows, Android, or Apple. The trick is that you shouldn't add skills for the sake of it. Instead, add skills relevant to the position that you are very good at.
Skills Example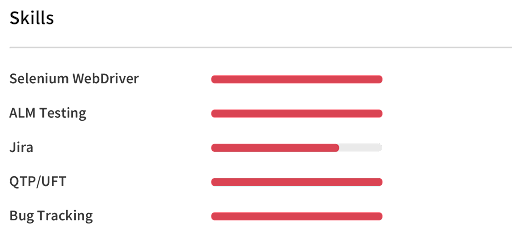 You can get an idea of how this section looks right above. Luca lists several skills that fit the job he wants to get an interview for. Your own automation tester resume skills section might look different in terms of the skills. Maybe you want to add project management, Python, or Oracle. That's completely fine and sensible, but the image gives you an idea of how this section looks when you are done with it.
Another thing to remember is that the entire list of skills doesn't have to be hard skills. While you might add Jira, JavaScript, or integration testing to the section, remember that soft skills are just as necessary. Soft skills are interpersonal abilities and can give you an edge. A few that you might include are:
Written and verbal communication skills
Analytical thinking
Teamwork
Organization skills
Leadership
Presentation skills
Of course, these vary based on what you're good at and what the hiring manager wants to see. Tailor this section for each resume you make to get the best results in your job search for an automation engineering position.
How to Format This Section
The format for skills should be simple and straightforward. You do not want to make a paragraph that is tough to read through. Instead, go with bullet points or a similar style like you see in the resume example above. When using a resume template, a graphical option is easy to implement. This can draw in the eye. Add the skills to the bottom of the last section you worked on or to one of the side columns.
Section #6: References
Finally, we come to the last significant section of the automation engineer resume – the references. While it might seem like a references section isn't too important, that isn't the case. Having the right people listed as references can be as important as being skilled at test strategies and automation scripts. However, make sure that you ask supervisors and team members before adding them to your technical resume.
References Examples

Luca's resume gives you an idea of what a typical reference section looks like on an automation tester resume. You can see information about each person such as where they work and their name. You will also notice that personal information is avoided at this point. This helps protect the privacy of your references.
If you don't want to end up risking letting someone's email address and phone number get out, use a resume system like Luca's. The hiring manager can still reach these individuals but will have to contact you to get the information needed to do so.
How to Format This Section
When choosing the proper references, think about people who know you have experience with the testing process, testing framework, and test scenarios. At that point, narrow down your options since you don't want to include too many references. The general rule is to add three, but four or five is also okay in some cases.
This should be formatted to be easy to read and understand. A name, a place of work, and the phrase "available on request" are all that you need. If you are called in for an interview, you can share additional information at that time. And keep in mind that professional references are excellent but having a personal one can also be helpful to let an employer know more about who you are.
Related Resume Templates
Having extensive experience with user acceptance testing (UAT) in an integrated development environment (IDE) may be an essential skill, but so is making sure that your future employer clearly understands you have that skill. This is where resume templates come in to help you. Using a resume template makes it easy to plug in your information to ensure a recruiter knows you can handle LoadRunner, Junit, JMeter, and more.
The resume included in this guide will give you a good source of inspiration and could be the critical factor you need to build a perfect resume. However, there are other options you can tweak to your needs that are in similar industries. Some of our favorites include the following:
After you choose a resume template, you can add in your information. We also have a few extra tips that can be useful to ensure the recruiter makes it through your resume from start to finish.
Read through the automation tester resume and see if it flows well. If there are awkward areas, make a few edits. Once you finish that edit, reread it. This process should continue until you have a polished and flawless resume.
Look at the colors, font, and other aspects of the automation testing resume to make sure it feels professional. For instance, is the font easy to read? Do the colors work well together? Using a single color and a white background is the most common choice.
Proofread several times to look for typos and mistakes. Be sure you have good spacing,  the wording makes sense, and the organization works well. If you want to ensure there are no mistakes, use grammar software to catch problems. A friend can also go over the document for you.
Final Points on Writing Successful Automation Testing Resumes
Now that you've made it through every section of the resume, you're almost ready to send it to an employer. The other part of the process is building a cover letter that complements the automation tester's resume and shows how great you would be for the job. Once both of these documents are complete, it's time to apply for that job that caught your eye.
To recap, you want to show you can do the job and have the experience and education needed to be an asset to a company. When you show your skills, give information about your experience and education, and include references, you'll be much closer to a position you love working at every day. Good luck!