Business Intelligence Analyst Resume Example
You know how to gather and analyze data, but do you know how to write your business intelligence analyst resume?

Specialists, like BI analysts, are often experts at identifying business needs and communicating results. However, when it comes to self-promotion, they don't do such a good job.
Think of it - your resume is a sales catalogue promoting your skills and experience. If it isn't well prepared, buyers will ignore it.
This article tells you exactly what recruiters and hiring managers want to see on your resume.
It also includes a resume sample and resume example excerpts, so you get to see how it's done, step by step.
We've got all the info and tools you need right here to write your best ever BI resume.
Business Intelligence Analyst Resume Example
Maybe you're feeling rather uninspired and at a bit of a loss right now. Boost your creativity by checking out business intelligence resume examples.
Seeing how professional resume writers do is bound to fill you with loads of motivation. You'll find BI resume samples to suit you, whether you're entry-level or have years of experience.
When you opt for a resume builder, you don't need to hire a professional resume writer. There are plenty of resume template options to choose from, and if you want to change, it happens with a click. No rewriting!
Take a look at this business intelligence resume sample to boost your inspiration.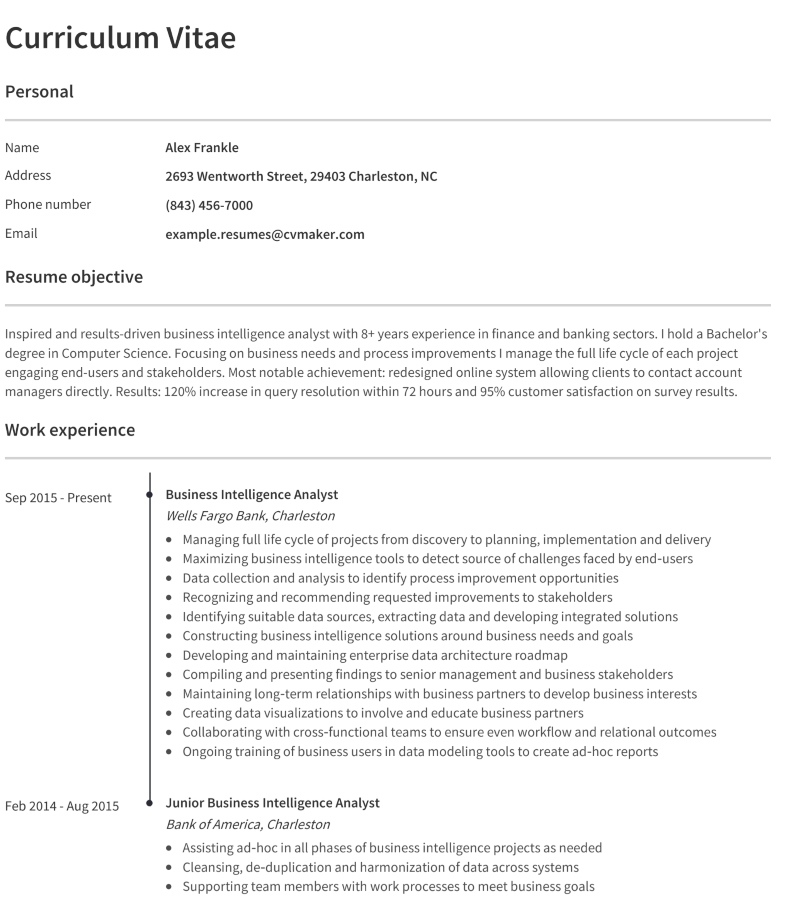 In true BI style, Alex has opted for the clean and clear Oxford resume template that offers clear text, a spacious layout and lots of white space, making it mega reader-friendly.
How to Write a Successful BI Resume: Tips that Work in 2022
Business intelligence is a massive industry that's predicted to see significant growth over the next decade.
According to a Zion Market Research report, in 2020, BI already accounted for $22.16 billion US dollars and expected growth will see it at $42.95 by 2018. That's an average 8.6% expansion over eight years.
Various market sectors are already embracing the value of BI to improve decision-making and scale their businesses. BI is already well established in e-commerce, healthcare, supply chain, retail and hospitality and other sectors are bound to follow soon.
Consequently, job titles and job descriptions will vary to meet specific market sector requirements. The trick is to identify and use keywords. They're essential to getting your application past employers' ATS or applicant tracking systems.
All ATS include parsing software. Recruiters capture job titles and job descriptions loaded with specific keywords for parsing software to link to resumes. Where applications meet keyword criteria, they're moved to the shortlist. Those that don't get rejected without anyone ever looking at them.
These keywords come from hiring managers who only want to review resumes that meet their minimum criteria.
Read each BI analyst job post carefully and pick out keywords. Apart from the job title, read through the job description to see if it matches you.
Some BI resume examples include –
Business intelligence engineer resume
Business intelligence developer resume
Business intelligence manager resume
Entry-level intelligence analyst resume
Power BI data analyst resume
The proper resume format also matters. Submitting a long-winded document with too much irrelevant information will see your resume getting binned, even if it makes it onto the shortlist.
Recruiters aren't going to spend time figuring out what you're about when there are so many other applications. Keep your resume short and concise with around a two-page limit, ample white space and bulleted points.
You may or may not need to include a cover letter, depending on the role and your work experience.
Using a resume builder is perfect for ensuring you get your work experience and hard and soft skills in a reader-friendly format.
Personal Information
You must include your personal information on your resume so that you're identifiable and, most crucially, contactable. You don't want to be missing out on brilliant opportunities!
Include your full names, physical address, correct contact numbers, and email address. It's optional to list your address in full or just the city, as details can be provided if requested.
This is also where you can link to your LinkedIn profile. Linking your profile is the ideal way to showcase a more in-depth experience. More so for senior management roles, such as business intelligence manager resumes and director of business intelligence resumes.
Personal Information Example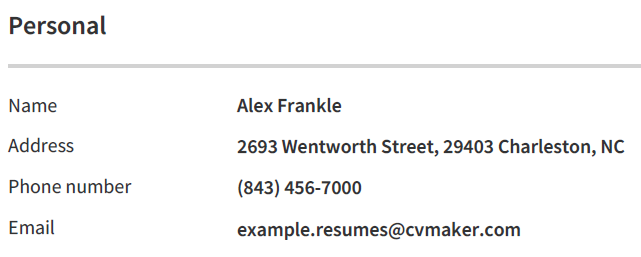 Straight forward and skimmable.
How to Format this Section
Keep this section to the point, just telling it as it is.
Opt for a clear, reader-friendly font, ensuring there's enough spacing between your name, address, contact numbers and email.
Check, check and re-check! Your application won't be the only one in a fiercely competitive job market. Any typo in your personal info will see your application getting ignored.
Resume Objective
Even if your business intelligence resume makes it onto the shortlist, you're not guaranteed a place on the interview shortlist. Use your resume objective to make sure you do.
Also known as a personal profile, an objective sits at the top of your resume and is the first thing the reader sees. It's your only opportunity to hook them in and get them to read on.
Well written, it's a robust and persuasive summary of why they need to hire you.
You don't have much space, so get creative with power words, numbers and statistics to spark the reader's interest. Avoid common passive words as much as possible.
Employers only want to know what you've achieved at the screening stage and if it meets their needs. Write your business intelligence analyst resume objective with confidence and conviction.
Include specific keywords from the job description and write a new resume objective for each job you're applying for.
Here are three objectives for a resume samples to get your mind ticking over -
Entry-level Intelligence Analyst Resume Example
This entry-level business intelligence analyst resume sample objective focuses on education and soft skills. These are the most vital to highlight at this stage of your career.
Mid-career BI Analyst Resume Sample

Over 8 years of success as a business intelligence analyst makes this BI mid-level. The reader knows the industry right away and that the candidate is experienced in process improvements. Education still matters, but there's more emphasis on achievement.
Senior Business Intelligence Analyst Resume Example

This resume objective doesn't mention education. Over 12 years of proven experience make it irrelevant for this candidate. Their successful track record will be detailed in their resume and achievements made evident during the hiring process.
How to Format this Section
You have only around 50 to 60 words to convince the reader you're worth interviewing.
Take the opportunity to illuminate your best hard and soft skills, as well as your achievements. Including stats, numbers and currency add to the impact in very few words.
Keep it short and to the point, taking care to match essential requirements with your work experience and skills.
For example, the reader will know right away that you're a proficient BI analyst if you list your experience as 10+ years. Or, when they see several business improvements in percentages, they know you're a results-driven doer.
Always re-read your resume summary again carefully before you submit an application. You want it to showcase your value to an employer and convince them to reach out to you.
Professional Work Experience
Your professional work experience section is the first place ATS parsers will call on. Spend time compiling the content, so they like what they see.
BI resumes vary, and yours must be tailored to match the job post, especially if you've worked in several market sectors. Avoid including unnecessary details, but ensure you don't leave out critical information.
The easiest option is listing all your roles and responsibilities in detail beforehand and then comparing them to the job description. Extract matching skills and experience and use their exact wording to capture the keywords. Use job titles that mirror the ad too.
Each organization uses their own jargon and keywords; however, technical skills remain much the same. Here are a few typical BI keywords to look out for –
Business analysis
Business objects
Business intelligence tools
Big data
Cognos
Communication skills
Dashboard
Data architect
Data analysis
Data mining
Data models
Data science
Data sources
Data visualization
Data warehouse
Information systems
Life cycle
ETL
Excel
IBM
Metrics
Microsoft
Oracle
PowerPoint
Problem-solving
Project management
Python
SAP
SAS
SSIS
SQL
SSRS
SQL server
Tableau
Generally, business intelligence analyst resumes are presented in reverse-chronological format with your most recent job first and continuing in descending order.
However, an entry-level intelligence analyst resume or director of business intelligence resume might look better in a skills-based resume format.
Professional Work Experience Example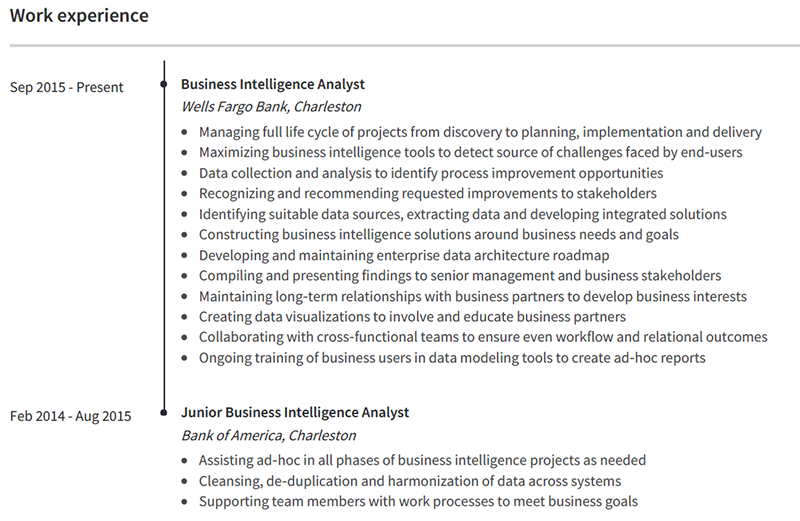 To the point and still scannable, bit pertinent details are included. Note the clever use of keywords, such as team members, workflow, ad-hoc, business intelligence tools, business needs, cross-functional teams, end-users, stakeholders, life cycle process improvements and relational.
How to Format this Section
Lots of white space, reader-friendly font and bullet points are what's needed here. These are the critical factors that make your resume easy to read and follow.
 When it comes to detailing your skills and experience, keep the wording concise, but don't omit vital information. You want them to know what you're capable of without boring them, so use numbers, stats, currency and percentages
Write each duty, skill and achievement to fit into a bullet point. It can be tricky, but give it your best effort. You'll be glad you did later on.
Also, list your experience in the same order of importance as the job post.
You wouldn't need an opening statement for each job you've held unless you had more than one role. In that case, just briefly mention it as an opening line saying you started in a different or more junior role and moved on.
For instance – "I was initially appointed an entry-level data analyst and was promoted to junior business intelligence analyst a year later."
Education
The majority of business intelligence analyst jobs require a Bachelor's degree at a minimum.
Education holds more weight when you have limited experience. With more hands-on work experience, you don't need to focus so closely on this section.
A general rule is if you have less than five years BI experience, list your education in detail, including relevant subjects, achievements and awards. If you graduated less than 3 years ago, you could include your GPA scores if it was over 3.5.
When you're on the better side of five years of professional experience, list only your degree, graduation date, year and educational institution.
Education Example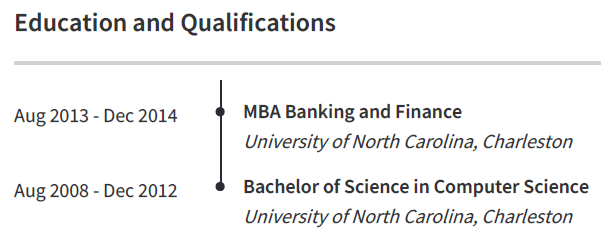 List only the facts and nothing more.
How to Format this section
Keep it brief, accurate and to the point.
A reader should be able to scan over it and get the complete picture right away.
If you have limited experience and want to list several relevant educational qualifications, list them in descending order, starting with the most recent.
 List the name of the educational institution first, followed by the qualification.
Skills
The skills section is another haunt for parsing software.
Soft and hard skills are equally important when they're listed in a job post, so be sure to pick them us and use them on your business intelligence resume.
Technical and hard skills may include –
Metrics
Tableau
Data collection
Data analytics
Data models
Data mining
Data science
Data warehouse
Data warehousing
Data visualization
Computer science
SQL server
Excel
ETL
IBM
Oracle
Cognos
Microsoft
SQL
SAP
SAS
SSIS
Soft skills are usually people or interpersonal –
Communication skills
Presentation skills
Initiatives
Analytical skills
Decision-making
Conflict resolution
Workflow management
Stakeholder management
Business process management
Skills Example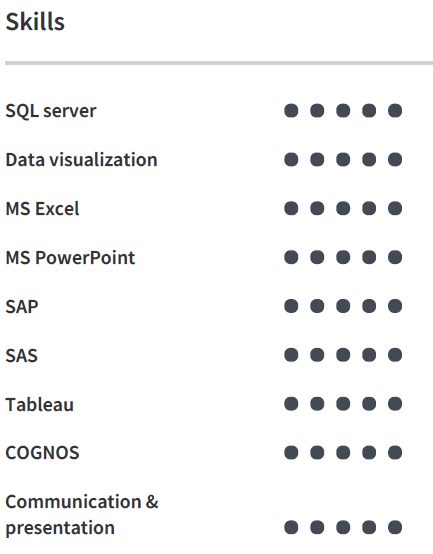 These skills are easy to read and give the reader an expertise level for easy decision making by the hiring team.
How to Format this Section
No matter the range of your hard and soft skills, only list those required for the job. You can elaborate if necessary during interviews.
Your primary focus is on getting parsers to recognize your skills and move your business intelligence analyst resume to the shortlist. You can use bullet points, but keep the wording short and mirror the phrases from the job post. Even swapping words around could see even a power BI analyst resume being overlooked by parsing software.
Furthermore, include a rating for each skill to help the reader assess your skills upfront before contacting you.
Courses and Certifications
BI is one of the careers where you can't earn your bachelor's degree and then sit back and relax.
Ongoing learning is essential since technology and business environments are constantly evolving.
Apart from degrees, short courses, certifications, and ongoing learning platforms also count towards your success. Updated courses in methodology, refresher courses, and those in the latest software available are particularly valuable to demonstrate you're continually updating your skills.
Specialized certifications and registrations with professional industry bodies mustn't be omitted either they prove your commitment to continuing career improvement.
For entry-level and junior BIs, courses show their enthusiasm and dedication to excel in their career.
Courses and Specializations Example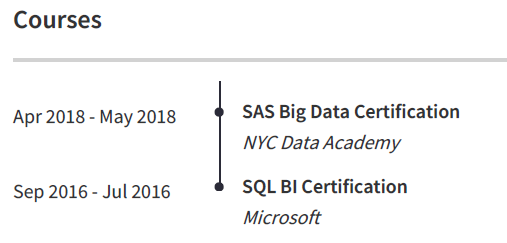 As in the education section, list only the facts.
How to Format this Section
Keep this section brief and easy to read, similar to how you listed your education.
If you're listing various courses and specializations, list them in descending order, starting with the most recent.
References
References are how you close your resume.
Unless the job post specifically asks for contactable references, avoid giving full contact details. Instead, list references as available on request and give details later in the hiring process
There's a risk involved in providing too much detail, especially when you're only applying for a job. You don't know the employer yet, and they don't know you. Sharing names, contact numbers and email addresses could end up being misused.
You only need two references, but confirm beforehand that they're still available willing to provide a reference for you. In that way, you're confident about your references, and they know to expect contact from recruiters or hiring managers.
Unfortunately, an uncontactable reference or someone who doesn't remember you creates a wrong impression which could cost you the opportunity of your dreams.
References Example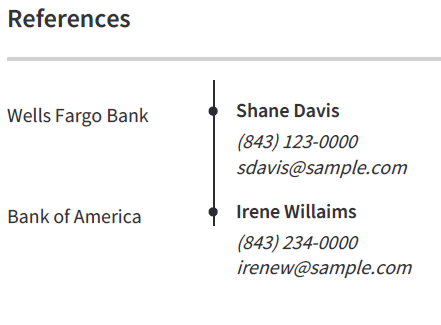 If the job post asks for references, list them like this and ensure that the details are clear and correct.
How to Format this Section
List only the facts only here.
Unless requested, all you need is the reference name and text below reading "available on request".
Other Business Related Resume Templates
Writing your business intelligence analyst resume requires more than recollecting and listing your experience and skills.
Do it wrong, and it could cost you career opportunities.
Resume builders are quick and easy to use and help you create your professional resume online. They take care of the format and layout for you with minimal effort from your side.
Just browse through the resume template examples and choose a sample resume built-for business intelligence analysts that works best for you.
According to research, professionally created resumes using a resume builder are 65% more likely to make it onto the interview shortlist.
Whether you're an aspiring entry-level BI or looking for a management role, there's a template for you.
Final Points on Writing a Winning Business Intelligence Analyst Resume
Let's recap on the essentials -
Extract keywords for each job post
Take your time selecting info for your resume
Make your resume to no more than two pages
Use clear and concise wording
Include numbers and statistics
Focus on your abilities and what value you can add
Check facts before including them
Use positive language and power words
Proofread your resume before sending it out
Pay attention to formatting
Submit your resume in pdf format