Product Analyst Resume Sample, Job Description & Writing Guide for 2023
You're familiar with collecting market data and doing data analysis to get the best results.
As a product analyst, that's a massive part of your job.
Recruiters do the same with your product analyst resume.
When you submit your resume, it immediately goes through stages of analysis and research. AI starts the process, and recruiters continue it to ensure only the best get through to hiring managers.
In your job, you know what you're looking for; but do you know what the hiring team wants?
Not likely!
That's why we recommend job seekers harness the expertise of our resume builder. CVMaker's expert resume writers continuously monitor HR and hiring trends to stay at the leading edge as expectations evolve. Consequently, your professional resume always meets the criteria.
This resume-writing guide gives you all the ins and outs of creating your best product analyst resume. It includes a full product analyst skills resume sample and short product analyst resume examples.
Irrespective of your experience level, our well-tried tips and resume templates will ensure you win interviews and get hired.
Product analyst professional resume writing guide: Where to start?
Many job applicants think providing plenty of information increases the probability of getting an interview.
That's based on outdated standards pre-HR and hiring tech.
Neither ATS, recruiters, nor hiring managers want to wade through screeds of text to find what they want. They don't have the time and only want to see if their specific requirements are on the resume.
Generally, if the ATS passes your resume to the applicant shortlist, you've got about 30 seconds to impress the reader.
An ATS or applicant tracking system is a hiring tech tool that records job vacancies from initiation to close. It tracks positions through advertising, screening applications, hiring processes, offers, and onboarding.
Actually, the first point of contact for your product data analyst resume will almost certainly be an ATS. Job ads are first loaded to ATS with critical keywords and then posted to job boards and social media.
Each application gets routed back to the ATS, which scans it for keyword content. Resumes that meet the keyword benchmarks are moved to the recruiters' shortlist. Those that don't get binned with a polite regret message.
And that's your starting point.
Ensuring your product analyst resume meets the selection criteria, concisely explaining why you're the best candidate for the job.
Achieve that, and you'll undoubtedly hold the top spot on the interview shortlist.
Master resume for product analyst
That said, it takes a lot of work to compile a targeted resume that fits the bill.
In today's competitive job market, you can't have a generic resume and submit it with every job application. Relying on memory alone doesn't work either, as it opens you up to oversight.
The secret to fast and successful job applications is having a master product analyst skills resume readily at hand.
Taking the time upfront to compile a master resume and making it a living document means you're always prepared. You can easily craft a job-specific resume targeting job requirements whenever you see an exciting job post.
Here's how you do it –
Begin with your current or most recent job and record all responsibilities in detail. Continue in descending order listing every product analyst job you've had. Include employer details, dates, and notable projects or achievements as well.
Do the same with related education, courses, and certifications.
Save your master resume to an easily accessible folder with supporting documents and keep it updated. This is a convenient way to keep your LinkedIn profile and other business socials up to date, too.
Job-specific resume for product analyst
When you see a job you'd love to have, consider whether you're a good fit before hitting the apply button.
First, visit the company website to get a complete picture of its operations. Read about their current projects, product marketing, and new product launches. Browse relevant business publications to learn more about the organization. Finally, check out their development team, particularly those who'll likely work with you.
Upfront research gives you a feel of the company's products, culture, corporate values, vision statement, and standards. This makes you more confident in interviews and shows the hiring team you're serious about landing the job.
Next, carefully compare the job requirements to your master resume.
Extract matching experience and qualifications and assess your corresponding ratio. Take into account transferable skills as well. If you meet at least 50% of the essential requirements, apply, making clever use of keywords.
Write a job-specific or targeted resume that only includes details mentioned in the job post. Exclude all other skills, experience, and education because they're irrelevant to the selection criteria.
Use a reverse chronological resume format, as it works well for a product analyst & integration engineer resume. Visit our resume templates library to find the perfect fit for you. If unsure of the best layout, look into product analyst resume samples.
Adapt the wording to mirror critical keywords, including job titles, which contain keywords too. Remember, job advertisements' keywords must be quoted verbatim, as AI will read them.
For the same reason, rearrange your associate product analyst resume job responsibilities to match the ad's hierarchy. Hiring managers tend to list the essential needs first.
Be precise and avoid getting caught up in the desire to impress. It could cost you a fantastic opportunity.
Additionally, a job-specific resume mustn't exceed one to two pages, so don't waste space including unrelated details. You can always share further information with the hiring team during the interview process.
Product analyst resume example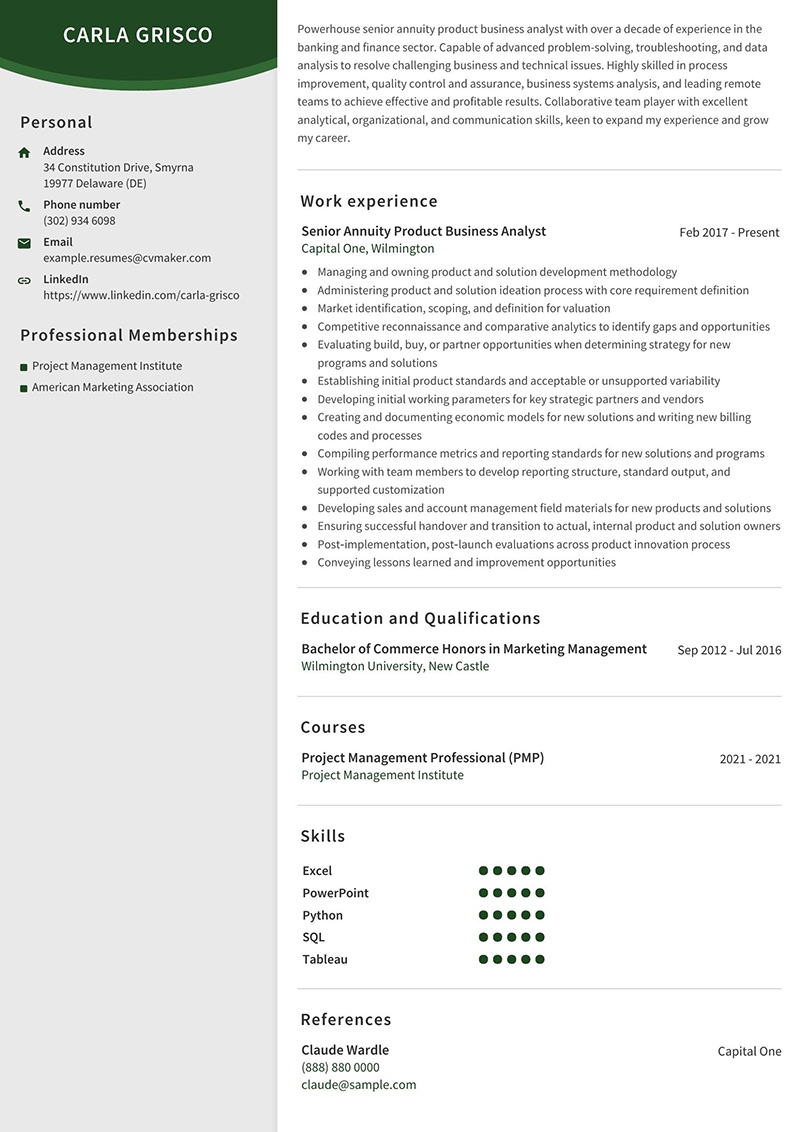 This Capital One product business analyst resume shows how work experience precedes education for senior positions. From the opening resume headline onward, Carla clearly defines her high level of skills and knowledge. Achieving depth of experience means all technical skills are in place. Therefore it's not necessary to mention them in detail.
What to include in a product analyst resume? Writing tips and examples
Aside from non-negotiable info like your contact details, product analyst skills, and work experience, the job post dictates the rest.
Each role has unique aspects mentioned in the job description. Frequently, you'll find phrases like "added advantage" and "preferred" used for skills or experience that strengthen your application. They're not necessary, but include them in your technical product analyst resume if you've got them.
Too much info weighs your resume down; too little could see it overlooked. Continually assess whether including optional enhancements, like accomplishments, add or take away from your application.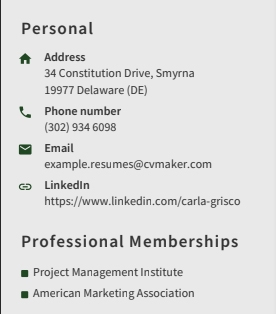 How to write a personal profile on a product analyst resume
Every resume must open with a personal profile. Also known as a profile summary or resume objective, it serves as a brief professional introduction.
See it as a sneak preview of your product analyst skills resume.
Write your personal profile after you've compiled your job-specific resume, and ensure it contains details of vital keywords. Keep it relevant to the job description, quantify specifics, and use statistics for immediate impact and easy reference.
Depending on your years of experience, keep the content limited to between 80 and 100 words.
A personal profile is not to be confused with a cover letter. Where a personal profile is a brief overview of your skills and experience, a cover letter motivates your application. Not every job application needs a cover letter, but every resume you send out must have a personal profile.
Personal profile examples
These three typical examples of a product analyst resume summary are for an entry-level, mid-level, or senior product analyst resume.
Product analyst resume entry level personal profile
Aspiring product analyst and new BCom Business Management graduate looking for an entry-level role in any industry. Besides theoretical knowledge, various collaborative university projects expanded my technical skills in SDLC, methodologies, User Acceptance Testing (UAT), database management, Google Analytics, Tableau, and SQL. Hands-on experience gained in a three-week job shadowing role allowed insight into business and delivery expectations and boosted my love for data analysis. I have excellent communication, analytical, and problem solving skills, and look forward to joining a professional team.
Personal profile resume sample for midlevel product analyst
Driven, intellectually curious, BCom (Hons) Marketing Management, PMP certified product analyst with 6 years of experience in the healthcare sector. Proven work history of developing and refining products, delivering highly valued insights to product owners and managers and collaborating on sales and product strategies. Ability to work in a fast-paced environment focused on quality and attention to detail. Excellent verbal and written communication skills. Ardent problem solver, especially around big data, keen to learn new methodologies and technologies and seeking career growth in healthcare-related industries.
Senior annuity product business analyst resume personal profile
Powerhouse senior annuity product business analyst with over a decade of experience in the banking and finance sector. Capable of advanced problem-solving, troubleshooting, and data analysis to resolve challenging business and technical issues. Highly skilled in process improvement, quality control and assurance, business systems analysis, and leading remote teams to achieve effective and profitable results. Collaborative team player with excellent analytical, organizational, and communication skills, keen to expand my experience and grow my career.

Skills to list on a product analyst resume
Skills for all jobs can be categorized into soft and hard or technical skills.
Soft skills are interpersonal skills that relate to character and personality traits. They can be coached and improved but tend to be part of our individuality. Typically, soft skills are transferrable and adaptable from one role to another.
Examples of soft skills
Problem solving
Communication skills
Able to collaborate
Initiative
Prioritizing
We learn technical skills through education, certifications, and on-the-job training. For instance, software like Agile, Excel, Microsoft, PowerPoint, Jira, SQL, Python, Google Analytics, Tableau, and SalesForce are learned skills.
Technical skills are role-specific and are not transferrable. We can only use them in roles that require the specific skill.
Examples of technical skills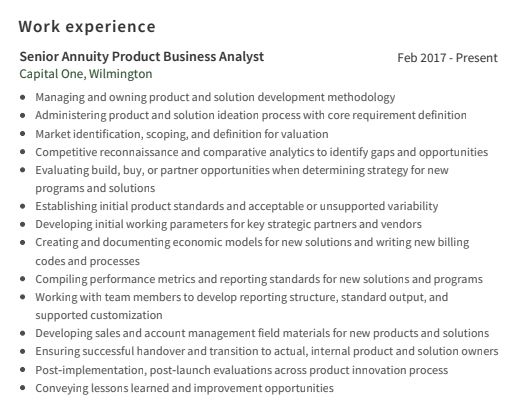 How to write work experience on a product analyst resume
ATS and the hiring team will home in on the work experience section looking for resume keywords product analyst use. Give them what they want by following the job post.
Ultimately, you want the details in this section to match the listed key responsibilities or duties. List your working experience in the same order, using the same language. Use bullet points for each duty, stay in line with the job requirements, and don't include anything unrelated.
What if you don't have much experience to share?
When making a product analyst resume entry level, you'll be applying for beginner and junior roles. Since you've likely just completed a degree, focus on your education. Particular subjects or projects that align with the post are excellent for showcasing your experience.
Don't forget things like job shadowing, volunteering, or part-time gigs. If they involved product analyst skills mentioned in the post, include them in your resume.
For example, include it if you used metrics and SQL to manage a product marketing database in a freelance job. List the employer and the relevant skills, but omit everything else that's irrelevant.

How to list education on a product analyst resume
The education section matters most when you're starting your product analyst career. It becomes less significant as you gain more years of on-the-job experience.
Start the education section with your most recent relevant education. Include your highest level of education, even a high school diploma. Name the institution, the dates, and the qualification achieved. Continue in descending order. Irrespective of how much other education you've got, only include what applies to the role.
Entry-level candidates can include high school diploma details if they're new graduates with little to no experience.  Likewise, skilled applicants without a degree can list a high school diploma as their highest level of education.
For a senior product development business analyst resume, include only your highest level of relevant education. The hiring team's prime focus will be experience and skills at this level.
A midlevel product support analyst resume also relies on experience and skills rather than education. However, you may want to expand on recent updates and professional certifications if they're a job requirement.
In contrast, a junior product analyst skills resume involves more detail around tertiary education that qualifies you for the job. Elaborate on specific subjects, academic achievements, and projects from your degree to support your application.
Maybe you're a QBE who wants to expand your product analyst career. Where you lack further education, you must rely on years of experience using the vital skills acquired and a high level of expertise. Usually, a product control analyst resume should be compiled in reverse chronological order. In this case, though, a skills-based resume gets the best results.
How to include additional sections for product analyst resume
Primarily, additional sections include notable achievements, languages, certifications, and even specific hobbies. They must, however, still be relevant to the job or the company's benefit.
Here's where researching the company is handy, as you can find opportunities to enhance your resume.
Say a vacancy mentions nothing besides the job description, but your research reveals details that align with your experience. This can be a gap to promote your application. It's important to remember, though, that additional sections won't make a difference to the initial screening, which relies on keywords. These details are for recruiters and hiring managers.
Simple examples include languages and skills. If research reveals the organization is expanding into Central Europe, and you're fluent in German, include it on your resume. Or maybe you have a hobby that fits the industry. The job's in the automotive industry, and you're a huge car enthusiast. In your spare time, you're a vlogger who follows motor shows. To prove it, you've got an Instagram following of 10K plus. Put it on your resume.
Notable achievements and certifications work the same. If you've completed a course or certification in some hobby related to the job, add it to your resume. Skills include hard and soft skills. Be creative when matching core activities you enjoy.
Key takeaways
These resume writing tips equip you to create your best product analyst skills resume as you target specific job posts. Let's recap the most crucial points that lead to hiring success.
Create a detailed master resume upfront
Read job adverts thoroughly before applying
Research the company before applying
Match the job specifications to your master resume
Compile a job-specific resume tailored to the role
Use the right resume template to showcase your talents
Proofread and re-check your resume before submitting
For absolute professionalism, use a resume builder
If in doubt, opt for a professional resume writing service
Next steps?
Unique resume templates
A resume template carries as much clout as content. It will be overlooked if your product analyst resume looks cluttered or untidy.
Naturally, you can go the DIY route with free online resume templates or a Microsoft Word template. Unfortunately, that way, you must do the formatting until you think it looks professional, which is time-consuming. Besides, you won't actually know if it's ATS and recruiter friendly.
Or you can browse our resume template library to find your perfect fit. Our templates can be changed with a single click if it's not your desired result. You get an awesome resume in a matter of minutes, too. Also, our templates come in various colors that complement your style. With CVMaker resume templates, you'll make a brilliant first impression on ATS and recruiters.
Resume writing service
Think your resume needs a professional touch? Click on Resume Writing Service on the CVMaker website. Our top-shelf expert resume writers turn average into exceptional. Your career success is their only mission; reaching out now could set you on the path to extraordinary professional advancement.
CTA: Link to resume writing services
FAQs
How to become a product analyst
While over 75% of product analysts hold a bachelor's degree, no specific qualification is designated. It's a very competitive field, so getting a qualification in business or marketing is best. If you enjoy prioritizing, data analysis, problem solving and have good communication skills, it could be an excellent career for you.
What do product analysts do?
Product analysts utilize tools like SQL, Tableau, and UAT to analyze product performance over its life cycle. They create product roadmaps for improved business processes to generate a viable product strategy. Product analysts support the product owner with requirement documents, initiatives, deliverables, and pricing. They also collaborate with other stakeholders on product development.
Can product analyst become product manager?
Absolutely they can. The roles share various functions, including business analysis, project management, workflow, agile scrum methodologies, business requirements, and product management. The prime difference is that product managers focus on product development, product requirements, and product management. In contrast, analysts are concerned with profitability and business growth.
Can a product manager become CEO?
If you've got your sights set on an executive position, getting promoted to product manager is a brilliant move. Product managers frequently move to CEO. They know the landscape and the vision. So their skills and experience align them with continuous product development, forging new initiatives, and ensuring business success and growth.
What makes a good product analyst?
To be good at anything, you must find it interesting and enjoy your work. Outstanding product analysts are keen on business processes, data analysis, problem solving, methodologies, tackling a backlog, and collaboration. Another essential is a thirst for knowledge; you must keep your skills at the cutting edge of your industry.