Marketing Resume Samples, Template & Writing Guide for 2023
A phrase frequently bandied about in marketing meetings goes, "seize your audiences' attention…."
Actually, all steps in marketing aim at doing just that – grabbing attention to make people take action.
Strangely though, that wisdom abandons many marketers when on a job search.
Your marketing resume is a self-promotion project to compel recruiters to contact you for an interview right away.
Blandly listing your work experience and marketing skills on a page certainly won't grab anyone's attention.
Marketing resumes must be exceptional, imploring recruiters to keep on reading. That's how you win interviews and get hired.
We tell you how to get resume writing right, ace your way through interviews, and land the perfect job.
Marketing Resume Examples
Writing a resume from scratch in Word or getting a free Google resume template might seem the best option.
But honestly, don't go there!
Crafting the perfect resume takes hours, and your marketing resume might not make the grade. After all that effort, you're still unlikely to get interviews.
Even if you use a random online sample marketing resume as a guideline, it's probably outdated.
You can't go wrong with a resume builder for a choice of cutting-edge resume formats.
Do resume formats still matter today?
Absolutely! In fact, more so than ever before.
The first impression and presentation keep recruiters and hiring managers engaged, just like marketing projects.
Marketing Resume Samples
Want a marketer resume sample to get a better idea?
Hiring teams and successful job seekers love these modern marketing resume templates.
Entry Level Marketing Resume Example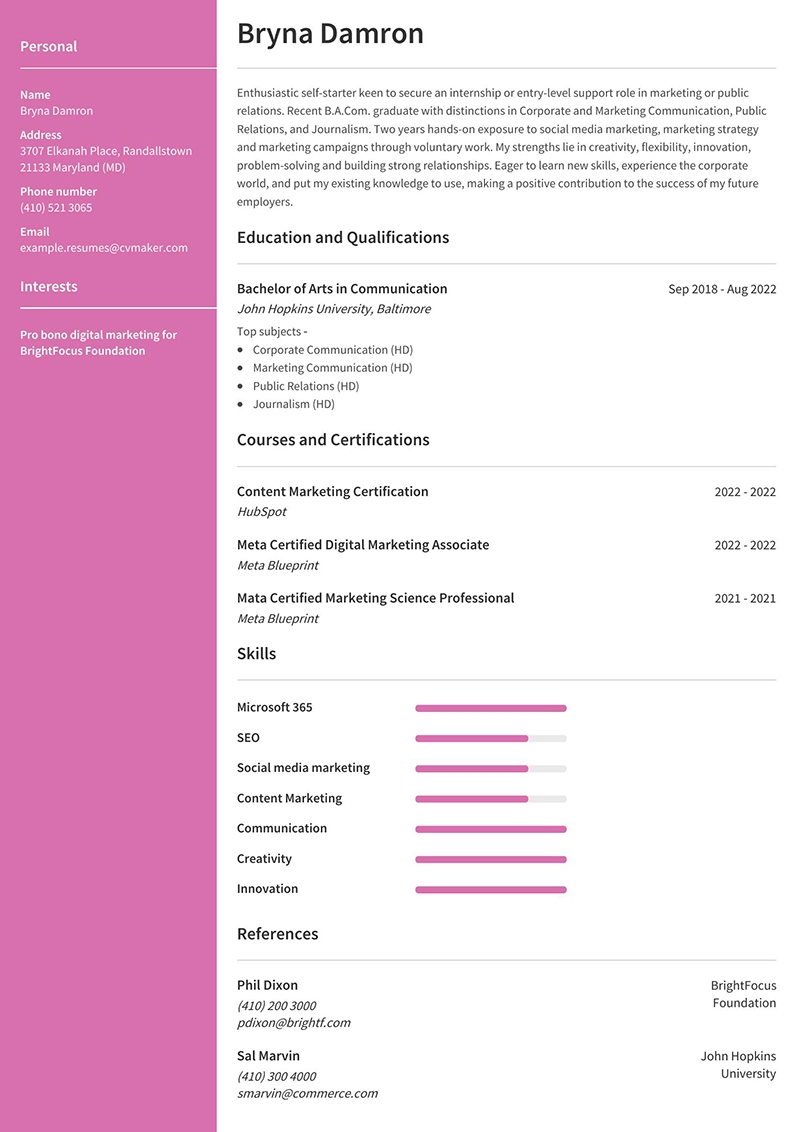 Download This Resume Example - Entry Level Marketing
For this marketing student resume, Bryna chose our Stanford resume template in an eye-catching shade of pink. This entry level marketing resume focuses on soft skills, education, and courses.
Marketing Manager Resume Example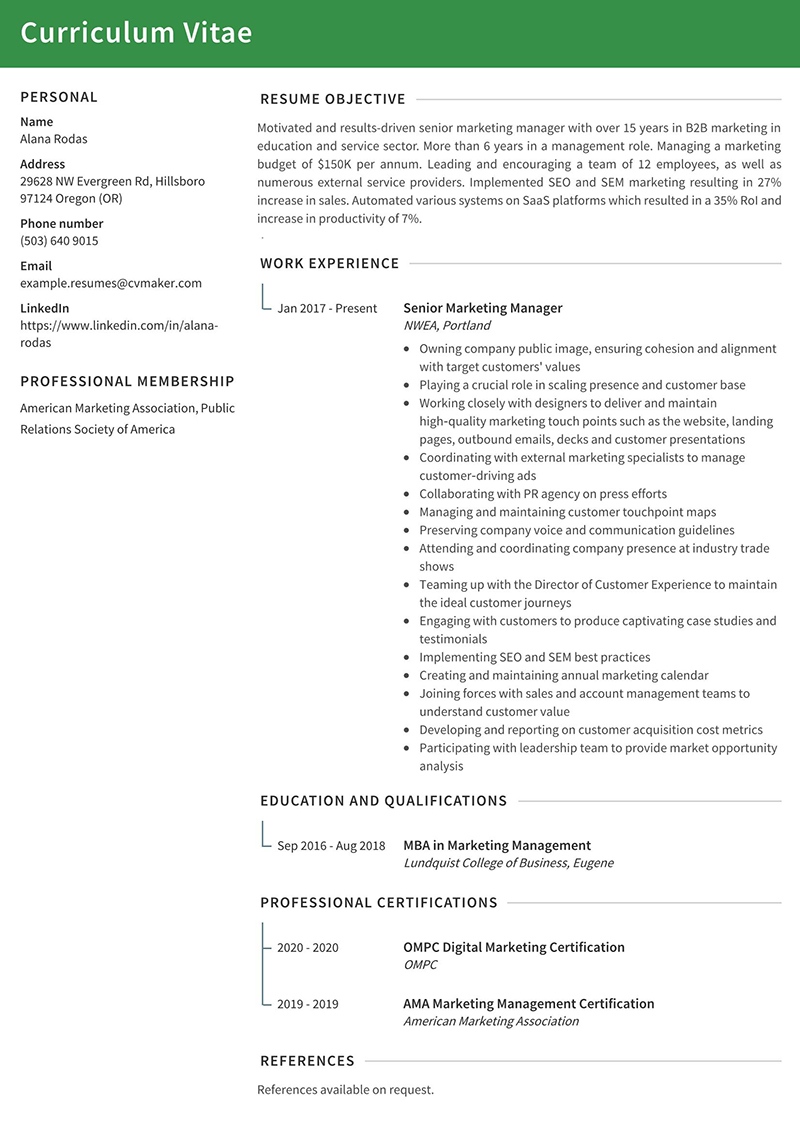 Alana chose a green version of our crisp, clear Cambridge template in this senior marketing resume sample.
Note the absence of skills. This indicates a marketing manager where a high level of soft skills and hard skills goes without saying.
Digital Marketing Resume Example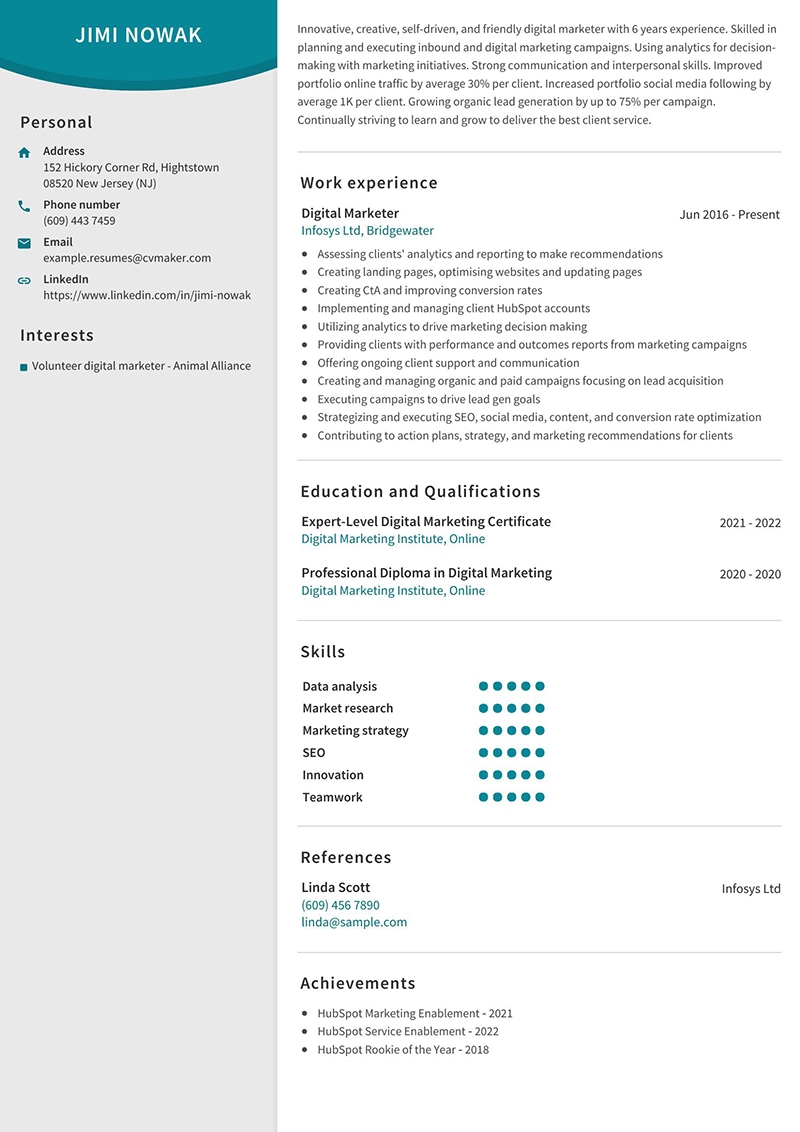 Jimi has opted for our Edinburgh resume template with a touch of blue. This is one of our most popular marketing resume examples.
Page CTA: Link to your resume builder here
How to Write the Best Resume for Marketing in 2023: Guide to Successful Marketing Resumes
Writing your best resume for marketing must be approached like planning new marketing campaigns.
There's a lot of upfront research and planning that goes on before the actual launch.
Similarly, you must do plenty of background work before applying for your dream marketing job.
Preparing beforehand saves loads of time, whether on an active job search or waiting for the right opportunity.
First, spend time creating a master resume containing your entire work history, education, certifications and achievements.
Save it and update it regularly. Use it for job applications and as a source to keep your LinkedIn profile relevant.
Never apply with your master marketing resume, though. Instead, use it as a source document for each job application you make throughout your career.
Next, when you spot a suitable job, call on another bit of marketing wisdom - know your target audience.
Spend time researching the company via its website, social media and press releases. Also, take a look at the hiring manager on LinkedIn. Finally, carefully study the job post.
It's vital to fully understand their needs and who they're looking for. That's how you treat a marketing brief, isn't it?
Step one, carefully comb through the job description, noting all responsibilities
Step two, extract the key skills from the job ad, including the job title
Step three, compare their requirements with your master marketing resume
Do you have what they need?
If you've got what they're looking for, it's time to start writing your resume for marketing position.
Usually, job duties are listed in order of importance. The higher up, the more it matters.
In the work experience section, mirror this hierarchy and use the exact wording to get keywords on point.
Do the same in the education section of your marketing resume and the marketing resume skills section.
All sounds easy enough, right?
However, you've got to get this perfect in one page or two at the most.
Creative marketing resumes rise to the top of the same-old pile by getting their message across without rambling.
Back to marketing basics: a confused customer buys nothing!
Don't confuse recruiters and hiring managers with irrelevant info.
Whether you're writing a marketing manager resume or a marketing assistant resume, only include the job requirements. Anything else is immaterial and can cost you the opportunity.
Include only what enhances your chances, from your opening marketing resume summary to the closing section.
Personal Information
Despite being such an essential section, many get it wrong here.
Consequently, they never get that critical interview invitation.
How come?
Even the slightest typo in your contact details makes you uncontactable.
Transposed numbers in your phone number or letters in your email address mean recruiters can't find you. They're not going to try either; for them, it's on to the next one.
Pay close attention to details here.
So, what do you include?
No more than your full name, physical address, correct contact numbers, and email address. Listing your complete address is optional, too.
This is also where you can include a link to your LinkedIn profile. Especially for senior marketing roles like a brand manager or marketing manager.
Your profile is an excellent way to showcase your work experience if you're a marketing professional. However, it can be detrimental if your LinkedIn profile doesn't match your professional marketing resume.
Personal Information Example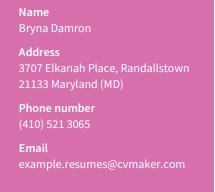 Notice how uncomplicated this marketing resume personal info sample is.
How to Format this Section
You want it to be precise and short with no added bits.
Opt for business fonts, keep it well-spaced and make it scannable.
No matter how wonderful your marketing experience is, it's doubtful that you're the only applicant in a competitive job market.
The tiniest oversight here can see your marketing resume rejected.
Resume Objective
If your resume makes it onto a recruiter's desk, you have no more than a couple of seconds to impress.
Besides having to go through a long string of resumes, recruiters also know precisely what to look for.
With the job description and keywords, they search for what hiring managers want.
Scanning the resume objective, work experience, education and skills sections, they decide in a matter of seconds.
Either you're on the shortlist, or your resume gets binned.
Your marketing resume objective sits at the very top, and it's your only chance to get the recruiter to carry on reading.
Also known as a resume summary, it must contain vital keywords, years of experience and achievements related to the role.
Without that, your marketing resume objective will sink your application.
A well-constructed marketing resume summary is like a powerful marketing teaser to get readers to want to know more. It's a CTA saying, "read on, and you'll know I've got what it takes".
If your resume objective reads the same as everyone else, your resume will be deleted with theirs.
Standing head and shoulders above the crowd is how you get onto the shortlist.
Match it to the core job requirements, write it with confidence and conviction and target it to impress.
Include essential keywords, numbers and statistics for impact in no more than 80 words.
Is a Cover Letter the Same as a Resume Summary?
No, there's a vast difference.
A resume summary is a brief synopsis of your career and achievements. Similarly, a resume objective condenses your work experience and future goals.
Both are openers on marketing resumes giving recruiters a quick glimpse into what applicants offer.
In contrast, a cover letter is a proper letter addressed to someone specific.
It addresses the intended reader by name and motivates your application.
There's no limit to a cover letter's word count, but it shouldn't exceed one page. The longer the content, the more tedious written communication becomes.
Still, only include spec'd job requirements in a cover letter. However, there's more latitude to tell the reader about your abilities and motivations.
Use a cover letter sparingly and never have a generic copy that goes with every job application.
There are two instances when you send your marketing resume with a cover letter –
If the job post asks for a cover letter
Where you're applying directly and not responding to a public job ad
Direct applications are mostly by entry-level candidates who submit their marketing student resume with a cover letter.
Done this way, recruiters and ATS are bypassed.
Don't do this for public job posts, though. Companies have transparent hiring processes, and direct applications are usually excluded.
Resume Objective for an Entry Level Marketing Resume

This marketing student resume objective focuses on academic achievements and soft skills to draw the reader in.
Resume Summary for an Experienced Professional Marketing Resume

In this sample marketing resume summary, stats, values and numbers are used to briefly covey plenty of work experience.
How to Format this Section
You don't have much leeway in so few words, so keep your resume objective, targeted and direct.
Ensure the details are backed up in your professional resume.
Use your expert marketing skills to write it from the recruiter and hiring manager's perspective. Word your resume summary to let them know you've got what they need, so they'll want to meet you.
Professional Work Experience
Before we get into work experience, let's take a quick look at applicant tracking systems or ATS.
Virtually all recruitment processes today use ATS, and it's unlikely your marketing resume will escape them.
Briefly, ATS metrics rate applicants as either suitable or unsuitable.
Applications that make the grade are moved to a recruiter's folder. Those that don't get an auto regret response without being read by human eyes.
When recruiters take job specs from hiring managers, there's an emphasis on keywords that denote critical skills or responsibilities.
These keywords are written into the marketing job description and job title, with the most critical listed first.
Job posts get loaded to job boards and websites via ATS, and all applications are received through the ATS.
Resumes are immediately scanned for the keywords in order of importance. The keywords are either there or aren't - there are no maybes.
Within seconds, ATS metrics can chuck out your marketing job description resume.
That's why resume format, keywords and one to two-page resumes are the only way to go.
Back to getting your marketing job description dead right.
Marketing professionals work in all industries, from startups to multinationals. As a result, many employers want marketers who know their business niche.
Tailoring your marketing resume to match employers' needs is essential.
Rambling on about experience gained here, there, and everywhere is a surefire way to get your marketing resume ditched.
Extract only skills and work experience listed on the job ad from your master resume.
Now rewrite them using the same language, phrases, and order as the job post. Those words and expressions are the keywords loaded to the ATS.
Using your lingo for the same duties means ATS won't recognize your marketing talent, and you won't make the shortlist.
These are a few typical examples of what you might find in marketing job ads –
Brand awareness
B testing
Communication skills
Content marketing
Digital marketing
Docs
Email marketing
Google Analytics
HubSpot
KPIs
Market research
Marketing initiatives
Marketing strategies
Messaging Strategy
Microsoft
Optimization
Public relations
Quantifiable results
SEO
Social media marketing
What if you're an entry level aspiring marketing specialist?
You follow the same process of extracting info from the job post.
Since you'll only apply for jobs with the relevant skills, they're likely to be junior roles with few requirements.
If you've previously done what's needed, add it to your entry level marketing resume. Even if it was at school, college, or in a voluntary position.
Where you've got no working experience and only certifications, put it in your marketing resume objective and skills section.
Never claim to have relevant experience you don't have. Many companies are willing to train entry-level applicants if they see their potential.
Marketing resumes are best done in reverse-chronological format. Begin with your most recent job and work experience and continue in descending order.
See our marketing experience examples below and our marketing resume templates at the beginning of this article.
Work Experience Example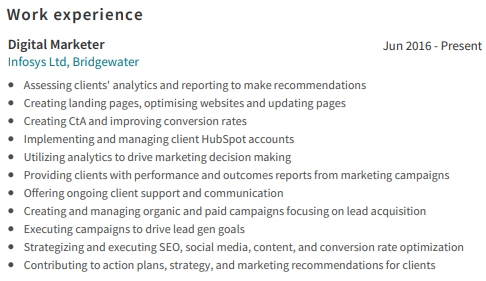 This marketing job description resume uses bullet points and spacing to excellent effect.
How to Format this Section
Using bullet points, and clear business fonts make skimming over this easy for readers.
This is handy for the hiring team, especially when referring to your marketing resume during interviews.
While your work experience must be kept short, it mustn't lack details.
Too little info can make your chronological resume look weak.
Prospective employers know what you're capable of. Include quantifiable results in numbers, stats, and percentages for more impact in fewer words.
Craft each core responsibility into a single bullet point, and don't combine key duties.
Furthermore, don't forget to follow the same order as the job post.
Education
Securing a marketing job doesn't require a degree or specific qualification.
There are plenty of top-shelf certifications available, and universities also offer bachelor's degrees and MBAs in marketing.
Many successful marketers come from a background in sales, while others go from school to an entry level marketing job.
Agencies and specific industries frequently opt to train school leavers and reward effort and potential with bursary and study opportunities.
Regardless, not just anyone makes a great marketer. Soft skills like adaptability, communication, cooperation, creativity, empathy and innovation play a significant role in success.
If you have an inborn flair for marketing, you're likely to do well, irrespective of your education.
Only include an education section if you have the qualifications specified.
Adapt your marketing resume headings to accommodate your education.
As a school leaver, only include your GPA if it's 3 or above.
There are plenty of online certifications that you can accumulate to get your career started. There are also free, quick courses such as those offered by HubSpot and Google academies.
Entry level marketers without relevant experience but a bachelor's degree or similar can focus on their subjects, projects and achievements.
Education Example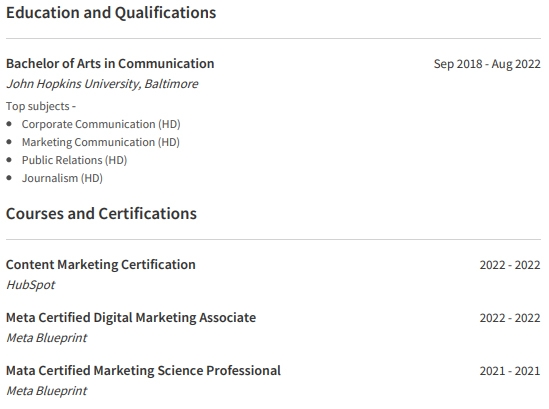 This marketing student resume compensates for the lack of work experience by focusing on education details.
How to Format this Section
Keep the education section exact and reader-friendly.
If you have several qualifications, list them in descending order, starting with the most recent.
Include the institution first, the qualification and dates.
Omit education from years ago unless it's expressly stated in the job advertisement.
Only include subjects and marks if you have little or no prior working experience.
Courses and Certifications
Ongoing learning platforms and short courses can be a marketer's best friend, especially in digital marketing.
These refreshers and up-to-date certifications keep you at the cutting-edge technology and marketing trends. You become more employable, too, as you're continually updating your skills.
Registrations and courses with professional industry bodies count for something as well.
Entry-level and junior marketers benefit greatly from courses as they help hone skills and specialization while working full time.
Courses and Specializations Example

To the point as in this professional marketer resume sample.
How to Format this Section
Treat it like the education section - accurate and reader-friendly.
If you have several certifications, list them in descending order, starting with the most recent.
Include the institution first, certification and dates.
Where you've done refresher courses, list only the most recent.
Marketing Resume Skills
The marketing resume skills section is the other pet stomping ground of ATS, hiring managers and recruiters.
Different marketing roles need specific hard skills and technical skills; however, soft skills are equally crucial.
Listing skills can be tricky if you over-explain, so keep it simple.
Hard skills, otherwise known as technical skills, refer to learnable and teachable skills we acquire through education and hands-on experience.
In contrast, soft skills align with personality traits we develop throughout our lives, known as interpersonal skills.
Draw them from the job advert and keep them in the same order on your marketing resume. Rate your proficiency in each skill to make comparisons easier for the hiring team.
Examples of hard skills include –
B testing
Brand awareness
Communication skills
Content marketing
CRM
Data analysis
Digital marketing
Email marketing
Google Analytics
HubSpot software
Market research
Marketing strategy
Microsoft Applications
SEO
Social media
Soft skills include –
Active listening
Adaptability
Creativity
Emotional intelligence
Empathy
Innovation
Leadership
Openness to feedback
Problem-solving
Teamwork
Skills Example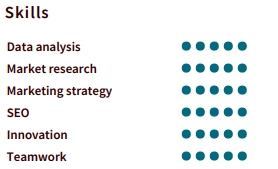 Marketing resume skills must be clear and easy to read.
How to Format this Section
Irrespective of your hard and soft skills, only list those mentioned in the job post. Other soft and hard skills can be discussed during interviews.
Your marketing resume skills must get picked up by ATS, so your marketing skills resume makes the interview shortlist.
Remember writing your skills differently to the post means the keywords won't be recognized.
For example, listing a skill as "search engine optimization" when the post lists "SEO" means your ability will be overlooked.
And don't forget to include a rating for each skill to help the readers quickly assess your skills.
References
End your marketing resume with references.
For security and privacy reasons, avoid providing full contact details. There's a margin of risk when applying for jobs in the public domain.
You don't know the company, and they don't know you. Sharing referees' names, contact numbers, and emails could result in misuse.
If the marketing job post doesn't ask for contactable references, you can say references are available on request.
Two references are more than enough. Always confirm beforehand that referees are still available and willing to give you a reference. That way, you're confident, and they know to expect a call.
An uncontactable reference or one who doesn't remember you creates a wrong impression which could cost you your dream job.
References Example

You don't need more than two references.
How to Format this Section
Nothing more than precise details here.
Just as with personal information, don't overlook the importance of accuracy if you include names and contact details.
If a reference appears uncontactable, it can reflect poorly on your application.
Related Resume Templates
Marketing resume templates and marketing examples not ticking all the boxes?
We've got loads of other professional resume templates for you.
Final Points on Creating an Effective Resume for Marketing Positions
As with anything worthwhile, resume writing takes time.
You'll definitely reap the rewards when you do thorough work upfront before submitting an application.
Adding a resume builder to your toolkit gets you highly saleable resume templates to promote your marketing experience.
Let's recap on the essentials for writing your best resume for marketing -
Write a master resume and keep it as a living document
Target each job individually
Researching companies before applying
Extract keywords from each job post
Take time selecting info from your master
Craft a persuasive resume summary
Back it up in your skills and work experience section
Stay with a one to two-page resume
Use professional but easy-to-read wording
Include numbers and statistics for impact
Use action verbs and positive language to keep it engaging
Submit your resume in pdf format