Manual Testing Resume Sample, Example, and How to Write Tips 2023
As a manual tester, you likely have experience with software testing, automation testing, and working with test cases. While you create your manual testing resume, those are things you want to focus on. The main goal of this sort of resume is to get you an interview. The best way to do that is by making a resume that is simple to read, eye-catching to look at, and filled with detail.
Even if you're writing a manual testing resume for 4 years of experience, there can be challenges to the task. Regardless of your experience level, you have to be able to compile things into a short document that shows off the things you do the best. This gives insight into how well you can handle pressure, which is important in positions like this. It also can give a glimpse of your personality at the same time.
Are you wondering where to start with crafting a manual testing resume for a great job you found? As you read through this guide, you'll get a roadmap that looks at how to write and format an extraordinary resume. In addition, you'll see a professional resume sample that you can use to make your own shine. Keep reading to find out the details that will make your manual tester resume stand out.
Manual Tester Sample Resume
Soon, we'll show you a manual testing sample resume that you can use as a map to make your own. While you might be skilled in testing and professional documents, resumes tend to be a different situation. Most of us aren't making them on a regular basis and standards change so it can be stressful to get started.
When you can look at test engineer resume samples while you make your own, you can easily see if you're on track. Of course, you can get creative and change things up a bit but having a format to follow often makes the process less overwhelming. Add flair that is all your own while making sure you follow the best practices of the samples you view.
Just below, you'll find a full-featured manual testing resume sample that you can use as your guide. You can use it to get the bones of your own resume started. Or simply keep it in mind as you gather all the written information needed for a manual tester resume. Check it out and get started with all the information you need.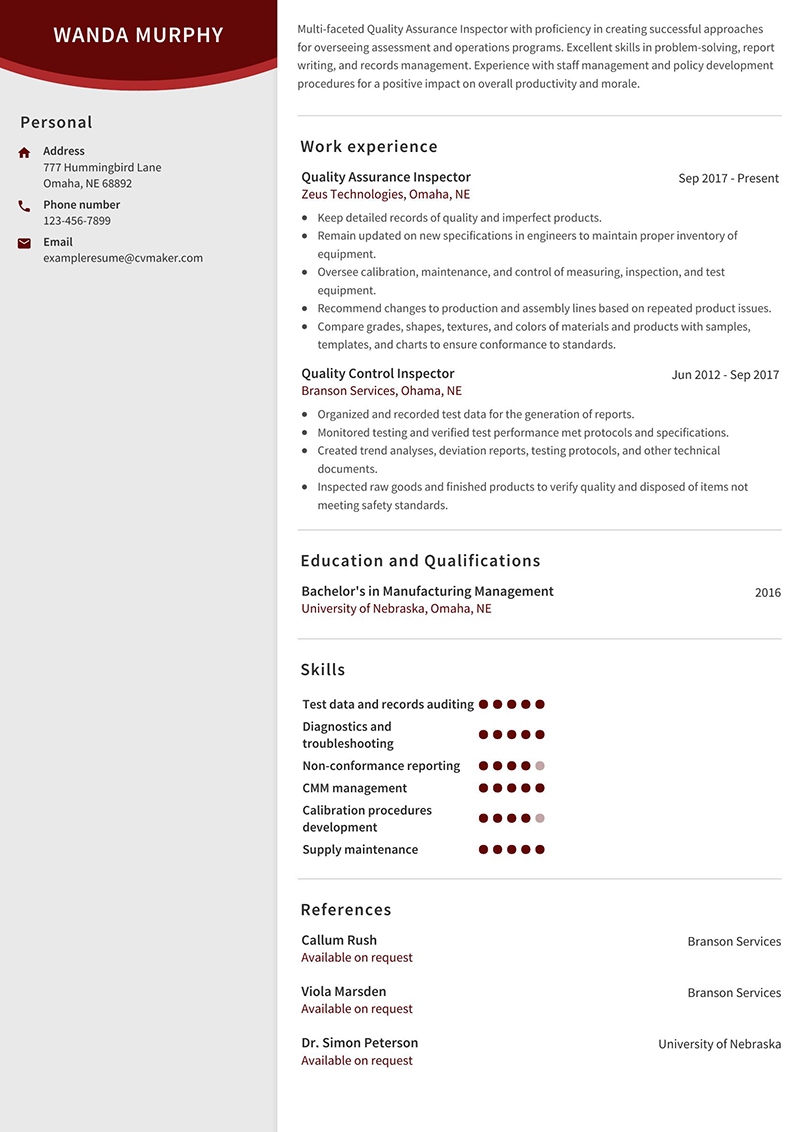 Download This Resume Example - Manual Testing
As you look over this manual tester resume example, you can see how simple it is to take in all the information. It offers a strong resume objective supported by information about skills, work experience, and education. The applicant shows all the things they do best in this line of work so the employer isn't just guessing.
The resume is made to be quick to scan to understand the applicant's qualifications, references, and education. It has a natural flow, clean but attractive formatting, and builds on a story as someone reads through it. Now that you have a good idea of your goal through this sample resume, let's dive deeper into how to excel.
How to Write a Good QA Manual Tester Resume in 2023: Tips That Work
Manual tester resumes have to cover a lot of ground. You want to show that you have excellent compatibility with the role and company you are interested in. Those with lots of experience have certain challenges, but entry-level candidates will have their own hurdles to clear. Anyone with years of work experience may have trouble covering everything well.
In the best manual QA resume, you'll be offering a variety of types of information. Part of that includes your work in manual testing, what degrees you have, and what skills make you the cream of the crop compared to competitors who want the position. Including all the pertinent sections is a good way to start.
Many people use the same format for a QA manual testing resume or take a basic format and adapt it to their needs. No matter how you end up formatting this professional documents, make sure you add in the information listed below:
·       Information about how to contact you
·       A resume objective highlighting your skills
·       Information about past work experience
·       Details regarding your educational background
·       Skills and abilities you would bring to the position
·       References from those who know you and your skillset
In most cases, a reverse-chronological structure is best for a resume. This gives insight into the things you've done with a highlight on those that happened in the most recent past. For instance, under the work experience section, you'd include your last or current job before moving back into the past with details about other employment.
Combination resumes and functional resumes are also valid to use, although less common. However, each of them is ideal for specific situations. For instance, a functional resume is often a good choice for someone with a lack of work experience. On the other hand, a combination resume can work for those with impressive amounts of skills and experience. Once you know what format you want to use, there's something else to be aware of.
Most companies today use applicant tracking systems (ATS) as a way to process resumes, especially if they often get many of them. A computer "looks" over the resumes and determines if they are relevant for a particular position. That means you need to use keywords from the job description to ensure you pass. As many essential words as you can add to your tester resume, the better.
Keeping all of these factors in mind, it's time to move into the different sections of the resume and how to fill them out to succeed. We'll give you information for every part of the manual testing resume to ensure you provide what an employee or recruiter wants to see. Keep the job description with you to add keywords while moving forward.
Section #1: Contact Information
First up is the contact information section. There's no need to bust out your skills in Java, Agile, or even quality assurance to make this section shine. Instead, all you need to do is provide some basic information about yourself and the best way to get in contact with you.
Contact Information Example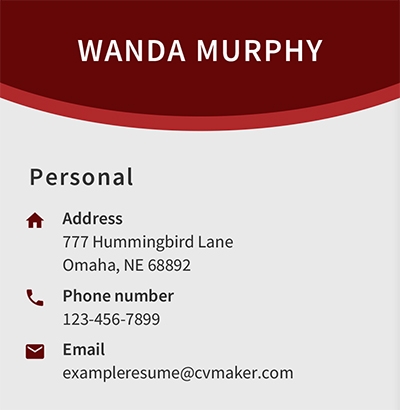 In this example resume for a quality center tester job, you can see how things look to engage management. This is one of the simpler sections of the resume since you have all the information already ready. You can see the applicant's personal information, followed by two methods to contact them. This is all the hiring manager needs to see before moving on.
How to Format This Section
Maybe you create end-user test automation or haven't had a job in this field yet. In either case, the contact information section is short and sweet. There isn't a lot that needs to be said here but you should keep in mind a few tips. For instance, you should use a professional font, bold to add highlights, and ensure everything is keyed in correctly.
Section #2: Resume Objective
As someone who is creating a manual testing resume for 5 years of experience, your resume objective will differ from a manual testing resume for 3 years of experience or someone coming in without work experience. The basic idea is the same but what you include is likely to differ. We'll give some insight below on the difference between an objective for a manual testing resume for experienced workers and entry-level ones.
So what is the resume objective? It sits toward the top of the resume and gives a brief explanation of your accomplishments and achievements. This is where you pull out the best things you've ever done and show an employer that they should keep reading the manual tester resume.
Resume Objective Example

The skills mentioned in the resume objective can vary. Maybe you don't have the skills the applicant does but have excelled in SQL, regression testing, and making a test plan. The point is to highlight the things you have had the biggest achievements with. You may wish to make a list and brainstorm before completing this section.
For those who are experienced, keep in mind that this section needs to be concise. Choose achievements that match up to keywords in the job description whenever possible. Those with less experience should dig into skills and achievements that are somewhat relevant to the position they want to get.
How to Format This Section
Whether your achievements are in user acceptance testing or building test reports, you need to sell them in this section. Don't underplay your experience since this is where a decision is made to keep reading the resume or chuck it with the other candidates who never move forward. Formatting isn't a huge part of this section but there are a few things to know.
The first is that you need this to be well-written and simple to understand. Avoid serious jargon that might go over many people's heads. The font here should be a simple one since the words carry most of the effort here. This section is a paragraph format and should be no longer than four sentences.
Section #3: Professional Work Experience
Now that you've made it through the first two sections, it's time to look at a larger part of the resume. That's right, we're going to guide you through the inclusion of your work experience. Whether you're crafting a manual testing resume for freshers or experienced workers, there are certain methodologies to be aware of.
Those with a great deal of experience will easily be able to weave in information about functional testing and software development. However, those new to the industry might have a bit more trouble deciding how to create this section.
Professional Work Experience Example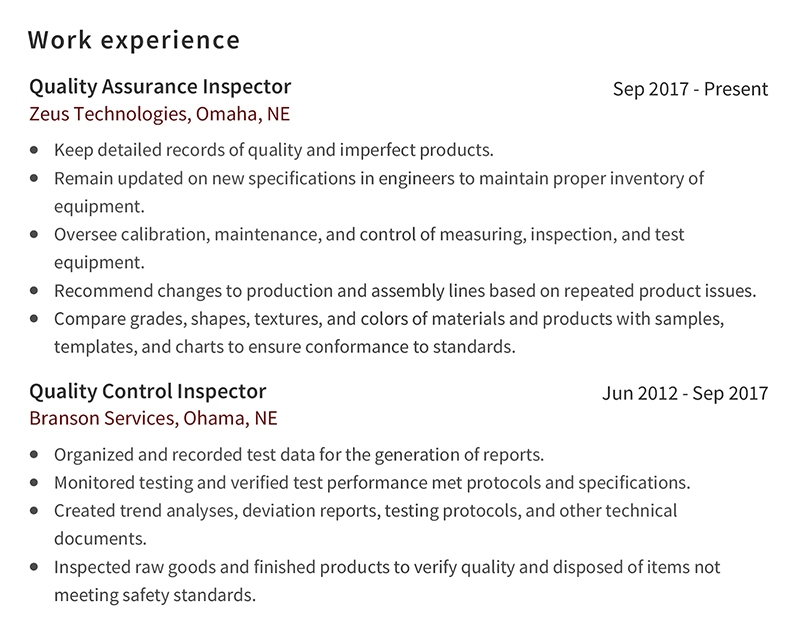 Above is an example of a manual testing experience resume. Your own will look different based on the type of experience you have up to this point. You'll want to include any software quality assurance you've done and include metrics wherever possible to prove your skills.
Are you new to manual testing? In that case, other positions should be listed here for the manager to see. If you have no experience at traditional jobs, volunteer positions and internships can be used. Those who have no relevant experience may wish to focus more on the education and skills sections of the manual tester resume.
How to Format This Section
While this section gives information about your years of experience in the field, that isn't its only purpose. You want to give examples of how you utilized test scenarios as a software tester (or another type of manual tester). Formatting the section properly can go a long way toward creating a positive impression with the employer.
The basic idea here is to have a header with your role, dates of employment, and the name of the company you worked with. Underneath, use a set of bullet points to dive into what your responsibilities were in this particular position. Use action verbs and keywords as much as possible.
Section #4: Educational Background
Even if you have a 3 years of experience resume in manual testing, education is also important. Whether you have a bachelor's in computer science, an associate degree, or a high school diploma, this is something you want to convey to the hiring manager. Certifications can also be included in your list of educational background items.
However, those who have a degree beyond a high school diploma no longer need to list high school education. At the same time, all certifications and degrees beyond that should be included. Experience is certainly important for a manual tester resume, but education also gives insight into what you know and can handle in a testing position.
Educational Background Example

The applicant above has a bachelor's degree so there isn't a high school diploma listed. If you also had a master's degree, that would go on top with the bachelor's underneath. You'll notice this section is similar to the experience section but takes up less space. Most people won't need to add extra details.
Whether you learn about project management, the use of Selenium, or how to work with testing tools, these could be things to add for someone without experience. You can also add your GPA, the honors you've received, or a list of challenging classes you excelled at. This is a great way to show your skills when experience is limited.
How to Format This Section
Since this section is similar to work experience, the formatting is fairly easy if you've made it this far. However, there's often no need for the bullet lists you used for education. Instead, make sure that you list your degree, where it came from, and when you achieve it. There's no need to include when you started a certification process or degree program (but you can if you prefer).
Those without experience can use a bullet format for extra information. This is recommended rather than a block of text. It has better formatting for your potential employer to skim and get the gist of what you're sharing.
Section #5: Skills
Which skills should be included in a QA analyst resume for manual testing? There are several. You want to have both hard skills and soft skills, as well as technical skills and communication skills. This shows that you can handle the rigors of the position and get along with the people who will inevitably be around you every day.
There's nothing wrong with a focus on test strategy, skills with Oracle, Linux, or Bugzilla, and the software development life cycle (SDLC) but don't shy away from listing skills pertaining to how you deal with other people. This is just as important as being good at your job.
Skills Example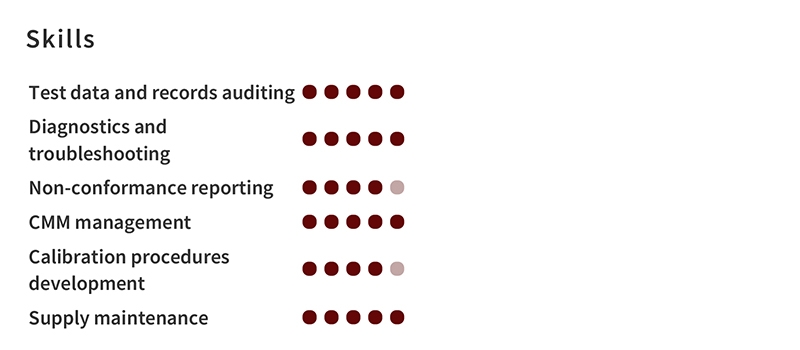 The skills example on the manual QA tester resume above gives you an idea of how this section can look. Of course, you may have entirely different skills to list on your own. A few of the most common skills to include are the following:
·       UNIX
·       Test management
·       Defect tracking
·       System testing
·       Load Runner
·       Jira
·       Test scripts
·       QTP
·       Testing software
·       JavaScript
·       HTML
·       Automation tools
·       UAT
·       XML
·       Scrum
How to Format This Section
Sure you know how to interpret test results, but is that listed in the keywords for the job description? Business requirements should take precedence when choosing the skills to mention. Consider the things you do best that match up to the job requirements. This will give you a leg up on the competition who provide skills without much thought behind why.
Section #6: References
Whether you have a manual testing fresher resume or experience on a development team, your resume has to include references. This is the best way to connect a potential employer with people who know the potential you have. It also provides a way to verify employment, coursework, and other things.
References are often from professionals, like coworkers and managers, but can also be from those in the neighborhood. However, avoid adding family members or friends as their information will be considered biased, even if it isn't.
References Example

In the reference example above, the applicant added in people who know their skills in the performance testing process. This includes mostly people from past places of employment along with a professor from the university they attended. Your own references section will look similar although you may choose different entries to vouch for your knowledge and skills.
How to Format This Section
Formatting this section is fairly simple, especially as the final section for the manual tester resume. You'll want to include the name of the reference as well as where they are employed. Then you have a choice. You can either include the contact information on the resume or add "available on request."
We typically recommend the latter option as it protects the privacy of the people you are listing on your resume. However, it's up to you which direction you prefer to go in.
Related Resume Templates
As someone who does tasks like integration testing, you want a resume template that has your needs in mind. If you prefer something different from the example we posted toward the top of the guide, you have a variety of options to choose from. Below is a selection of options to choose from. You can also use our resume builder to choose even more templates in designs and colors you like.
·       Business Intelligence Analyst Resume
Now that you have a selection of resume templates to choose from, you can start placing all the information from the sections we talked about. If you made a master resume in Microsoft Word, all you need to do is some quick copy and pasting. After that's complete, make sure to look over the resume and fix any mistakes before applying for a manual tester position.
Final Points on Writing Successful Manual Testing Resumes
As someone creating a manual testing resume, you know how to focus on the details and explain things to other people through conversation and written documents. The good news is that those skills will come in handy while you create your manual tester resume. You want an engaging document that makes an argument for hiring you and shows you are qualified for an interview.
Take the advice and tips from this article and you'll be sure to engage with potential employers in a positive way. Remember to use keywords, action verbs, and numbers we mentioned earlier and add them throughout your manual tester resume. This will help you get your resume past automated systems and on to a leader at the company. Good luck!