Hospitality Resume: Example, Template & Writing Guide for 2023
Are you looking for some tips to make sure your hospitality resume is one that a hiring manager pays attention to? Whether you want a front desk job or prefer to work in management, your job application needs to be perfect. The resume should also be among the best of the best. The good news is that this process may be easier than you expected.
Hiring managers give you clues about what they want when you read the job description. They want to see if you have the listed skills and experience to be capable of the job. Your resume should focus on these things since those reading it will be. Remove all the extra information and include only the sections that matter.
Knowing what information to include and how to format it can give you an advantage over others who want the same position. A fantastic hospitality resume shows that you can handle whatever the job throws at you and make the company more successful in the process. It doesn't matter what the position is. This is what you need to show you can do.
Don't worry if you're not sure about where to start. This guide is designed to give you all the information you could need throughout the process. We'll walk through every part of the hospitality resume, from what to include, where to place it, and how to word things to ensure you send in your best resume. But before you start crafting your own professional document, you should take a look at someone else's.
Hospitality Resume Examples
You need to craft a resume that gets you in the interview room, and there is no better way than with the aid of a hotel resume sample. Hotel resume samples give you insight into what hiring managers are looking for. Looking at samples lets, you see why certain things work so you can craft your own document that is sure to be noticed.
While we move through this guide, you'll see hospitality resume samples for every section of the document. A PDF resume is also available so you can take a look at the precise details as you get to new sections of the guide. Having inspiration from hotel resume examples shows you how to get creative while proving all the required information for a recruiter or hiring manager.
Below you'll find the first of our sample hospitality resumes for a hotel or restaurant job. All the most common sections are included, along with the needed information within them. As you move through the guide, we'll share additional samples for specific sections. We'll also give out information, tips, and formatting options that will ensure your hospitality resume looks excellent.
Peruse the image below, download the resume, and then keep reading to learn how to make your own resume. We'll make sure you have all the information you need to build a hospitality resume you can be proud of. Then all you need to do is tweak it to some degree when you apply for additional jobs. Your dream job could be yours sooner than you think.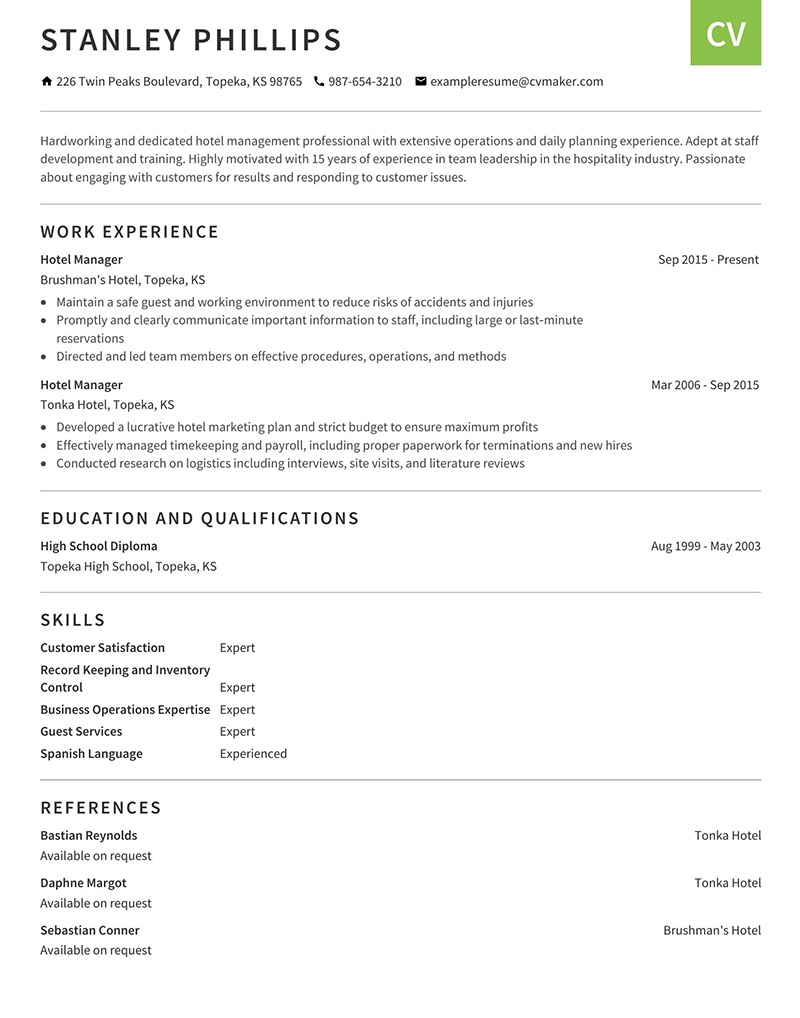 Download This Resume Example - Hospitality
How to Write a Good Hospitality Industry Resume in 2023: Full Guide to Resumes for Hospitality Jobs
When you are building a resume for the hospitality industry, there are several pieces of information to include. As you start to build the resume, make sure you have the job description handy. Reading it over again is a good place to start when making your resume for a hotel management job. Look for what the company wants, and make sure you include those things in your resume.
As you craft a resume for hospitality management, keep in mind that most companies use an applicant tracking system. This is a type of software that analyzes your resume for keywords, like skills and experience. If you don't include enough of what the hiring manager wants, your entire resume may never be seen by a person.
Make sure to use keywords from the job description as you make your hospitality resume summary. However, make sure these keywords are used in the right areas. They need to make sense and offer value to a potential employer. After all, if you do well, a human will read the hospitality resume once the applicant tracking system is done.
Throughout this guide, we'll walk you through each of the sections in a hospitality resume. You'll learn about contact information, resume objectives, work experience, education, skills, and references. As you continue reading, we'll share how to create each of these sections until you have a resume that is ready to be seen by the person doing the hiring.
Section #1: Contact Information
Before you get into your education and experience, you need to be sure that recruiters have a method of contacting you. There's no point in sending in a resume, even a perfect one if it doesn't provide information about you and how to get in touch with you. Think of the contact information section as a way to introduce yourself. You're sharing your name and other information before delving into how you can be of use in a certain position at a company.
Contact Information Example

A professional resume doesn't need a lot of information in this section, as you can see above. A name, address, and two ways to contact you are more than enough. This isn't the time to get into your experience or skills. You'll write about that soon enough. Instead, you want a simple block or section on the hospitality resume that shows who you are. The image above shows you one method to do so.
Beyond the basic information, some choose to include other details. For instance, some positions might ask for a link to your LinkedIn profile. This isn't required. There's no need to add more information than you see above unless it is requested by the employer.
How to Format This Section
Job seekers should include their information in easy-to-read fonts. Start with your name, which can be bold and larger than the rest of the information. Follow up with your full address – or add your state and city or country and city, so the employer has that information. Next, include two or more methods to get in contact with you. These are the basic details that need to be conveyed.
Make sure to go with a professional, traditional font for the resume as a whole. It's especially important that it is very legible. Don't go crazy with lots of colors since that can make things harder to read. Simple and aesthetically pleasing are the two goals you should have as you work through the contact section and beyond.
Section #2: Resume Objective
Now you can focus on the hospitality resume objective, which lets you show off what you are capable of. Here you can talk about your stellar customer service, successes as a manager, or whatever else you find yourself proud of. This is a short section where you show off your most impressive achievements. Just make sure that those accomplishments relate to the position that you'd like to have.
Resume Objective Example for a Resume for Hotel Job with No Experience

Resume writing varies depending on whether you have experience or not. For someone who has no experience in the industry (or at all), you'll need to share why you're a great candidate despite that. You may want to focus on education and any experiences you have had that are similar to the sort of work you want to do. The image above gives you an idea of what the objective section might look like.
Resume Objective for a Hospitality Management Resume

For those who are no longer at a hotel front desk and instead a hotel or restaurant manager, your objective should show what you have achieved. Talk about the experience, skills, and successes you've brought to past companies. Most of you won't have a challenge finding something to say. What can be challenging is choosing what to focus on. Go with the largest accomplishments you have.
How to Format This Section
To create the best resume for a hospitality position, focus on the accomplishments and skills that pertain to the potential new position. If you have skills listed in the job description, put your focus on that. When it comes to formatting, it's easier to keep it simple. However, there is one major thing to be aware of. A resume objective should be very concise and simple to read. Make sure yours is no more than four sentences long.
Section #3: Professional Work Experience
The number of years of experience you have is only the start of why the professional work experience section is so important. It gives an idea of how you've done with teamwork, what skills you might have learned, and what experiences you have encountered in the hospitality world. You got a hiring manager hooked to read this section, and now you can go into much more detail.
For those with plenty of experience, you can pick and choose which positions to list in the past. If you are new to the job industry, you may need to include positions that aren't in the same industry. There's nothing wrong with that, but you want to word things to show you have the needed skills to do the job well.
Professional Work Experience Example

Above, you can see an example experience section for a hospitality professional. This should outline the past experience you have in hospitality. For those without experience, you should include any other jobs you've had and how they might overlap with your new responsibilities. This sample can give you an idea of things you might want to add based on your past experience.
How to Format This Section
The resume format for an experience section is a bit more in-depth than the sections we've gone over to this point. We'll be sharing the format to use for a reverse chronological resume. However, those without experience might find a functional resume is best. The basic idea is to have a header with the job title, company, and when you worked there.
Below that, you have a blank area for sharing what you are capable of. The method used in the sample resume is to utilize bullet points to leave achievements and job duties under every employment header. You can also choose to have a blurb before the bullets if you prefer. After you finish your current or most recent job, move backward to the last one before that.
Section #4: Education
For a hospitality resume, customer service skills can often trump education. Many of these positions require nothing more than a high school diploma. However, that doesn't mean you shouldn't showcase your education if you have certifications or one or more degrees. No matter what level of education you have, here is where you can pull it out and make sure you show off all your abilities, knowledge, and skills.
Work experience might have more pull, but education is often important too. Check the specific requirements for the position, and then list your degrees or diplomas. For those with some experience, that might be all you need. Entry-level employees can add some additional information to fill out the resume.
Education Example

This example education section is short and sweet. Yours might be similar, or you might have additional information to include. You can easily see what the applicant has achieved as far as education. Your own section might be larger if you've pursued higher education or completed certificates related to the position. The same reverse chronological system used in the work experience will be just fine here.
How to Format This Section
The format for this section is similar to the last section we worked on. Use a header to explain where you got a degree, what degree it was, and when it was completed. Other information only needs to be included if you wish for it to be. If you have some extra space on the resume, add information about challenging classes you took, your GPA, or other achievements that make you stand out. If you have certifications, add them here in the order they were acquired.
Section #5: Skills
Now we come to skills for a hospitality resume. The skills section is where you talk about the things you are capable of. However, you don't want to put down just anything. Your hospitality skills for a resume should focus on keywords from the job description whenever possible. Everything from conflict resolution to communication skills can be a good choice for this section.
Remember that even those who haven't done hospitality jobs in the past can have hospitality resume skills to add. Other jobs, volunteer experiences, or life activities may have given you hotel skills for a resume. Those who are new to the industry may need to be creative when adding skills. However, unique skills can also be useful in some cases.
Skills Example

What skills are best for a hospitality resume? You can see a variety of them in the image above. A few good choices include both hard and soft skills. Problem-solving, guest services experience, customer satisfaction abilities, interpersonal skills, and computer skills are all good choices. However, it does depend on the job and what is listed in the description.
For example, if the job description mentions wanting someone bilingual for the position, make sure you show off your proficiency in Spanish or Mandarin.
How to Format This Section
Most of the time, a bullet point or list format is the best option for a hospitality resume skills section. As a hospitality worker, you can choose to have the skills on the sidebar or leave them at the bottom of the resume. The sidebar tends to be good if you don't want to go to a second page, and your skills would do that. Those with less experience can add to the bottom to make the resume longer.
Section #6: References
References are professional or personal contacts who can give an employer information about your work ethic, experience, and character. These are listed on a front desk clerk resume as a way to show that the information you provided is credible and supported by other people who you know from past experiences.
While many managers will not contact all your references, there's a chance they will. This is why it's essential to consider who you add. You want to select people who have promised to aid in your job search. It's not a good idea to add people who haven't agreed to speak on your behalf. You never know what information they might give out.
References Examples

A great resume example of references can be seen above. You can see that there are three references. It's up to you whether you want to add more. Most managers will expect to see about three to five references, although they may not all be contacted. It's good to have some references from a past job, but references from professors and people who know you in the community also work.
When choosing references, make sure they are available to talk about you right now. You want to be sure that those who receive correspondence about you take time to reply to the email or take the phone call to sing your praises.
How to Format This Section
Whether you're listing concierge staff or managers as references, it's recommended to include two ways to contact them. Most of the time, a phone number and an email address should be used. However, if the individual prefers another method of contact, defer to their needs. Keep this information somewhere easy to access for future employers.
On the resume itself, it's best not to disclose all of this information. Personal contact information shouldn't be given out to just anyone. If the wrong person downloads your resume, they could contact your references. Instead, add the person's name, where they work, and list "available on request" for the contact information. Interested managers will reach out to you for more information.
Related Resume Templates
The easiest method to create a resume is through a hospitality resume template. However, the excellent thing about templates is that you can adapt them to your needs. We offer a variety of templates that you can make your own to apply for a fantastic hospitality job in a restaurant, hotel, or another location.
Feel free to browse all our resume templates or check out the ones below. You're sure to find one that meets your unique needs:
After selecting the hospitality resume template you like most, fill in your details. Take time to read over everything for typos and grammar issues. Tweak it to include keywords from the job description. At that point, you'll be ready to send in your application and have a better chance of being hired.
Final Points on Writing Successful Hospitality Resumes
There are several things that can make your hospitality resume stand out when a hiring manager sees it. Make sure you show your experience and accomplishments. This marks you as a potential asset to the team. Add in some skills so you can show what makes you unique and worth bringing on as a worker. Finally, adapt each resume to the job description, so you have a better chance of getting an interview.
Don't forget that the hospitality resume is only one document you need to land a great job. You'll also want to create an amazing cover letter and send in thank you notes if you make it farther into the process. Good luck!