Supply Chain Manager Resume: Samples & Writing Tips for 2023
Each day, consumer goods, raw materials, and other consumables are transported across the globe. They travel via truck, railway, air cargo, and sea to drive the world's economy. It's the task of supply chain managers to effectively come up with solutions that ensure freight is moved Efficiently. To become a supply chain manager, a candidate must have experience in the industry, apply for a job, and submit a well-written supply chain manager resume.
A supply chain manager position is relatively easy to retain when the candidates possess the right qualifications, experience, and education. However, the candidate who submits a professionally written resume is the one who is likely to receive that all-important interview.
Writing a resume for a supply chain manager becomes easier when you follow a proven methodology that permits you to tell your story in a clear, easy-to-read, and powerful format.
In the information below, we will explain how to write supply chain manager resumes that will fit any logistics leadership position. We will introduce the crucial skills and requirements to list in the resume of a supply chain manager, explain what sections are required and recommended, and provide a few practical tips that will allow you to write a supply chain skills resume that attracts the attention of hiring managers and automated software solutions used by recruiters.
Supply Chain Manager Resume Sample
We strongly believe that the best way to learn to do something is to visually review a finished sample. This is especially true when you're reading supply chain manager resume examples. One of the most complex decisions a new job candidate will make is determining how to write their resume.
Should they write it with a focus on supply chain resume keywords to capture the attention of applicant tracking systems optimization like procurement, problem-solving, project management, forecasting, reviewing pricing metrics, sourcing and inventory control? Or should they draft supply chain management resume examples that focus on human engagement?
What if you could do both at the same time? We've accomplished that in the supply chain manager resume sample posted below. The sample is that of our hypothetical candidate Fred, who is applying for a supply chain management position for a 3PL (third-party logistics company) in Dallas, Texas.
As you read the resume, pay close attention to the layout, the tone of his writing, and some of the critical action verbs (or supply chain resume skills) that hiring managers (and software) will pay attention to when selecting candidates for interviews.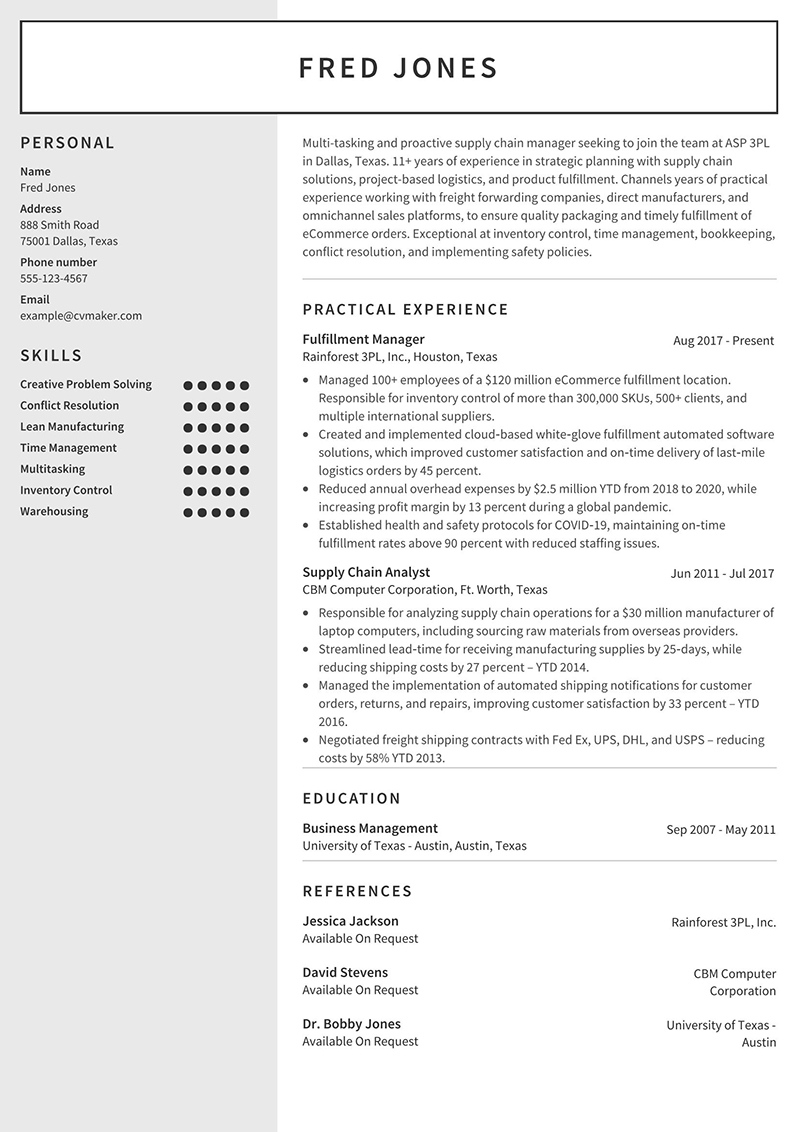 The best resumes flow from start to finish, telling a story about why the candidate is the best person for that specific job. This is what Fred has accomplished with his supply chain experience examples resume.
The resume is clean, organized, and provides all the elements and sections that should be included in any logistics industry resume. The supply chain manager's resume objective section mentioned his goal of working for the 3PL in Dallas, Texas. This attention to detail can separate you from other candidates – a considerable skill that is a major part of supply chain processes.
As you continue into the work history section, you'll notice that he selected the two most-recent supply chain-specific jobs and his years of experience. With each job, he listed a few bullet points of critical accomplishments and tasks to showcase success stories and his ability to start a new job without significant training.
Further in the resume, Fred documents his highest level of education completed and provides a few references (including two from his previous employment listed on the resume) and the skills that will allow him to accomplish daily tasks with a focus on quality and efficiency. Finally, you'll notice that this supply chain manager resume template is grammatically clean, free of spelling errors, and has the same font.
How to Write a Good Supply Chain Manager Resume in 2022: Full Supply Chain Management Resume Guide
The professional resume writers at CVMaker.com wrote the sample resume you've reviewed above. However, you don't have to be an experienced scribe to write a resume for a supply chain manager of this quality.
The key to successfully completing any project is, to begin with, a plan. Our team uses a master resume to create the content, outline the format and complete all editing before pasting the information into one of our supply chain resume templates.
A master resume is a working document – where you can create your major sections, insert relevant content, organize the structure and layout, and edit for spelling and grammar. Further, this document allows you to research keywords or action verbs that automated software programs search for and easily insert them within the content. This ensures that they read naturally, capturing the hiring managers' attention.
As stated above, when you insert those important keywords (and we'll provide them for you in this article), you can kill two birds with one stone. Also, when everything has been fine-tuned, it's easier to paste the content into a resume builder. Using this master resume will significantly improve the quality of work, reduce mistakes, and produce a fantastic finished supply chain operations resume.
Here are a few recommended sections that we think should be included in any supply chain manager resume.
Personal Contact Information
Professional Summary
Practical Experience
Education
Skills
References
Now that we have provided the blueprint let's outline the details that should be included in each section of your resume.
Section #1 – Contact Information
If you apply for a supply chain manager position, you need to make it easy for hiring managers or recruiters to contact you. Your resume needs to begin by listing the same contact information that you've documented on a cover letter or application. Paying attention to this type of detail will display consistency, a critical skill of any leadership position.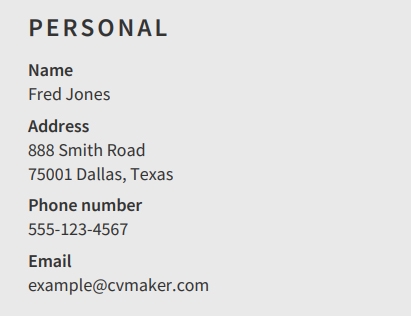 For the contact information itself, it's best to keep things simple. List your full professional name, the complete mailing address – including city, state, and zip code, your email address (preferably one specifically for personal/professional communication), and your mobile phone number.
Also, ensure that your email displayed on the resume is connected to your mobile device and that you have SMS text accessibility. The reason is simple – many recruiters use automated email and SMS text verification – to set up interviews. If you can't reply quickly to these inquiries, you may skip those who provide this quick action.
How to Format this Section
We've created the sample resume posted above using one of our easy-to-access resume templates. We offer multiple formats, but regardless of which template you use, it's best to have your personal contact information on the top left-hand corner or top of the resume – in the middle of the page. This makes it easy for hiring managers to locate – and looks clean, neat, and organized.
Section #2 – Professional Summary 
Your supply chain manager resume summary is the second section of your finished product. We tend to believe that this is the most important section to get right. The summary introduces your candidacy, work experience, hard and soft skills, and those vital interpersonal skills that make you a significant supply chain or logistics manager.
Your resume summary needs to mention a few critical action verbs – including strategic planning, project-based logistics, supply chain solutions, time management, and multi-tasking. However, managers must also serve as practical problem solvers, be proactive, detail-oriented, and have strong conflict resolution experience. They may also complete bookkeeping, provide administrative support, or be responsible for implementing safety policies.

That seems like a lot of keywords to include in a 150-word paragraph. Still, as you can see, we accomplished most of those phrases in our sample posted above. Fred's supply chain management position is written for a third-party logistics company that provides eCommerce merchants fulfillment.
The skills he mentioned are specific to this type of job within the supply chain. However, it's strongly recommended that you choose the specific tasks that apply to the company you hope to join.
How to Format this Section
The sample resume section above shows you exactly how to format the summary. The summary should be written as you speak during an interview – with a professional yet conversational tone. It should be around 100 to 150 words or four or five complete sentences.
Section #3 – Practical Experience
Having the right practical experience is more important than having multiple jobs. Therefore, we call this section practical experience vs. work history. One of the best insider tips we offer is to review the job description in a posting for the supply chain manager position.
In many cases, they'll tell you precisely what their candidates require – specifically, the daily tasks they'll perform. Depending on the position, your future employer may give you a roadmap for what they want you to add to this section.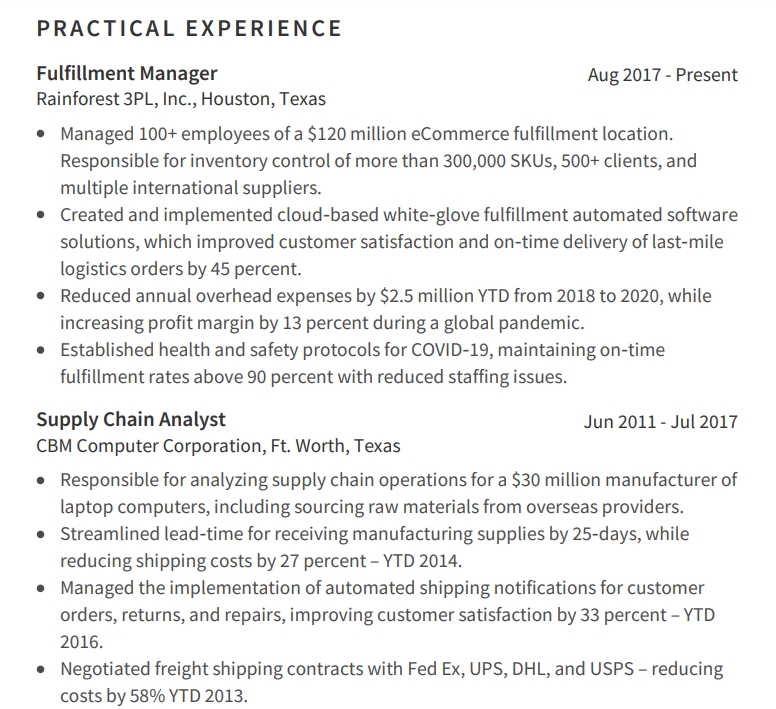 For example, in Fred's resume, he's listed two relevant jobs – one serving as a supply chain manager for a large fulfillment company, the other for a trucking company. After listing the job details in the work experience section, he lists four bullet points of daily and weekly responsibilities. That's the key to having your resume stand out – inserting information or practical examples relevant to the job you seek.
How to Format this Section
The sample resume section posted above showcases how you should format this section. List the company name, location, and dates of employment. Put these in reverse chronological order, starting with your most recent job. Keep the bullet points to short sentences unless the specifics dictate.
Section #4 – Education
Most supply chain manager positions require a college degree in business administration – or relevant experience. This can be unclear to several job search candidates how to determine the ratio of education to practical experience. However, the job requirements are irrelevant for this section of a resume.

As you can see in Fred's resume, he has listed his highest education completed. In his instance, she earned a bachelor's degree from The University of Texas in Austin. His specialty is business management, which is an excellent degree for supply chain managers to possess – specifically those who will manage the day-to-day activities of a fully functioning warehouse.
How to Format this Section
Another example of simplicity is showcased in the resume format of the education. It's best to list the basics – such as the school's name, its location, the dates of attendance, and any degree earned. There is no need to add bullet points of courses or specialties unless it's asked by the company.
TIP: If your supply chain management experience includes any certifications including SAP, ERP system, Six Sigma, or others relative to a supply chain manager job, create a separate certifications section - but follow the same format as the education one.
Section #5– References
A supply chain manager is responsible for overseeing multiple people and departments and communicating with multiple partners within the global chain. This type of diversity is showcased in the sections above, amplified in your cover letter, and will be articulated during your interview. References serve to provide support to the information you provide to prospective employers. This is what Fred has completed in his sample resume.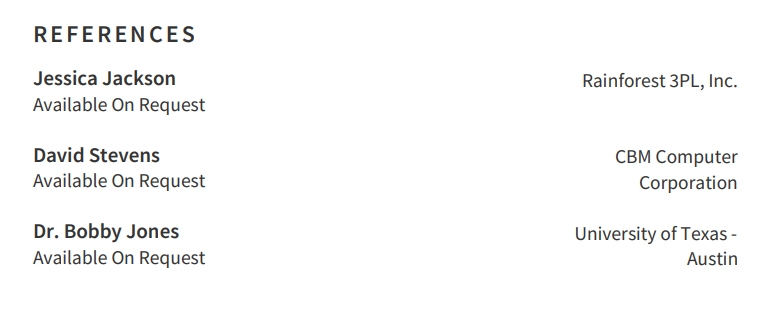 Any professional reference should be able to speak to your communication skills, experience with filing systems, inventory management programs, organizational skills, training new employees, and overseeing office functions completed by all stakeholders within the organization. We strongly recommend selecting two professional references and one personal reference.
For personal reference, selecting an individual who has served as a mentor is best. Many supply chain managers will choose a college professor or personal mentor – like a doctor or attorney who can vouch for their character, personality, and interpersonal skills.
How to Format this Section
Best practices for writing a perfect resume suggest keeping the reference section private and straightforward. However, you need to maintain their privacy, which is accomplished by listing their name, place of employment (or where you know them from), and the phrase "available upon request."
If your future employer wishes to contact them, supply them with their contact information privately.
Section #6 – Skills
We mentioned the vital skills for being an exceptional supply chain manager in the professional summary section. If you cannot fit all those skills in that section to where it reads naturally, the skills section is the optimal location to list them.
Some additional skills section action verbs to consider adding include vendor management, warehouse management or warehousing, operations manager of distribution centers, experience with Microsoft Excel, Oracle, materials management, lean manufacturing, reviewing KPIs and inventory levels, customer satisfaction, and overseeing a cross-functional team.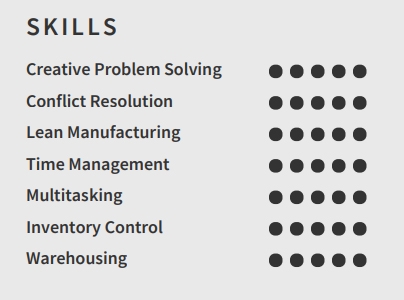 You'll see that Fred has accomplished this in his sample resume. He included several of those keywords naturally and convincingly in the summary but listed others in bullet points in the sidebar of the resume.
How to Format this Section
There are two locations to list your skills – at the bottom of the resume or the sidebar. Regardless of which one you select, just keep it simple. Mention the skills you possess that will help you accelerate as a supply chain manager, such as those shown on the sample resume posted above. Some of the best resume templates, such as those we offer at CVMaker.com, allow you to assign a skill level to each skill. You'll notice that is what we've done in our sample.
Other Related Resume Templates 
We hope that by reading the article above, you'll feel more confident about writing a solid resume from start to finish. However, if you prefer to learn by reading multiple supply chain manager resume template examples, we've also made that easier for you. We have assembled a group of related resume templates that you can read – to gain insight or ideas that can be infused into your finished resume.
Review some of the best resumes for people in the logistics and supply chain industry for some additional ideas.
Final Points on Writing a Successful Resume for Supply Chain Management
Today's supply chain is experiencing significant obstructions, and challenges post COVID-19. As such, the next generation of supply chain managers will be tasked with creating creative solutions to maintain the efficient movement of freight.
Here are some essential items to remember for those who prefer some bullet points.
The resume needs to flow from start to finish. Take time and fine-tune the content to ensure it reads easy.
Always write your resume on a plain white background with black font.
Edit the document SEVERAL TIMES. Using Grammarly.com is a great tool.
Ensure its well-spaced, organized, and professional.
Finally, read it aloud a few times before you're ready to paste the content into a template if you choose to use one.
We've broken down each section you need to include in your supply chain management resume in the information above. However, it's essential to customize your resume for a specific job. Take time to carefully review the job posting, as it may direct you to the requirements, skills, and specific experience they are seeking in a candidate. At that point, you can customize your resume to fit that job.