Phlebotomist Resume Examples & Writing Tips 2023
While most doctors' offices provide online patient scheduling tools on their websites, patients still frequently contact their physicians to schedule appointments or request pharmaceutical refills. They also require personal interaction to draw blood for lab results. Writing a solid Phlebotomist resume is a critical first step for those seeking this profession.
A phlebotomist job description resume is a supplemental document that goes along with an application or may be found on internet career sites. The aim of the phlebotomist duties resume is to add more information about a candidate's qualifications, healthcare skills, and experience collecting blood samples.
Many people who have never attempted to write a phlebotomist resume find it difficult. However, following a tried-and-true approach, employing helpful tools, and spending time carefully editing the content isn't nearly as hard as you might think. We'll go through this topic in further detail below.
This article will show you how to create a good phlebotomist resume. We'll go through why it's so important to include a strong phlebotomist resume objective and how to choose the right work experience, skills, references, and education. Finally, we'll provide you with a few phlebotomy resume examples to study and how to structure each section.
Phlebotomist Resume Sample
A phlebotomist's workday is never the same since offices range from a modest solo practice to large, high-volume hospitals. Because of this variety, a phlebotomist's job may vary considerably. Check-in patients, handling phone calls, to full venipuncture or capillary puncture blood draw, and collecting other bodily fluid samples fall within the scope. Applicants should thoroughly study any employment ad before starting the resume writing and resume format process.
A good, certified phlebotomist resume is generally a single page long and includes the applicant's work experience, contact information, education, references, and related abilities. It will touch on their ability to complete safe blood collection, care for blood specimens, and maintain infection control procedures.
They'll touch on data entry of patient medical records, have an understanding of medical terminology, and know how to use syringes and collect vital signs - specifically blood pressure.
A job description - whether on a career website or at the medical practice - will outline the applicant's requirements. The ideal candidate may also include interpersonal skills desired by the medical office staff in their search. This information is crucial to know before compiling data and formatting your phlebotomist front desk resume.
When looking for a job in this sector, you'll have to consider HIPAA (Health Insurance Portability and Accountability Act) rules that all employees must follow. During an interview, a hiring manager will inform you about this so that you are aware.
This is a sample resume for phlebotomist jobs, which our professional resume writers created to provide an example of how a great resume should look. This is Dannielle's mythical certified phlebotomy technician CV, created for a fictitious candidate seeking work at a medical practice in her home city of Denver, Colorado.
Review each section of this phlebotomist resume sample, paying close attention to how it's structured and formatted and some clever language used to describe her skills and abilities.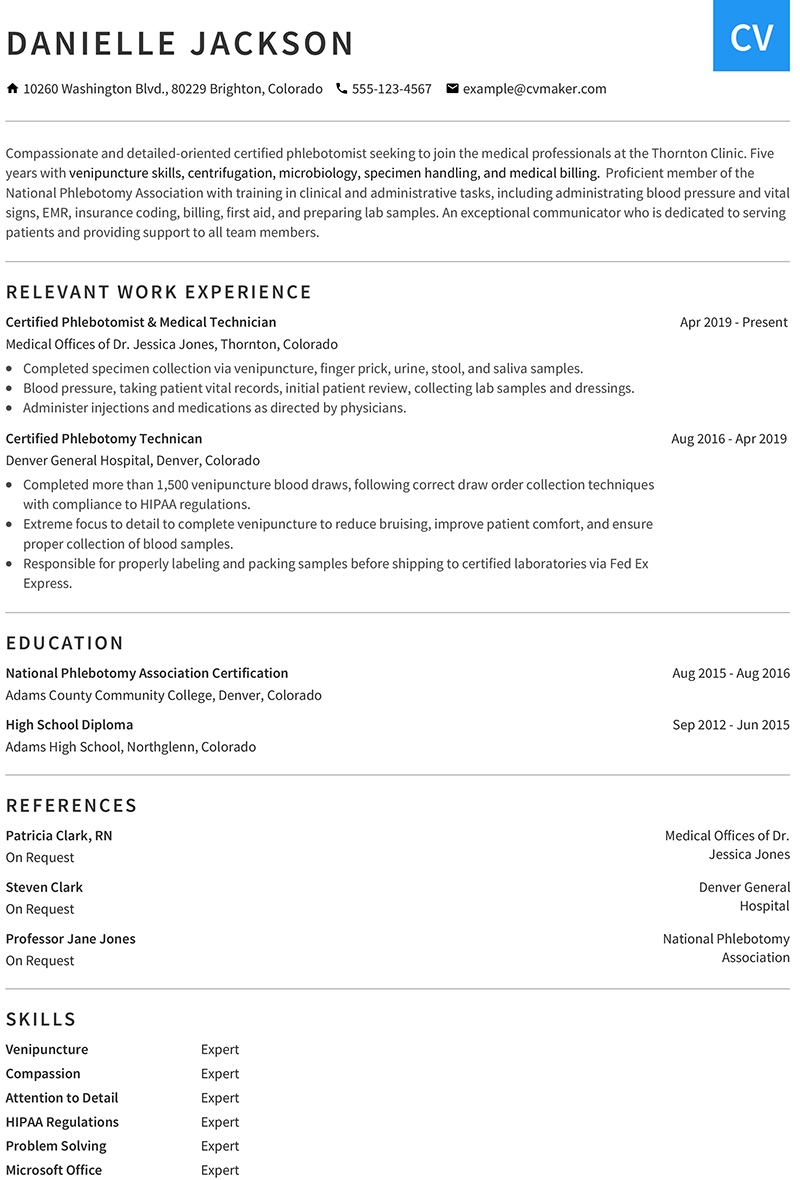 To stand out in a crowd of other competent applicants, you'll have to go above and above to customize your resume. This is what Danielle accomplishes in the first line of her resume objective section. She has written this document specifically for the medical office in Denver.
When you go through the whole phlebotomist resume, you'll notice that she has included a work history section (with two previous employment), her education, three excellent references, and her top abilities relevant to the position.
The resume is well-structured, clear, and simple to comprehend. It's intended to support her application - which we'll suppose was submitted through a website for online employment postings. These sites typically employ automated computer software solutions to look for words or action verbs connected with a particular profession. Her resume is dotted with compassionate, organized, professional, and detail-oriented terms.
How to Write a Good Phlebotomy Technician Resume in 2023: Full Phlebotomy Resume Guide
The resume for a phlebotomist seen above is an excellent illustration of what most medical office managers and hiring organizations are searching for in potential employees. While substance (such as relevant work history, education, and skills) is essential, how the applicant conveys their experience is just as important.
If you want your phlebotomist resume sample to look like ours, we recommend starting with a strategy and following the guidelines below. Here's a tried-and-true method for anybody - regardless of their writing abilities - to structure and outline their resume content to make it appear like ours using technological solutions.
Step 1: Create a Master Resume
A master resume is simply a word document that allows you to outline your career. The goal of this paper is for you to describe the key sections, add material for each, and change the text. You may create your own or use an Apple or Word document; however, you'll finish the final editing in an online grammar software program such as Grammarly.
Step 2: Add Your Supporting Content
After establishing the main sections, you'll add supporting material for each primary section (which we'll review below). For example, in Danielle's resume, you'll notice she has included:
Her personal contact information.
A four-sentence resume summary.
Two prior employment experiences (bullet points of key accomplishments or tasks).
Her highest level of education.
She also adds three references and her skills and puts them together in a professional resume template.
Step 3: Edit the Content 
Although Microsoft Word and Apple Pages are excellent writing software, they lack specific fundamental grammatical editing capabilities. To edit your resume from start to end, we recommend using Grammarly, an online platform that provides several grammar-related tools.
Step 4: Use a High-Quality Resume Builder or Template
When your document is grammatically correct, it's time to start laying it out. It's much easier to format a resume using an excellent online resume builder like ours at CVMaker.com. Our web template lets you add personal information, edit the main sections, and insert the text into sub-sections.
Let's look at the essential components you should include in your dental receptionist resume once we've revealed the keys to our success.
Contact Information: List your legal name, mailing address, email, and mobile phone number. That's all there is to it. There's no need to include your social media profiles.
Resume Overview: The resume summary is the last section on medical office resumes. It's your chance to show why you're an excellent prospect for the receptionist or front desk job in a nutshell.
Work History: This is where you'll add the appropriate work experience section. Choose two recent jobs where you've performed similar duties that your future employer will likely give you. This demonstrates your capacity to effectively start a patient care job without extensive training.
Education: In this section, you'll advertise your superior level of education. There's no need to detail your present educational status. Consider including it in a cover letter or resume objective if that sounds more appealing.
Skills: We recommend selecting your top six most important Phlebotomy resume skills or hard or soft skills for a Red Cross trained first aid phlebotomy technician. We'll provide some examples in the sections below.
References: With a phlebotomist technician position, selecting three references to list on your resume is best. We'll explain how to format this in your resume – so you can protect their private information.
Let's start working on your resume.
Section #1 – List Your Contact Information
We'll keep it basic in these sections, and you may refer to our cut-out areas posted throughout each section to get an idea of how it should look. Your full legal name, mailing address, email, and mobile phone number should be included on your phlebotomist resume.

The most essential thing to remember is that you must match your qualifications and cover letter to what you've stated on your application. It demonstrates consistency and attention to detail, two essential qualities that all medical office job applicants should have.
How to Format this Section
When using the master resume, write each of the above points separately. This will simplify you to paste into a resume builder or template like the one we used to generate the example resume above.
Section #2 – Resume Summary 
Many job applicants are perplexed by the content of a resume summary. They'll get caught up in selecting the ideal action verbs and adjectives to describe their talents and qualifications. The key to producing a fluent resume summary is to keep it informal.
The resume summary portion is where you may highlight your years of expertise, talents, and interpersonal skills that qualify you to be a great phlebotomist. It should be a 150-word or fewer elevator speech. The resume summarizes your interest in joining the firm quickly, your abilities and experience, and what sets you apart from others who apply.
With a phlebotomist job, you'll need to master interpersonal skills like being a good communicator, charismatic, paying attention to detail, working with fellow medical office staff, being able to work unsupervised, and maintaining a clean work area. A great phlebotomy technician must be compassionate, focused, and have strong attention to detail,

When you look at the resume summary in Danielle's sample, you'll see that she described her technical skills as being a phlebotomist. Finally, she closes the paragraph with comments on her people skills, including collaboration with team members, empathy, and good communication skills. An entry level Phlebotomist resume summary should be similarly written. However, instead of listing the years of experience, it would be best to insert "recently certified".
How to Format this Section
We propose you utilize a word document master resume since it allows you to hear how it sounds through the program. The resume summary should be limited to 125 to 150 words. When you create it, place this section right beneath your contact information or at the top of the page.
Section #3 – Work History
In a resume, you must include relevant employment history. We strongly suggest creating many variants of the same basic resume tailored to various industries or applications. This is what our candidate Danielle has done with her work history portion.

You'll see that she's chosen two previous jobs in her work history. She is presently employed as a phlebotomy technician and medical technician at a medical office and her second position as a phlebotomist at Denver General Hospital. She has listed the responsibilities of each position and three important bullet points of typical duties.
How to Format this Section
You should have two work experiences in the work history section. List the company's name, location, dates of employment, and a few bullet points summarizing your responsibilities for formatting. You should record these jobs in reverse chronological order, placing the most recent jobs at the top and proceeding down the list.
Section #4 – Education
The educational requirements will be stated in the job description. Most phlebotomy positions require a high school diploma or GED certificate (in some cases) with an associate-level training certificate from an accredited training center. Regarding education on your resume, the most important thing to remember is only to describe your highest-achieved degree.

While she is currently enrolled in college and working on her RN degree, in the sample segment above, you'll notice that Danielle has included her high school diploma. She might include this in her resume if it applies to the job she hopes to retain. We feel that this information is best presented in a cover letter to introduce your candidacy.
How to Format this Section
Formatting the education section is very easy. Just list the name of the school, its location, dates, and the degree earned. If you hold a certification in phlebotomy, you'll list this in the education section as your top entry, followed by your highest completed degree.
Section #5– References
A job reference is usually a formality in most employment situations. Employers don't generally contact references. Instead, they conduct background checks and credit reports depending on the position. However, obtaining excellent recommendations which can vouch for your professionalism, ethics, and experience is critical.

We propose using three different references that will support your phlebotomy skills. Choose (2) references for your potential employer from those who can testify to your professional experience. This would be seen as an industry expert by them. The last reference should be a personal one: a family friend or mentor who can attest to your personality and credibility.
How to Format this Section
Your references trust you with their private information. As such, keeping their contact information away from your resume is essential. We strongly recommend listing their name, where you know them from (or the employer), and the term "Upon Request." If a medical office wishes to contact your references, you can provide their personal details directly to the hiring managers.
Section #6 – Skills
The ideal phlebotomist has excellent communication abilities, is engaging and personable on the phone, greets them in person, is excellent at multitasking, has strong personal hygiene and critical thinking skills, understands medical jargon, and is meticulous. They know how to complete sterilization and apply a tourniquet after draws, need to understand lab testing procedures, understand how to review medical history and document patient information.

If you are writing an entry level phlebotomy resume, it will be important for you to focus on following phlebotomy procedures retained during your recent phlebotomy certification training. Since you'll likely have access to patient records, it's also essential to maintain confidentiality, have a strong work ethic, and have excellent computer skills. These are the resume skills that we recommend.
How to Format this Section
List the skills you possess requested by the future employer in a bullet point format in your master resume. From that point, you can add them to a template – making them easy to access for future employers and hiring agencies.
Final Points on Writing a Successful Resume for Phlebotomist
The goal of producing the best resume that is all-inclusive is unattainable. You might be the most excellent writer on Earth, yet even with thousands of resumes, you may still struggle to find the perfect phrases for your phlebotomy resume. However, these resume tips will help you create one that is perfect for the job you are hoping to retain. Here are a few things to remember as you go through the writing process.
Maintain a standard format and keep the content of your resume simple but exciting.
Always use a plain white background with a black font to write your resume.
Make sure it's well-organized and professional.
Keep the skills section to less than 7 inclusions.
Finally, read it aloud a few times before you paste the material into a resume builder or template.
Consider how much better your chances of receiving an interview and obtaining the ideal job would be if you stuck to following the structure, layout, and some of the critical sections suggested for this phlebotomist resume. In that case, you'll have a better chance of getting that all-important interview and securing that great position.