Logistics Coordinator Resume Sample & Writing Tips for 2023
The US Bureau of Labor Statistics predicts logistics coordinator positions will grow by 30 percent over the next five years. To retain these coveted jobs, a candidate will need a solid logistics coordinator resume that explains why they are the ideal person to fill that position.
Suppose you've been thinking about starting a career as a supply chain expert. In that case, you'll need to create a transportation coordinator resume that showcases your skills, experience, education, and leadership abilities that will elevate you among other candidates. To help you on this journey, we've created a sample resume for logistics coordinator for you to review.
The information below will explore the facts about writing a logistic coordinator resume. We will introduce the essential steps for organizing, writing, and editing a sample resume for logistics coordinator and teach you how to choose the right action verbs or keywords that will help your resume get noticed by hiring managers and automated software solutions used by recruiters.
We will also explain why it's a good idea to fully ready any job description before starting any transportation management or supply chain resume. And why using a resume builder will ensure timely delivery of your finished document, in a professional format.
Logistics Coordinator Resume Sample
The rapid growth of eCommerce solutions, combined with an expanding consumer market that demands last-mile logistics (white glove delivery services), has forced many companies to seek qualified candidates to oversee their supply chain functions.
Logistics coordinators are tasked with transporting raw materials, finished goods, office supplies, and more. They often oversee teams of employees, communicate with vendors and suppliers, source materials, and negotiate contracts with carriers.
A logistics coordinator resume should be written to tell a story from start to finish. However, many job candidates struggle with deciding whether the resume should be written for human engagement or with keywords for optimization and discovery of applicant tracking systems optimization used by recruiters. We believe you can accomplish both at the same time.
The logistics coordinator resume PDF attached below is a shining example of integrating keywords with professionally written content that flows, is engaging, and checks all the boxes. Our logistics coordinator resume example is from a hypothetical candidate named Steph, who is applying for a job in her hometown of San Diego, California.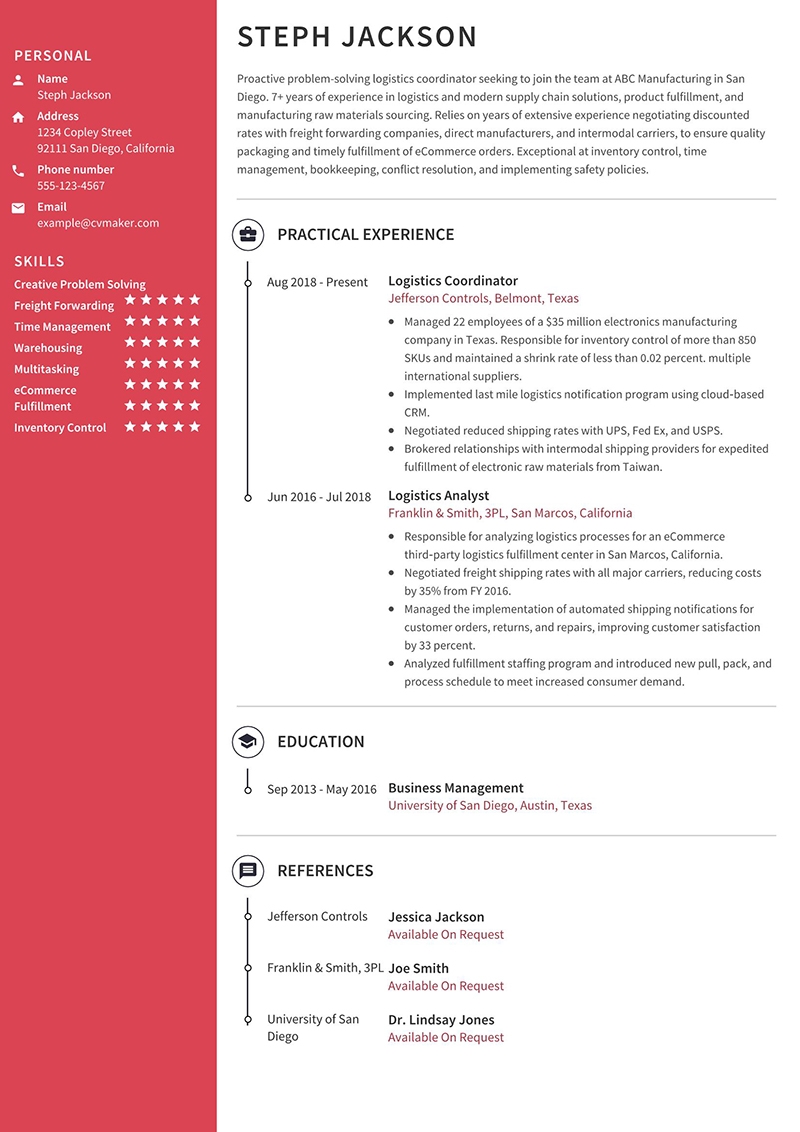 When you read the resume, what stands out to you? Is it the clean format, the professional appearance, or perhaps the word choice or tone of the content that sounds confident yet conversational? Hopefully, you've noticed those attributes, as they are critical inclusions for all resumes.
The logistics coordinator's resume objective is the first section in the resume that introduces Steph to the company she is hoping to join – a manufacturing company in Kearney Mesa, a suburb in the San Diego metro area. This type of attention to detail and personalization is something you don't often see in a resume. But it is a simple way to stand out among other candidates.
As you continue into the work history section, you'll notice that she listed her two most recent jobs relevant to the supply chain or logistics profession. After listing the job details, Steph created a few bullet points of the vital tasks she accomplished during her employment.
Finally, the resume includes her highest completed education, relevant skills, and references that will support her candidacy to prospective employers. You'll also notice that this logistics coordinator resume template is grammatically clean from start to finish. Whether you're writing an entry level logistics coordinator resume, or an experienced resume, it's important to spend time editing the document, so it's perfect.
How to Write a Good Resume for Logistics Coordinator in 2023: Full Guide to Logistics Coordinator Resume
Every successful logistics manager understands the value of proactive planning and to collaborate with stakeholders to accomplish team goals. From negotiating shipping contracts with carriers ahead of fuel costs to sourcing raw materials in bulk to save money and reduce lead times, they all plan effectively in every aspect of their jobs. This same mentality can and should be integrated into writing your resume.
We recommend using a word document to create all your primary sections and content, edit everything, and optimize the format, sentence structure, and layout. We call this document a master resume.
Once you open the new document (and it doesn't have to be Microsoft Word – any word processing document will work), create the following primary sections.
Contact Information
Resume Summary
Work History
Education
Certifications (if applicable)
Skills
References
These will represent your primary sections of the resume. As we break down each section below, add specifics relevant to your resume and add them within each section. This will allow you to maintain structure and focus on one section at a time.
Let's get started.
Section #1 – Contact Information
We'll start with a short section to complete – your contact information. In this section, you'll keep your information simple by listing your full legal name, mailing address, email, and mobile phone number.
However, here is where many job candidates fail. It's pretty standard for job seekers to create a single resume and submit it for each job they apply for. The resume is typically generic and will likely have the contact information documented from the time they created the resume. However, let's assume that the candidate moved or changed their email address or phone number. Where they fail is not updating the contact information.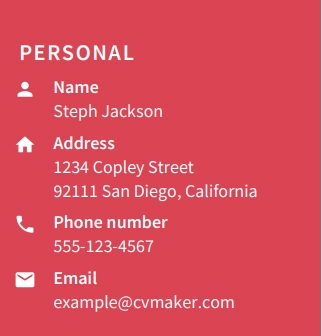 Even worse, the candidate may list one address on their application and a different one on the resume. This introduces inconsistency to any future employer – which tends to result in that candidate being dismissed from consideration.
To avoid this common issue, always customize your resume for each application. Take time to verify that all the contact information on your resume matches the info on the application and cover letter.
One final tip is to verify that the resume's email is connected to your mobile device and that you have SMS text accessibility. Many recruiters and employers will send automated replies to job seekers to set up interviews via text and email. If you don't reply quickly, you'll likely be skipped.
How to Format this Section
The international logistics coordinator resume sample above was created with one of our CVMaker.com resume templates. This makes formatting a resume simple, streamlined, and displays a professional appearance. We believe it's best to have your personal contact information on the top left-hand corner or the middle of the resume on top of the single page.
Section #2 – Resume Summary 
During an interview, you'll have a brief chance to explain why you're the best candidate for the job. The resume summary is a written version of this elevator pitch that introduces your desire to join the team, work experience, relevant skills, and leadership abilities. We strongly believe that the resume summary is the one section of your resume that will take the longest to perfect.
As you're preparing to create the resume summary, it's strongly recommended to outline some critical job skills that your future employer is seeking. These skills may include supply chain solutions, last-mile logistics, sourcing, time management, and multi-tasking.

You should also list the interpersonal and leadership skills you have that make you an effective leader, including being a proactive problem solver, being able to resolve conflict, and maintaining company confidentiality. These are all some of the skills that Steph listed in her resume. You'll notice that it's about 150-words in length and is written in a professional yet conversational tone. This is the blend of content styles that fits perfectly with a resume.
How to Format this Section
The sample we posted above showcases the resume format for this section. As we stated above, the resume summary should be written as you speak during an interview – with a professional yet conversational tone. It should be around 100 to 150 words or four or five complete sentences.
Section #3 – Work History
The best resumes in supply chain management are simply extensions of your application – helping to explain why the previous jobs or information listed on your application makes you a qualified candidate. The experience section or work history is an opportunity to accomplish this task. While there are no required number of inclusions to list on your resume, we believe that including two of your most recent and relevant jobs is good enough.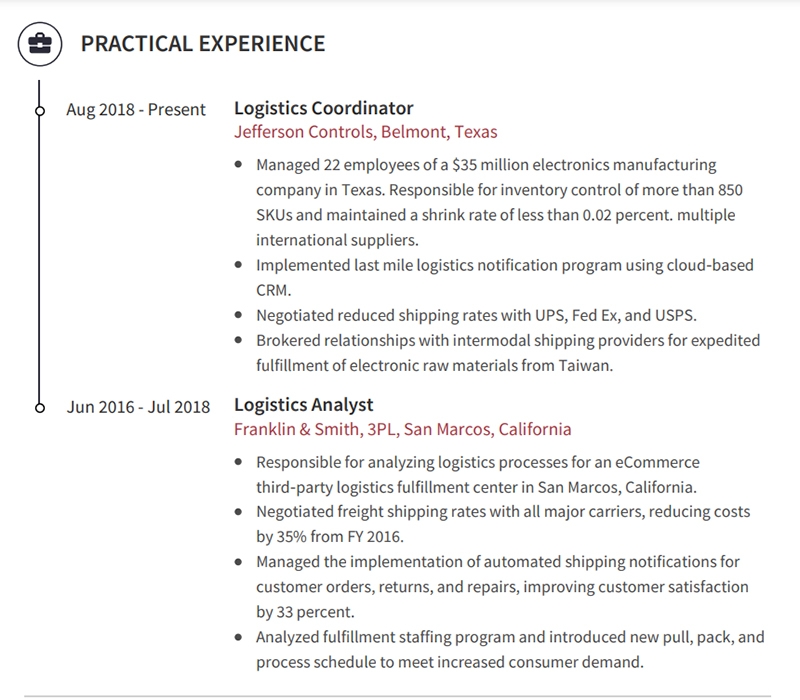 Steph's resume shows that she only mentions two previous jobs where she served as a logistics coordinator. One is for a manufacturing company (like the one she hopes to join), and the other is for an eCommerce online sales platform. This type of diversity in her experience gives her prospective employers an understanding of her capabilities vs. simply her years of experience.
Further, she has listed four bullet points of key accomplishments with each job – to showcase some success stories. This introduces some opportunities to discuss with hiring managers during an interview.
How to Format this Section
Formatting the work history section is simple. List the company name, location, job title, and dates of employment. Put these in reverse chronological order, starting with your most recent job. Keep the bullet points to short sentences unless the job posting asks you for specific details to include in your resume.
TIP: The best way to tackle any resume writing project is to review the job posting carefully. Most of the time, they will tell you what experience, skills, and other requirements the company seeks in a candidate. Reviewing the posting, you can customize your resume to touch on those key components.
Section #4 – Education
A logistics coordinator position is typically awarded to a candidate with the most practical work history or experience. It's not uncommon for an employer to require a specific type of college degree – typically in business administration with a focus on logistics planning.

Steph has noted that she graduated from The University of San Diego with a bachelor's degree in business management. Whether you have a practical work history or are seeking your first logistics coordinator position fresh out of college, this section simply lists the highest level of education completed.
How to Format This Section
Unless otherwise instructed by the job posting, it's best to list the basics in this section – such as the school's name, its location, the dates of attendance, and any degree earned. There is no need to add bullet points of courses or specialties unless it's asked by the company.
BONUS TIP FOR THOSE WITH CERTIFICATIONS
Some logistics coordinator positions may require certifications, including APICS Supply Chain Professional or Production and Inventory Management systems, SAP, ERP system, Six Sigma, or freight forwarding certifications.
If you have these or any other relevant certifications, create a separate section below education called Certifications. List the certifications in the same format as the education displayed in our sample resume.
Section #5– References
Another area of your resume that will support the application is your references. References serve to provide support to the information you provide to prospective employers. They are typically selected based on their relevance to the job candidate's career.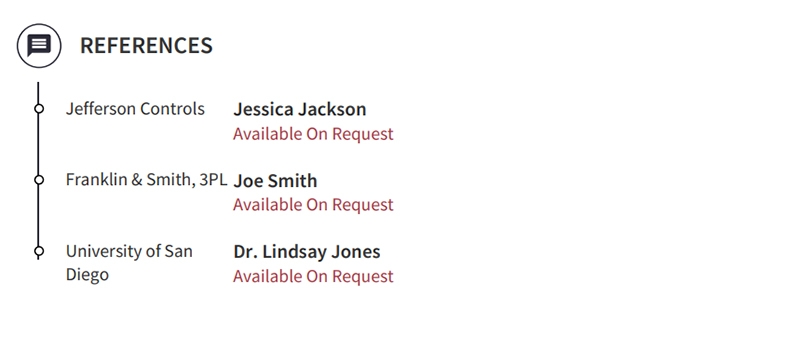 For example, you can see that Steph has listed two of the previous managers of her previous logistics coordinator job as references. These references are the best, as they showcase your initiatives or ability to complete a task and leave a company with a positive relationship.
Any reference should be able to speak to your communication skills, experience with cloud-based inventory and filing systems, negotiating shipping solutions, sourcing raw materials or supplies, international shipping, CRM solutions, organizational skills, training new employees, and dedication to safety in the workplace.
If you're going to choose a personal reference, make sure to select someone who is regarded well in their communities or maintains a positive reputation. People like former college or high school teachers, doctors, and attorneys are excellent sources.
However, suppose you have a strong relationship with a freight carrier. In that case, this can also be a unique personal reference – although you know them professionally.
How to Format This Section
Keep the reference section straightforward. You'll need to maintain the privacy of your references, so don't list their personal contact information on the resume directly. You can keep their privacy intact by listing their name, place of employment (or where you know them from), and the phrase "available upon request." If your future employer wishes to contact them, email them their contact information privately.
Section #6 – Skills
The skills section is a great area to take advantage of keywords found by automated software solutions used by recruiters and online job forums for logistics operations jobs. While we recommend sprinkling some of these keywords throughout your resume (such as the summary of work history section), you can use some of the hard and soft skills in the technical skills section.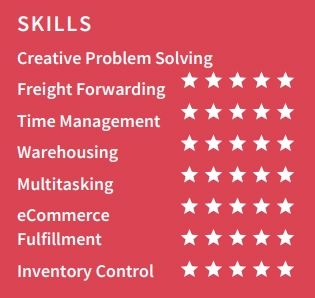 When you review most shipping coordinator resume examples, you'll notice that the skills are often listed on the bottom or sidebar of the document. In our sample logistics coordinator resume skills section we've added them to the side.
Additional skills section action verbs to consider adding include warehousing or warehouse management, distribution centers, competence with lean manufacturing, Microsoft Excel, Oracle, materials management, reviewing KPIs and inventory levels, cross-functional team management, customer satisfaction, last-mile logistics, intermodal shipping, negotiating pricing and procurement, and LTL or FTL. Our candidate Steph has listed her skills on the sidebar of her resume.
How to Format This Section
The key to formatting skills on a professional resume is to keep it clean and simple. To accomplish this, we strongly recommend using a resume template like those we offer at CVMaker.com. They allow you to assign an experience level to each skill. You'll notice that is what we've done in our logistics project management resume sample.
Other Related Resume Templates 
The best logistics managers and coordinators are those with exceptional research skills. It takes a creative mind to find the perfect source for raw materials and supplies that can fulfill on time, with reduced lead time, and at affordable rates. This type of research should also be activated when you're planning out the perfect resume.
To help you with this task, we've compiled some similar resume templates from jobs in the supply chain. Review some of the best resumes for people in the logistics and supply chain industry for some additional ideas.
Final Points on Writing a Successful Logistics Coordinator Resume
As we've articulated in the information above, today's business climate and those in the future will depend on creative thinking and proactive problem-solving logistics coordinators or those in warehouse operations. A robust and engaging resume will help you retain those positions if you're looking for the perfect logistics-specific job.
When planning your resume writing tasks for a logistics coordinator – please keep these bullet points in mind to minimize your workflow.
Make sure the resume has an engaging flow - from start to finish.
Take time and fine-tune the content to ensure it reads easy. In fact, read it aloud several times or have the word document read it aloud as you scan for errors.
Always write your resume on a plain white background with black font.
Edit the document SEVERAL TIMES. Using Grammarly.com is a great tool.
Ensure its well-spaced, organized, and professional.
Following these simple bullet points and the plan for writing a logistics coordinator resume addressed above will save time, check all the boxes, and have a better shot at getting that vital in-person interview.