How to Write a Professional Engineering Resume in 2023: Full Guide to Successful Engineering Resumes
Are you looking for a writing guide that gives you top resume tips for job seekers? If your field requires an engineering resume, we have all the information you could need. All you need to do is visit LinkedIn or other sources to find some interesting jobs you want to apply to. We'll help you create an engineering resume that recruiters will be amazed by.
You might have found a great position that you want to end up in. However, you can't send in a less than excellent engineering resume. The truth is hundreds of people are honing their personal documents to compete with you. That's why you need a resume that knocks people over with its greatness.
Creativity is a good way to stand out when crafting an engineering resume. A good resume isn't going to be enough to land on the top of the pile. Instead, you need the best engineering resume you can make. It should show off your expert knowledge, relevant experience, and best skills. This guide will take you through the process of making that happen.
Engineering Resume Examples
One of the best ways to create an excellent document is by utilizing engineer resume examples. You can't build the best resume unless you know what it typically looks like. The good news is that there are tons of samples available so you can see how other people are sending in their resumes to hiring managers. A quick search on Google will offer a variety of options.
In addition, this guide will include a complete sample engineering resume that you can use to create an outline for your own. Whether you're in aerospace engineering or work as a mechanical engineer, you can use the tips here to ensure your job search ends with a productive resume that could get you into an interview.
The full resume will be just under this section so you can get an idea of what yours might look like when completed. However, we'll also provide an engg resume sample for each of the sections of your resume. This will give you additional insight into what the different parts of the resume should look similar to when you get done.
The job search can be a challenging prospect and a good resume is a huge help. If you want to find yourself in an exciting and fulfilling position, the best resume is what you need to have. As you work through this guide, we'll make sure you have all the examples, samples, and tips you need.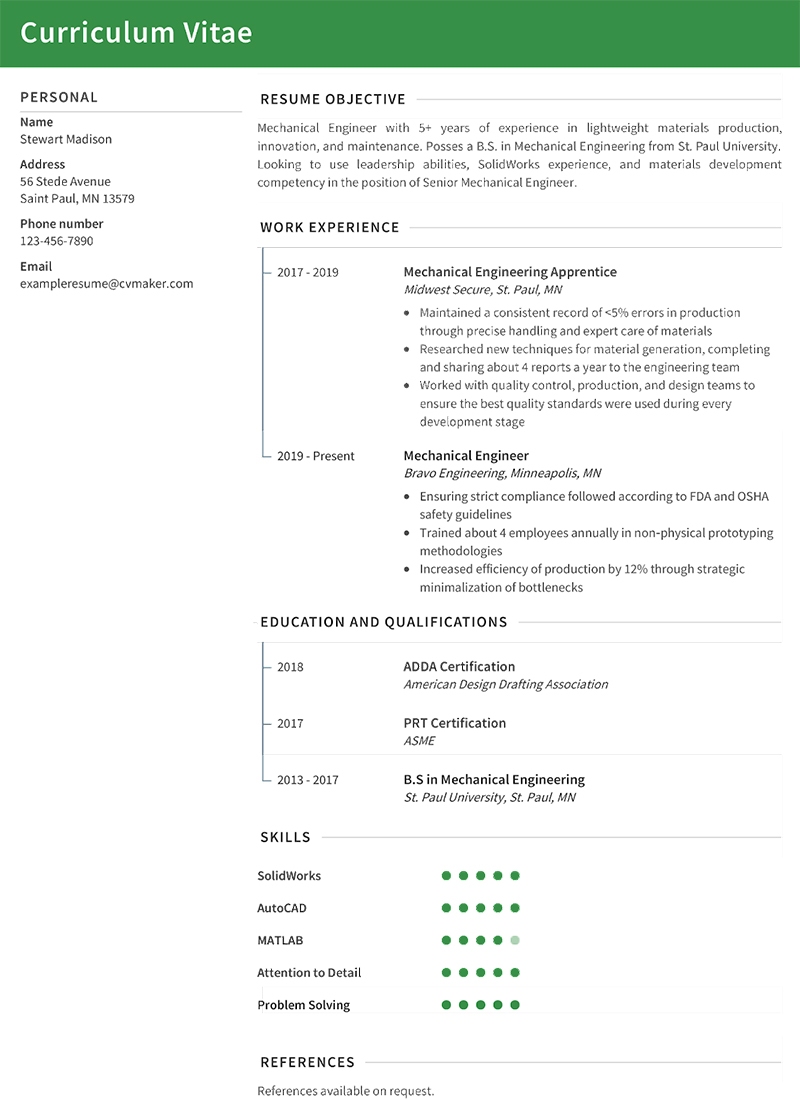 How to Write a Professional Engineering Resume in 2023: Full Guide to Successful Engineering Resumes
Whether you are a chemical, software, civil, electrical, or mechanical engineer, you know how to solve serious problems. However, not everyone is adept at creating an excellent resume for a professional engineer. Sure, you know what jobs to list, the education you have, and the skills you're proud of. That doesn't mean you know how to put it all down in an engineer resume format that gets results.
This guide will give you information about engineering resume formats so you can be sure you fit the requirements of the job description. It's a step-by-step process that starts with putting down basic contact information and then moves through a variety of other sections. It can be used as a resume for engineering students or those who have been in the field for decades.
The sections you want to include for this engineering resume include:
· Contact information
·  A resume objective
·  Work experience
·  Educational background
·  Skills
·  And references
Before we move on to the sections, there are a few other things to be aware of. When creating an engineering resume, make sure to select a professional font. It should be easy to read and used throughout the entire resume. Also, consider font size. The typical recommendation is 11 to 12 pts for the body and 14 to 16 pts for any headings.
When a section can use bullet points, add them. It makes it easier for a recruiter to skim your document. In addition, think about how long the resume is. Nobody wants to go through three pages of information, even if you have a ton of experience. In most cases, the resume should be only one page. Those with a great deal of experience can add a second page.
It's also a good choice to save the engineering resume as a PDF file. Unless the job description requires something else, this gives it the best look. It also lets you control the way it looks. The engineering resume won't look different whether it's opened on a laptop, a tablet, or a phone.
But don't worry if the idea of creating a resume makes you nervous. We'll walk you through every section and guide you to ensure your resume is your best. Everything from an explanation of the section to examples and how to format each part of the engineer resume will be included. So let's get started.
Section #1: Contact Information
Contact information is the first thing you want to build for your resume. It's an easy place to start before you get into the details of your education and experience. Whether you're making an engineering student resume or something for an experienced person, you still need to put in details about how to reach you.
After all, if you don't do this, there's no way to contact you. If your resume is amazing and perfect for an engineering job, the last thing you want is to leave a manager passing it over based on missing the most basic details about yourself.
Contact Information Example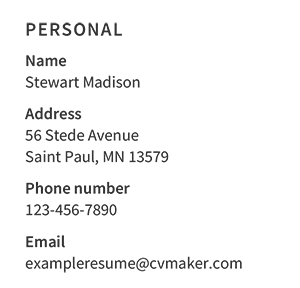 You can see a basic contact information section above. You'll notice that it lays out your information but doesn't go beyond that. You can see a name, an address, a phone number, and an email address. You really don't need more than that in most cases.
On the off chance that the application requests other data, add that too. This might include your social media links or other information that is used for the hiring process.
How to Format This Section
Keep it clean and professional for a good start to your engineering resume. You can use bold font for the headings and keep the rest in a typical font. You want to start off with your name and include your address. You can include the full address of just your country and state.
Two forms of contact information should also be used. Most people go with emails and phone numbers, but you can use others if that works best for you. The important thing is being sure an employer can contact you as needed.
Section #2: Resume Objective
After the easy first section, we're moving to the engineer resume summary. What is an engineering resume summary? It's a short block of text that provides your best traits, accomplishments, and achievements. It's the first place a manager's eyes will go so you want to be sure that this is done right.
The idea behind a resume objective is to share a written elevator pitch with whoever is reading it. You want to make them interested in you so the rest of your resume is read. This can be hard so you want to make sure you include the most important bits in this section.
Resume Objective Example for an Engineer Resume Objective with No Experience

Your engineering resume as an entry-level person will need a solid objective. However, it's going to be different than one for someone with years of experience behind them. Consider your skills and abilities, as well as past experiences, to pull together a statement that shows off how skilled you are.
Resume Objective Example for an Experienced Engineering Resume

As for those who have more experience, add in numbers and calculations when possible. Include how you surpassed metrics and changed things at a past company. The only thing to beware of here is writing an overly long resume objective. Pick and choose the most impressive abilities and accomplishments. The rest can go in the experience section.
How to Format This Section
As a professional resume engineer, the format for this section is relatively simple. Choose a font that is easily read and write it out. It should be a short paragraph that is no more than four sentences long. Weave in action words and sell yourself. That's the main point of this section. It keeps people reading, which is what you want.
Section #3: Professional Work Experience
Now we get to the part that often makes up most of your engineering resume: relevant experience. All of your engineering experience should be listed here to show what you've accomplished and achieved since going into engineering. Keep in mind that experience related to engineering should be the main focus if you have experience.
Those who are hoping to become a chemical engineer or another type of engineer will need to dig into other experiences. Volunteering, intern positions, and other employment can be used. Make sure to make it clear what you did and learned in those situations to make you ideal for engineering work.
Professional Work Experience Example
Above you can see the work history of an applicant and work off of that to make your own work section. You'll notice that it's easy to read and has lots of information about past positions. The basics are included, but so are details about what was done while at another company.
If you have things from your past that match those from the job description, make sure to add those. Make sure to use numbers when possible to show off all your accomplishments.
How to Format This Section
The header for each of the employment experiences should have the dates, job title, and company name. Underneath, you can add in bullet points. These should give extra information about your job duties and how you excelled at them. Make sure to include all your accomplishments that weren't listed in the resume objective.
Scour the job description for keywords you can add in this area. While it's useful to do so across the whole resume, this is a larger area with more information. Use specific words from the ad to show you understand what the company is looking for.
Section #4: Educational Background
Now that you've handled the work information, you can look at your education. This is especially important if you are making an engineer student resume. Since you may have limited (or no) experience on the job, you should make sure to highlight your great education.
Only add your high school information if you do not have a higher degree. Otherwise, skip that and list your bachelor's degree, master's degree, and any certifications you have.  This is enough information for the employer to determine what your education level is.
Educational Background Example

The education section on the best resume might look similar to the example above. Or you might have more degrees and fewer certifications. Maybe you have a bachelor's and lots of certifications. Regardless, you can use the image above to get an idea of how to put things together to look great.
As you can see, this has a simple visual. It's somewhat similar to the work experience we just talked about. You want to provide all the needed information but not go overboard. For those who have experience, simply adding in basic degree and certification info will do.
How to Format This Section
The format that will get the hiring manager to read your engineering resume will use headings just like the last section. You want to be sure you include what degree you acquired, where you got it, and the location of the educational institution. For experienced workers, this is where you can stop.
However, those who are new to the job with less experience can use the educational background section to add other information. You might want to add in your GPA or even list some of the challenging coursework you've done. This can make it clear that you would be a good addition to the company.
Section #5: Skills
We're getting closer to the end here, and it's time to talk a bit about engineering resume skills. You'll want to include technical skills since employers want to know which systems and software you've used in the past. However, your engineering skills for a resume should also include soft skills, like time management, problem-solving, and project management.
The most important thing here is to choose the skills you are most proficient in, which also should be listed in the job advertisement. These are the things that will impress since you know they are needed for the position.
Skills Example

The above list of soft and hard skills is a good example of what your engineering resume should list. For instance, maybe you have proficiency in time management, AutoCAD, troubleshooting, Python, and Excel. Those can be used here in the same format to ensure you show off what you do best. This is something that varies for each job since certain abilities will be prioritized above others.
Adding in your tech skills here means the hiring manager doesn't need to pick through the entire resume for that information. Adding in communication skills and things of the like show that you're well-rounded and capable of success when working on a team with other people who may not be like you.
How to Format This Section
The skills section is an important part of the resume when sending in a job application. It's also one of the easiest sections to get away with being a bit creative and showing off your chops in that way. You can use something like the example above or tweak it to show off your style.
Just remember that the skills should be in a list format. Most of the time, they are included in the body of the resume. Some choose to list them on a sidebar. That's up to you. Quantifying your skills is important, but you can choose whether to use text, a graphic, or another method of showing what you can do.
Section #6: References
No matter how many years of experience you have in engineering, you should usually include a references section. This is a good place to provide insight about those who are aware of your work ethic and the skills you possess. If the job description asks for references, make sure to include them.
If it doesn't, it's a matter of taste. You can include a blurb that indicates you have references, list them without the contact information, or include them in full. For the case of this engineering resume, the best option is to list them without personal information or as a small blurb depending on the amount of information and whether you are going to need another page for the resume if they are included.
References Example

As an electrical engineer or someone else in the field, you may have tons of other items to list. That was the case in this example. Therefore, the applicant simply left a sentence explaining that references are available upon request. You can do this or add additional information.
If you'd like to add references, make sure you choose the right ones. Former employers, former managers or bosses, supervisors, and colleagues all work well. Mentors, advisors, and project partners can also be used. Just avoid family members and friends since it seems to hiring managers that they would be biased.
How to Format This Section
As you can see in our engineering resume samples, the simplest format is to let the manager know you'll provide references when needed. If that's what you choose to do, you don't need a lot of formatting information. You can add in the sentence and move on.
However, you might want to list your references. The best way to do so is by listing them with the person's name and where they currently work. You can add in their contact information (phone numbers and email addresses) but it's not recommended. If the resume gets in someone else's hands, they could use that information. Instead, indicate the names but have the manager contact you for their info.
Related Resume Templates
As a great mechanical or civil engineer, you want your resume template to show off your best qualities. The template throughout this guide might be a good choice, but it's not the only one available. That's why we offer a variety of engineering resume templates.
The ones below might be for another position but still work well as an engineer resume template for any job.
Now that you have the right template for your information, add it in. This is also the time to read over everything to ensure it has been worded correctly. Don't be afraid to read it aloud to mull over what you wrote. For an extra bit of insurance, use a tool like Grammarly to check for typos and other issues before you move forward.
Final Points on Writing Professional Engineer Resumes
When you want to get that new job with a great set of benefits and high pay, you need to do some serious resume writing. After all, this is often the first impression you make to a potential new employer. However, there's a second document you'll also need to craft and send in so don't forget to make a cover letter.
If you want to make your engineering resume even simpler to build, try using our resume builder. It has a variety of templates to choose from, and the ability to move your information, add new sections, and select colors. Instead of having to start from scratch, you get what you need and fill in your information. It's easy and quick!