Volunteer Resume Example, Template & Writing Tips [2023]
Our world thrives on the compassion of volunteers. Whether you're donating your time to serve food to the homeless or your talents and expertise to a non-profit organization, volunteers provide a valuable service to communities across the United States. In recent years, many larger charities and non-profit organizations have asked would-be donors to submit a volunteer resume with an application.
A volunteer position has changed significantly over the past decade. In years past, if someone wanted to donate their time to an organization, they could show up to an event, put on the charity's t-shirt, and help whenever possible.
Nowadays, non-profits and community organizations need to pre-screen and qualify volunteers to ensure they are reliable and will represent their brand with ethical behavior.
Creating a resume with volunteer experience is a good idea if you're looking to volunteer your time. This is what we'll outline today. In the information below, we'll provide a detailed guide on how to write a resume for volunteer work.
Our team of professional resume writers has created two volunteer work resume examples that showcase the candidate's expertise, qualifications, compassion, and dedication to serving their communities. So – if you'd like to review a few practical volunteer resume samples with a detailed guide on creating content in each section, let's get started.
Volunteer Resume Sample
Volunteering can include remedial tasks such as collecting tickets, fundraising, community service, assisting with healthcare, signing people up for activities, or serving food. It can also require a candidate to have professional skills, such as being a construction worker, a certified professional, or having strong technical skills.
The two resume examples with volunteer work we've selected showcase what professional non-profits or community groups seek in their candidates. Let's take a closer look at two volunteer resume samples.
Volunteer Construction Worker
In recent years, many non-profit organizations focusing on providing resources for military veterans and first responders have significantly grown. Many groups build custom homes for those who have been wounded during their time of services, such as Homes for Heros, Tunnel for Towers, and others.
The volunteering resume examples below are an excellent example of how the finished project should look. It is from our mythical candidate Danny Jackson, a former US Navy Veteran with electrical and general construction expertise, hoping to volunteer for a hypothetical non-profit we're calling The Homes 4 Heros Foundation.
A professional yet laid-back or conversational tone should be used when creating a volunteer resume. It should be a one-page document with relevant employment history, a good volunteer resume description (or resume objective), relevant skills, reputable references, and any required education.
It's clear to notice that this is what Danny has done with his resume for volunteer work. The organization builds custom homes for disabled veterans who require unique enhancements to their homes to help them live a higher quality of life. His resume format is clean, easy to scan, has a relevant experience section, and flows from start to finish.
As a former Navy Veteran, who worked on advanced weapons systems and currently works as a commercial construction foreman, it's clear that Danny has the required expertise to provide valuable service to this group.
His resume includes his personal contact information, making it easier for the Homes 4 Heros Foundation to contact him directly. It continues with a well-written resume objective, highlighting his desire to join this non-profit. It outlines his qualifications, previous military experience, and dedication to supporting fellow veterans.
Further in the resume is his work history section, which supports the professional qualifications required to volunteer for this non-profit home-building company. Specifically, he has listed his current employment as a commercial construction foreman, focusing on electrical work.
He also mentions his military career, whereas a CIWS weapons system operator provided him with the technical training to become a certified electrician apprentice. However, the military experience also gives him the work ethic, team building, and problem-solving skills to help the project.
One of our professional resume writers wrote it to give you a great baseline and practical examples of the type of language you should include in the resume. Take some time to review the entire resume. When you're finished, continue reading the article. We'll discuss each section and provide tips for tackling this project later in this article.
Red Cross Volunteer Resume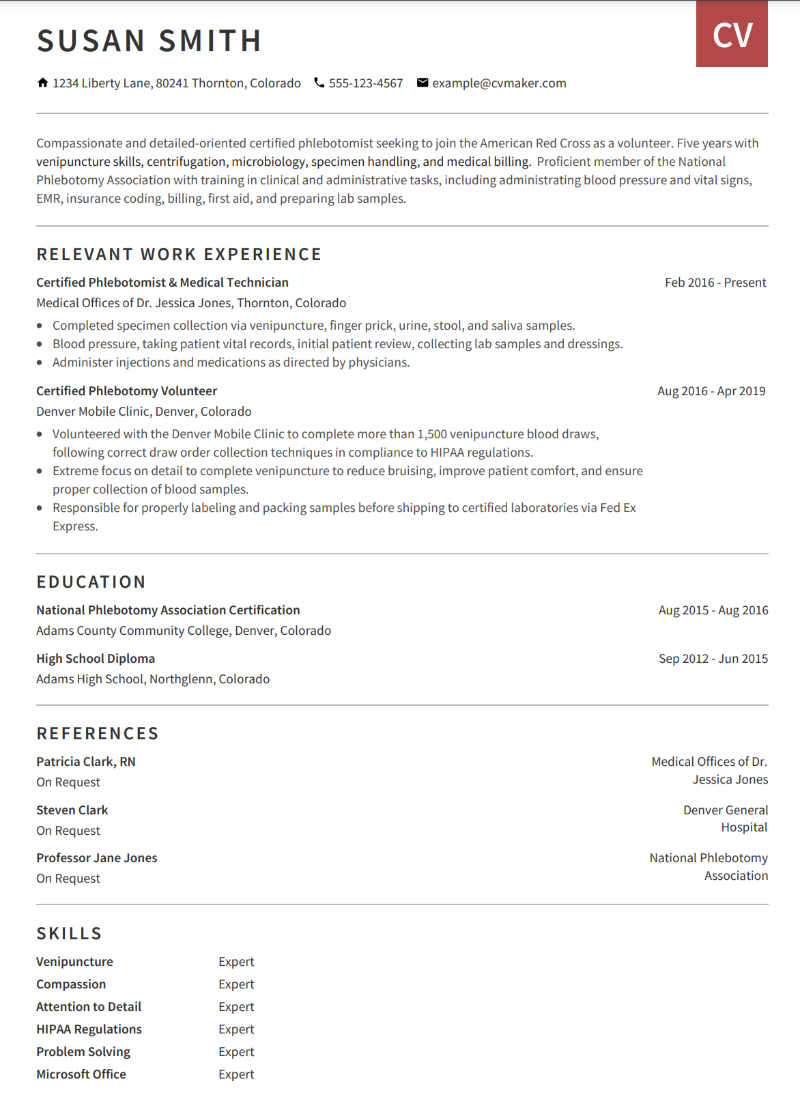 The American Red Cross is one of the most valuable non-profit organizations. They serve communities throughout the globe during times of crisis, including wars, natural disasters, and global pandemics. However, they are also the world's most prominent collector of life-giving blood donated by compassionate people worldwide.
The people who complete blood draws are known as phlebotomists. Our volunteering candidate is Susan Smith, who currently serves as a Certified Phlebotomist for a medical office in her hometown of Thornton, Colorado. She hopes to join the American Red Cross to volunteer her time during select weekends to assist with mobile blood drives in the Greater Denver Metro area. She has written a community volunteer resume sample for us to review.
You'll need to go above and beyond with your resume to stand out among a sea of other competent volunteer applicants. Susan achieves this in the first line of her resume objective area. She has prepared this document primarily for the Red Cross office in Denver.
A phlebotomist's workday is never the same since offices range from modest solo practice to huge, high-volume hospitals. Because of this vastness, a phlebotomist's profession may vary significantly. Check-in patients, taking phone calls, performing complete venipuncture or capillary puncture blood draws, and collecting other bodily fluid samples are all part of the job.
When you read the phlebotomist's resume, you'll notice that she has included:
A work history section (second serving as a volunteer of a mobile clinic).
Her education.
Three excellent references.
Her top skills relevant to the job.
Now that you've reviewed two exceptional volunteer resume examples let's explore how to write, structure, and edit each of the primary sections included.
How to Write a Good Resume for Volunteer Work: Full Guide to Successful Volunteer Resumes
Reviewing most volunteering job postings will make it 100 percent clear how to build and structure your resume. The job description will often include the skills, relevant job experience, and education or certifications for the specific volunteer position. However, many non-profit organizations are looking for general volunteers – to complete office duties, help with warehousing, or other operational tasks.
The key is to research what your charity, community organization, or non-profit might be seeking before creating a resume for them. In many cases, if you are a specialist, such as our two hypothetical volunteering candidates above, you can fine-tune your existing professional resume to make it for a volunteer position.
Best practices for writing volunteer resumes suggest including the following primary sections.
Personal Contact Info: Always provide your complete legal name, mailing and email address, and cell phone number. Keep it basic unless asked otherwise; there's no need to include social media connections like LinkedIn unless requested.
Professional Summary: A volunteer's resume summary, often known as a volunteer resume objective, is a four- to a five-sentence elevator pitch. This is your first chance to make an impression.
Work History: List out your professional experience or previous volunteering jobs. You should include job specifics as well as a few standout accomplishments.
Education: A GED certificate or a high school diploma is required for most volunteer jobs. However, if the specialist or professional licensing you possess is requested by the organization looking for volunteers, list your highest degree in the education section. No need to add your GPA or core course study, unless it's applicable to your position.
Skills: Including five to seven features in the volunteer abilities resume part is essential. Many jobs recruiting firms use applicant tracking software to search for these action words, so it's best to include them in the skills portion.
References: Choose two or three thorough references, including two professional or previous employers and one personal that can support your job search.
The most important aspects of the resume are represented by these primary sections noted above. If a future employer asks for more information on your resume, you should provide it. Including certifications such as CPR or First Aid in one section is better if that's what you need.
For this article – we will focus on the primary sections displayed in the sample resumes. The following areas below will help you build out the content for each.
Section #1 – List Your Contact Information
The first item on your resume will always be contact information. While it's more than likely that you'll fill out an official job application, the resume should be a supporting document that further supports your candidacy. However, one essential item for future employees is consistency with their applicants.
To ensure that you have the best chance of success, ensure that the contact information listed on your application matches 100 percent of your resume. For example, some people will write generic resumes for volunteer positions and submit them to every job. However, they may move or change their mobile phone number – and not update their resume.
Let's review Susan's resume for this section. You'll notice that her contact information is easy to see. This will make it easier for prospective volunteer organizations to contact you directly.
How to Format this Section
We recommend that you use a resume builder or template to format each part of your resume so that it appears polished and professional. It will guarantee that the document looks professional while ensuring that important information is easy to remember. Remember that the contact information you provided on the application should be used for the resume (including name, mailing address, address, city, state, zip code, email, and phone number).
Section #2 – Professional Summary 
A professional summary or resume overview is your best opportunity to provide a general overview of the information posted below. Consider it like a written elevator pitch, where you introduce your candidacy, explain what you want, showcase your experience and qualifications, and why you're the right person for the job.
Let's provide two different examples of writing this section.
Volunteer Resume Summary for Non-Profit Organization
This sample is from Danny's resume. He is applying for a construction volunteer position with a non-profit organization called Homes 4 Heros Foundation. You'll notice that he has written this section for this specific volunteering position.
What makes this summary different from others is that Danny frequently mentions attributes that showcase his passion for people served by the Foundation – former US Military and First Responders who require custom-built homes. It's crucial to many non-profit organizations that volunteers have a personal connection to support those they serve.
Volunteer Resume Summary for General Organizations
When you're writing a resume for an organization that doesn't serve a specific demographic, you can approach your resume summary differently.
You can see this in Susan's resume summary posted above. She focuses on her expertise as a phlebotomist – the service provided by the American Red Cross during their mobile blood drives.
How to Format this Section
The professional summary of a perfect resume should be less than 200-words. It's intended to be a short yet persuasive paragraph written in a conversational yet professional tone. You'll want to sprinkle your hard and soft skills into the section to convince the reader to learn more about you.
Section #3 – Employment History
Having the right work experience is another vital component to gaining a job interview for a volunteer position. Many employers search for candidates with the right skills and who previously served in this capacity. It's due to this fact that listing relevant employment history should be your top priority.
For a volunteer position, showcasing the skills and experience you possess that fit with the needs of the organization seeking volunteers is essential. For example, in Susan's sample resume below, you'll notice that she has listed two relevant jobs – both serving as phlebotomists. The first is her "day job," – where she completes blood draws in a medical office.
The second job listed is a previous volunteer position, working with a mobile clinic in the City of Denver. This gives the Red Cross a practical example of providing phlebotomy services in a remote environment – such as the blood drives they provide onsite.
The data you enter in your work history must be correct to the application. When choosing roles, keep track (and remember) of the dates you worked there and your job title and key responsibilities.
How to Format this Section
It's critical to choose two of your most recent relevant employment. When presenting them, do so in reverse chronological order — or from the newest to the oldest. Always include your employer's name, address, start and end dates of employment, occupation, and a few bullet points on essential duties or achievements.
Section #4 – Education
Specific educational requirements may be necessary depending on the work you're looking for. Most volunteer jobs will need a high school diploma or GED certificate. However, the education section of your volunteer resume is an opportunity to demonstrate the highest level of education you've obtained. While it's always up to the hiring manager to make that decision, having a college degree might be a tiebreaker in certain situations.
Susan has listed her Certification as a Phlebotomist in the sample resume above, which is relevant for this profession. If you have only a high school diploma, include it here. However, if you are currently enroll in college, do not list it on your resume. Instead, include this information in your cover letter, which should always be attached to each resume submission.
How to Format This Section
It's as simple as it sounds. Simply state the school's name, location, dates, and degree received. Make sure to match your application information and other completed documents to the volunteer position you're applying for.
Section #5– References
The best references are those who can testify to your previous work ethic, ability to complete tasks as assigned, and your teamwork ability. They are typically selected to maintain a professional relationship (even if they were in a previous job). This would be called a professional reference, a mentor, previous employer, or manager who speaks credibility and has years of experience in their position.
The other type of reference is a personal one – such as a family friend or personal mentor who serves in a professional career (like a banker, lawyer, or business owner). They are submitted to resumes to speak on your interpersonal skills or character. Recruiters love seeing high-profile careers as references for volunteers.
Let's go back to Danny's resume sample for an example of the type of references he's listed. You'll note that he selected the owner of the construction firm he works for – along with a former commanding officer during his time in the Navy. Since he is applying for a volunteer position with a non-profit that builds homes for military veterans who are disabled, both references are exceptional.
How to Format This Section
When listing references on a volunteer resume, please include the first and last name of your reference, their place of work, and the phrase "available upon request." Unless requested by the organization you are applying to, this will keep their contact information private. Check out some of our resume templates to see how they arrange the reference section on resumes.
Section #6 – Skills
A good volunteer will be adaptable at writing and oral communication, conflict resolution, multitasking, maintaining an upbeat demeanor, time management, attention to detail, compassion, and completed tasks as assigned. As a volunteer is typically not paid for their efforts, the candidate must choose organizations that help a community or strongly support a mission they believe in.
The skills section is more critical with volunteering positions that will focus on a specific task. Let's look at Danny's resume for the example in this case. As a former US Navy veteran and current construction foreman, he's focused on industry-specific skills such as carpentry, being an electrical apprentice, maintaining OSHA compliance (for safety), and having a solid work ethic.
How to Format This Section
The skills section is a bulleted list of your future employer's needs. It describes five to seven bullet points demonstrating where you excel in the future. When using a resume builder or template, we recommend dividing the skills into a sidebar for organization and space efficiency.
Final Points on Crafting Effective Volunteering Resumes
The ideal volunteers have the appropriate expertise, hard and soft skills, and a work ethic to follow through on tasks as required. During an interview, they'll be able to show their personality, but they must first obtain an invitation. An excellent volunteer resume submitted together with a correct application, and well-written cover letter is always a great idea.
You've arrived at the right location if your objective is to obtain a well-written, detailed, and exciting resume. We've made a simple road map to guarantee that your resume is polished, clear, and engaging. All you must do now is follow the steps outlined above. Here are a few quick reminders for those who need them.
Make sure your volunteering job resume flows from start to finish.
Always write your resume on a plain white background with black font.
Edit your written content through Grammarly – or another online grammar editing tool that will save you time.
Ensure it's well-spaced, organized, and professional.
Finally, read it aloud a few times before you're ready to paste the content into a resume builder or template.
Finally, there is one more thing to think about. Ask a few pals to review or edit your resume afterward, especially those who are now volunteers for the organization you wish to join. Have them go through it carefully and offer any helpful insights you may have missed.
Having a second or third set of eyes review a volunteer resume before submitting it to the hiring manager is an excellent approach to ensure it's as polished as possible.