Theater Resume Sample, Job Description & Writing Guide [2023]
Whether you want to impress a casting director on Broadway or gain experience in a location production, it's important to have the best possible theater resume. At CVMaker, we offer all the resources and tools you need for the job, from resume examples and templates to writing services and more. Our Resume Builder is simple to use and lets you focus on the job search.

One of the most important aspects of a great theater resume is showing off your skills, achievements, and experiences on stage. However, there are additional things to consider when building a resume. For instance, physical attributes are included on this type of resume which tends to be very rare in other professions. In addition, some sections are important on general resumes that are less crucial for theater.
Whether you've been in the business for decades or are only now delving into acting (or other careers involving the stage), this guide will provide you with best practices and tips on how to build an outstanding resume. Once you finish reading, you'll have all the information you need to ensure your resume looks great and is simple to read. Keep reading to get the details on how to get started.
Theater resume writing guide: Where to start?
If you're ready to step on the stage, it's time to learn more about technical theater resumes and the best way to build them. Most resumes are only glanced at for a few seconds so you must create a spark the second someone looks at yours. You want a theater resume that is tailored to the role while being concise and well-structured.
As you build a resume, you'll want to go through two different stages. The first is to create a master resume. Once that's complete, you can move forward with tailoring the resume for a specific position.
Master resume for Theater
A master theater director resume is going to have insight into your contact information, physical attributes, past roles, skills, and education in one spot. This is a catch-all document where you keep all your details, whether they seem relevant or not at the moment. The idea is that you log all your roles, education, and skills so you can easily access them for tailored resumes down the road. It's a reference item that can be used time and time again.
When you think back, do you remember every role you had? Even if you do, are you aware of what locations you did performances at or what each director's name was? There's nothing wrong with you if you said no. It's normal to have some trouble keeping track of all these things as time goes by. Your master resume is where you keep all these details for the moment you need them.
You can create a master resume in a notebook with a pen, type out details into a Word document, or keep all your information on a resume at CVMaker. It doesn't matter about the format as much as you should take time to continuously add in new skills and achievements, even if they may not seem immediately relevant.
Do
Update your master resume regularly
Always refer to your master resume when creating a vacancy-specific resume
Use a straightforward, black and white document with clear headings followed by bullets.
Include all your experience, education, and other qualifications with the most recent experience shown first.
Do not
Apply for jobs with a master resume
Avoid creating a vacancy-specific resume from scratch without having a master resume to guide you.
Always proofread and spell-check all your documents. We reckoned tools like Grammarly.
Job-specific resume for Theater
With a master theater directing resume in hand, you can start to craft a document for a specific position or role. Look at your notes in tandem with the job title and job description to get an idea of which skills to highlight and what keywords you should include. It may take some time to create a resume for every role, but it's well worth it when you see the rewards.
As you build a tailored resume, remember that you should make it no longer than one to two pages. Those with limited experience should stick to the shorter side. To show you are the right person for the role, look into the company offering the performance. You may find information that helps you build a resume that shows you're a great fit for the production.
Theater resume example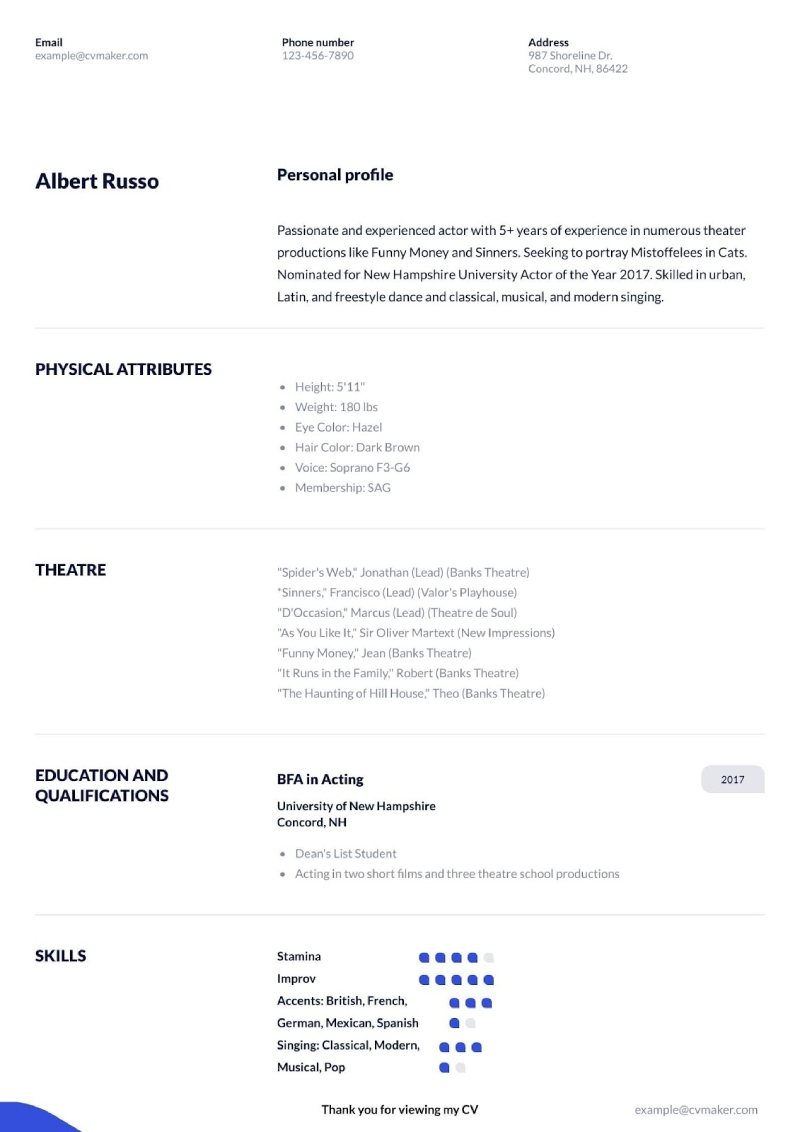 In this theatrical resume template, you can see that Albert is a talented actor who has been in many productions with a leading role. He studied acting at university and has put in time honing his craft. The list of roles you see on this sample theater resume also indicates that he has plenty of experience. Skills are also highlighted so it's easy to see his abilities in dancing, accents, and singing.
Writing tips and examples
When you start pulling together a theater actor resume, some sections are nearly mandatory while others are more of an optional addition. After you've incorporated your personal details, skills, education, and experience, you can spend time considering which of the optional bits you want to include in the theater resume.
Contact information for a Theater resume
One of the least talked about but most important parts of a theater resume is the contact information. It's a simple section of the resume to include yet it provides a manager or director with essential information about you. For instance, this is where you'll list your phone number and email address so you can keep in touch with whoever is doing the hiring.
There are a few pieces of information that should be included in this section of your resume. The first is your name. This can be highlighted above the rest of your contact information in bold, in a more intense font, or an eye-catching color. Underneath, include two ways to reach you. An address is also important, but you can choose between leaving a simple city and state or a full street address.
The type of resume style you choose will determine the location of your contact information. If you go with a single-column style, your name and other information are typically seen at the very top of the theater resume. For those who go with two columns, personal information can be listed on the sidebar. This works well for those with substantial experience.
How to write in the physical description area of a Theater resume?
One of the sections of a theater resume that might be new to you is the physical attributes area. Since you are applying to take on a role, the stage manager will want to know if you fit their vision of the character. This section includes written information about what you look like and can be used in tandem with an attached headshot.
There are several things to include here.
In most cases, it's expected to add the following details about your appearance:
Copy to clipboard
Height
Weight
Eye color
Hair color
In addition, other details can be included as needed. This can be especially useful if you know you have a look that fits the vision of the theater director. On Albert's resume above, you can see that details about his voice and membership in SAG are also highlighted here. These can go into other sections if that works better for your needs.
Creating a list of attributes is the best choice since it's easy to scan for whoever is taking people in for auditions. Instead of a paragraph, which may not be concise and could result in overlooked information, a list gets to the most important bits without adding a lot of extra fluff that may not matter to the person who is searching for an excellent actor.
Steps to incorporate productions on a Theater resume
As you might guess, acting credits make up a large portion of the resume format for someone in theater. The most important things to include here are the hard details. If you've only worked on stage (or television/movies), you can compose this section as one list of productions. However, if you have experience in both, they should be separated.
Instead of focusing on how certain roles might have been exciting for you, you want your roles to show your adaptability, variety, and experience. A quick line for each credit is all that is required or needed to show what you have done in the past. Include the name of the production, your role, and where you performed.
For those with less experience, feel free to include things like scene work or school productions to fill out this section. In addition, it's always a good idea to showcase some of your roles that may be similar to the one you are auditioning for. This shows that you have experience with that particular character archetype already.
Skills to list on a Theater resume
You've probably heard the expression "skills pay the bills" and that's very accurate when you're creating a professional resume as an actor. You'll see that each resume sample you look at has a focus on the skills section, since this may make you stand out from other people who wish to audition for a certain role.
Just like we recommend a list for the physical attributes section, the same applies to skills. You can choose to use bullet points or just a clean list without extra punctuation to set it up. In most cases, this part of the resume will be listed toward the bottom with extra formatting to ensure it stands out.
Of course, knowing where to place your skills is only the first step. The next is deciding which ones you should include. This can vary based on the production that you want to be hired for. For a live show, maybe improv is a useful skill. If there will be music, giving info about your proficiencies in singing is a great decision.
Some of the skills you might consider including on your theater resume include the following:
Skills
Copy to clipboard
Accents (list types)
Dance (list styles)
Languages (include a list)
Singing (list types)
Sports (add types)
Voice (add information)
Not every skill requires a small list. Instead, you might choose to only give the broadest details where that is enough to get an idea of what you can do.
A few examples include:
Copy to clipboard
Diction
Hosting
Improv
Miming
Modeling
Monologues
Reciting
Stamina
One tip for this section is not to overdo it. Even if you have dozens of skills, you should list only the most relevant. It's also important to select abilities that you are very proficient in. While you decide what to include, remember to list no more than five to 10 total skills.
How to list education on a theater resume
If you've made it beyond high school, you should make sure that's reflected in the education section of a theater resume. As you can see in our earlier example, Albert clearly states that he has a BFA in musical theatre, which might make him stand out if a production involves lots of singing and dancing.
You don't want to create a special header and go crazy with lots of fonts and colors here. The majority of the information will be shared in a single line for each entry. This includes what degree you obtained, what school you attended, and where it was located. Adding the date you acquired the degree is also useful for most people,
Use reverse-chronological order for this section if you have more than a single degree. For instance, if the applicant had a master's degree, that would be listed above their bachelor's degree on the resume. High school education is not needed for anyone who has higher education to share.
Visit the CVMaker template page to get started with your own theater resume.
Key takeaways
Using the tips and examples above, you should have all the information you need to ensure your theater resume is a standout. It's all about using your special skills to create a resume that is tailored to a specific role or position on the theater team. Our expert advice will help you create a theater resume that couldn't be more professional or engaging.
Theater resume tips:
· The perfect resume will include your contact information, including a phone number and personal email address.
· Avoid adding unprofessional or dated email addresses that may have been created well in the past.
· Use concise and professional language throughout.
· Don't include information that cannot be backed up and avoid anything this is false.
· Stay away from the use of slang or jargon that some may not understand.
· Create a well-crafted cover letter to tie everything in your application together.
· Consider applying for minor roles if you have a lack of experience.
· Proofread your resume several times to avoid misspellings or typos.
Next steps?
Want to make sure your musical theater resume template is filled out and ready to make an impact? Reach out to us on the CVMaker website to ensure every word of your resume shows you in the best light. Speak with an expert who has created thousands of resumes so you can move forward with confidence.
FAQs
What does a theater resume look like?
When you look at a theatre resume, it will be similar to other professional documents in different industries. However, some things make a theater resume stand out. For instance, most resumes for theater positions will include a headshot so the director can get an idea of your aesthetic and look to compare it with a role.
An excellent resume will be clean and easy to read with all the required information. Some sections may have a different format than a standard generic resume. For instance, your experience section should be composed of past roles and can be in a list format rather than being broken down into chronological job entries with information about your accomplishments and duties.
What should be on a theater resume?
A theatre resume should start with contact details and a resume objective that explains your biggest achievements. From there, you'll want to include other information, such as physical attributes, past roles, affiliations, and more. Be sure to look over the resume for errors before you send it in.
Most theater resumes will include the following information:
Copy to clipboard
Contact information
Physical description
Acting experience
Education
Skills
However, other sections can be added as needed. Any of the following can be included depending on the role you are auditioning for:
· Other experience
· Certifications and courses
· Technical proficiencies
· Interests and hobbies
· Languages
How do I write a theater resume with no experience?
A beginner theatre resume isn't altogether different than one for someone with a dose of experience. Even if you don't have acting experience related to the job, include any relevant things you have done in the past. This could include film, television, theater, web series, music videos, and more.
For someone with less experience, you'll want to make up for that with more information about your education, skills, and training. Consider beefing up education with any awards or honors you have. Feel free to include additional skills related to the position to show why you're a good candidate for the role.
How can I make my acting resume stand out?
The best resume for someone in theater is the one that gets them great gigs. There are several things you can do to make sure your document gets a second glance. Make sure you include up-to-date contact information, physical attributes, experience, education, skills, and a headshot.
Having all the right information is only half the battle. You also want to be certain it is organized and concise for the benefit of the stage manager who is reading it. The main purpose of the resume is to show that you have chops as a professional actor and are prepared for your next role.
What layout is best for a theater resume?
When choosing the layout for your theater resume, remember that it's best to keep things simple. There are two typical layout choices to select from. One has all the information in a single space on the resume, one section after the next. The other makes use of a second column for information.
Which should you choose from? It depends. Those with a lot of information to input may find a two-column layout works best. After all, it provides additional space to include important details about your work experience. A single-column style is fine in other situations.
How long should my theater resume be?
Whether you're crafting a tech theater resume or a theater director resume, the general rule of thumb is to stay at two pages or below. If you can keep it to one page, that's even better. The reality is that a stage manager only has so much time to look over your resume.
This doesn't mean you should avoid adding essential information. If it pushes you to a longer resume, there's no reason to shy away from that. However, if you can condense things to create a shorter theater resume, that's still preferable in most cases.
How is a theater resume different from other resumes?
There are a few things that distinguish a theater resume from other resumes. For one, a theater resume should list information like height, weight, eye color, and hair color. In addition, the experience section will often be composed of performances and have a layout different from resumes for other industries.
The basic format for a theater resume includes education, training, and stage roles, along with contact information and a physical description. This provides a director with the information needed to decide whether to cast you in a role.
How to format a theater resume?
As long as you've followed a good structure and chosen an appropriate layout, formatting a theater resume is simple. There are numerous ways to create a captivating resume so make sure to consider different fonts, font sizes, spacing, and content types for each section.
Most theater resumes will be only one to two pages long with minimal white space. Make sure the resume is pleasant to look at before you send it in and apply for a role.