Shipping Clerk Resume Sample, Job Description & Writing Guide for 2023
So you need a fantastic shipping clerk resume to land the amazing job you just found out about? You're in luck because we've created this guide specifically for you and other people in your situation. We're going to walk you through what every shipping clerk resume needs (and the things to avoid). By the time you finish reading, you'll be endlessly prepared to create a document that shines.

As a shipping clerk, you're responsible for watching what comes in and out of a warehouse. Duties include everything from making shipping documents (like invoices and purchase orders) to pulling inventory out of shelves, making sure packages are packed well, monitoring shipments, printing shipping labels, adding the right postage to parcels, and scheduling pick-ups.
With so much going on, you can see why employers want to bring in only the best employees. Tracking delivery statuses and performing inventory control are tasks that need to be done right. Your job in a shipping clerk resume is to show that you are the absolute best person for the position. This is done by sharing your experience, skills, and more.
We're going to equip you with the information you need to truly succeed. You'll show off that you know how to do the typical job tasks through a variety of skills and experiences. In addition, we'll delve into how to add your education level and why that's important in this situation. So let's get started with some information on the difference between master and job-specific resumes for shipping clerks.
Shipping clerk resume writing guide: Where to start?
Before you step into the warehouse, you need to know how to create the perfect resume for a shipping clerk. There are two separate phases that we recommend to ensure your document is the best possible. Keep in mind that most resumes are seen by someone for nine seconds or less so you need to make an impact fast. A concise but well-structured resume is the best way to do this. This all starts with a master resume.
Master resume for a shipping clerk
So what is a master resume and why is it so important? The master resume is a document that contains information about your work experience, skills, education, and other important details. Anything you might put into a resume for a specific job is compiled here so it's easy to find and move to that secondary document. A master resume acts as a repository so you don't have to try to remember every single detail about your employment history.
Some people might be wondering at this point whether it's worth creating a master resume. It is. Yes, it can take a bit of time to build this resume initially, but it's going to save you so much time in the future. Once you have this document, you can easily add new things. And every time you choose to apply for a new job, all the information you need is right there to copy and paste over.
A master resume isn't designed specifically for one position or even a single industry. It's simply a document that keeps all of your information in one place. Feel free to include experience and skills unrelated to shipping and logistics. If you need those things in the future for a position, you'll already have the basic information ready.
After you build a master resume, the next thing you need to do is make sure you keep it updated. This ensures it's fully up to date whenever you want to apply for a new position. The great thing about a master resume is that you only need to make it once. There's no need to create a new one for each job as you would for job-specific resumes.
Job-specific resume for a shipping clerk
A master resume isn't the document you send to the job. Instead, you want to craft a job-specific resume for that purpose. This means you'll take the job description, pull out keywords you may want for your resume, and then build it based on that specific job. If something is highlighted in the job description, you want it in your resume if at all possible.
As an example, one employer might want to know all about your forklift experience so you want to add it as a skill and show positions where you've done this in the past. Another position might call for delving into your ability to monitor shipments. The point is that you move things that are relevant from the master resume and edit them to use useful keywords.
Not sure what kind of things you should include? Consider researching the company that has placed the job advertisement. Their social media and website can provide an idea of the work environment, culture, and values of the business. This is an excellent method to ensure your shipping clerk resume hits the notes a hiring manager wants to see.
Your job-specific resume is one fully tailored to one position, while the master resume holds all the information about past jobs, education, and skills. Using the master resume to create the job-specific one ensures you have accurate information included. Adding keywords makes it more likely you will be called in for an interview.
Shipping clerk resume example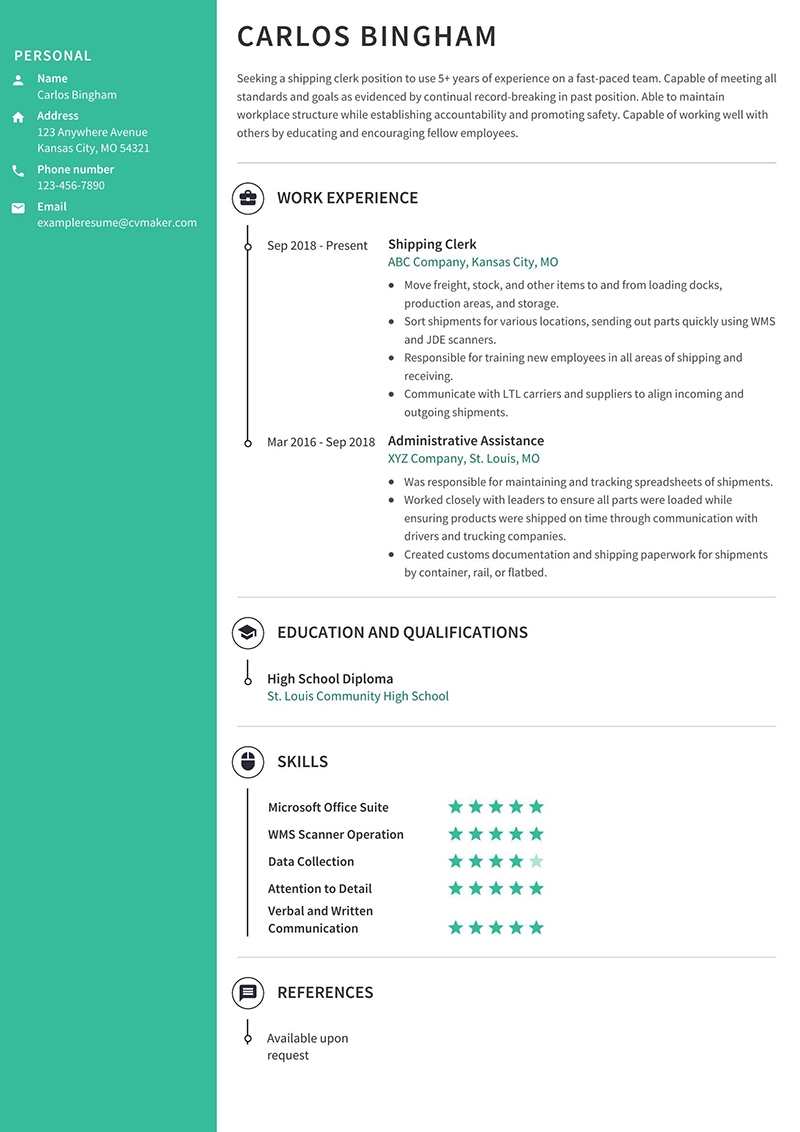 Download This Resume Example - Shipping Clerk
Using a shipping and receiving clerk job description for a resume was how Carlos' resume above was created. You'll see that he focuses on the experience and skills that relate to this type of position. He uses his past as an administrative assistant to show that he's gained skills from even positions not related to the role. An excellent resume objective and proper contact information round out this sample resume for a shipping clerk.
What to include in a shipping clerk resume? Writing tips and examples
There are several sections you will want to include in a shipping clerk resume. How important each of those things is will depend on the shipping and receiving job description for the resume. Notice what is prioritized and make sure your resume takes that into account. Below, we'll share some details on how to craft some of these sections so you can move forward and apply for your dream job.
What skills are best to incorporate into a shipping clerk resume?
You can use shipping clerk job descriptions to get an idea of what skills you should list on your own resume. Shipping clerk responsibilities can vary from one position to the next so we highly recommend customizing this for each resume you send it. While you likely have dozens or even hundreds of skills, the ones you choose for the resume will be highly tailored and show what you do the absolute best.
Another thing to consider while creating your shipping clerk resume is the inclusion of hard and soft skills. Hard skills, which are sometimes called professional skills, are things you can learn through training and hard work. Soft skills, known as personal skills, are traits and interpersonal skills that often can't be taught. Below are a few of each so you have an idea of what to include on your resume:
Soft skills
·       Communication skills
·       Attention to detail
·       Organizational abilities
·       Sense of urgency
·       Ability to work on a team and independently
Hard skills
·       Forklift driving
·       Warehouse operations
·       Inventory management
·       Data entry
·       Supply chain management
How to write work experience on a shipping clerk resume
The work experience section should also use the warehouse shipping clerk job description. This comes after you complete the contact information. While the resume objective is higher up on the resume than the work experience, it's considered best to write it last. So the work experience section goes under that in most cases.
You can expect the work experience section to be one of the larger areas of the shipping clerk resume. For those with less experience, education and skills may be more prominent. However, including work experience is a must unless you have absolutely nothing to include there. Employers want to know that you've done similar jobs in the past.
It might seem that the best way to create experience entries is by detailing what you did from one day to the next. This is one way to fill out your experience but we recommend another approach. Instead, add those duties but try to weave in the ways doing these things positively impacted the business. This will be noticed and make you seem like a more competitive applicant.
When going through your past positions, each one will have its own entry. Start with a header. This includes where you worked, the location of the workplace, what your position was, and the dates you worked at this company under this role. Then you can make a bullet list underneath with your achievements and accomplishments.
What's the best way to include educational background on a shipping clerk resume?
You can see in the above shipping and receiving clerk resume sample that the education section is short and simple. Even so, this is important to add to your resume. In many cases, employers expect shipping clerks to have at least a high school diploma. Make sure you list yours if you have it and do not have any additional degrees.
However, those with a university degree can remove the diploma and instead place their degrees on their resume. Make sure you add details such as the university where you got the degree, where it was located, and what degree you achieved. If the degree was acquired in the last 10 years, adding information about when you got it is also appropriate.
For those with only a high school diploma, you can look at the resume sample earlier in the article to see how to format this. College degrees will have extra information. This section can also be used for any certifications you may have earned. However, if you have a large number of them, a separate section can also be created to meet your needs.
Ready to craft your own outstanding shipping clerk resume? View our templates to really make an impact.
Key takeaways
The tips and examples above paired with a shipping clerk job description for a resume will help you design a shipping clerk resume that gets the job done. Knowing what to include, what to avoid, and how to bring things together will help you build a professional document you feel good about turning in. Put it all together, add your cover letter, and start applying to jobs you want. Good luck!
Shipping clerk resume tips:
·       Look over the shipping clerk resume and make sure it has a good flow. If things sound a bit strange, make edits so the entire document sounds great.
·       Consider the fonts and colors used on the resume and whether it creates aesthetic appeal. If not, make a few changes before moving forward.
·       Read the entire resume from top to bottom while looking for errors. Handle misspellings, clean up grammar, and be sure the resume is as perfect as can be.
·       Think about using a tool like Grammarly to pick up any lingering issues that you may not notice on your own.
·       Read the resume again but this time do so aloud. This is a great way to see if everything sounds good.
Next steps?
Are you wondering how to make your own resume as good as the shipping and receiving resume sample you see throughout this guide? It is possible and it might be even easier than you think. If you want to have an expert's touch, consider using our Resume Writing Services. A professional with tons of experience will make sure your shipping clerk resume is competitive and adheres to all modern resume requirements.
FAQs
What skills should I put on a resume for a shipping clerk?
The skills you include in your shipping clerk resume will depend on two things: what you do well and what the job requires. It would be bad form to list something you cannot do or can't do well. Another thing to avoid is listing things you're great at but which have no relevance to the position you want to acquire.
When you look at shipping resumes examples, you will notice all listed skills are essential for the jobs being applied for. You want to do the same thing with yours. A hiring manager doesn't care much if you're great at programming if that has no bearing on the position. Instead, look at ability and relevancy when listing your own skills.
What should be the objective on a resume for a shipping clerk?
It's a good idea to look at several shipping and receiving resume objective examples since they can vary. Yours is likely to be different from any you see. Why? Because this is a highly customized section of the resume. It relies on not only what skills and achievements you have but what kind of things are asked for in the job description.
However, there are some tips you can use as you write this section. One, make sure it's short. It should be no more than four sentences long. Second, go beyond past duties. Focus on your accomplishments and what you do best. Third, don't be afraid to share your goals for the future. It shows you plan to stick around in the position if you get it.
Why does the shipping clerk job description matter when making a resume?
Having a job description next to you while you create a resume is crucial. You can read over it as often as you like and pull verbiage from the ad to make your document shine. Since keywords are a huge part of modern resumes, the last thing you want to do is pass them over and risk never moving forward.
You can see an example of this in any shipping clerk resume sample. Notice the words used and skills listed and how they likely correspond to a specific position. Craft your own resume using the job description and you'll be far more likely to end up in an interview and potentially hired.
How long should a shipping clerk resume be?
When crafting a shipping clerk shipping and receiving resume, the rule of thumb is to make it a single page long. However, those who have a decade or more of experience are welcome to create a two-page resume. Going any longer than that runs the risk of containing irrelevant information which can make a manager stop reading.
Since a resume is a short document, that also means removing anything that doesn't create value for the reader. It's better to use powerful words than to explain things using twice as many words. Wherever things can be trimmed down, they should. This is especially important if you're bridging the gap between a one- or two-page resume.
How far back should a shipping clerk resume go?
It depends on your level of experience. Most people will be good with up to 10 years of experience added to their shipping clerk resume. However, time is not the most important factor when incorporating work experience. What you need to consider is whether the experience is relevant to the position you want.
For instance, someone with 12 years of experience that is all related to shipping might want to include it all. Someone who has 10 years of experience but in various industries will want to home in on the roles that have similar responsibilities as the position they hope to move into. Creativity can help to make positions look more similar than they might be in practice.
What structure is ideal for a shipping clerk resume?
Any shipping clerk resume should start with contact information, such as your name and email address. After that, you can focus on the resume objective. Work experience, education, and skills are some of the things that can go next depending on how much experience you have in the industry.
Some sections of the resume are mandatory while others can be added if relevant but do not have to be. Any great shipping clerk resume should include the following:
·       Contact information
·       A resume objective
·       Work experience
·       Educational background
·       Skills
On the other hand, the sections below are optional and you can add which of them might make your resume better:
·       Achievements
·       Additional experience
·       Courses and certifications
·       Hobbies and interests
·       Languages
·       References
·       Technical abilities
What kind of layout and writing style is best for a shipping clerk resume?
As you lay out your shipping clerk resume, you want to be sure everything is cohesive. The goal is to make it easy for a hiring manager to read the professional document. Format the information so the most important bits are toward the top and other items near the bottom.
If you have a great deal of information to share, consider using a two-column design. Things like your contact information, hobbies and interests, and more can be placed on the left or right sidebar. The rest of your information will be in the middle of the document and highlighted for easy understanding.
Are there formatting requirements for a shipping clerk resume?
Using a good structure and implementing an easy-to-understand layout is key to an excellent shipping clerk resume. Once that has been done, you want to format the resume so it looks great anytime someone views it. It's up to you how creative you want to be but spacing, font, and color choices all fall under this umbrella.
Keep in mind while formatting that you do not want your shipping clerk resume to be more than one to two pages in length. If you're close to a single page, consider removing some white space from around the sections to make it a bit shorter. A smaller font may also be an option as long as the resume is still readable.