Restaurant Manager Resume Example & Writing Tips for 2023
Successful restaurant managers wear many hats to juggle and balance multiple critical roles.

They're not only the face of the food service establishment; they're responsible for the smooth running of everything that happens behind the scenes.
Whether it's fast food, bar nosh or New York fine dining – restaurant managers run the show, end to end. And there's much more to running a restaurant than you'd think.
If you think you've got what it takes to land a top restaurant manager job, it starts with a perfect restaurant manager resume.
We've put together everything you need to crack it and make an excellent first impression.
Read on to find templates, restaurant manager resume sample formats and a full restaurants manager resume example.
Restaurant Manager Resume Sample
Restaurant manager resume examples make it really easy for you to get a clear picture of what recruiters want.
Just as everything else evolves, so does the world of recruitment. Yesterday's eye-catching fonts are off-putting today. Resume formats that worked before now miss the target.
Using a resume builder is a no brainer compared to slogging it out on your own. The fine points are taken care of; all you need do is write your best content. In short, if you want a professional resume, make it on a resume builder.
Since we want you to hit the bullseye on your job search target, we've got an entire restaurants manager resume sample to guide you.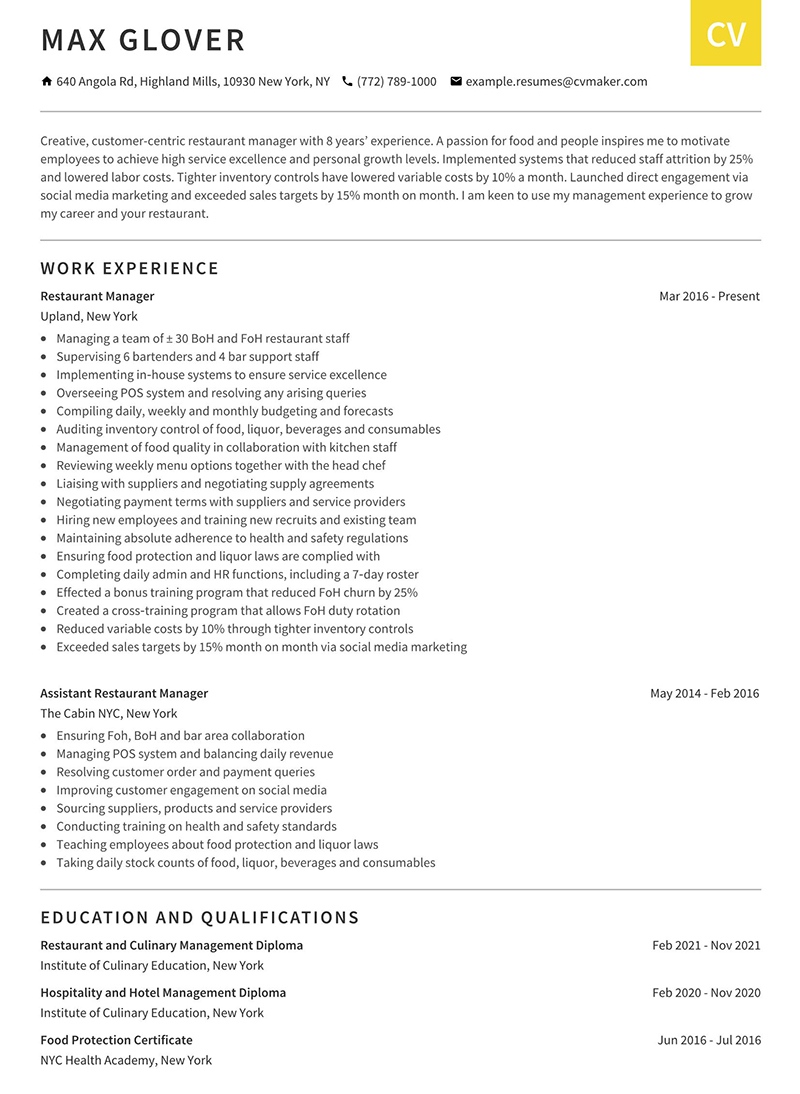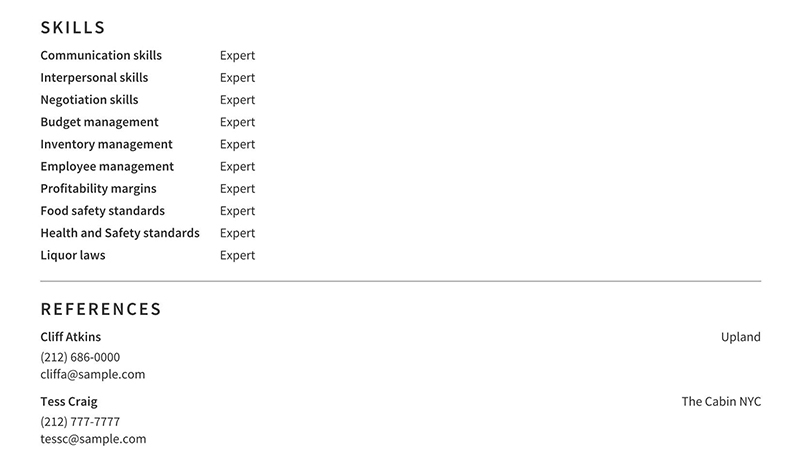 How to Write a Good Resume for Restaurant Manager in 2023: Restaurant Management Resume Guide
Whether entry-level or for a restaurant general manager resumes must showcase your experience and include the skills listed in the job post.
Your restaurant manager job description for resume ads will only get a few seconds of exposure depending on the concern's size.
In smaller businesses, resumes go straight to hiring managers who are pushed for time. They skim through resumes for essential skills, giving every application no more than a few seconds.
Applicant tracking systems (ATS) are the first to screen applications to national and multinational restaurant operations. Parsing software searches for keywords loaded by recruiters. If they're there, your restaurant manager resume moves to the shortlist; if not, it moved to the bin.
Stand out from the pile of tedious applications with jaded wording by crafting a potent resume with skills and keywords. Give hiring managers what they want in the correct resume format and secure your place at the top of the interview shortlist.
Keywords start in job titles and run all the way through job descriptions. For instance, a restaurant manager resume might also be referred to as –
Food service manager resume
Fast food manager resume
Assistant restaurant manager
Using the correct format is crucial. Hiring managers and ATS are accustomed to finding essential info in a defined layout. They're not going to go searching for what they're looking for.
According to the NRA, the USA restaurant industry is in post-pandemic recovery mode and added 123,700 new jobs in February 2022. It was also the fourth consecutive month the industry saw job growth of around 125,000.
Restaurants need excellent managers, but owners still recovering from pandemic losses want only the best to grow their businesses.
Top shelf restaurant managers use positive language and action verbs on their resumes and perform powerfully in the workplace.
Time management and multitasking are a matter of course in restaurant management. Managers are involved in the whole thing. From front to back of house operations, food preparation, inventory management and local liquor laws.
Here's how you get to craft the perfect resume.
Personal Information
Getting your personal info right on your resume for restaurant manager jobs is really simple, but people get it wrong.
Why?
Because it's so straightforward!
When we're doing something easy, our minds go into autopilot mode. However, that's when we're inclined to make mistakes because we don't check ourselves.
Transposing two numbers or miswriting your email address means recruiters can't get a hold of you. They're not going to do an online search to find you either, with many contenders vying for the job. Adios dream job!
Put your focus on the section and include your LinkedIn profile to showcase your restaurant management experience.
Personal Information Example

All good sample resumes call for accuracy and nothing more.
How to Format this Section
Facts must be exactly recorded without unnecessary details.
Use a read-easy business font. Include your full name, residential address, phone number, email address and a link to your LinkedIn profile if you have one.
Resume Objective
A resume objective isn't a cover letter. It summarizes your years of experience, hard and soft skills, management skills, and achievements.
An objective should grab the recruiter's attention in only a few words. Oppositely, a cover letter allows lots of room for details.
Restaurant manager resume objectives must leap out with keywords, numbers and statistics. Keep it positive and upbeat, so the reader wants to know more.
Take a look at this example to get the idea.
Resume Objective for a Restaurant Manager's Resume

See the use of numbers, stats and power verbs that make recruiters want to read on.
How to Format this Section
You only have between 50 to 80 words to persuade the reader must be on the interview shortlist.
Achieve it by combining work experience, achievements and keywords with numbers and stats for a top first impression.
Only include job-related info though that you get from for the job advert. You'll have ample time to expand on during the interview process.
Always tell the truth. Avoid stretching the facts in your objective, however. Keep the details in line with your resume. You don't want to end up with egg on your face during interviews.
Professional Work Experience
Potential employers and parsers head straight for the experience section.
Why?
Restaurant owners want to see if your work history aligns with their needs and parsing software hunt for keywords.
Here's where a resume builder becomes your closest ally.
Your responsibility is convincing readers you're the best manager for the job, so you can't be worrying about anything else.
However, the fact is that resume format, fonts, bullet points, and resume templates matter too. When you use a resume builder, these finer but critical points are taken care of.
This is how you get the experience section right.
Take some time to list your years of experience and whole work history separately. Call it your master resume and save it. Use this master resume to guide you when applying for a new job.
Go through the job post carefully and pick out keywords in the job description and job title. Extract those matching your skills and experience. Write them into your restaurant manager duties resume, using the exact wording as the job post. List them in the same order of preference as well.
The best option for an experience restaurant manager resume is the chronological format. Your work history is listed in descending order starting with the most recent and working backwards.
While restaurant managers seem to have similar job responsibilities, each concern has its own unique requirements. That's why following keywords exactly is essential to show you've got what it takes.
These are some customary keywords you can expect to see in a job post -
Bartenders
Budget management
Communication skills
Customer retention
Customer satisfaction
Dining experience
Dining room
Food safety
Fine dining
Food preparation
Food service management
Food quality
Interpersonal skills
Kitchen staff
Labor costs
Menu items
New initiatives
POS
Profitability
Restaurant operations
Restaurant staff
Safety standards
Social media
Professional Work Experience Example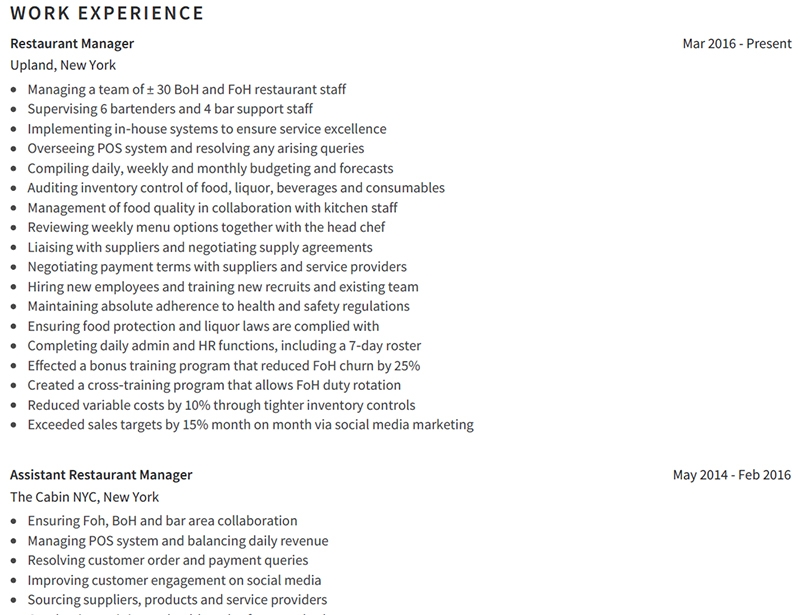 See how vital keywords mirror the job post in this example of restaurant manager resume.
How to Format this Section
Use bullet points and business style fonts in the experience section with plenty of white space.
Keep the wording concise but don't omit vital details. Also, list it in the same order as the job post.
Education
A high school diploma is enough to get you onto the restaurant dining room. Then you need to do that hard work that gets you ahead.
A qualification in food service management is an excellent add-on if you're looking to get promoted to a management role. So is a training program in restaurant safety standards, budget management and restaurant staff management.
Education Example

Keep the education section in descending order, starting with the most recent as in this restaurant manager resumes samples.
How to Format this Section
All you need in the education section are the facts.
Starting with your most recent certification, list the training program and the accreditation. Continue in descending order.
Skills
The skills section is also where ATS parsers hang out hunting for keywords.
Take required skills in job posts and list them here.
Hard and soft skills are equally crucial in your restaurant manager skills resume if you're going to ace your new job interview.
Skills Example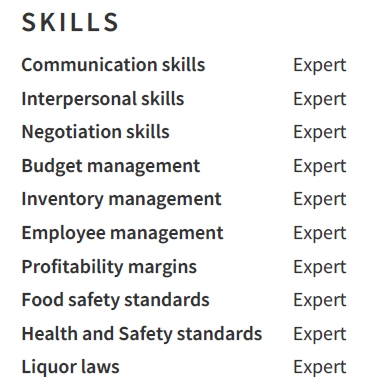 Crisp and clean with a rating for each skill as on this restaurant manager resume template.
How to Format this Section
Only include items from the job ad in the skills section. Use short descriptions with an honest rating.
References
The last course on resumes for restaurant manager jobs is references.
For security reasons, avoid providing too much detail. References as available on request is an option unless contactable references are a prerequisite.
References Example

Nothing more than names, companies and contacts are required.
How to Format this Section
Accurate and direct.
Other Related Resume Templates
Realized restaurant manager resume samples pdf aren't your thing?
We've got loads of others. How about these?
Final Points on Writing Resumes for Restaurant Managers
Keep these essentials in mind when crafting your professional resume –
Use the correct resume format
Extract keywords from each job post
Take time selecting resume info
Use clear and concise wording
Include numbers and statistics
Use action verbs and positive language
Stick to a two-page resume
Send your resume in pdf format