Project Coordinator Resume: Example, Template & Writing Guide [2023]
You know how to work with other project managers. You've worked with project resources, project deliverables, and project plans to help a company grow. Now you want to show off your experience in project management so you can land a position that looks like it was made just for you.

What you need is a project coordinator resume that shows your abilities to potential employers. And we're here to help you craft one that is sure to knock the socks off of a hiring manager. We know you have the skills and we'll help you put them down on paper so you get an interview and a chance to work at a company with the culture you desire.
The top factor in moving forward is having a resume that showcases your unique skills. Without that, you may have trouble in your job search. So get ready to join other job seekers who want to be part of a cross-functional team known for the successful completion of projects and accurate progress reports.
This guide will give you an example project coordinator resume that you can use to make your own. Following our tips will ensure your resume is one of the best to reach the office. We'll discuss the best way to describe your experience, share your skills, and showcase your education. All you have to do is keep reading.
Project Coordinator resume writing guide: where to start?
Getting started with the job search can be stressful but applying to a great position doesn't have to be. When you have a standout resume, your applications could put you in the running for various project coordinate positions in your area. The best way to do that is to create a master resume and then use the information on it for a job-specific resume. Don't worry; we'll share all the details on both below.
Master Project Coordinator resume template
The first step to creating a perfect project coordinator resume is building a master resume. This isn't the same as the resume you end up turning in with your job application. No, this is a document that you use to compile information about your experience, education, skills, references, and other details. Once you have all of this down somewhere, it's easy to move it to a specific resume for a job you desire.
What you want to do is start jotting down information about your past positions, skills, and education. Take down dates, achievements, and other tidbits that might be used for a resume in the future. This doesn't need to be fancy. Format it however you like. Be organized so you can find things but otherwise, the style and design won't make a huge difference.
Then, when you have new accomplishments, make sure to update your master resume. Regularly doing so ensures you'll be ready to apply for a position whenever one comes your way. It might take some extra time to get a master resume started, but once you do it, it saves time. You can easily apply to jobs with custom resumes without spending hours on them.
Job-specific Project Coordinator resumes
If you have your master resume ready, you can start to work on your job-specific project coordinator resume. This is where you make a resume that shines and gets the attention of a hiring manager. This resume will be more polished and focus on both information and aesthetic to hopefully get you to the point of a job interview. All the information in your master resume can be moved here easily as long as it's relevant.
However, you do want to have access to the job description as you build a job-specific resume. It's important to determine what the hiring manager wants to see in your resume. Some skills and accomplishments will stand out and you want to focus on those as you write your resume. Using keywords from the job description shows that you paid attention to what the employer had to say.
Another reason to focus on keywords is that most companies use applicant tracking systems (ATS). This is a computer program that goes over your resume to see how relevant it is to the position. Using the right words will ensure a human ends up seeing your resume. So stay relevant and use keywords across your job-specific resume.
Sample resume for a Project Coordinator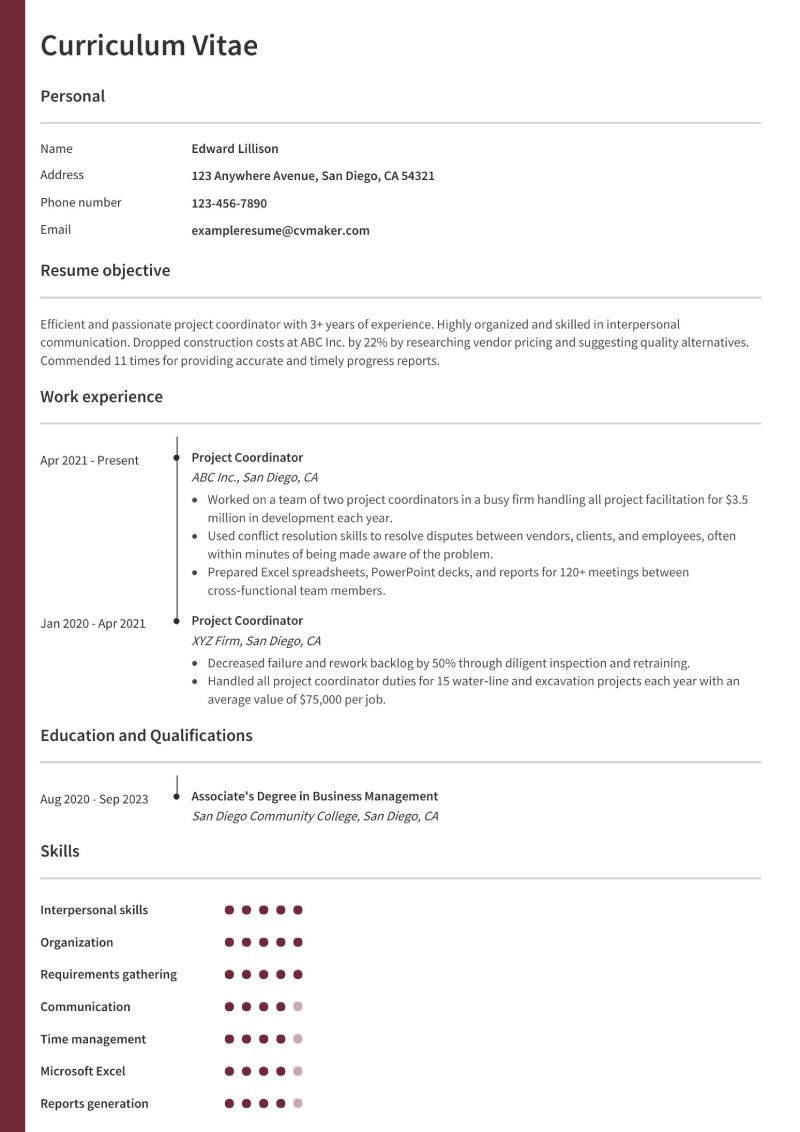 Above, you can view a sample resume of a project coordinator. This document has all the required information, including a resume objective that is sure to gain the interest of the hiring manager. Consider viewing several product coordinator resume examples to get an idea of what other applicants' documents will look like. You can use ours as a guide while you build the perfect resume.
What should resumes for Project Coordinators include? writing tips and examples
Now that you've checked out project coordinator resume examples, it's time to make your own. This is where you show you can handle project tasks, project timelines, and project updates without a second thought. Below, we'll share some insight into how to create some of the most essential parts of your project coordinator resume. We'll start out with a crucial section: the resume objective.
How to write a resume objective for a Project Coordinator resume
A project coordinator resume objective is listed at the top of the document. It's meant to get the hiring manager interested in you and what you are capable of. This is where you share all your biggest achievements to show how good you would be as an employee. However, there's a bit of a wrinkle to deal with. This section should be no more than four sentences long.
You need to be brief and concise when writing a resume objective for a project coordinator position. Prioritize the things that are most interesting and impressive about yourself and use the rest in other sections. In addition to sharing your accomplishments with regard to effective project management, you can also talk about your education and experience in project management.
This section is going to be the first thing a manager sees so this is the last place where you want to be generic. Every word should be customized for the position you hope to get. Use numbers and action verbs to cut down on the words you use. Focus on the things you do best. We recommend writing this section last so you already have work experience bullet points to work off of.
Skills to list on a Project Coordinator resume
Beyond the resume objective, another important section is project coordinator skills on a resume. This is where you pull out project coordinator key skills that you have and share them with an employer. This can include everything from hard skills (technical skills) to soft skills (interpersonal communication) and transferable skills.
An employer wants to know that you have the relevant skills needed to do projects on time. For instance, are you capable of creating detailed project plans? In addition, they want to know that you can easily fit into a project team and get along with other workers. These skills will vary from one position to the next so keep your job description nearby.
While skills are going to be different for every position, some are more commonly used than others. Below is a selection of relevant skills for many project coordinator resumes. Choose ones that fit the position you want before moving on to the next section:
How to write work experience on a Project Coordinator resume
Having project coordination experience isn't mandatory to move into a position, but it certainly helps. Knowing you've been in other project coordinator roles indicates that you have relevant experience. It can give insight into your experience level with complex projects and challenging work tasks. All relevant experience should be listed for the best results.
That doesn't mean that you can only list other jobs where you had the same role. It simply means you should customize your experience to show how it's similar to what you'd be doing in the new position. If you get creative and take some time to think, almost any position can be relevant and stand out on a resume.
For most applicants, the best option will be to list the positions in reverse-chronological order. Essentially this involves starting with the position you are in now or the last one you had. Then you'll work backward through time to list other positions. You can see how this works in the example resume we posted earlier in this guide.
For your first entry, make a header that contains your job title, the name of the company, and the dates when you worked. You can also add the location of the company if you like. Underneath, you can include around three to five bullet points that combine job duties and accomplishments. Focus on things like how you affected improvements, saved money, or stuck to a budget.
How to list education on a Project Coordinator resume
While all the sections we've already talked about are important, education can be a section that helps you get hired, too. If nothing else, it shows that you were capable of working toward and achieving a goal. This is important for all positions, not just one as a project coordinator. Most people's education section will be brief but that all depends on the amount of experience you have.
First, list where you went to school and what degree you acquired. If you graduated within the last decade, add in the date when you got your degree. Make sure you note what the degree was in, especially if it relates to project coordination. For someone who is experienced, this is all the information you will likely need.
On the other hand, maybe you're entry-level and you want to show off your university achievements. There's nothing wrong with that. Add in your GPA and honors to give more attention to how well you did in school. You can even list the courses that make you a good choice for the job. Add in teams, projects, clubs, and anything else that shows your skills.
If you are entry-level, you likely have limited experience. Consider stretching out the education section to make up for that. You can divide it up into projects similar to jobs to show what you know and are capable of doing. This is a great way to show off your skills and accomplishments.
Now that we've reviewed some of the most important sections of a project coordinator resume, the writing should be simple. However, you also want to be sure the resume looks great when it hits the inbox. Use one of our resume templates to add some style and color to your skills and accomplishments.
Key takeaways on writing a Project Coordinator resume
You know how to create a project coordinator resume with accomplishments, professional experiences, and skills. Use that information to build the perfect project management resume for the position you hope to hold. Check out the final tips below and go get that job that you want. Good luck!
Tips for Project Coordinator resumes:
Make sure your resume has the required components: contact information, a resume objective, work experience, education, and skills.
Make sure your resume has the required components: contact information, a resume objective, work experience, education, and skills.
Consider including extra sections based on your own unique experiences and abilities.
Read through your resume to make sure it flows well. Make any needed changes to ensure the resume is easy to read for a hiring manager.
Check for any errors, such as misspellings and typographical mistakes. Consider using a tool like Grammarly to catch anything you do not.
Be professional throughout your resume. Don't use slang and avoid the use of too much jargon. Your resume should be easily readable by anyone who sees it.
Think about reading the resume out loud to be sure it comes off the way you want. Once you finish that, craft a cover letter, and turn in both documents with your application.
Next steps?
At this point, you have the details you need to build a project coordinator resume that impresses any hiring manager. Do you need a bit more help wording your resume and ensuring you stand out? CVMaker offers Resume Writing Services to meet your needs. Reach out to us to learn more and get started.
FAQs
How do I write a Project Coordinator resume with no experience?
An entry-level project coordinator resume is similar to one for someone with more experience. However, you may want to focus more on skills and education than on work experience. A resume is meant to highlight what sets you apart so don't be afraid to do that even if your resume isn't the same as the examples you see online.
While most people have a short education section, you can add extra details to yours. For instance, you might list your GPA and relevant courses you took to gain your degree. Volunteering experiences and internships can be used as work experience if you have no traditional experience to share.
What should a Project Coordinator put on a resume?
There are several sections to put on this type of resume. The most important are the project coordinator resume summary, your contact information, your skills, your work experience, and your education. These are largely mandatory but you can fill in the gaps with other information.
For instance, if you know several languages, you might make a section for that. Those who are newly out of school might want a section for educational accomplishments. The sky's the limit as long as you stay relevant throughout the document.
What is the best resume objective for a Project Coordinator resume?
One of the places you can list project coordinator responsibilities on a resume is the resume objective. This needs to be the best piece of writing across the entire resume. We recommend focusing on your largest achievements while using numbers and action verbs to show what you are capable of.
The best resume objective introduces you and tells what you can do, what accomplishments you have had, and what you hope to do in the future. It's very open-ended but short so you'll need to narrow down exactly what you want to say to a potential employer.
What is the most important skill of a Project Coordinator?
Every project coordinator position will be slightly different so there is no universal best skill to include on your resume. It's important to fully read the job description to determine what the employer wants to see. Choose skills you have that match what is desired in a new hire.
However, there are several skills you can use that are common for this type of resume. A few include meeting coordination, project management software, vendor management, written and verbal communication, interpersonal skills, scheduling, management, and leadership.
How do you describe project work on a resume?
You'll need a project coordinator job description for the resume to best describe your work. Keywords can be pulled from the description to ensure you only share relevant details. Use this to explain the projects you are most proud of that made an impact in past positions.
Project work can be listed under your work experience, but you can also add some information about these details on the resume objective. As many of your biggest accomplishments as possible should be on display throughout the resume as a whole.
What format is best for a Project Coordinator resume?
There are several formats to choose from while building a senior project coordinator resume. Most people will do best with a reverse-chronological format. This entails listing relevant positions starting with the most recent one and then working your way backward. Place details about each position underneath the basic information.
You could also choose a functional resume format if you have limited experience. This can draw more attention to your skills, education, or other aspects of yourself that make you a good choice for the position. Combination resumes bridge these two formats to create an even more unique project coordinator resume.
How long should a Project Coordinator resume be?
A project coordinator resume should be no more than two pages long. However, one page is also reasonable, depending on how much information you'd like to share. There's no reason to add irrelevant information just to create a longer resume. A shorter one is just as good and easier to read for a recruiter.
If you have over 10 years of experience, a resume of two pages is often best. Those with less experience should stick with a single page unless there is a good reason to go longer. Remember that everything inside the resume should connect with the position you want.
What writing style is recommended for a project coordinator resume?
The way you craft your project coordinator resume matters. You can't simply hope that your style matches what a hiring manager is looking for. Regardless of what company you want a position with, it's essential to create a professional resume. Avoid being too casual in the document.
Even companies that don't seem formal should be treated professionally in your resume. Avoid jargon and don't use slang that you'd only use with friends. This is something to watch for once you've completed your resume and are reading it over before you apply for a job.
With your questions answered and a project coordinator resume description at your side, it's time to build your own professional document. You have the information and CVMaker has gorgeous resume templates that you can make your own. Check them out and choose the one that best meets your needs.