Nursing Resume Examples & How to Write Guide 2023
When writing your nursing resume, you must include all the correct information. Your resume is the very first introduction you make, so you need it to be strong.
Resume writing has changed quite a bit over the years. Whether you are sitting down to write your first resume or you need to create one after years in the workforce, you need to get the most up-to-date information about what to include and general guidelines for crafting a winning nursing resume.
Nursing Resume Example
Looking at RN resume examples can give you a better idea of what you need in your resume. These nursing resume samples also can assist you with figuring out how to word things in your resume if you struggle with how to explain specific details, such as your skills or job duties.
You can also use resume templates for nurses that give you a helpful guideline to follow as you create your own. Templates help to ensure you include everything you should because it acts like an outline. According to Nurse Journal, your goal should be to create an accurate and comprehensive resume that highlights your skills, nursing experience, and training. By following an example or template, you can ensure you don't miss any of the essential details.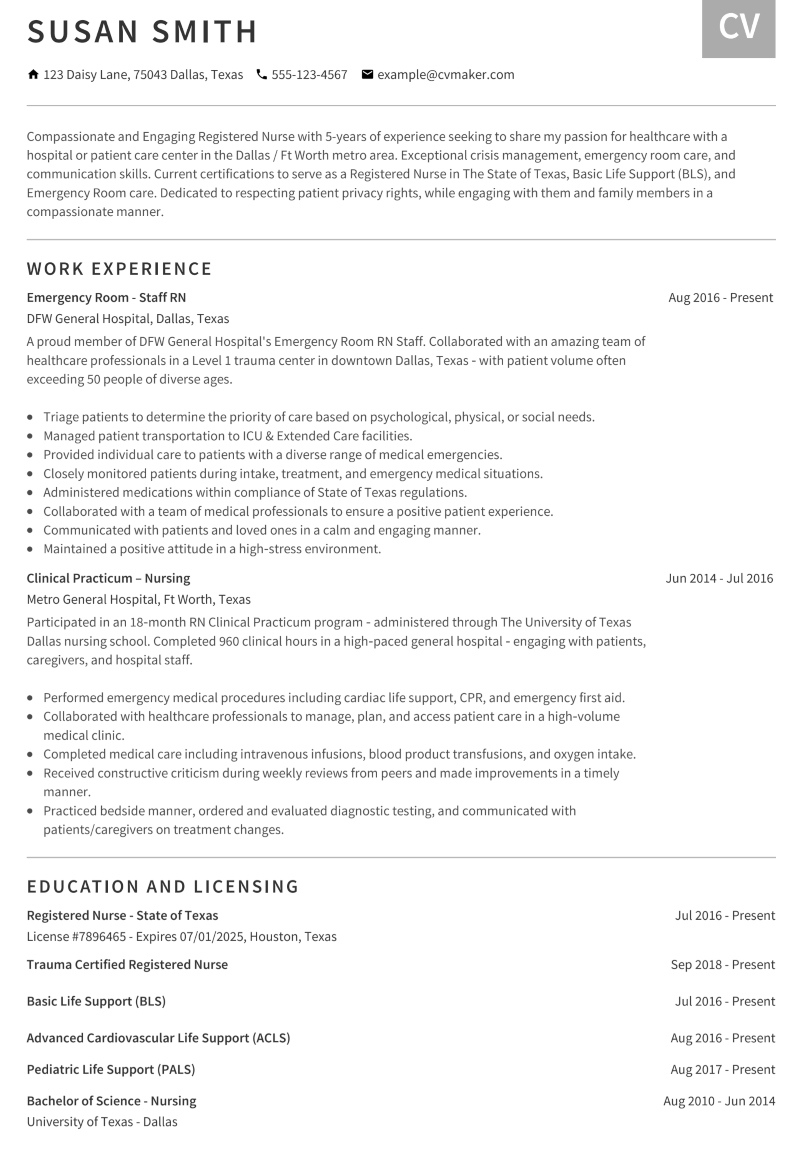 You can also use a sample resume or template to figure out which format works best and which are the best nursing skills for a professional resume. When it comes to format, there are three general options:
Reverse chronological
Functional
Combination
Reverse chronological is where you highlight your employment and list each entry from the most current to the least current. This works well if you have an extensive background with a strong employment history that lacks gaps or frequent changes.
Functional resumes focus the most on skills and accomplishments. This works well for first-time nurses who don't have a strong employment background in the field. It is also ideal for seasoned nurses who have had many accomplishments.
A combination resume gives you the ability to showcase the most important aspects of your skills, abilities, history, and education. It strikes a good balance between the other two types of resumes. If you choose this structure, though, you must be careful with the organization to avoid confusion.
Registered Nurse Resume Guide 2023: How to Write a Nursing Resume
Hiring managers do not have time to search through your resume to find the information they need. You need to present a document that is clear and organized. With that in mind, resumes for registered nurses should be easy to scan for information and follow a logical order.
If you look at sample resumes for nurse occupations, you'll see they usually include some specific sections. While you certainly can change the order and add other sections, it is essential to keep everything in the document relevant to the job for which you want to apply.
Nurse resumes need to focus on highlighting the skills, experience, training, education, and other details related to the nursing profession. Leave out any extra information that does not clearly relate. Now, let's get into the basics of what information you should include.
Section 1: Heading
The heading of your resume gives your personal information. It should be very easy for the hiring manager to see who you are and how to contact you. Make sure you always review this section to ensure it is completely accurate, up-to-date, and lacks typos or other errors.
You will always start this section with your full name. Always use your legal name, which is the name you use for taxes. You can include nicknames, such as Sue for Susan, in parenthesis. 



If you go by a different name, include that as well. For example, some people go by their middle name; you can include that and explain at the interview the name you use.
After your name, you will list your credentials. Because education, training, and licensure are so important in nursing, it's important to make it clear that you have the credentials necessary right from the very start.
If you want, you can list your address next, which can be included in different ways. If you have security concerns, you may list only your city and state. However, due to the resume processing software many companies use, you should list something here to indicate your location.
Now comes the contact information. The first listing should be your phone number. Make sure to include your area code. If you have multiple phones, make sure to indicate which number it is. For example, if you have a home phone and cell phone, just include which phone it is after the number in parentheses.
Next, you want to list your email address. It is important to ensure this is a professional email. You can use free services. The easiest option is to use a variation of your name as the address.
These details are all that you must have, but if you have a professional presence online, you can include that information. For example, if you have a LinkedIn profile or nursing blog, don't hesitate to include them. Of course, this is really up to you, and it's a good idea to use discretion when it comes to social media.
How to Format This Section
Clarity is essential for this section. It sets the tone for the entire resume. Make sure you use a large, clear font for your name. It should be the largest font on the page. Also, center this section. It helps it to stand out.
Section 2: Professional Summary
There are several ways you can jump into the actual resume portion of the document. In the past, many people used an objective statement, which was simply a sentence or two explaining what you were looking for in a job.

However, the trend now is to use a professional resume summary, which gives some highlights about who you are and what you have to offer. This is preferable since it offers useful information to the reader and allows you to state upfront why the person should hire you.
Consider this section as your resume introduction. It is going to provide the reader with an overview of what is to come. You want it to grab attention and entice the hiring manager to keep reading. Showcase the most relevant details about yourself in this section. You can cover how long you've been working as a nurse, where you have worked of note, special certifications you hold, or any leadership experience you have had.
 Whatever you include should match what the employer is asking for in the job description. You should also aim to include some of the same keywords.
How to Format This Section
The top rule about the professional summary is to keep it brief. You need to stay on point and be exact in your wording. You can write it as a paragraph, using no more than two or three sentences, or you can make a bullet list of a few items.
Section 3: Skills
The next important section will cover your skills. You should use a mix of hard and soft skills relevant to the profession. The University of Northwestern explains you should use skill phrases that will offer enough information on the ability.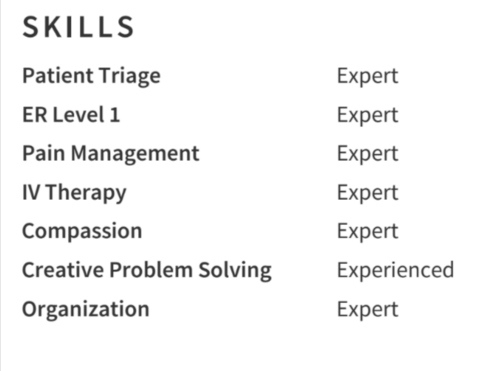 The reason why you want to use skill phrases instead of just a generic list is that this will tell the hiring manager that you have the necessary abilities and know how to use them.
To craft a skill phrase, you want to begin with an action verb. Then, explain what you did, how you did it, and the result. This gives a complete picture of the skill that shows practical application at the same time. If you are new to the field, focus on your soft skills. There are many transferable ones that you can list and that could apply to the profession. Be sure to include some of the keywords from the job description here. Ideally, your list will match up with the desired skills list in the job description.
How to Format This Section
The skills section of your resume should be a bullet list. If you have a lot of skills you want to include, you can write them out in columns. Try to keep the writing tight and brief in this section. Get to the point and do not make each skill point too long. You want this to be skimmable.
Section 4: Work Experience
The work experience section is your chance to talk about what you have done professionally in the past. For many hiring managers in the nursing profession, this is the section they will focus on because they want to find details that show you are honest about what you say in the rest of the resume.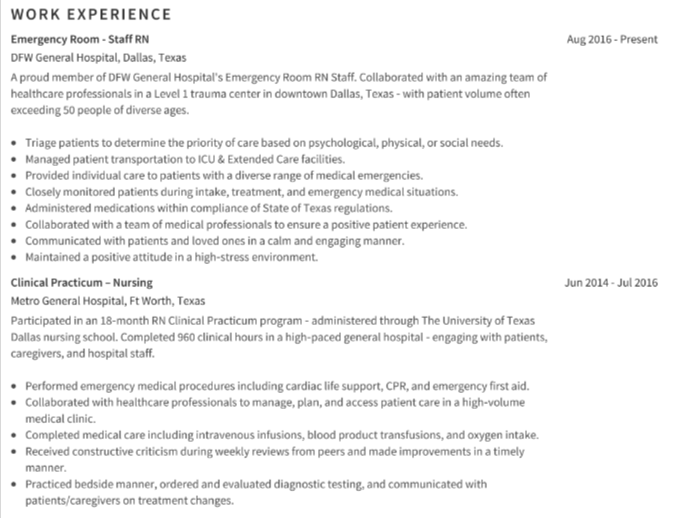 These managers know how to spot exaggeration and untruths. It is impossible to write out job duties and explain what you did at a job you never held.
With that in mind, you need to make this section incredibly specific and detailed.
For each entry in this section, you must list your job title, the name of the facility, and the dates of your employment. Then, you will give some insight into what your job entailed.
Explain what your normal duties typically entailed. Talk about any special tasks you undertook, with a particular focus on the most important you had. Avoid talking about basic nursing tasks as the hiring manager will assume you performed those responsibilities anyway. They will instead likely be looking for what made you stand out at your previous jobs.
The best details will showcase how you made improvements, overcame challenges, or went above and beyond.
How to Format This Section
Generally, you will only include the past ten years worth of jobs. If you have only worked in two or three jobs your whole nursing career, then you can list all of them. However, make sure anything you include speaks to your current abilities and adds something good to the resume.
 List the entries in reverse chronological order. Start with the job title, followed by the facility name and the dates of employment. You can usually just list the month and year for the dates—no need to get specific.
Present your job duties in a bullet list. Keep each as short as possible.
Section 5: Education
Education is pretty important in nursing. You must have the proper education to work in this profession. It is not legal to work as a nurse if you lack the right training, so hiring managers want to verify your background.
The education section is a basic list without bullets. You will include the name of the institution and degree. You can list dates if you'd prefer, but it is not a requirement. In addition, you could list your GPA if you want, but it is not something you have to include.

You can include anything of note. For example, if you graduated with honors, then you can include that in the entry. If you are currently attending school, you should note that on the entry. This way, the hiring manager understands you are pursuing the degree but do not yet have it.
 Never include your high school information on a nurse's resume. You must have a high school diploma or equivalent to get the required higher education, so the hiring manager will know you hold this.
How to Format This Section
For each entry, you should list the degree title first. Follow that with the institution's name and any other details you wish to include, such as honors. Organize your list with the most recent degree first.
Section 6: License and Certification
To work as a nurse, you must have a state license. The hiring manager will check into this. It is helpful to include the information right in your resume.
If you hold other important certifications, such as an advanced nursing certification, you can include that in this section as well.
When you list your licensing information in your nursing resume, make sure you include all the important details. You want to make it clear when the license expires and include the number to take away any guesswork for the hiring manager. He or she will have to verify your license, but it is incredibly nice of you to make this task as simple as possible. Plus, it shows you are ready to work right now and won't have a delay as you wait to secure your license.
If you have certifications of relevance to the job for which you are applying, make sure to include those as well. Be detailed, so it is clear what certification you hold. Do not assume the hiring manager will be familiar with it.
How to Format This Section
As you create this section, make sure to write everything out. Do not use acronyms. If you have already used a term in the resume, then you can use an acronym, but only if it is very well known within the industry. When writing a license entry, list the license type, licensing body, number, and expiration date. For certification, give the name, organization, number (if applicable), and expiration date.
Section 7: Accomplishments
The accomplishments section may include a variety of achievements that help to showcase your skills and abilities. However, you should only include nursing-related accomplishments unless there is something truly outstanding and rare, such as a Nobel Prize, that you would naturally want to include.

The accomplishments section may include items such as special awards you won from a particular employer, professional memberships, community awards, and even volunteer work. Essentially, this is the section in which you can brag about what you have done that is extraordinary.
How to Format This Section
For awards, you should format it starting with the name, organization, and year. For memberships, you can list the organization name and the dates active. Format volunteer work with the job title or just put volunteer, the organization, and the dates. You can also list the location if it is of importance.
A Word About References
You may wonder where the section for references is. It used to be a requirement to include references in your resume, but that is no longer a rule. Now, employers will only ask for references if they want them.


You should never include them or any remark, such as "references upon request," on your resume. Not only will the hiring manager probably never read this section, but it also takes up space where you can put more valuable information.
Final Points on Writing a Nursing Resume
The biggest takeaway from how to write a nursing resume is that you want to keep things as simple for the hiring manager as possible. Only include relevant information, and keep everything as brief yet detailed as possible. If the hiring manager can easily read the document, it will greatly help you towards securing the interview. One of the best ways to do this is to look at registered nurse sample resumes.
FAQs
While you've learned a lot about nursing resume writing, you may still have some lingering questions. Here is a look at three of the most common queries people have.
How long should a nursing resume be?
Out of respect for the hiring manager, who is likely reading through stacks of resumes each day, you should keep your resume to no more than two pages. However, there are always exceptions.
If you are applying for an advanced nursing position, you may need to include more pages. The hiring manager in that situation would be expecting a longer document outlining your previous work history as a nurse practitioner, nursing assistant, or even as a nursing student - again, depending on your current experience level.
Should you have trouble keeping your resume to one or two pages, consider adjusting the formatting. Change margin sizes or reduce spacing to get everything within the length desired.
Should nursing resumes be one page?
The old school of thought was to keep resumes to just one page. However, the most important thing is to include all the important information, and if you can't do that on one page, then you can make your resume longer.
The most important thing to keep in mind is to use a structured resume format that outlines your years of experience (where applicable) in the healthcare industry as a nurse.
How do I make my nursing resume stand out?
The best way to ensure your resume ends up in front of the hiring manager is to understand Applicant Tracking Software (ATS). ATS is becoming more prevalent as a way to sort resumes before a human looks at them. It helps to save time and remove resumes that do not meet the requirements.
The applicant tracking system is a sorting system. It will look for whatever someone programmed it to look for. While you will have no idea what this criterion is, there are some things you can do to give you the best odds of moving past the ATS.
It will look for keywords, terms, and other details that match the job description, so think of terms such as BSN, BLS, CNA, EMR, LPN and even ICU - these are all related to nursing positions and will be looked for when scanning your resume. If your resume lacks this information, the ATS will toss it out, and a person is unlikely to ever see it.
The first thing is to use standard headings. Do not try to get fancy or creative with the section headings. Instead, stick with a tried-and-true approach as it is probably what the ATS program itself features.
You should use key terms and phrases from the job description exactly as they are in your resume. Even if the wording is a little different than what you would normally use, stick with the exact terms from the job description. These are what the potential employer uses and is most likely to put into the ATS.
Make sure your resume has a clear structure. Keep formatting simple as well. If it is too complicated, the ATS may overlook the content because it cannot figure out how to read it.
By formatting for an ATS, you also will ensure a clear and crisp resume, which is a bonus even if the employer does not use an ATS to filter resumes.