Medical Assistant Resume Example, Sample & Writing Guide 2023
Taking care of people requires a particular type of individual. Whether they serve as a doctor, registered nurse, or are involved in administrative duties, anyone who serves in the medical field must possess exceptional interpersonal skills. However, one of the most overlooked but critical jobs in healthcare is the medical assistant. And to serve in this position, you'll have to write a great medical assistant resume.
Most medical assistant positions are posted on job search engines and posting websites. Applicants must fill out an application form and attach an accompanying medical assistant resume skills form and cover letter. Interviews are rewarded to the candidates who showcase the proper job requirements, relevant job history and write an excellent resume for medical assistant jobs.
The main question that medical assistants would ponder is how to write a medical assistant experience resume that will stand out? Are there medical assistant resume samples that an applicant can review and maybe get some practical ideas? What are the ma resume skills that employers look for in their candidates?
These are all some of the questions we will answer in the content below. We're going to provide you with medical assistant resume examples, tips for organizing the content, how to write a great objective for medical assistant resume, and more detailed information. So, if you're looking to be a medical assistant – start by reading this step-by-step article.
Let's get started.
Medical Assistant Resume Sample
The best medical assistant experience resume is the one that clearly articulates the candidate's passion, experience, skills, relevant certifications, and interpersonal traits. While there are several types of medical assistants, some who focus on administrative tasks – and others who provide patient services, they all should be adept at several tasks, including:
Having strong communication skills
Solid attention to detail
Comprehension of medical privacy standards (HIPAA regulations)
Compassion
Obtain the appropriate certifications for the position
The resume needs to articulate these attributes and skills from start to finish, with supporting evidence in work history, education, and relevant certifications adding value to their candidacy. However, beyond adding the applicable skills and experience, it's critical to format the resume correctly and ensure all content is grammatically perfect and easy for the hiring manager to read.
To help explain a great resume, we've had our team of professional writers create a finished sample using one of our MA resume templates. The example resume is for a mythical candidate names Francine, who is applying for a medical assistant position at a local doctor's office in her hometown of Boston. Take some time to review the resume from start to finish, then continue to the article sections below, as we'll explain how each section should be written.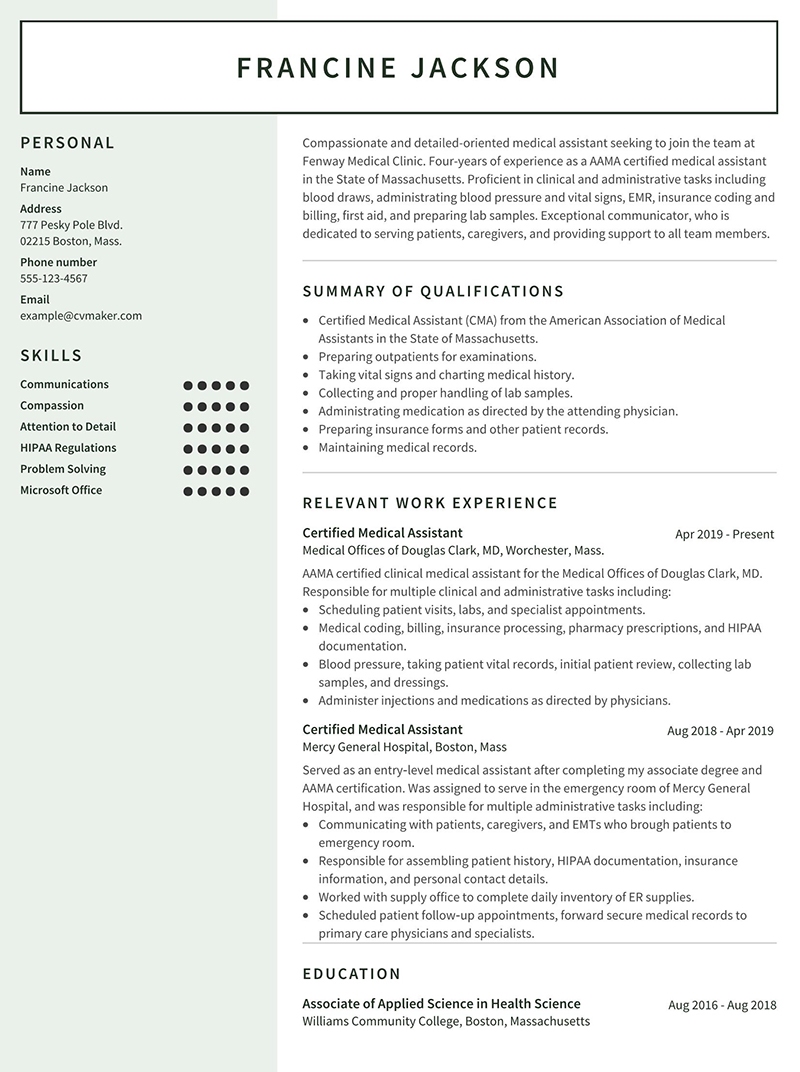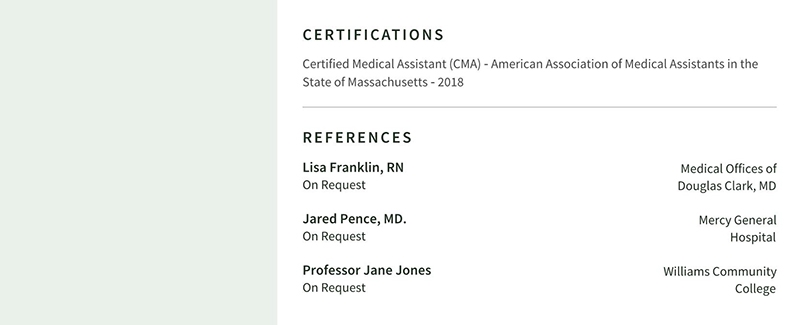 Francine has written a medical assistant resume that flows from start to finish. It tells a story, explaining her passion, four years of practical experience, skills, and relevant certifications. It starts with a well-written resume summary, essentially her elevator pitch to a prospective employer. The resume documents her previous medical assistant positions, providing detailed bullet points extrapolating her key accomplishments.
Further, into the resume, you'll see that she's listed her highest completed education (an associate degree), Certifying Board (CB) of the American Association of Medical Assistants (AAMA) license, and finally, a great set of references. The resume is easy to read and write professionally yet conversational.
How to Write a Good Resume for Medical Assistant: MA Resume Tips for 2023
Here is a quick question – how do you define a 'good resume'? How do you think a hiring manager or recruiting firm determines what makes one resume better than others? How is a resume for medical assistant with no experience different from a veteran. ,
The answer is straightforward.
The best resume for a medical assistant is the one that answers the following questions:
Who is the candidate, and how do we contact them quickly for an interview?
Is this candidate qualified for the medical assistant job they hope to retain?
What makes this candidate unique or different than others?
Does the candidate have the correct relevant work history to permit them to assume this job without excessive training?
Are they licensed to practice as a medical assistant in the state?
Does the candidate have professional references who can vouch for their skills and work ethic?
If you can answer these questions – within the content and sections of your resume – you'll have a great chance of making a solid impression. This resume should be concise, well-organized, and easy to follow. Although different medical assistant applications might ask for unique information on your resume, most should be written with these critical sections.
Personal contact information
Resume Overview
Summary of Qualifications
Relevant Work Experience
Education
Certification
References
Skills
While that looks like a lot of content – it's easier to organize everything when you start with a plan. One way to organize this project is to create a master resume – or a working document that permits you to write down every detail in all sections, fine-tune the content, and make appropriate edits. Plus, you can optimize the content for grammatical errors by using a program called Grammarly.com – by directly uploading a Word document to their online portal.
So, now that we've provided the primary objective and outline, let's break down each subsection below.
Section #1 – Contact Information
The goal of any job applicant is to receive an interview. However, it's impossible to gain that interview if the business does not have your accurate contact information. The first item on your master resume should be to list your contact info. The critical item to remember is consistency – so make sure to use the same information on all application documents. This would include the application, cover letter, and resume.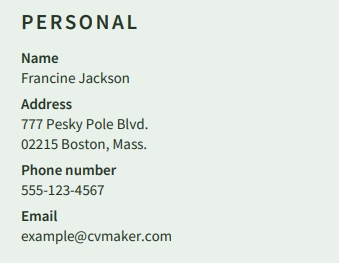 We noted above that simplicity is critical when building out a resume. For a medical assistant resume, you'll want to include your full legal name, email address, mailing address, and mobile phone.
Bonus Tip: We strongly recommend connecting your email with your mobile phone. This will permit you to answer quickly to email and text notifications. Many recruiting firms and hiring agencies use SMS text notifications to set up interviews – so be ready.
Section #2 – Resume Overview
A medical assistant needs to be a good communicator. Your ability to speak and draft correspondence with confidence and reassurance to patients, family members, and other medical professionals can separate contenders from pretenders in this competitive industry. Your best way to showcase this skill is with the second section on the resume – the medical assistant resume summary or resume overview..
As we indicated above – the overview is your short elevator pitch, where you explain within a few sentences why you are the ideal candidate for the position. Within the overview context, you should introduce your desire to join that company, explain your relevant experience, showcase your strengths, and wrap it up with what attributes you bring to the company.

You can see in the sample resume above that our candidate Francine has written a textbook resume overview. She has personalized this section specifically to the medical office she hopes to join. This attention to detail and personalization can make a big difference – especially when other candidates hand in cookie-cutter resumes.
As the section continues, she mentions her certification in the State of Massachusetts, four years of medical assistant experience, and specific skills that makes her a great team member.
How to Format this Section
We believe it's best to keep the resume overview short, sweet, and to the point. It should be a simple to read paragraph, no more than 200 words, and written with a professional and conversational tone. Before finishing and editing this section for grammar, read it aloud multiple times – to ensure that it 'reads well' and is clear.
Section #3 – Summary of Qualifications
There are three general areas of practice for medical assistants in the United States:
Clinical medical assistants: This would include those who provide initial patient care in exam rooms, first aid, blood pressure, and possibly EKG readings.
Administrative medical assistants: This type of job is often involved with insurance billing, documenting patient medical histories, scheduling appointments, answering phones, front office tasks, and don't often require medical assistant certifications.
Specialist medical assistants: A specialist would include those involved in Phlebotomy (or blood draws), those who complete EMR or EHR (electronic medical or health records), pediatric or pharmacies, or those using technical medical equipment or use advanced medical procedures such as triage.
The summary of qualifications section will outline the general skills and qualifications you have that will permit you to start your medical practice job – without additional specialized or advanced training. This section will outline your specific qualifications relevant to the job you're hoping to obtain.

For example, in our sample resume above, you can see that our candidate is applying for a medical office clinical medical assistant position. As such, she has explained in this section some of her task-specific qualifications, including:
Preparing outpatients for examinations.
Taking vital signs and charting medical history.
Collecting and proper handling of lab samples.
Administering medication as directed by the attending physician.
Preparing insurance forms and other patient records.
Maintaining medical records.
Certified Medical Assistant (CMA) from the American Association of Medical Assistants in the State of Massachusetts.
How to Format this Section
The formatting for the Summary of Qualifications is precisely that – a structured summary. It's best practice to list your qualifications in bullet point format. This makes it easier for the hiring manager or recruiting firm to review – but also – easy for the tracking software often used in firms to retain.
Bonus Tip: If you carefully review the job posting, it will guide you to list the qualifications that should be listed on your resume. Most postings have a Qualifications section – so review that and add ones that apply to your background.
Section #4 – Relevant Work Experience
If you're writing a resume for a medical assistant with no experience or have years of expertise, the relevant work experience section is a crucial component of your candidacy. This section of your resume will provide evidence or support to your claims listed in an application, cover letter, or resume overview.
Relevant work experience is defined as a previous job or position where you've showcased the same skills or duties that a medical assistant (in the specialty of your choice) would complete in the job they seek. For those with previous experience – list some of the tasks you were asked to complete within this section.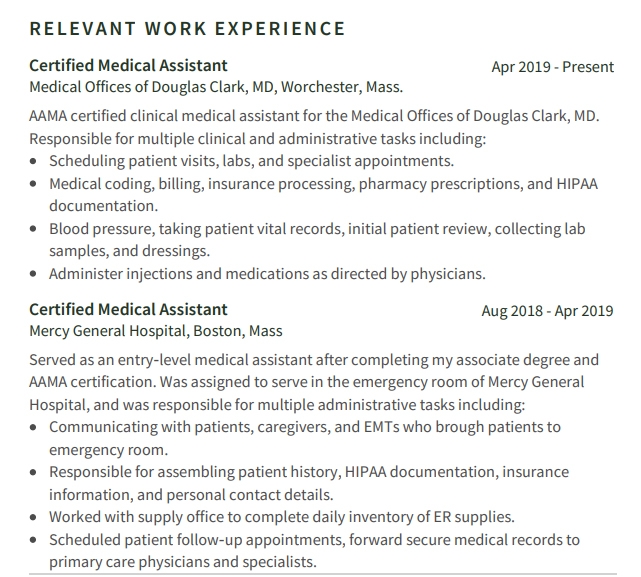 The sample resume above shows you how this should be completed. You can see that Francine has listed two previous clinical medical assistant positions in this section. If the candidate has not been a medical assistant prior – they should select jobs in which they've completed relevant tasks.
This would include an internship or training program. If you don't have that type of practical experience, select two jobs where you've showcased leadership and/or people interaction skills.
How to Format this Section
Employment history should always start with your recent or current position. Each corresponding entry should be listed in chronological order. Always make sure to list your employer's name, the dates of employment, and critical areas of responsibility or accomplishments.
Section #5 – Education
The education section on a medical assistant's resume will be simple. This area of the MA resume intends to document the highest level of education completed. It is not intended to display what you are currently working on with education. That information would be listed in a cover letter or during your interview.

Medical assistants require certification vs. education in most situations. So, the employer will need to know what education you've completed. You'll list the applicable required certifications in the section below.
How to Format this Section
With a medical assistant resume, you'll want to list the name of your completed degree, the school's name, location, and dates of attendance.
Section #6 – Certification
Depending on the type of medical assistant job, the position may require professional certification. This is much different than serving as a doctor, registered nurse, or other technical position – where there are national standards and licensing requirements. Unfortunately, there are currently no broad-scale certification standards for all medical assistants.

However, several accredited organizations offer certification or licensing courses. Most of these are 8 to 16 weeks in length and will provide expert training on fundamental skills. However, there are five recognized certification organizations, including:
Certified Medical Assistant (CMA) from the American Association of Medical Assistants
Registered Medical Assistant (RMA) from American Medical Technologists
National Certified Medical Assistant (NCMA) from the National Center for Competency Testing
Certified Clinical Medical Assistant (CCMA) from the National Healthcareer Association
Certified Medical Administrative Assistant (CMAA) from the National Healthcareer Association
You'll notice that most of these certifications are for clinical medical positions – which require the candidate to perform essential medical services. Other administrative jobs, such as medical billing and coding, may also require a license or certification.
How to Format this Section
This section should be formatted exactly as the education section above. The sample resume section posted above shows how our hypothetical candidate has added her certification.
Section #6 – References
An excellent reference can be a tie-breaker when multiple candidates are equally qualified. The purpose of a reference is to support your experience as a medical assistant. We strongly recommend selecting two professional references for these positions and one personal reference. The professional reference should be a former employer or manager – while the personal reference should be a family friend or mentor.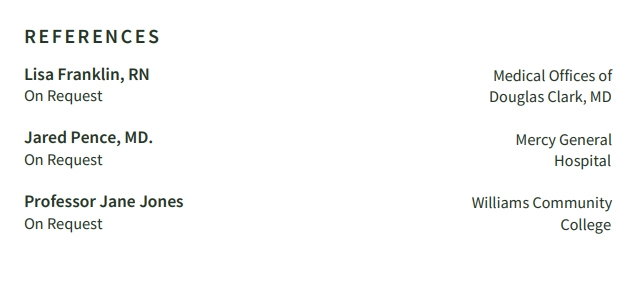 How to Format This Section
The best practice for listing references on a resume is to protect their privacy. List their full name, their place of employment (or where you know them from), and the phrase "available on request." Make sure you have their accurate contact information – so if a hiring manager asks you, you can supply the information.
Section #7 – Skills
The skills section is optional for a medical assistant resume. Quite frankly, you've listed the relevant qualifications earlier in the resume, which will be more applicable for this type of position. However, if you are using a resume builder or template, you can list five to seven of your top interpersonal or soft skills.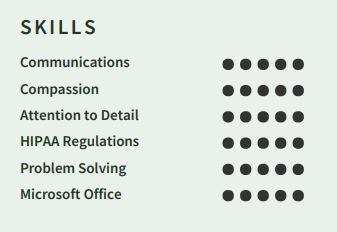 How to Format this Section
Using a resume builder allows you to format the skills section in different locations. For example – the template we've used for our candidate allowed us to list her soft skills in the sidebar of the resume. This saves valuable space on the resume and provides a professional look.
More Medical Resume Templates
People have different ways of learning how to accomplish a task. Some people prefer step-by-step tutorials (like this article) – while others like to review finished samples. We've collected a series of  resume examples for medical assistants and other medical industry resumes for you to review.
Take time to review some of our sample resumes, take notes, and feel free to incorporate some of the formats or terminology if you choose.
Final Points on Writing Successful Medical Assisting Resumes
The importance of a well-written medical assistant resume can't be overstated enough. The resume is genuinely the best supporting document you can provide with an application, as it expands on areas of importance – such as relevant skills, qualifications, and key accomplishments.
Always remember – a final resume should always be written and customized for the specific job you're applying to. For this reason, we recommend using a master resume to edit and personalize your content – especially in the resume overview.
Here are some specific tips to remember when writing a medical assistant resume.
Make sure the resume has a smooth flow – from start to finish.
Follow the structure we've provided in this article.
Always write your resume on a plain white background with black font.
Edit the document SEVERAL TIMES – through Grammarly.com and visual inspection.
Finally, read it aloud a few times before you're ready to paste the content into a medical assistant resume template.
Writing the perfect medical assistant resume does not happen overnight. However, by following the detailed steps above and following our tips, you can draft a professional, organized resume and gain the attention of those who matter most.