Whether you're making an all-new resume or simply updating one that's a bit old, you might wonder what sections are important to include. For instance, some individuals might benefit from adding interests on a resume, while others could be better off without it. Beyond the immediate question of whether to add those things, it's also important to know which hobbies to put on a resume.

Hobbies and interests range from exciting outdoor activities to writing fun blogs or going fishing and catching up on documentaries about history. Our guide will share a few resume interest examples and give you details into what kind of things to add and other items to avoid as you craft a professional document.
Before we jump into anything else, we want to define exactly what hobbies and interests are. Hobbies are fun activities that you can do in your free time. Often, these are activities that help with tension and stress. Interests are similar in terms of enjoyment but may be less often included in your life.
As we move forward, think about what your own interests and hobbies are. We'll make sure all the information you need to add those things to your resume and keep the attention of a hiring manager. First, we want to delve into the reason to list interests and hobbies on a resume.
Why should you list hobbies & interests on your resume?
Many people can benefit from adding their hobbies and interests to a resume. For potential employers, it can be a great way to set yourself apart, especially if you may not have as much experience as you wish. In place of (or in addition to) professional experience, show you match the traits on a job posting by adding in some interests.
It doesn't matter how intense the job you're applying for; recruiters will appreciate that you have things to do outside of the work environment. Employees who have interesting and rich hobbies can make a work environment lighter and may even help with the productivity of the employees.
There are many reasons you should consider adding personal hobbies to a resume, such as the following:
Interests and hobbies on a resume help make it stand out from other applicants and candidates.
Recruiters will see your hobbies and get to know your personality. It's a great way to share who you are.
This is an excellent space to add transferable skills, which are used in multiple different job roles.
You can show that you are an all-arounder by adding extracurricular hobbies and interests. It shows you care about more than just work.
If you have community involvement listed, your interpersonal skills can shine.
Adding a list of hobbies and interests to a resume can create fun discussions when you interview.
Some hobbies, such as sports and outdoor activities, show that you care for your well-being.
Adding in a few hobbies in a resume shows that you have a vibrant and interesting life outside of the office. While employers want to see that you have the right technical skills, the best employee has more going for them than that. An employer can look at your interests and hobbies to find out more about who you are in both your professional and personal life.
Writing a resume with an interests section: 5 tips to list your hobbies well
Having a selection of hobbies on a resume is a great idea, but there are some things to be aware of when doing so. The act of adding hobbies in a resume is only one part of the process. You also want to be certain that the hobbies you list are the right ones and formatted in the best way.
Whether you're into comic books or mountain climbing, you run a book club, or you are engaged in artistic activities, you need to follow best practices when inserting those tidbits into your resume. Below, we'll share some of these things so you can take them to heart as you create your list of interests and hobbies.
Tip #1: Understand why you enjoy your hobbies
Everyone has different reasons to enjoy hobbies. While nearly everyone lists volunteer experience or educational experience on their resume, the same isn't true for hobbies. Listing yours makes you stand out and can lead to interesting discussions if you move forward toward an interview.
So think about the reason you like the hobbies that are important to you. For instance, one person might like photography because it gives them a reason to look at gorgeous landscapes. Another person might enjoy this hobby as a way to remember the places and people they spend time with.
When you have a good idea of why the hobby is enjoyable, it's easier to share that with a hiring manager. You'll be better prepared to have a conversation about any of the hobbies if they do come up.
Tip #2: Stay truthful
Some hobbies relate to hard skills, and others might improve soft skills. Creative people can come up with all sorts of hobbies that fit a job description. However, you should always be truthful when you list interests you have outside of work. This isn't an area where you want to tell a fib.
There's no reason to lie and say you enjoy something you don't. It's also generally not a good idea to exaggerate your interest in something. Once you make it to the interview, you could end up in trouble if the topic comes up and you aren't as well-versed as expected.
For instance, someone who likes to walk around the block twice a week might not be fully truthful if they note they're passionate about hiking. If the hiring manager is an avid hiker, they might strike up a conversation about your favorite trails, which will leave you scrambling to answer.
Avoid situations like this and be truthful. Instead of saying you love hiking, note that you care about physical fitness and spend 30 minutes a day, three times a week, on cardio walking around the neighborhood.
Tip #3: Work in the specifics
Everyone wants to see a team player come into a position. Sharing hobbies and community service can show that you're a great option for the role. When you start to share the interests and hobbies you have, make sure you stand out. This is best done by being as specific as possible. This will also make a great impression on the manager.
As an example, instead of typing that you "love learning languages," note which languages you learn and whether you like to speak in them, read in them, or something different. This kind of specificity can be used for all your interests to make them come alive.
Tip #4: Avoid problematic hobbies
Being unique is a great way to stand out, but you don't want to be so weird that others take a second glance at you. Part of that involves avoiding crossing any lines that might make you seem less like an ideal candidate for the position.
There are several "rules" that will help you be sure that your interests and hobbies are safe to include on your list. The following should be avoided whenever possible -
Interests or hobbies that are all or nearly all lacking interactivity with others
Hobbies that point toward antisocial activities and behavior
Interests that may be seen as dangerous or violent
Hobbies or interests that might be misinterpreted, even if meant as some sort of joke
Interests that provide personal information about your religious or political views
Tip #5: Pay attention to the job description
As you are deciding which hobbies and interests to include, think about the job that you want to get. You want to be sure every entry will be received well and show that you're a great fit for the culture. Start by researching the company on social media and its website to get basic information.
If there's information about company culture, focus on that. Look into things like team building outings and work retreats the company has had in the past. With this knowledge, you can get an idea of what values are appreciated by the company and the people who work there.
After you know more about the culture of the company, create an interests section that highlights relevant things. Otherwise, you're free to share any of the hobbies that you like. However, as we'll soon talk about, some may be better choices than others. It all comes down to the position you want and what sort of tasks you will be doing on a daily basis.
When to include the interests section on a resume?
Potential employers don't expect you to list all types of hobbies, but they don't mind if you do. As we mentioned earlier, some people will find it useful to add interests while others may not. The individuals who will have the best results are those who may have limited work experience. Including hobbies and interests gives information about who you are away from the job, which can provide clues about what you'd be like in the office.
In addition, if you want to prove that you are well-rounded, interests can be a great way to show that. If this is the case for you, consider which hobbies show off your skills, and make sure to include some for hard skills and others for soft skills.
To sum it up, adding this section is useful for a college student seeking an internship or a candidate looking for a first job. People who have blank space on their resumes can add their interest, as can those who never finished school.
When to skip the interests section of a resume?
Whether you have an artistic hobby like 3D printing or you love to indulge in stock trading, your resume isn't always the place to share that. For instance, if you have over a year's experience in a professional setting and plenty of qualifications and skills, there's no longer a need to include your hobbies and interests.
It's a good idea to craft the rest of your resume to see if there's sufficient space to add another section related to your hobbies. If not, that's okay. The hiring manager will prefer to see other things before hobbies. Meeting requirements in other ways is completely acceptable.
To break it all down, people who are senior professionals do not need to include this section. The same applies to those with several years of experience or anyone who has a multiple-page resume to hand to recruiters.
Hobbies vs. interests: what's the difference? does it matter for your resume?
Many people aren't entirely sure of the difference between hobbies and interests. Despite what you may think, the two terms do not describe the same thing. Hobbies are things that you do regularly, such as studying foreign languages or learning new recipes.
Interests are things that you may occasionally do in your spare time that you wish you could do more often. If you travel every year, that might be an interest. You enjoy doing it but might not be able to do so as often as you would like.
Where on your resume should you place interests and hobbies?
Whether you want to show your interpersonal skills through hobbies or additional skills through interests, you should know where to place this section. There are two main areas where you can include this section to get the best results from including it.
A separate hobbies section
Whether you use our resume builder or create a resume on your own, you can include a section for your hobbies and interests. Adding a separate section is an easy way to separate this information from your work experience, education, and skills.
After you create the section, create a bulleted list and place around four to eight hobbies. This will often look similar to the skills section that you need in any modern resume. For those with less work experience, you can be more detailed in this section. Adding a short description is a great option.
Whenever possible, quantify your interests with times, percentages, or other numbers. Having a short description can make up for having less professional experience. It can still show that you are a high achiever away from the workplace.
A Bottom or sidebar section
You can make a small section at the bottom or sidebar of the resume to show off your interests and hobbies. Keep in mind that hobbies can be helpful to a hiring manager, but they tend to be less important than other information. As such, placing it to the side or bottom only makes sense.
When it comes to choosing between a side or bottom bar section, look at the other information in the resume. Is it going to be extra cluttered if it's at the bottom? Then it's best to place it on the side. If there is more space in the main body to fill, leave it at the bottom there. It's all a matter of what works for your situation.
What are some good interests to put on a resume: 3 examples of listing professional interests and hobbies
In the three professional interest examples below, you'll see the many ways you can share who you are and what you care about on any resume. Use the examples of hobbies and interests to tailor your resume to read well and provide good information to a potential employer.
Our interests on resume examples are all unique but similar since these sections tend to look much the same way. You can add additional information as needed to explain why the hobbies are appropriate for the role you're interested in.
Example #1
The first of our examples of professional interests has a range of hobbies, from hiking and long-distance cycling to playing chess, creative writing, and reading French novels. Each of the activities in the resume example says something about the potential workers and who they are, both in and away from the office.
For instance, physical activities show the person is interested in their health and wellness. Reading foreign novels and writing creatively show a sharp mind that is being honed to stay that way. Chess is another intellectual hobby that is a great choice for a resume.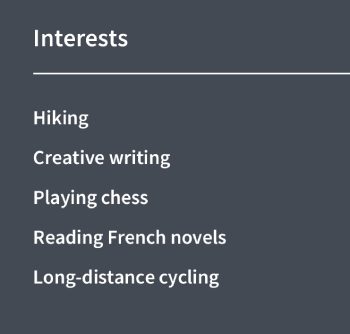 Example #2
The next of our interest examples for a resume is a bit tighter. All of the hobbies included on the list can easily be compared to roles done at work. Some positions require travel, and that's on the list. Others might require a lot of communication which public speaking has covered.
Other activities to put on a resume are also present, such as volunteer work and video editing. While these may not be the same hobbies you have, you can see how they all fit together for a specific job.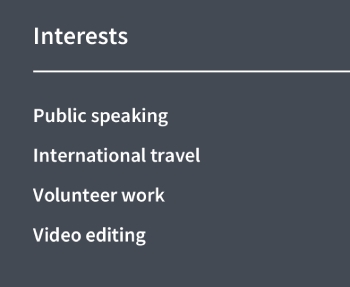 Example #3
Our last example of interests on a resume has a blend of highly employment-related hobbies and personal interests. For instance, some of the hobbies include reading financial blogs and mentoring youth, both of which might be important for a certain position at a company.
On the other hand, playing tennis and cricket and painting landscapes might not relate to a job but still provide insight into what a person is like. With all of these things together, it gives exceptional insight into who someone is and whether they'd fit well in a certain job position.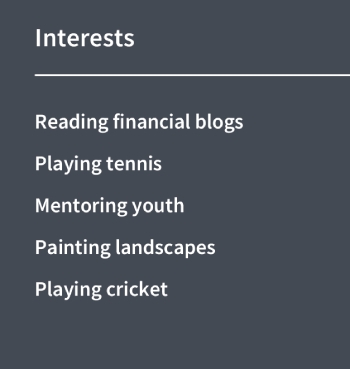 How to format your resume interests section
There aren't a lot of things to keep in mind when it comes to formatting the resume interests section. Most of the time, the best option is a list, whether bulleted or not. This keeps things tidy and makes it easy to read all the information. We recommend this in most cases, but you can get more creative if you wish to.
The other option is to write a short paragraph about your hobbies and interests. However, this can be more challenging to read, so we don't recommend it for most resumes. If it seems like a better choice, feel free to move forward with it.
Key takeaways on hobbies & interests for a resume
There's a lot to think about when adding hobbies and interests to a resume. We'll sum up the most important bits here, and you can get started with your own section. The first thing to remember is that you should only add interests and hobbies that make sense to be there and make sure you have the space for them.
As you come up with hobbies to list, research the company. Choose your interests and hobbies that fit into the culture of the company. Beyond that, select interests and hobbies that show your unique personality traits and transferable skills. Avoid illegal or controversial hobbies when making a list.
If you decide a hobby or interest section is a good idea, create a place for them at the bottom or side of your resume. Line them up separately and decide whether to expand on them with additional information. When you do so, stay away from adding more than eight interests to one resume.
After you have that done, you're good to go. Finish your resume, write a cover letter, and send in that application. You never know when a fun hobby will get you a seat at the interview table. Good luck!
FAQs
How many hobbies and interests to list on a resume?
It depends. Going with only two hobbies will hardly warrant the amount of space, but having additional skills beyond around eight can be overkill. In general, choosing from around four to eight interests and hobbies is considered the best rule of thumb. It provides information about you but doesn't overtake other important factors.
Do employers care about interests on resumes?
Sure, many employers will pay attention to the interests in a potential employee's resume. They can add weight and make the document more interesting. However, hobbies are not as much of a priority as skills, work experience, and education, so make sure those sections are also in great shape.
What do the interests and hobbies you put on a resume tell recruiters about you?
When a recruiter peruses your resume and sees a list of interests and hobbies, it's likely to be seen as positive. It shows that you have some things that take up your free time away from work. Unless the hobbies are controversial or irrelevant, including them shows that you are a multi-faceted person.