Immigration Attorney Resume: Example, Template & Writing Guide [2023]
An immigration attorney is a legal counselor or advisor who helps foreign citizens and immigrants. Most of the time, they focus on situations involving United States immigration authorities. As an immigration lawyer, you offer guidance to clients about visa applications, green cards, naturalization, citizenship, employment, and deportation.

You might have tons of experience with immigration issues. Maybe you've assisted clients by offering diligent representation and creating legal documents. If you're looking for a new job doing those things, you need a fantastic immigration attorney resume. This is how you show you've worked with naturalization applications and spent time in immigration court.
Even though you might be experienced and skilled, if you haven't written a resume in the recent past, it can be a situation that causes anxiety. The good news is that we're here to help. This guide is going to share examples and tips that you can use as you build the perfect immigration attorney resume.
The first thing to know is that all resumes are not made the same. Immigration lawyers have specific duties and skills that make them great at the job. Since your skills are unique, you don't want to use another type of attorney's resume as a template for your own. Instead, keep reading and get the details on a resume fit for what you do.
Immigration Attorney resume writing guide: Where to start?
Immigration attorneys have a wide range of duties from making sure clients in compliance are aware, going into immigration courts, and creating appeals for deportation proceedings. Since this document is so specific and crucial to getting an outstanding job, it needs to be done right. That involves two phases, which we'll be explaining in detail below.
Master resume for an Immigration Attorney
The first step is to create a master immigration lawyer resume. This is not the effective resume that ends up on the desk of a potential employer. Instead, this document is solely for your own benefit. You'll keep information about your past job duties, skills, and education. It acts as a place where you store information for future resumes.
To show you can handle a crucial role in a legal career, you need to know immigration laws. Having a list of job skills and job duties means you don't have to think back and try to come up with them on the fly when you make a job-specific resume. You can even list your biggest career achievement on the resume so you have it ready for use.
Since this resume is for your eyes only, you can format it and list the information however you like. The important thing is to jot down everything. Even if you aren't sure it will be relevant in the future, keep it in your master resume. It's better to have information you never need than to require something you never made a note of.
Your master resume is a never-ending document. Keep a record at work of all the things you do from daily tasks, projects, and more, even if they are not part of your job description in your master resume. This will help you in vacancy-specific resume writing in the future.
Job-specific resume for an Immigration Attorney
At this point, you have a master resume. If you made one in the past, make certain it's updated before you move forward. The next step in this process is to create a job-specific resume. This is the one you share with hiring managers, corporate clients, and others outside of yourself. In tandem with an immigration lawyer job description, a master resume will help with this.
There is a good reason to create a new resume for every job you apply to. First, you can completely customize it and show yourself in the best light for a specific position. If one position focuses heavily on immigrant and non-immigrant visas, that's something you can highlight. The same goes for naturalization interviews or other tasks.
Another reason for a job-specific resume comes down to keywords. You'll notice that some words in a job ad stand out and seem important. Incorporating them into your resume makes you a more interesting candidate. It can also help you bypass applicant tracking systems (ATS) which are used before a human has the chance to look at your resume.
So, use your master resume and the job description to craft a document that stands out. You can even go deeper with research if you want, such as scouring the company website and social media to learn more about the workplace and position you're interested in. Putting some time in is how you show you aren't just another average individual applying for a job.
Immigration Attorney resume example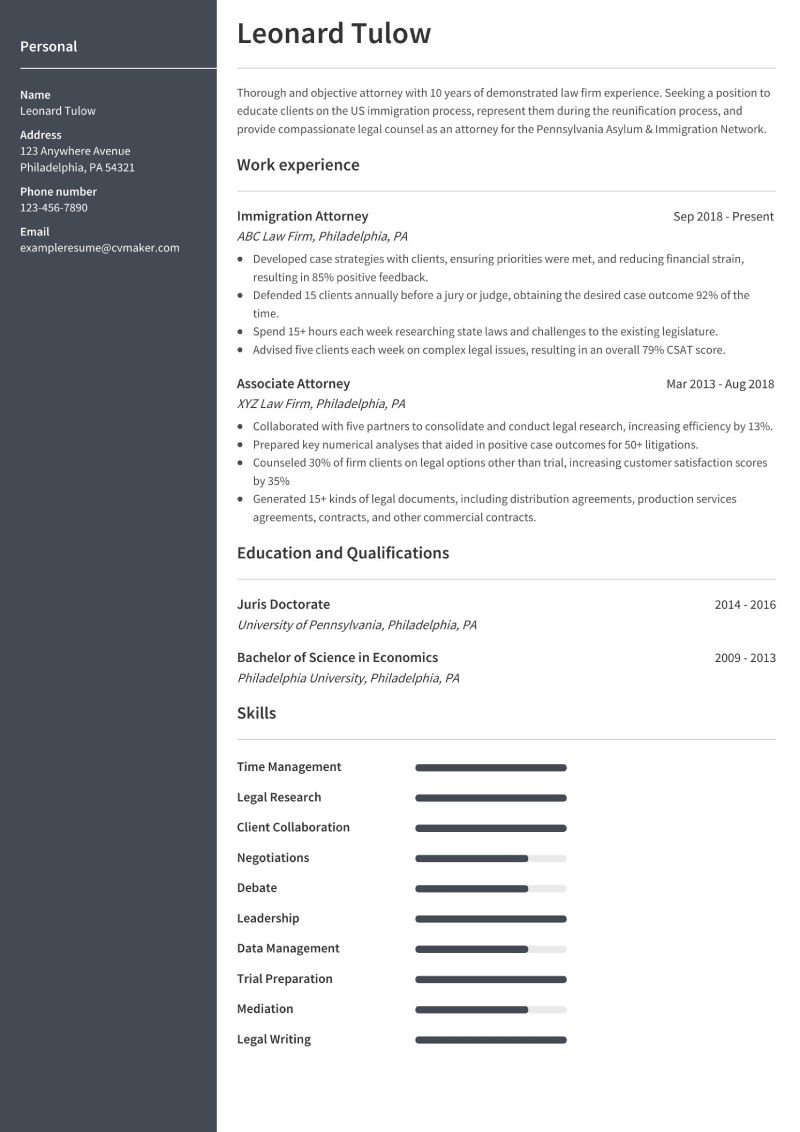 You can see an immigration attorney resume sample above to get an idea of how yours might look. The applicant has lots of information in their resume objective and every past position is backed up with duties and accomplishments. You can easily see this person offers good legal counsel and can handle visa petitions, the client database, and more. It's a solid resume with all the required information about the application.
What to include in an Immigration Attorney resume? Writing tips and examples
Now that we've gone over the basics, we want to talk about how to frame different areas of your resume. Keep your immigration lawyer description in hand for the process and make sure you have your master resume pulled up. Whether you're crafting an immigration attorney resume for a family employment asylum or focusing on something else, the tips below will help you create a document that hits all the marks.
How to write a resume objective on an Immigration Attorney resume
One of the first things you might read in a job description is a list of immigration lawyer responsibilities. When you turn in a resume, a hiring manager will often look first at your resume objective. This makes it a crucial part of your document and one you should set aside some time for. It may be short but it makes a huge impact when done right.
The resume objective on an immigration attorney solo practice resume is your key to an interview. It needs to be about two to four sentences so it's brief but undeniably important. This isn't a place to share your full employment history, but you can talk about your work with the board of immigration appeals or specific immigration procedures.
So what exactly is this section all about? Selling yourself. You want to show off the things you do best. Using action verbs and numbers is a good way to prove you have the merit to move forward in the application process. Think through your achievements and add all the most relevant of them. Be exciting and interesting to get the best results.
Achievements aren't the only thing to include in this small section. You can also talk about skills, education, and projects you've done in the past. What you want to do here is gain the attention of a manager and convince them you're a good choice. Once you get to the interview, you can expand on that and you could end up with the job you want.
While the sample above is an excellent template with practical information, you should always customize a resume specifically to the position you're applying for.
The best way to include education on an Immigration Attorney resume
When you look at our sample attorney resume for employment in immigration, you can see that education is included. This is another integral part of your resume when you're turning in an immigration application for the position of attorney. All attorneys require extended education and you need to prove that you have that if you want to move forward.
What do employers expect to see here for this type of position? The short answer is a law degree. If you do not have one, you aren't going to be hired for this type of work. Proof that you passed the bar exam is the bare minimum and should always be included when you write a resume for work in immigration law as counsel.
Lawyers might spend some time on dull tasks. For instance, maybe you file petitions in a law office for part of the day. However, there are also many tasks that only someone properly educated can easily handle. The people hiring attorneys are well aware of that. If you forget to include education, it could result in never hearing from the employer again.
All university degrees should be included on your resume. That includes your bachelor's degree and your law degree, as well as any other degrees you hold. Put them in reverse-chronological order, similar to the way you will make your experience section. You should make sure to include the degree, subject, the date you got it, and where you studied. Extras like GPA and honors can be added, but often aren't needed.
Skills to list on an Immigration Attorney resume
The final section we want to share tips about is the list of skills on your immigration attorney resume. If you look at immigration attorney resume examples, you'll notice that these run the gamut from soft skills to hard skills. The one thing that these common skills have in common is that they are relevant to the position.
Look over the job description to determine which relevant skills you should include. For one person, communication skills might be highly important. Another role may want you to have specific legal skills and a certain background. Make sure your skills fit the bill for the position you desire. Irrelevant skills add nothing to your document.
Not sure how to get started? Below, we've compiled several skills that are often seen on immigration attorney resumes. Look for the ones you are adept at and add them if they match the position you want to get. It is a simple process compared to some sections of your resume.
Use a list like the one above to share your skills. Paragraphs are not ideal for telling an employer what you can do. It is harder to read and glean exactly what you are capable of. The list makes things clear and simple to understand.
After you've crafted your resume sections, it's not quite time to turn in the document yet. Make sure your resume looks fantastic by using one of CVMaker's immigration attorney resume templates. These are highly professional and come in an assortment of styles and colors so you can make your immigration attorney resume truly your own.
Key takeaways
The perfect resume of an immigration attorney is going to show extensive knowledge in the field. You can use the example and tips in this guide to show you are well-versed in providing counsel to foreign nationals and others who need your services. Once you get everything together and add a design, you'll be ready to apply. Good luck!
Extra tips to create an Immigration Attorney resume:
· Focus less on general law and more on duties, skills, and positions that deal with the immigration process.
· Use relevant keywords and incorporate duties from the job description whenever possible.
· Visual is just as important as information so make sure the document looks good when complete.
· Before turning in a resume, check it for errors like misspellings and typos. A tool like Grammarly can be a huge help for this.
· Make sure every inch of the resume is professional. Avoid casual terms and jargon when it isn't needed.
· Keep your colors and fonts to two of each or the resume may be more challenging to read.
· If you haven't written a cover letter yet, you'll need one. Turn the resume, cover letter, and application in simultaneously.
Next steps?
With our example immigration attorney resume and all the tips you've learned, you should be ready to start writing. However, not everyone feels confident handling the process on their own and that's okay. CVMaker offers a Resume Writing Service to assist you with your concerns. View our website and choose the right service for your needs.
FAQs
Where to include Immigration Attorney responsibilities on a resume?
Let's say that you're creating a resume for an immigration attorney with humanitarian visas experience. You want to share the skills and achievements you had in your previous positions. The main place to add this information is under work experience. This is a great place to combine duties with accomplishments.
However, you can also add some of your duties to the resume objective and skills. It all comes down to how you want to share your experiences. When sharing duties, it's best to include quantitative information that shows how you were a great part of your previous positions. Numbers and action verbs are ideal for that.
Which Immigration Attorney resume format is best to use?
If you look up a sample immigration attorney resume, you'll notice that most of them are in reverse-chronological format. This is the most common way to lay out a resume and managers are used to seeing it. Anyone with a bit of experience will find this works well for their needs.
However, if you have less experience or want to focus on something else, you can try another format. For instance, some might want to draw attention to skills or education rather than experience. This is completely fine; it just isn't considered the standard way to build a resume for an immigration attorney.
What should an Immigration Attorney resume look like?
Before someone hires you to take care of clients in immigration court, they will want to view your resume.  Having the right information, a professional writing style, and an eye-catching aesthetic can be helpful to get you the job. You can do a quick Google search to get an idea of what you are going for.
Making sure your fonts and colors aren't too hard to read is important. You also want to think about the sections you include and how you convey your information. Make sure there is room between sections so things aren't overly busy. Follow these steps for the best results.
How do you write legal skills on a resume?
When writing legal skills for an immigration attorney resume, it's usually best to utilize a list. A bullet list keeps the document clean and makes it easy for a hiring manager to see what you are capable of. The actual skills you use will vary based on what sort of work and education you have going into the position.
A few skills that are often used for these resumes include complex business immigration matters, client files, immigration status, petitions for clients, positive client relations, and extensive experience in a collaborative environment. Add skills you're good at that the employer lists in the job description.
How many pages should an Immigration Attorney resume be?
Sure, you know all about compliance with immigration law. Maybe you've even worked in several firms in the past. But how thorough should you be in your resume? A good tip for resumes is that nearly all of them should be no more than two pages long. If it's more than that, there should be a very good reason for that.
That doesn't mean the resume has to be two pages. Many attorneys have a simple one-page resume and it does the job. It all comes down to how much you have to share with a potential employer. If you have less than 10 years of experience, it's recommended to keep it to one page.
What is the career objective for a law resume?
A career objective is also known as a resume objective. This is a small part of your immigration attorney resume where you share your largest accomplishments. If you've dealt with complex immigration matters, this is the right section to share that. It can also be used to offer an idea of your skills and education.
The idea here is to share the most impressive things about yourself when it comes to your profession. For some, that might be specific achievements. Others may want to share an in-demand ability. This is a short section so you'll need to choose wisely when deciding what to include in it.
Should I put JD after my name on an Immigration Attorney resume?
You certainly need a JD before you take hearings before an immigration judge. But do you need to add the JD to your name on the resume? While you can do so if you like, it isn't required. You can simply write out your first and last name. You'll share other information that shows you are qualified for the position.
For instance, the education section is a staple for an immigration attorney resume. When you type out that you've completed law school, you show that you are a JD who could be a good addition to an office or firm. However, if you want to add the abbreviation listed by your name, there's nothing to stop you.
Which sections should be included on an Immigration Attorney resume?
Prior to getting the job and taking a client before the immigration court, you want to be sure your resume has all the information a prospective employer needs. Your resume should include all the basic needed sections, including contact information, a resume objective, work experience, education, and skills.
However, you can also add other sections based on your preferences and how relevant they are to the job. For instance, you might want to add a section for references and another for technical proficiencies. Languages, hobbies, achievements, and certifications are other options depending on where you want to create focus.
Now that you've read through the guide on immigration attorney resumes, it's time to make your own. After you get done compiling your information, you want to be sure this document looks great. The easiest way to do that is through a resume template. CVMaker offers several to choose from, including the one used for the earlier example resume. Check them out and select the one you like most.