Elementary Teacher Resume Examples & How to Write Guide 2023
Writing a quality elementary teacher resume is essential for landing the job that you want. However, it is crucial to recognize that you need to separate yourself from the pack. Your elementary teacher resume should go beyond demonstrating your work and academic experience with cold hard facts.
When it comes to content, you need to blend the data of your life with enough relevant personal information, professional objectives, and life experience to paint a complete picture of yourself as a candidate. You need to stay within the lines of resume writing best practices, but if you follow our writing tips, you can set yourself up to get hired for an elementary school teaching position.
Writing that blended content may be more of an art form than a science, but you need to combine all the aspects of your professional, academic, and personal life within a successful elementary school teacher's resume. If you do so, you can craft a solid document that tells your story and also makes it jump off the page.
In order to be successful in capturing your audience's attention, you need to think about how an ideal elementary school teacher's resume would look. In this case, your audience may be deciding whether or not you get this teaching job, so try to tune in to how they probably think and what they are expecting to see.
A quality elementary education resume will appeal to a hiring manager by incorporating all the aspects that went into your career and education to date. If you are just starting your career in education, build on your academic credentials with any junior-level education and student teaching experience.
Even time spent as a camp counselor or group exercise instructor demonstrates proficiency in teaching and interpersonal skills. If you are more advanced in your education career, you likely have an even more diverse skill set that includes senior-level or even managerial work experience.
By understanding that the job experience you have, the skills you possess, and your personality are all parts of the equation, you can write an elementary school teacher resume that will get the attention you deserve. Overall, make your case for being the best-qualified out of a sea of applicants.
An excellent elementary school teacher's resume should leap off the page when a reviewer or hiring manager opens it. A big part of teaching elementary school is making the outside world manageable for young learners. To captivate young minds and hold your student's attention, you will need to be creative.
So an elementary school teacher's resume should show off that side of yourself and reflect creativity, spontaneity, and diversity. Conversely, a lack of imagination could detract from your overall appeal, even if you have the best teaching skills on paper.
Some things to think about adding to your resume might include some or call of the following elements.
Colored text and heading
Professional but upbeat fonts
Simple graphics
Examples of your interactions with children
Customized bullet points
Elementary School Teachers' Resume Examples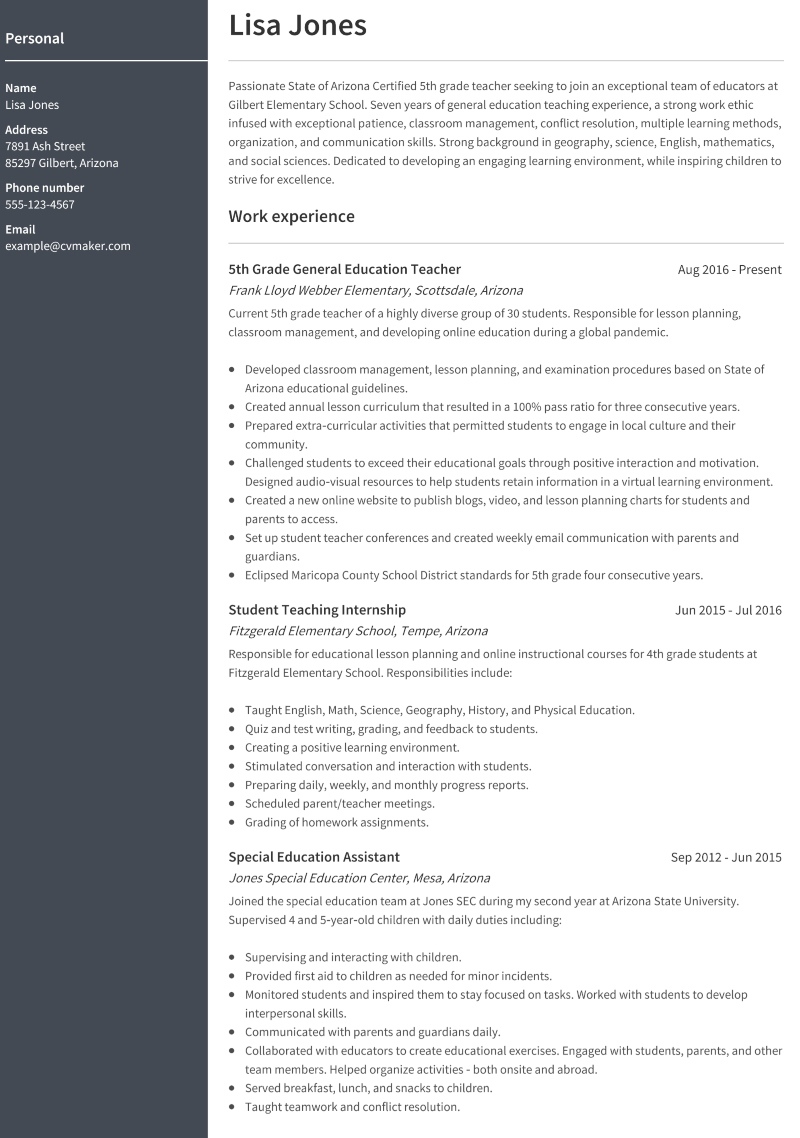 To help you get started, we have a few elementary teachers' resume examples. You don't have to limit yourself to doing the exact same things. However, if you use these sample elementary teacher resumes as inspiration, you will be setting yourself up for success.
A sample elementary school teacher resume should be just a starting place. You can add your own flair as needed!
How to Write An Elementary Teacher Resume in 2023
Resumes for elementary school teachers should contain all relevant information that demonstrates your professionalism and effectiveness as an elementary school teacher. By following along with this guide for elementary teacher resumes, you'll be on the right track.
Your elementary school teacher resume should focus on your teaching experience and the academic credentials that you have earned. Present yourself as a professional. But, do not leave out important education or life experiences that are unrelated to teaching.
You want to use those life experiences to make yourself stand out from the crowd resumes for elementary school teachers. And, upon your hiring, you would likely be subject to undergo a background check. And obfuscated details or significant omissions could see your dream job go up in smoke.
An elementary school teaching resume should contain an introductory paragraph where you showcase yourself as an individual. It would be best if you were sure to summarize your most relevant and hard-hitting previous work experience and your educational background.
A modern resume for elementary teachers usually includes a little bit of a profile of the applicant beyond their credentials. A quality profile will serve as an introduction to the rest of the facts you present in your elementary school teacher resume.
Your profile formatting should focus on delivering information and place it at the top of your resume. Be brief, but expand on the skills and experience you plan to bring to the position. List out some relevant accomplishments and echo your objectives with supporting information.
Brevity is your friend, as anyone reviewing your email is unlikely to spend much time looking at it at first glance. In fact, the average resume read-only lasts 6 seconds. To quickly sum up your experiences and goals using up to approximately 200 words.
Personal Information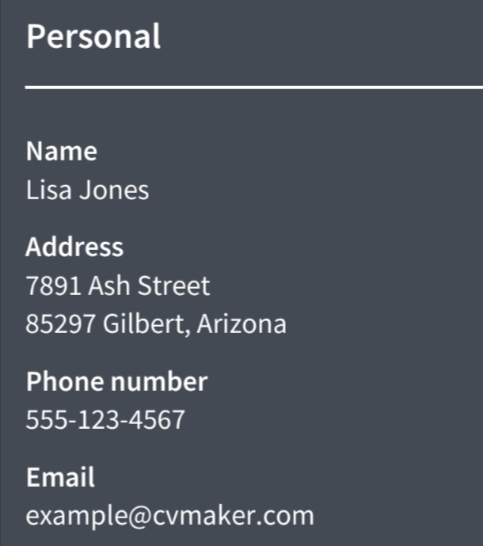 Aside from style or writing tips, don't forget the basics. Make sure to list your personal information clearly.
Example
First and last name
Address
eMail address
Phone Number
Consider including other personal things like your LinkedIn or Facebook profiles. However, be cognizant of the risks of over-sharing. Are there any photos you would not want a potential employer to see lurking on your pages? Is your resume missing something that does appear on your LinkedIn profile?
It is probably best to err on the side of caution and avoid sharing broader personal information. For instance, your marital status and the names of your children are irrelevant. If you want to expand on that type of detail, consider a separate cover letter explaining how your family life makes you a better teacher.
But if there are facts from your personal life that are germane, you should include them if they would help demonstrate you are the best candidate for this teaching job. For instance, if there is a large military base near the school you are applying to, and many of the students have family currently serving, it might be helpful to have a military background.
Resume Objective

Even the best resume can fall on deaf ears if it is not well presented. Your resume should clearly state its objective. It may seem redundant, but stating your short--term career goals and why you are seeking this particular elementary school teacher job is imperative. It helps the reviewer understand how you would fit into their school.
And, within an applicant tracking system at a large school district, explaining your career objectives might help separate you from other job seekers.
Example
Second grade teacher with 3+ years experience in a specialized public school with many students with learning disabilities. Skilled at effective communications with students through interactive and fun tools that foster development. Seeking to help students progress from their baseline to meet identified benchmarks in their education. Attained an M.S. in Special Education and a B.A. in Early Childhood Development.
This section of your resume should only be a few sentences. Capture the hiring manager's attention, make it clear why you're the best candidate. But, be brief! If there is more information that you can't capture here, consider adding it elsewhere by taking advantage of a LinkedIn profile or a cover letter.
Professional Work Experience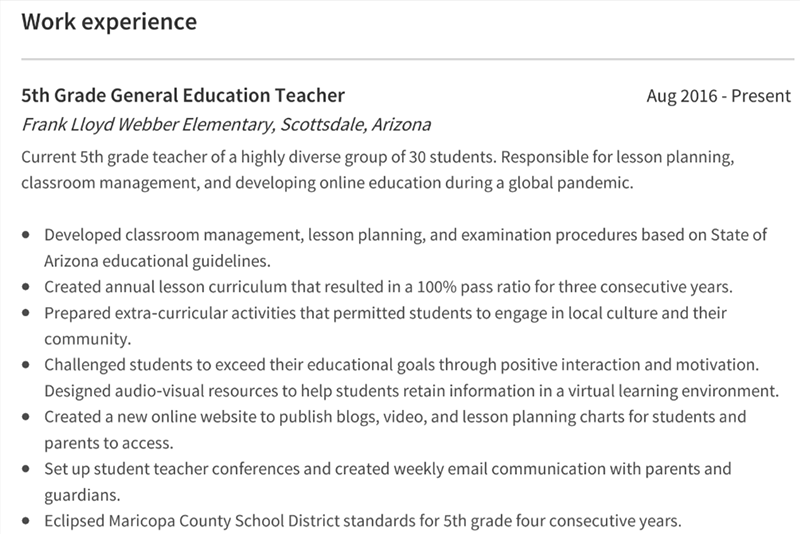 One of the essential things you can do to make your elementary school teacher resume effective is to work chronologically, starting with your most recent work experience. By presenting things in this fashion, you demonstrate the progression of your work experience.
For instance, perhaps this is the first time you're applying to be a full-time elementary school teacher. Nevertheless, you are currently employed as a substitute teacher at a middle school in the same district.
Before that, you were a full-time teaching assistant in a neighboring city. And when you first started work in a classroom during your graduate school coursework, you worked part-time as a teaching assistant. The hiring manager reviewing your elementary teacher resume will see that you are dedicated to your profession and are on the ascent.
Give specific examples of your experiences, but demonstrate a wide variety of hard skills to reviewers and recruiters. Make sure that you pay attention to the job description and cater your presentation to meet its demands.
Example
Third Grade Teacher
Absaroka Elementary School, Absaroka County Wyoming
2012-2019
Prepare lesson plans for disadvantaged children residing in one of the poorest counties in the country
Interface with local tribal leaders to foster an inclusive environment for native children in the public school system
Create, develop, and adapt educational goals for all students
Kindergarten Teacher
Reservation School, Northern Cheyenne Reservation, Wyoming
2009-2011
Create dynamic and exciting introductory learning environment for Native American children
Supplement classroom experiences with field trips to explore life off of the Reservation
Maintain constant communication with supervising staff and parents
The formatting for this section should list each separate job title as a heading, just as you see above. Underneath the job title, list the name of the school, its location, and your years of employment. Then in bullet points, you should summarize some highlights from this part of your career. You can use highlights and italics to bring some style to this section.
Education 

Present your academic credentials in reverse chronological order as well. This way, your highest achievements in education appear at the top of this section, and the reader views them first. Your most recent education needs to be on the top line for the education section of your resume.
Even if you were a top performer in high school, your undergraduate and post-graduate work is much more relevant to the hiring process. But, it is important to include all aspects of your post-secondary work in the education section. The best resume is inclusive, concise, and consistent.
Example
M.S. Special Education
University of Southern California
September 2015-August 2017
4.0 GPA, Magna Cum Laude
Bachelor of Arts, English
University of Southern California
September 2011-August 2015
3.7 GPA, Magna Cum Laude
The formatting should mirror that of your professional experiences section. And if you included style elements like underlined or italicized text there, maintain it here. You can also go back further and include other post-secondary education.
Skills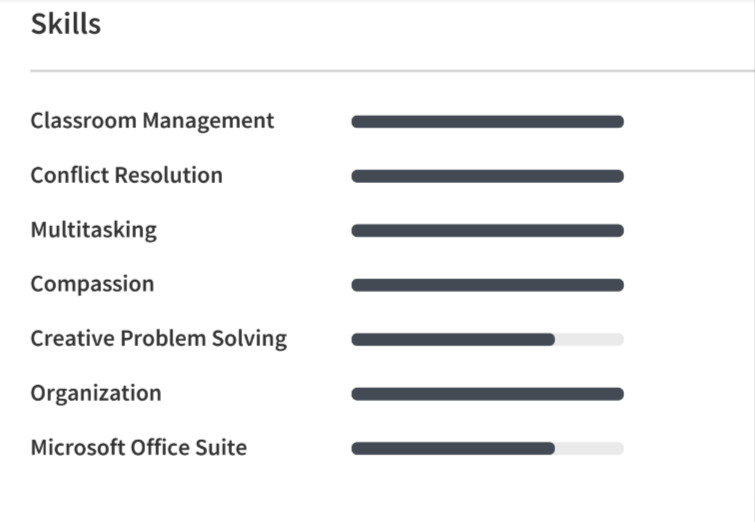 For an elementary school teacher's resume, you need to be sure that you list your most relevant teaching skills. For instance, if you have a degree in mathematics with expertise in calculus, explain how you can and bring the big mathematics concepts down to a grade school level.
Understanding the derivative functions isn't exactly on the list of key skills at this grade level. But it is relevant when you demonstrate that you can help lay a solid mathematics foundation for young students by keeping the bigger picture in mind.
When crafting your elementary teacher resume, make sure to present some color around the facts and figures you present. Demonstrate your interpersonal skills, classroom management style, and a few of the skills that make you the best choice.
A quick sample might look like this:
Example 
Teacher, Public School 56 Queens, New York
January 2016 - Present
Provided a range of strategies to accomplish instructional goals while maintaining an inclusive atmosphere
Maintain ongoing assessment and management to help meet the needs of different students
Create engaging lesson and unit plans to help all students try to achieve their unique goals
Coordinate with staff to break large concepts into manageable units with consistency
Keep accurate, updated, and organized records of student information
Collaborate with teaching colleagues, administrative staff, and NYPD to maintain a safe atmosphere in the school
In just a few bullet points, you paint a much more complete picture of your job experience and your teaching strategies by expanding on the basics. Use action words that showcase your teaching skills.
Some action words to consider for your elementary school teacher's resume are below.
Facilitated
Taught
Conducted
Graded
Evaluated
Assisted
Created
Developed
Reorganized
Streamlined
Directed
Stimulated
Tutored
Mentored
Instilled
Individualized
Motivated
Courses and Specializations
Here is the section where you can list any special coursework or focused areas of expertise that you have. For instance, if you have passed a special education course in the state in which you are applying to work, this is where you would list it.
It's quite likely that your work to obtain your education degree also included training in an educational specialization. All of those items should be listed in this section as bullet points, as demonstrated in the template below.
California Teacher License
Special Education Certificate (Grades K-5)
Early Childhood Development Seminar Instructor, Regional Symposium 2019
References

An elementary school teacher resume should include some references. While not always mandatory, it's good practice to include a couple of contacts that can attest to your character, key teaching skills, and instructional strengths.
Try to avoid using the phrase 'references available by request' as most hiring managers would assume that to be the case. Instead, list out a few individuals and their relationship to you. The best references are supervisors, co-workers, and professors.
References to avoid are family members and personal friends. Even if you are new to the field of education, you can think outside of the box and consider references with a tangential frame of reference. Perhaps there is a coach, music instructor, or mentor from a different part of your life that can confirm your competency across key skills.
Once you know who you want to use for your references, ensure that you have asked these individuals if they are willing to do so. When it is time to add them to your resume, only include their preferred contact information. Don't give out any of their personal information without clearing it with them prior to doing so. Some may prefer to use a phone number, others might prefer eMail. Be mindful of their privacy.
References should appear in the following format.
First and last name
Professional title
Place of employment
Full address of employer
Preferred contact information
More Sample Teacher Resumes
The more teacher resume examples you review, the easier it will be to craft the best resume for you. You have the opportunity to make your achievements translate into a teaching position you desire. At the beginning, it may be helpful to work off of a template.
By following these writing tips, you can pretty quickly lay out the facts and figures that make up your educational background and teaching experience. By incorporating some concise supplementary information within the resume format, your resume writing will move up to the next level. 


Final Points on Making an Elementary School Teacher's Resume
To write an effective and attention-grabbing resume, it might help to have your name right on the top of the page for easy reference. So, in addition to your personal information within the resume's body, consider creating your own header or letterhead.
Even something as simple as your initials and contact information centered at the top of the page goes a long way to demonstrate your professionalism. If you're very tech-savvy, consider adding a header design with a custom picture or a graphic. You could even link to another profile or website that you maintain.
By having your information front and center on the page, you facilitate easier handling of your paperwork. Particularly if there are job recruiters involved you will be one of many job seekers.
When it comes to the inclusion of portrait pictures, recognize that doing so has pluses and minuses associated with it. Yes, it does put a face to the words on your resume and help the reviewer keep track of your application and resume.
But, it is skills and qualifications that are the basis for hiring a candidate, not their looks. Some hiring managers could be put off by the inclusion of a picture in today's diverse job market where equal opportunity is guaranteed. Elementary school teacher resume examples in 2021 tend to recommend avoiding a profile photo.
So, it may be best to skip a picture, especially if you maintain a website or other online profile you can link to. If you do decide to include or link to a photo of yourself, be sure that it is a professional-looking headshot. It should also not be overly large on the page.
Include a Cover Letter
Separate from your resume itself, consider also writing and including a cover letter along with it. Here you can expand beyond the facts of your work and academic experience. Your bachelor's degree, GPA, instructional experience, and a professionally polished resume are important.
But a cover letter lets you explain more about yourself and why you are applying for this particular job. You can color in around the edges of your experience to create a fuller picture of why you are the best candidate for the job, even if your work history isn't a perfect fit.
A cover letter for a sample elementary teaching resume might follow the format in the example below.
Salutation
Your greeting line should be addressed to someone. Be specific and direct. If you're writing to a recruiter, it's ok to be a bit more generic. But appealing to an individual is almost always better than a general greeting.
Explain Why You Are the Best Candidate
Fill in the details around the facts of your resume. Expand on your experiences a bit, relating the circumstances around your own academic and professional development. Bring your career to life and make it clear why you are looking to move on from current or previous employment and to this job position.
Conclusion
Drive home why you are the best candidate. Why are you the right teacher to hire? How will your academic credentials and work experiences translate to success in the classroom? Why would choosing you be the right decision for this particular school?