Technical Support Resume Example, Template & Writing Tips 2023
Expertise in technical solutions including repair, installation, and database knowledge of hardware and software is a growing job segment across the globe. Recruiters and professional organizations actively seek candidates with the correct technical skills and work ethic that will fit their culture. For those entering this industry, you'll have to create a technical support resume to apply.
The question many aspiring tech experts ask is how to draft tech support resumes that will stand out among the competition. Like any other project, sometimes it makes sense to review technical support resume examples to give you a practical example of what hiring managers seek. That's what we'll provide for you in the information below.
In this article, we'll provide you with a technical support resume example, how to structure your technical resume skills, and offer a simple to use a technical support resume template. The article will provide advice on how to outline the technical work history, education, and which references will help support your application.
Let's get started.
Technical Support Resume Sample and Resume Example
A technical support agent or specialist position requires attention to detail, solid customer service skills, organizational and help desk experience, understanding the escalation process, troubleshooting technical issues, and the ability to multitask. They should also have experience working in a call center, have educational degrees in computer science, and work with multiple computer systems.
However, when you review most online tech support resume samples, they are written in such a way as to be repurposed or sent to multiple job postings. Candidates with similar work histories and education who customize the resume for technical support positions for the specific application will often receive that critical interview.
We've taken our advice in the entry-level technical support resume example posted below. Take time to review the entry-level tech support sample resume – paying close attention to the tone in which it's written, the structure, layout, and formatting.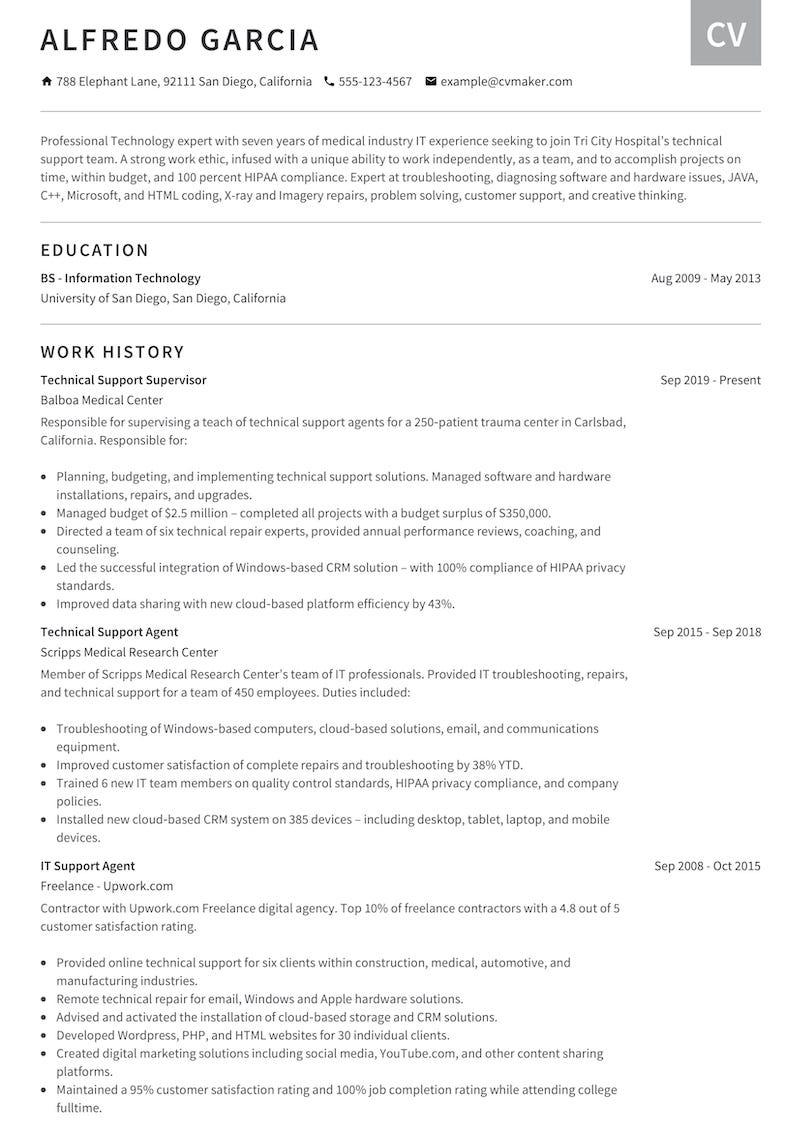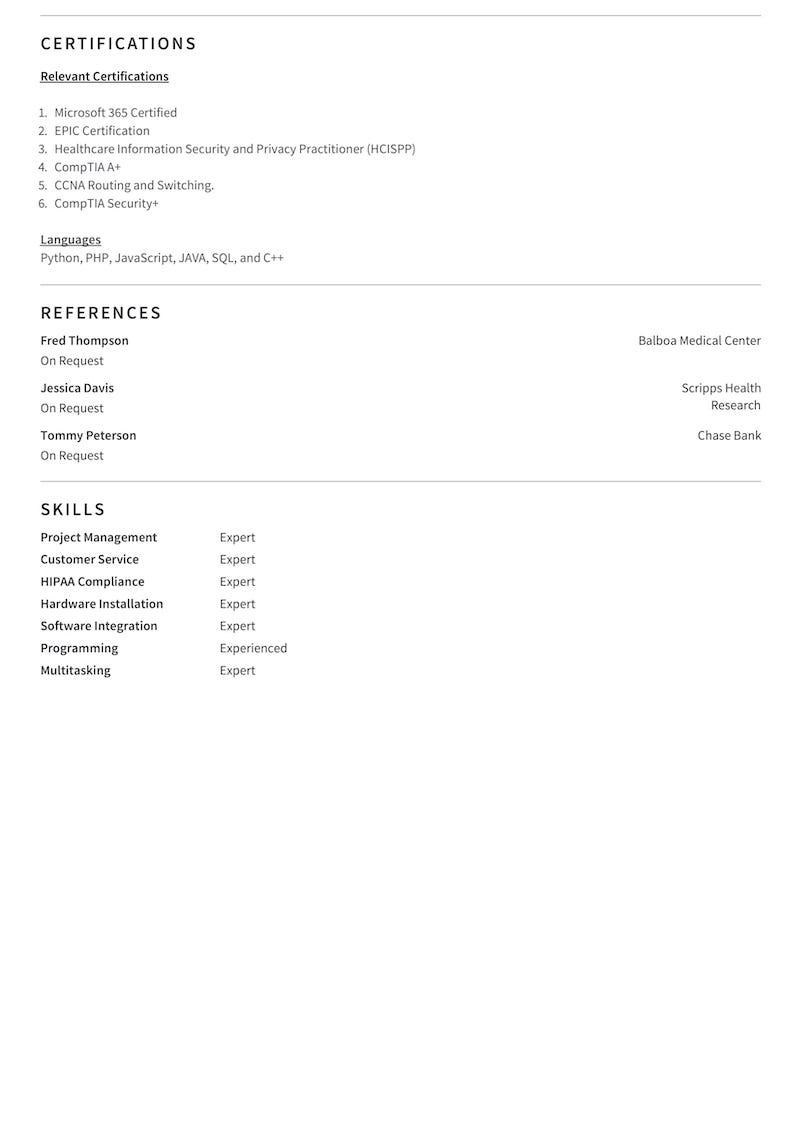 Download this resume example - Technical Support
Alfredo's technical support specialist resume sample above is a shining example of how to format and write an exceptional resume. As you can see, he is applying for a technical support or IT position with a medical company in his hometown of San Diego, California. He will be working with other IT professionals along with end-users.
In the opening statement, he showcases some of his technical resume skills but also makes it a point to customize this section specifically for the job he is applying for. This is a critical detail that will permit his resume to stand ahead of the competition. The resume structure is clean, easy to read, and is written with a professional, yet conversational tone.
Most importantly, unlike other generic resumes for technical support jobs, Alfredo opens his with a personalized opening statement - specifically addressed to the job he is applying for.
In the sections below, we will provide some technical resume tips, and explain how to structure and format the resume.
Technical Support Resume Tips and Guidelines: How to Write a Technical Resume
Technical thinking individuals understand the importance of structure and organization. These same attributes should be incorporated into your tech support resume. To accomplish this, we recommend creating a master resume – or a working document that permits you the flexibility to add content, edit, and organize the layout.
This will be a word document – or other editable software solution that will let you outline each structure, create bullet points that will explain the areas of experience, and work history.
To create your master resume for a tech support job application, begin by setting up a few major sections:
Contact Information
Resume Objective
Education
Work History
Certifications
References
Skills
Once you have these primary sections set up in your master sample tech support resume, it's time to insert relevant content that helps you tell a story of being the perfect candidate to fill that position.
1 – List Your Personal Information
It's hard to set up an interview if the recruiter or hiring manager can't get a hold of you in an efficient and time-sensitive manner. Due to this reality, it's important to list your personal contact information in an easy-to-follow format – with accurate details that make it easy for them.
In the sample entry level tech support resume above, you can see that Alfredo has listed his home mailing address (not a PO Box), his cell phone number, and created an email account. For many IT positions, it's common for hiring managers to contact their applicants via SMS/Text notifications. As such, you want to ensure that if they reach out to you, it's quick and convenient for you to reply.
How to Format Personal Information Section
It's important to use the same text color, font, and size throughout your resume for tech support applications. This starts with your personal information. Utilizing technical support resume templates will assist in this manner, but you should start with your master resume. You can in the sample technical support resume above that it follows this advice.
There is no need to complicate this section with multiple contacts (such as two email or phone numbers). Simply list the ones you have access to always. Don't list your Facebook or Linkedin page on a written resume unless it's requested.
2 – Creating Your Resume Objective
If you ask most recruiting or hiring managers which section of a resume catches their eyes instantly, you'll likely be told that it's the resume objective. Your tech support resume objective needs to sizzle.
Consider the technical support resume summary as your elevator pitch, which explains to the hiring manager of the company you are applying to why you're the ideal candidate. You always want to create a specific resume objective section for each job you're applying for. This type of personalized attention to detail not only showcases this vital hard skill but also is something most candidates will not do.
The resume objective or summary needs to clearly explain why you have the right skills, experience, and education to succeed in the position. For example, in the technical support sample resume above, you can see that Alfredo has listed some specific certifications that apply to working in a medical environment. You need to list the applicable hard and soft skills that IT professionals must possess.
What are Hard Skills?
Tech support resume skills include hard and soft abilities - or the technical or interpersonal expertise you possess. Think of a hard skill in a resume summary as technical experience. In the example technical agent resume, you'll notice that Alfredo mentions his years of professional experience with hardware installation, maintenance, analyzing connectivity issues, and repairs of both Windows and Apple Mac solutions.
He goes above and beyond by mentioning his ability to comply with HIPAA patient privacy standards – vital for working in the medical industry.
What are Soft Skills?
Soft skills for tech support applicants are the interpersonal abilities that allow one to accomplish tasks with a focus on quality. An IT professional must showcase the ability to work unsupervised, strong organizational skills, communication skills, critical thinking, and exceptional problem-solving abilities. The best candidates are also those who can accept constructive criticism, and apply lessons learned from previous errors.
How to Create the Resume Format for the Objective or Opening Statement Section
Short, sweet, and to the point is the best format for this section. It should be no more than five sentences long, written in a professional yet conversational tone, and flow exceptionally well. Using a resume builder after you've fine-tuned and edited content, will ensure it includes those action verbs or soft skills we mentioned earlier.
If you're applying for a technical support position, here are some key pointers:
Highlight your years of experience for the position you are applying for. If they are seeking an IT expert with knowledge of diagnosing software issues, Windows solutions, LAN or WiFi connections, make sure to mention this in your opening statement.
Showcase your personality. IT professionals should work well with team members and fit within the culture of the company they are seeking to work with.
Edit the written content through an online platform called Grammarly.com. This will edit the document for grammar, spelling, punctuation, and tone.
Read it aloud. When you're finished editing the content, read it aloud. If it sounds like you're speaking to someone vs a computer being too stuffy, that's an attribute included in a perfect resume.
3 - Education Section
Any job search for an IT position in the United States is going to have a minimum education experience level. However, this is the section of the resume that most recruiters are going to glance over. As long as you list the degree earned, location of the college, and graduation date – that's good enough. There is no need to list your GPA unless you don't have a lot of practical work history.
While secondary education is always a good thing, it's likely not going to make a big difference when competing against those with practical work history. That said, you should list the Master's degree first in the educational experience section.
How to Format this Section
You want to keep this section very simple. Document the name and location of your college, the degree earned, and the graduation date.
4 – Work Experience
IT professionals need to showcase the practical experience that is relevant to the job they are applying for. You can see how Alfredo lists three previous jobs, that help to support his application for the medical facility in San Diego.
However, you can see that he has only had two previous IT support jobs. The third job he listed provides some practical examples that will support his interpersonal skills or soft skills that make him an exceptional candidate for this programmer and IT support position.
This is what you'll want to do when you don't have a lot of practical real-world IT experience. List those previous positions where you've demonstrated problem-solving skills, were tasked to create technical solutions, or resolve conflict, had to multitask, or were responsible for completing important projects.
If the application is seeking a candidate who can work with CRM systems, handle delicate customer issues, and is dedicated to improving customer satisfaction, make sure to show examples in your work history section. Customer support jobs today are more complex than simply fixing hardware issues or desktop support.
They need to have the ability to diagnose and resolve issues with routers, firewalls, information systems and be proficient in troubleshooting desktop and mobile devices.
Quality assurance and dedication to analyzing metrics are just as critical to succeeding as a support analyst and as a member of a technical support team. If you were a supervisor technical support engineer or involved in project management, this should be included in your work history.
How to Format this Section
You should list three previous jobs in chronological order – starting with your most recent or current job. List the name and location of the employer, the dates of employment, and start with a brief job description. Below the opening sentence, list bullet points of specific tasks and achievements that support your application for the specific job you're applying for.
If you've been a technical support professional in a freelance capacity, this is exceptional job experience that should likewise be included.
5 – Certifications
Most technical support representative professionals are competent in advanced IT solutions. This would include website construction and development, code writing, and even hardware repairs and installation. However, information technology positions in a professional environment require certifications to compete for the best paying jobs.
These are typically earned outside of college education, awarded by software or hardware manufacturers or creators. These certifications provide the expertise with specific technical solutions and are typically required for any IT position.
The certifications you possess will replace the general skills section. However, you should list your strength as a software engineer (if applicable), troubleshooting, and other core competencies.
How to Format this Section
Certifications should be listed in order of expertise and relevance to the position you're applying for. Within this section should also include the programming languages you "speak". This would include Java, Javascript, PHP, Cisco, HTMP, MySQL, Microsoft, C++, and other operating systems.
List your certifications in bullet points. Languages should be written in order of expertise, in a single 'sentence' as shown in Alfredo's sample resume.
6 – References for a Technical Resume
When a prospective employer is reviewing a technical support resume, the reference section is a crucial one that many candidates overlook. References are intended to support your application – specifically the work history and education you've gathered in previous years.
It's important to select three solid references, preferably a previous supervisor or manager you've worked for in the past. Two references should support your technical expertise, while the third should be able to speak to your interpersonal skills, work ethic, or your personality.
How to Format this Section
Simply write the reference's name and place of employment on the resume itself. Make sure you have their private contact details available for the hiring managers, but always indicate that reference's contact details are available upon request to potential employers. This will protect their privacy.
Final Points on Writing a Technical Support Resume and Cover Letter
When you review most examples of tech industry resumes, you'll find they tend to look identical. They all take advantage of action verbs, including the candidate's hard and soft skills, and emphasize their certifications and languages.
So how do you stand apart? The answer is simple – pay attention to the details. Take advantage of the master resume format we introduced to you at the beginning of this article. This will help you outline each section, fine-tune, and edit the content, then paste in a technical resume template.
Consider the best resume as a quick story that your future employer will enjoy reading. It should start with a solid opening statement that sells you as the perfect candidate for that job. Ask yourself this question – would I hire this candidate if I were in charge?
To help you answer yes – follow these free resume tips.
Follow the template structure as listed above – including spacing, using a black font on a clean white background document. Take advantage of the master resume.
Take time with your opening statement. Remember, you get one shot to make a great impression, and that resume objective is a prime opportunity.
List at least 2 professional and 1 personal reference. Make sure their contact information is accurate, and always gain their approval before listing them as a point of contact. A letter of recommendation from them will significantly help.
When you've listed everything as mentioned above, copy, and paste the content and place it in a Word doc or run it through a spelling/grammar checking website like Grammerly.com. This will proofread the content, help you save time, and ensure all content is clean, neat, and ready for your professional resume.
Your technical resume can shine above the competition when you interject your personality, specific job skills that are relevant to the position you're applying for, and is professionally formatted. Utilizing a technology resume template with multiple formats to select from will allow you to personalize it and stand out among the pile of other applicants.