Sales Representative Resume Example & Writing Tips for 2023
There are order takers in the world of global commerce – and then there are sales representatives. A genuine sales rep does much more than enter customer invoices. They educate their sales audience, provide answers to their objections, and find creative ways of closing the deal. As more goods and services are introduced to the consumer marketplace, there will be a need for highly qualified people to sell them. However, you'll have to write an outstanding sales representative resume to obtain this type of job.
The modern sales rep needs to be a chameleon – evolving and changing to the environment to survive in this competitive industry. They need to have an uncanny ability to listen to the needs of their customers, discover what solutions are possible, and find the right one to suit their budgetary restrictions. Some will be asked to complete cold calling, while others will meet quotas on closing qualified leads.
Regardless of the product, service, or commodity they sell, the best sales rep resume needs to explain why you as a candidate have the needed skills and experience to provide value to any company.
A significant concern for most newer sales representative candidates is how to articulate their desire to obtain a job in a resume format. Believe it or not, it's not that difficult – especially when reading the job description, build a sales representatives resume that supports the posting, and you follow a proven process. This is what we will introduce in the content below.
This article will give you the tools and resources to help you write an exceptional sales professional resume. We will provide a real-world sales representative resume sample and let you know which skills to put on a resume for sales representative. Finally, we'll explain why using a resume builder for your final draft is beneficial.
Let's get started with learning how to  write your sale representative resume.
Sales Representative Resume Sample
Several skills are required to be an exceptional sales representative. They should be great time managers, have strong communication ability (writing and speaking), resolve conflict, and handle customer objections. Some sales reps are asked to sell services, and others are tasked to promote a commodity or product. Regardless of the item, all sales representatives need to follow a proven system of sales:
Identify the customer problem.
Determine how the product or service you offer resolves that problem.
Provide the customer with the top benefits of your product or service.
Your ability to convince the customer that you offer the best solution to others on the market makes people exceptional sales representatives. So – how do you accomplish the same objective in the resume – because that's exactly what a hiring manager wants to see. Even more important - how do you articulate this in an experienced or beginner sales representative resume?
The good news is we've written a sample resume for sales representatives that shows you exactly how the resume should be written. Carefully review the sales rep sample resume below. Take plenty of notes of items that stand out to you, then review the detailed steps listed below to see how you should organize and create content for your sales reps resume.
The resume above is an excellent example of what a little organization, comprehension, creativity, and wordsmithing can produce. This is our hypothetical job candidate Doug. He lives in Dallas, Texas, and is applying to become a global tire manufacturing company sales representative.
As you can see, the resume tells a story – from start to finish, explaining his desire to join this company, introducing his years of experience, extensive sales experience in the tire industry, and providing practical samples of relevant work history. The resume is essentially an extension of his application – which is introduced with a cover letter when he submits the entire package to the prospective employer.
While writing an all-inclusive resume is entirely acceptable, customizing the resume to the specific company is a great way to stand out from the competition. This type of attention to detail can make a huge difference between receiving an interview for an inside sales representative or having the resume put aside. We'll explain how you can creatively customize a resume in the information below.
How to Write a Good Retail Sales Reps' Resume in 2023: Sales Representative Resume Description & Guide
We've provided the practical example – but now it's time to learn how to replicate the quality of this resume for one of your own. Let's start with those four keys to being a great sales rep as we begin to outline how to write a stunning resume.
Identify the Problem
Most people with aspirations of being a sales representative don't have a problem communicating with people. They are often well-spoken people with solid writing skills. So, writing the resume is not the issue. The main pain point is learning how to structure the resume, organize content, and choose the right words that matter to hiring managers and recruiting firms.
How a Master Resume Solves These Problems
The best way to start any major project is to create an outline. This is what we call a Master Resume. This is an operative word document that allows you to add the significant sections, draft content for each, edit spelling and grammar, and fine-tune the formatting. When you've finished the content, you'll be able to copy and paste everything into a resume builder or template.
Most sales rep resume examples range between one to two pages in length. The total length of the sales rep resume description is mainly based on the type of sales representative job you are hoping to obtain. For example, sales representative resume examples are single pages if you're seeking an entry-level position.
A technical sales representative for advanced technology solutions will naturally be longer. These types of advanced sales positions often require certifications or specialized education. For purposes of this article, we'll focus on basic sales rep positions.
Although each company might require different information on your resume, most should include the following sections.
Personal Contact Information
Professional Summary
Work Experience
Education
References
Skills
These are the six primary sections you should list on your Master Resume. Make sure to bold type these in that working document, so you remember to highlight them in your final resume. Now it's time to learn how to organize and build the content for each section listed above.
Section #1 – Personal Contact Information
One of the most critical interpersonal traits of a good sales representative is consistency. While it's assumed that the resume is an extension of the application (which is true), it's critical to ensure the information on both documents is consistent. This starts with ensuring that your personal contact information is the same as documented on the application.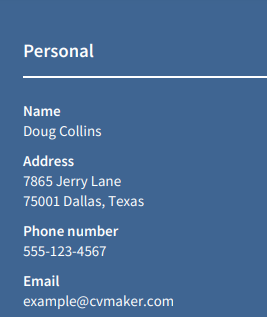 How to Format This Section
Most job applications will ask you for general contact information. Unless your sales representative position requires a security background or credit check, you'll only be asked for your full name, mailing address, email, and phone number. Whatever you listed on your resume – copy exactly on the resume. Other private information (such as social security numbers) should be listed on private forms or company files – never on your resume.
BONUS TIP for Sales Representative Resumes: We strongly recommend ensuring your mobile phone is connected to your email. This will allow you to reply quickly to inquiries from hiring agencies of the company you've applied to. Plus, several recruiters send SMS text messages – so being able to reply to those quickly will also show enthusiasm for the job opportunities.
Section #2 – Professional Summary 
A professional summary is also known as the resume objective. It's your best opportunity to provide a sales pitch to a hiring manager. This will introduce your experience, hard and soft skills, and interpersonal traits that make you a great employee and sales representative. However, it's also an excellent opportunity to showcase your personality and enthusiasm for joining that company.

For example – looking at Doug's resume, you can see that he has customized the opening sentence specifically to the company he has applied to. This type of attention to detail is seldom seen in resumes. Our candidate Doug provides:
An overview of his extensive work history in the tire industry.
His dedication to customer satisfaction, enhancing customer relationships, and exceptional interpersonal skills.
His hard and soft skills make him a great closer within his customer base.
Finally, he closes this section with a statement explaining his ability to accept constructive criticism as a salesperson and channel it into positive lesson learning. This is a hidden skill of resume writing - wrapping up each section with a powerful and impactful statement.
How to Format this Section
The resume objective should be an easy-to-read paragraph, about 150 to 200 words, with a professional – yet conversational tone. This is your elevator pitch, an excellent skill for the best sales representatives. Before you consider this section finished, read it aloud several times. You want this section to provide the introduction to your resume below – so make sure it reads naturally and convincing.
Section #3 – Work History
Sales representatives must have the ability to work without direct supervision, have exceptional charisma, account management, and possess strong product knowledge of any goods, services, or products they sell. The work history section is your opportunity to showcase relevant previous sales associate jobs where you've displayed these sales skills and characteristics.
Like the personal contact information, the work history section should match the entries listed on your application. However, the main difference is that you'll have a chance to expand by adding a few bullet points of key accomplishments.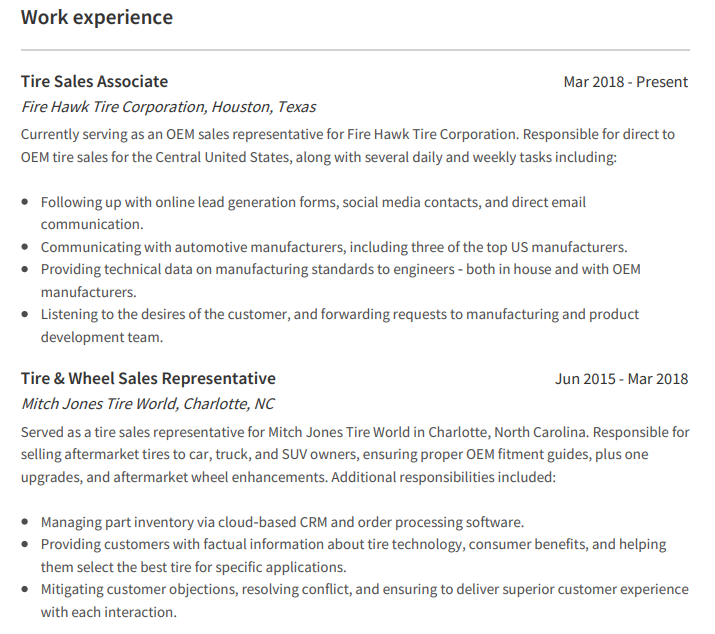 Within the bullets in the experience section, you should sprinkle in some of those vital keywords or action verbs aligned with sales representative positions. These include being a great listener, strong communication skills, time management, business administration, understanding customer needs, new business development, problem solving, and conflict resolution.
If you're applying for an entry-level position and don't have a lot of practical work history, select a few jobs where you have showcased the above skills and attributes. As you can see in Doug's resume, he has listed two previous jobs – as they are relevant to the tire company, he is hoping to join.
How to Format this Section
The work history section should be listed from your current or most recent job to the latest. In a perfect world, you want to pick jobs in the same industry as the position you're applying to. List the employer's name, the dates of employment, and critical areas of responsibility or accomplishments – that will help support your argument for becoming a sales professional.
Section #4 – Education
It's scarce for a sales representative position to require advanced education – such as a bachelor's degree or graduate program. However, there are some situations where the job will require you to have specialized training, certifications, or education. If you are applying to a sales representative position that has the training or educational requirements, format your resume as such.

Education
Your education section will be the highest level of school that you've completed. For example, if you are currently enrolled in a master's program – but have not yet graduated, your highest level is a bachelor's degree. The same thing with enrollment in a bachelor's program – a high school diploma or GED certificate would be the highest completed.
Certification
If you are hoping to be a sales rep in an industry that requires certification – such as HVAC, plumbing, chemical industries, or technology careers, create a separate main section below education to post applicable licenses.
How to Format This Section
The education section should always be simple. Just write the institution's name, its location, the years attended, and degree earned. You can see an example of the simplicity in Doug's resume sample posted above.
Section #5 – References
References for a sales representative position can differ between a hire and a decline. Most employers want to hire proven closers – or individuals who have a solid history of meeting or exceeding sales goals. While you can document this in your work history section bullet points, having a solid reference who can support your claims is worth its weight in gold for these types of jobs.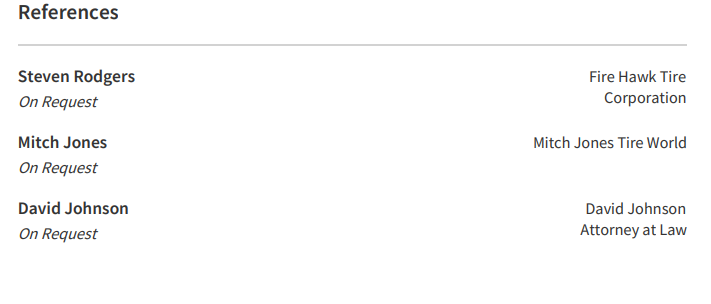 As you can see in Doug's sales representative resume description – he has listed three comprehensive references. If you notice, two of them are from his previous employers. This is exceptionally strong for a few reasons. First, it proves that he left his previous job on good terms, and second, he has integrity – as he likely gave them ample notice for moving onto a different position.
The last reference is a personal one – in Doug's case – a personal family friend who is an attorney. One crucial detail to remember about references. Each reference you include should be fully aware that you are listing them as a referral source. Speak with them and make sure to collect their updated contact information.
How to Format This Section
Before you list any reference on the resume, collect their personal contact information. Due to privacy reasons, you don't want to document personal reference information on a resume. Write "available on request" so that the company can contact them if they receive their information directly.
Section #6 – Skills
There are several skills that a good sales rep should possess. The hard skills help you in the technical aspect of your job – such as experience with Microsoft Office, CRM systems, Cloud-based technology, or specific product knowledge. A soft skill is an interpersonal ability that helps you in your career – such as solid communication, being a team player, conflict resolution, charisma, and project management.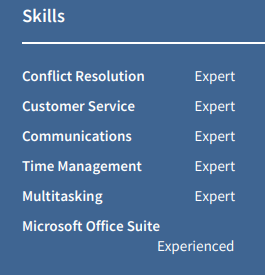 How to Format This Section
Listing your skills on a resume is simplified when using a resume builder. It will permit you to select your top five to seven skills relevant to your position, rank them in order, and assign a skill level or ability. This is what you'll notice in Doug's sales rep resumes samples. His skills are listed on the sidebar of the resume.
Other Sales Resume Templates
There are multiple resumes posted on our website – many of which can provide a lot of practical tips and information relative to the sales industries. Since we're firm believers in providing practical samples, we've organized several sales industry resumes for you to review. Feel free to review the group of professionally written resumes in multiple industries. Take as many notes as you'd like – and incorporate some of the structure, tone, and even content ideas into a resume that will help you gain that critical interview.
Final Points on Writing Sales and Retail Associate Resumes
The best resume convinces the reader to contact you for an interview. This is your objective – so you can convince them in person that you are the right person for the sales representative job. Remember, start by creating that Master resume, and pay close attention to the job posting – as it will guide you to the required information the employer wants to see in your resume.
Here are some specific tips for a quick recap.
Make sure your resume tells a story from start to finish, reads well, and is convincing.
Always write your resume on a plain white background with black font.
Edit the document SEVERAL TIMES. An excellent online tool we recommend is Grammarly.com.
Ensure its well-spaced, organized, and professional.
Finally, read it aloud a few times before you're ready to paste the content into a resume builder.
We strongly suggest taking advantage of our resume builder – which you can customize to fit your application, industry, format, color, and style. Take your time with each section, paying close attention to incorporating the right action verbs and skills in the relevant sections.